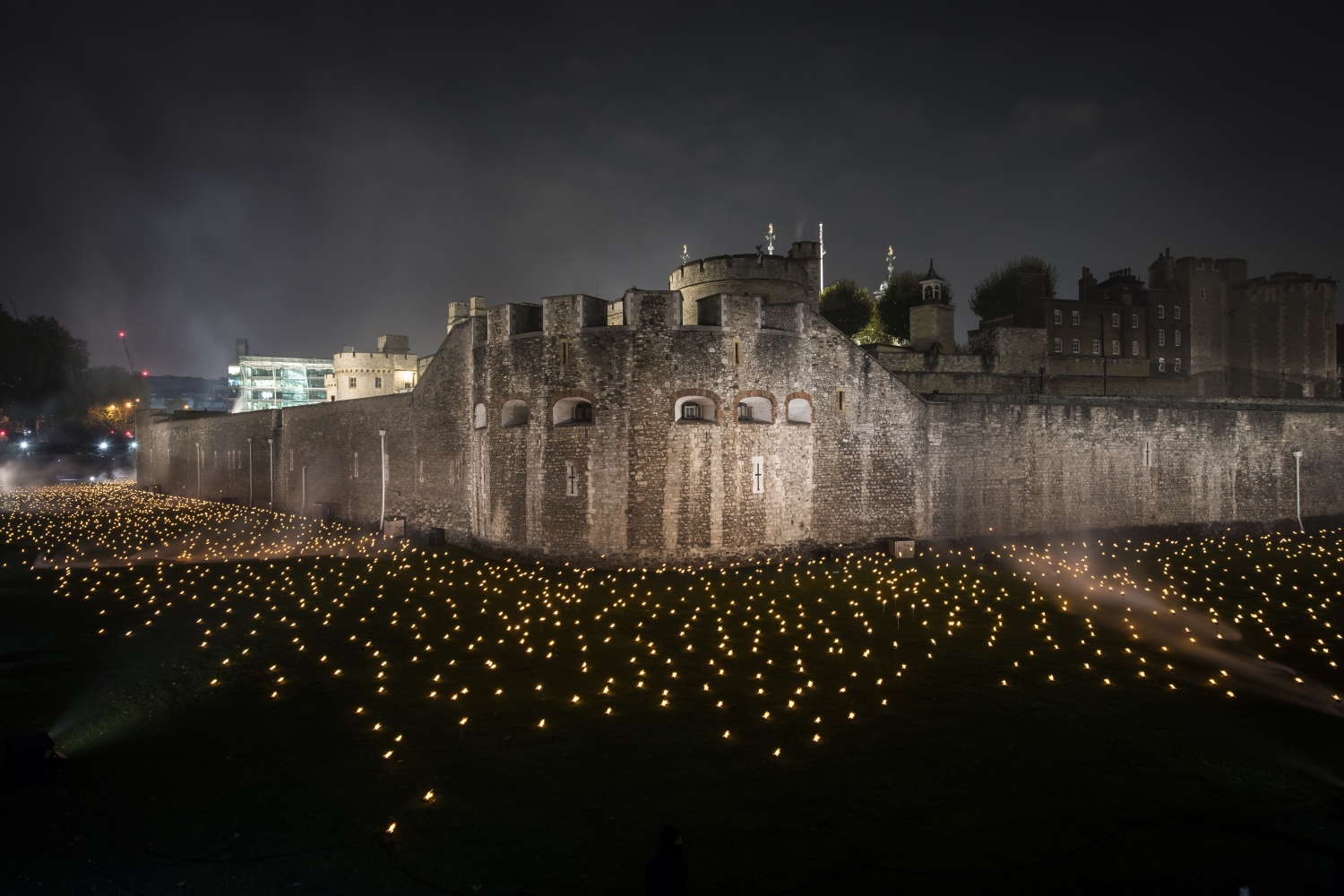 Once again, the Tower of London has taken spotlight in the centenary remembrance of the First World War. Beyond the Deepening Shadow: The Tower Remembers, which has been widely praised in the UK media, was, of course, a culmination of months of careful planning. It was also a collaborative enterprise, the result of many partnerships: between Historic Royal Palaces, designer Tom Piper, sound artist Mira Calix, lighting, fire, and movement specialists, and not least the hundreds of volunteers who performed and lit the flames. Radical historian Ralph Samuel once said that history was, and should be, the work of a 'thousand different hands'. I'm sure we'll find the number who directly contributed to this statement on the centenary was far higher.
Extra Hands
Our small research team has also gained some new hands, six pairs to be exact. For, although our research ostensibly concerns what took place in 2014, this was too good an opportunity to check in on the commemorative impulse four years on. We knew from experience that the installation could prove exceptionally popular – we needed help if we could hope to gather data comparable to what we have on 2014. We were enormously fortunate to find committed and exceptionally able students, from different backgrounds, who shared some of our research interests and passion for research. Megan and Aisha are full time on the Heritage Management MA, the result of a new partnership between HRP and Queen Mary University London. Matthew joined us from the School of History at QMUL, where he's in his last year of study. Effie is a research student who will gain her PhD from the Bartlett School of Architecture at UCL. And we were joined by dedicated HRP volunteers Noeleen and Eirian.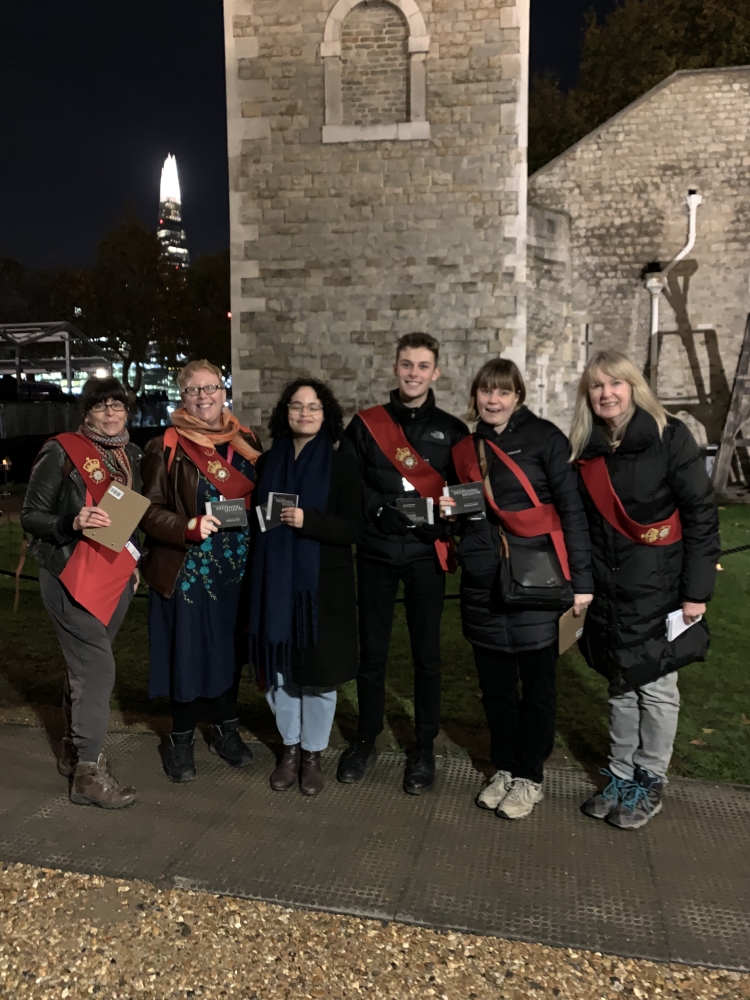 Why Remember
Together, we pursued what academics might call a 'mixed methodological approach' to understand audience engagement and interaction. We decided on a combination of approaches. We had surveys, asking the same questions as the 'Why Remember' Education initiative had asked in 2014. We balanced this with a qualitative, observational or 'ethnographic' study: we watched, we listened and we talked. We learned a lot.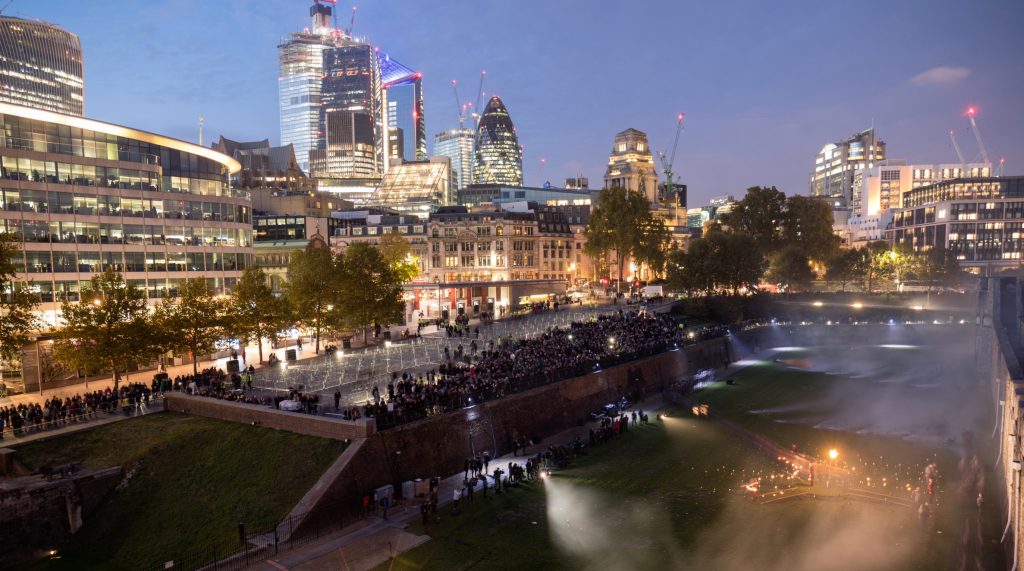 The Tower Remembers
We'll share our thoughts when we've taken a breath. Certainly, there were challenges that we had to overcome as the installation gained momentum. Obstacles have their uses, however, and for many of us the most disastrous night for research purposes was also the most enlightening. The deluge of rain on Saturday 10 November kyboshed our survey strategy (no-one wanted to talk to us), but also gave us a startling appreciation of the strength of feeling that underwrote Beyond the Deepening Shadow. I may never know the motivations that drew those thousands of people to congregate on Tower Hill that night. I do know, from witnessing the queues endure through the cold and wet to catch a glimpse of the flames, that so many of them felt they needed to be there.
If you visited the installation at the Tower of London, we'd love to hear your thoughts about it:
Eleanor O'Keeffe
Research Associate
Funded by