Ahead of Mother's Day, we share the lesser-known histories of the women employed as wetnurses in the Royal Nursery. Taking on the role of 'foster mother' to young princes and princesses, they often developed a close personal bond with the royal family and received mementos that were passed down in families for generations. 
In September 1767, Anne Percy, who was a friend of the Duke and Duchess of Northumberland, gave birth to her fifth child. Within just a couple of months, Anne's attention was diverted away from her own baby girl, whose name was Charlotte. Instead, she focused upon the care of a different newborn: Prince Edward, the fifth child of Queen Charlotte and her husband King George III. As the prince's wetnurse, Anne joined a growing nursery, which included four other wetnurses, a governess and sub-governess, as well as 'dry' nurses and rockers (whose job it was to rock the cradles). For two years, Anne continued as a wetnurse, but her relationship with the royal nursery was longer-lasting because of the care she gave and the affective bond she had developed with her 'foster child'.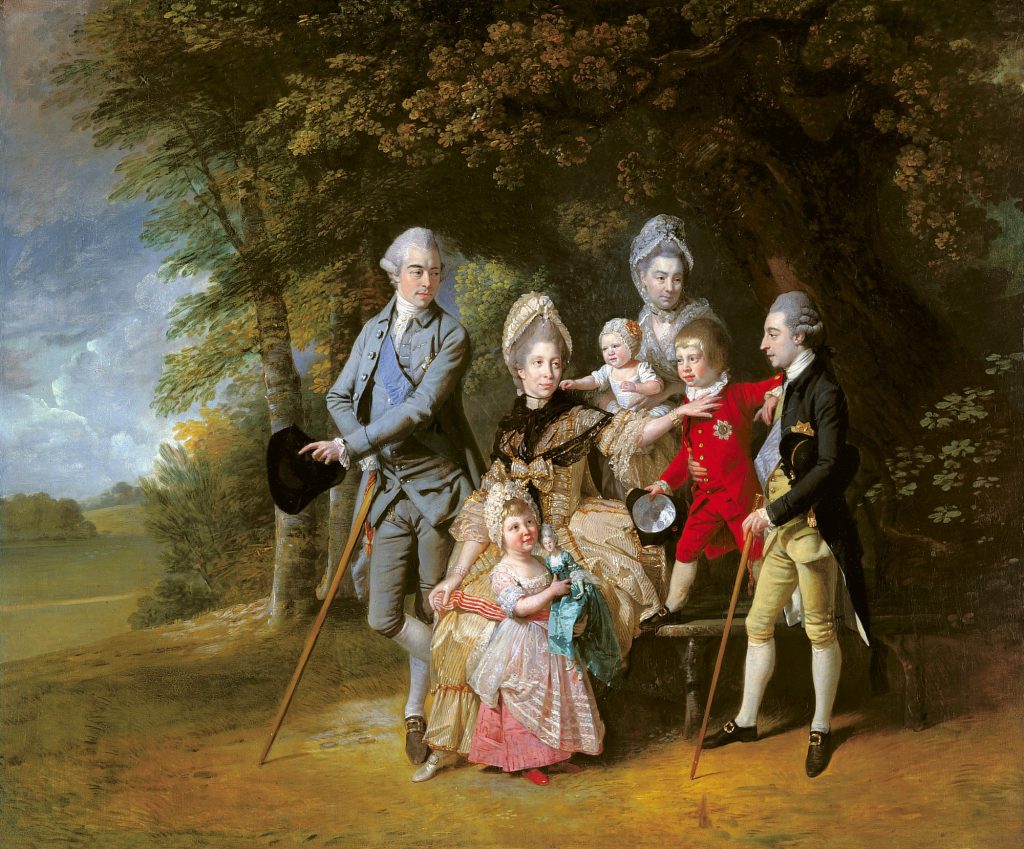 Becoming a Wetnurse
It's not clear when the search for a royal wetnurse began, but it seems to have proceeded shortly before or following birth, probably when the queen and her physicians were confident the infant would survive. In this period, infant mortality was still high—even amongst elites. Just ten days before the birth of the queen's first child George, for example, Elizabeth Percy, Duchess of Northumberland, who was a Lady of the Bedchamber in the queen's household, recorded in her personal diary that Mrs Scott had been chosen 'to suckle the royal infant'.
Under the direction of Lady Charlotte Finch, who was governess of the royal nursery, the selection process for new nurses was rigorous. Frances Muttlebury, who was chosen as the wetnurse for Princess Charlotte, was personally vetted by Lady Finch and examined by the queen's surgeon. It was not necessary for the wetnurses to be from wealthy, eminent families (Margaret Scott was said to be from 'a poor but ancient, honourable family') but it was essential that they were healthy, even-tempered, and discreet. Failure to follow the prescribed behaviour had consequences. When Prince William's wetnurse deliberately 'knock'd his head against the wall' as a punishment, she was swiftly dismissed by Lady Finch.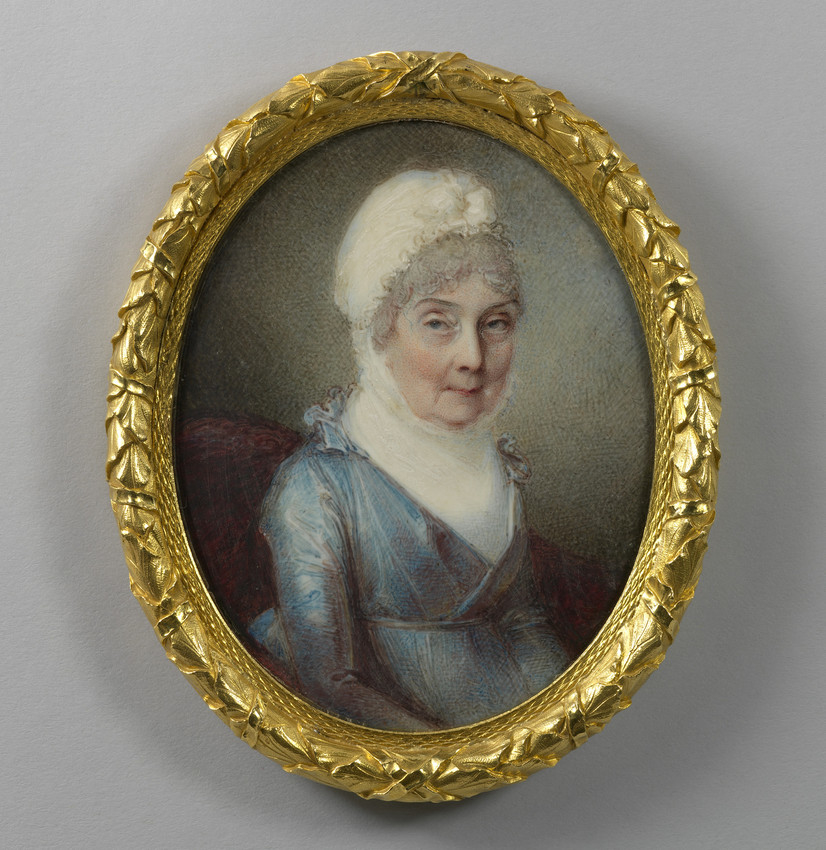 Although they had to win Lady Finch's (and the queen's) approval, some women clearly gained their positions in the royal nursery with the help of familial connections to prominent courtiers. Anne Percy's husband, Thomas Percy, was a chaplain and tutor in the household of Hugh and Elizabeth Percy, the Duke and Duchess of Northumberland. With her close proximity to the queen, it's likely that the duchess recommended Anne—after all, she would have known of Anne's pregnancy.
Elizabeth Montagu, the famous Blue Stocking, may also have leveraged her connections at court to help a friend. Elizabeth's sister Sarah was briefly married to George Lewis Scott, who had close family ties to the Hanoverian kings. Perhaps, then, when Elizabeth wrote of her joy that Margaret Scott, 'my friend for whom I was so solicitous', had been appointed as a wetnurse, she talked about a woman who was a member of her extended kinship group.
Life in the Royal Nursery
Although kinship connections may have helped wetnurses to gain their positions, once they joined the nursery, they were supposed to temporarily shed their social and familial ties. During their tenure in the royal nursery, wetnurses were not allowed to write to or receive any letters from their friends, and this exclusion extended to the company of their children and family. The reason was, that wetnurses were not to be distracted from their primary duty of providing care—and milk—to the infant prince or princess. Consequently, they probably hired wetnurses to provide that comfort and care for their own babies in their absence.
What could persuade a mother to take up this role, if it meant separation from her own children? For their emotional and physical labour in the nursery of Charlotte's and George's children, wetnurses were very well-paid by contemporary standards. In her first year, Margaret Scott received £500, equivalent to around £44,000 today, which was a significant salary at the time. It was followed by an allowance of £200 for life, which was over five times more than a skilled tradesperson would have earned in a year. As well as an attractive salary, wetnurses could expect further benefits for themselves and their families. Their own children received preferment and patronage from the royal family, as the 'foster' brothers and sisters of the princes and princesses. This could mean long-lasting security, influence, and prosperity for their families.
Emotional Inheritances
Anne Percy received almost a dozen objects from the royal family that are now part of Historic Royal Palaces' collections. Delicate handwritten notes attached to them suggest that she received them in 1769, around the time that her duties as wetnurse came to an end. Anne received locks of hair from the king, queen, and their children. Traditionally, giving someone a lock of hair symbolized love and devotion to the receiver of the gift. It was a practice carried on through the Victorian era, when locks of hair were used for jewelry and physical mementos of a loved one. Even today, many parents keep their child's first lock of hair.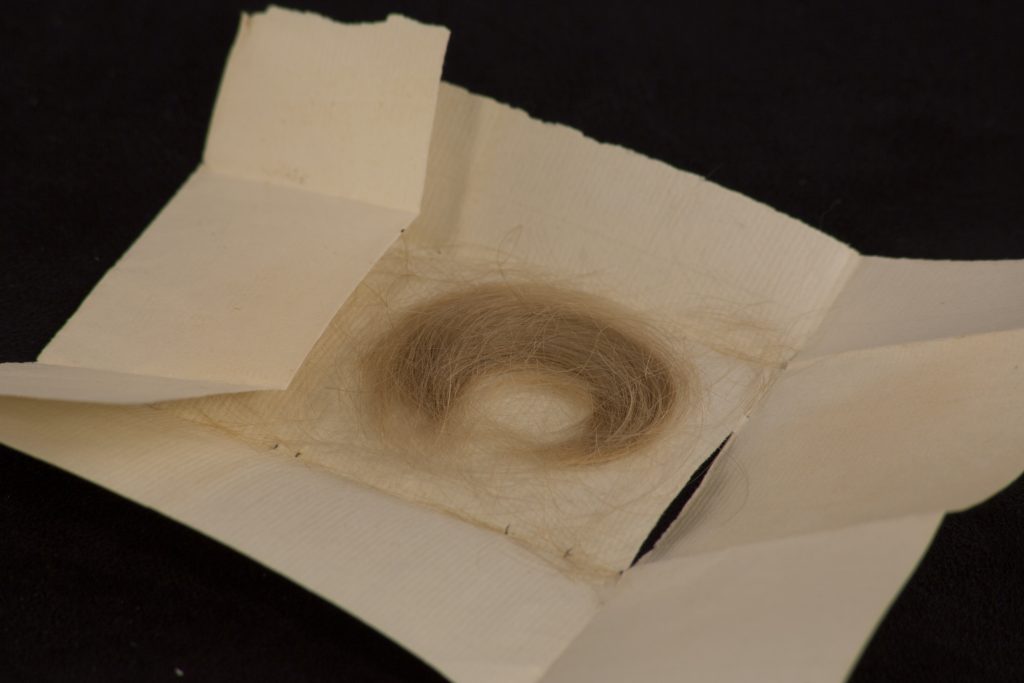 These locks of hair are folded neatly in paper, and some have handwritten notes: 'To Mrs Piercy with HRH Prince Edward'. You can just picture Anne carefully wrapping a lock of the young prince's hair, who she had nursed since he was born. It's a testament to how beloved Anne was and how the family regarded her as more than a member of staff, but, in a sense, as a member of the extended royal family—suggested by the term 'foster' mother, used to describe the royal wetnurse.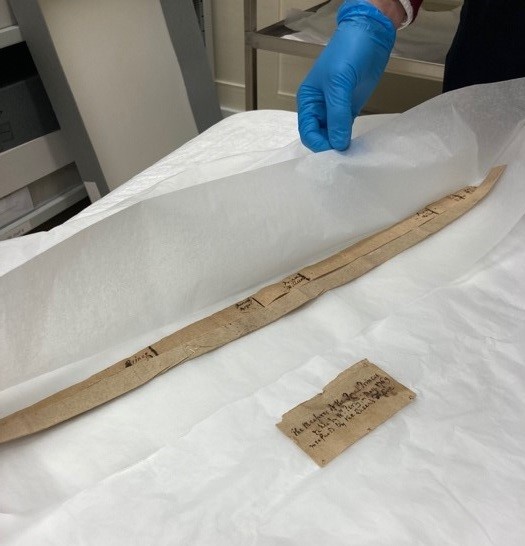 Another gift given to Anne is this paper tape measure recording the heights of George and Charlotte's children. The note accompanying the tape reads, 'The measures of the Royal Princes taken by Mrs Percy, in May 1769 measured by the Queen's desire'. The tape measure was a nostalgic gift for Anne, and for us it also conjures up memories: some of our own parents may have made notches on door frames recording our height when we were children as a sign of devotion. It gives us an insight into the goings-on of the nursery and the type of relationship Anne had with the children as their 'foster mother', as well as the affection between parents and children in this growing family.
Lasting Love
These inherited objects give us glimpse into one of the more forgotten roles within the royal household. Although few records can tell us about the lives of the wetnurses, we can see the bond between the wetnurse and child through these mementos left behind. There is much more to be explored, including the correspondence, over several decades, between Princess Mary, the tenth child of George III, and her wetnurse Mrs Adams. They wrote letters about everything from scandal and court gossip, to intimate topics like family and the health of George III and Princess Amelia. The two of them also kept in touch with Mary's former sub-governess, Mrs 'Goully' Goulsworthy. It's clear from these letters that Princess Mary had a special relationship with the women in her life who shaped her childhood. As it's nearly Mother's Day, these letters might make us all consider the women who've played a special role in our lives. Time to grab a pen and paper and start writing a letter…
Misha Ewen, Curator for Inclusive History
with Sandy Davidson, MA in Heritage Management, QMUL/HRP