Welcome to our first HRP Handover blog for Black History Month 2020! Throughout October we're inviting independent experts on Black history to present and explore the stories from the past that they're passionate about. First up, we're handing over to historian Michael Ohajuru to discuss the presence of Black people at the Tudor court, including a figure you may have already heard of: John Blanke…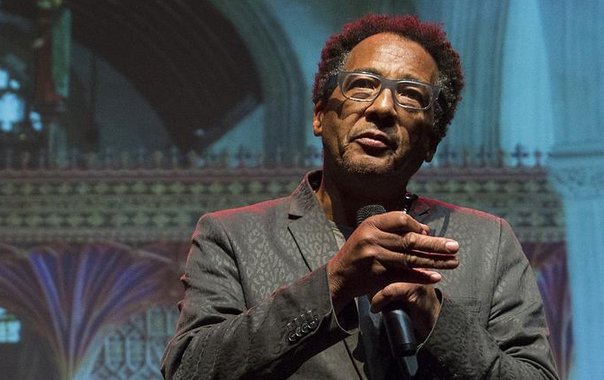 About me and the John Blanke Project
Hi everyone, I'm Michael Ohajuru. Amongst other things I'm the director of The John Blanke Project, a contemporary art and archive project celebrating John Blanke, the Black trumpeter to the courts of Henry VII and Henry VIII. The project's strapline is 'Imagine the Black Tudor Trumpeter'. The project commissions artists and historians to interpret and imagine John Blanke from their point of view, and since 2015 we have had over 80 contributions.
The origins of the project are in a final year essay I wrote for my Open University Art History degree in 2008.  The essay discussed the significance of the Black King and his presence this piece from the V&A's collection, which I had found to my amazement and delight came from early 16th century Devon.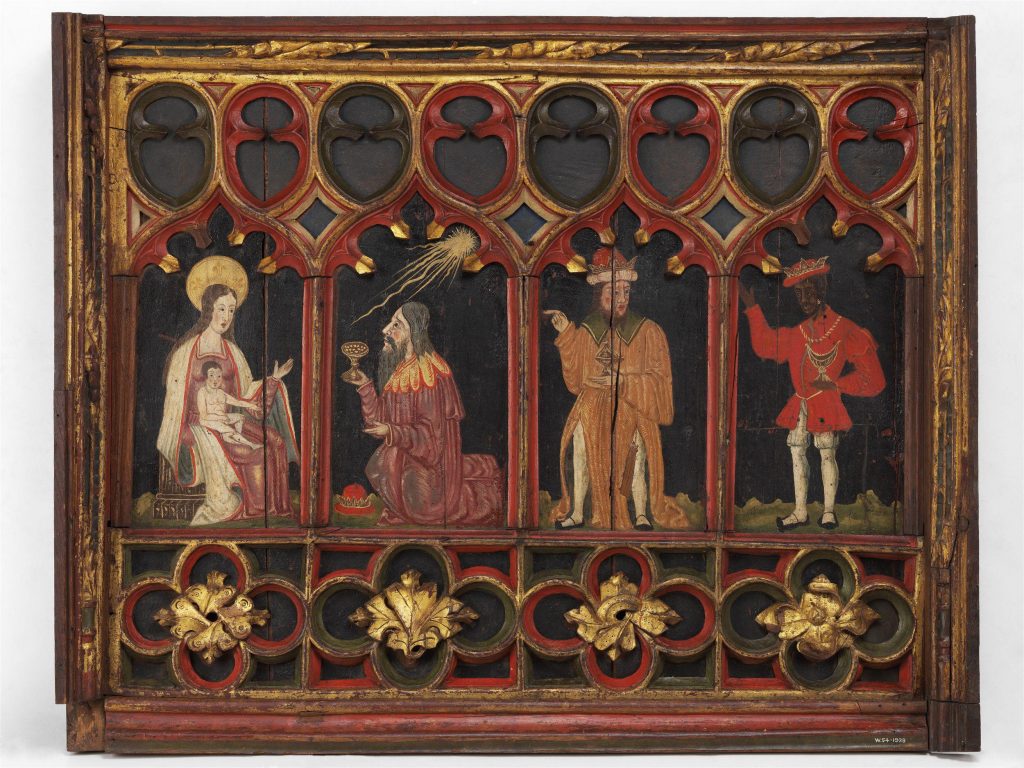 My research revealed that although the Black King in the Adoration was a well-known image throughout early modern Europe, it was a fiction, a conflation of bible study, courtly practice and artistic conventions. Hundreds of versions were produced of this fabricated image.
But in contrast, historians have discovered in the archives that there were perhaps hundreds of real people of Black descent in Britain at this time. However, there is only one for whom we have both a written record and an image: John Blanke.
So I created the John Blanke Project to challenge those folk today who cannot 'Imagine the Black Tudor trumpeter'. The project encourages artists and historians to imagine their John Blanke from the two images of him that survive (to me little more than caricatures) and his brief, fragmented references in the archives.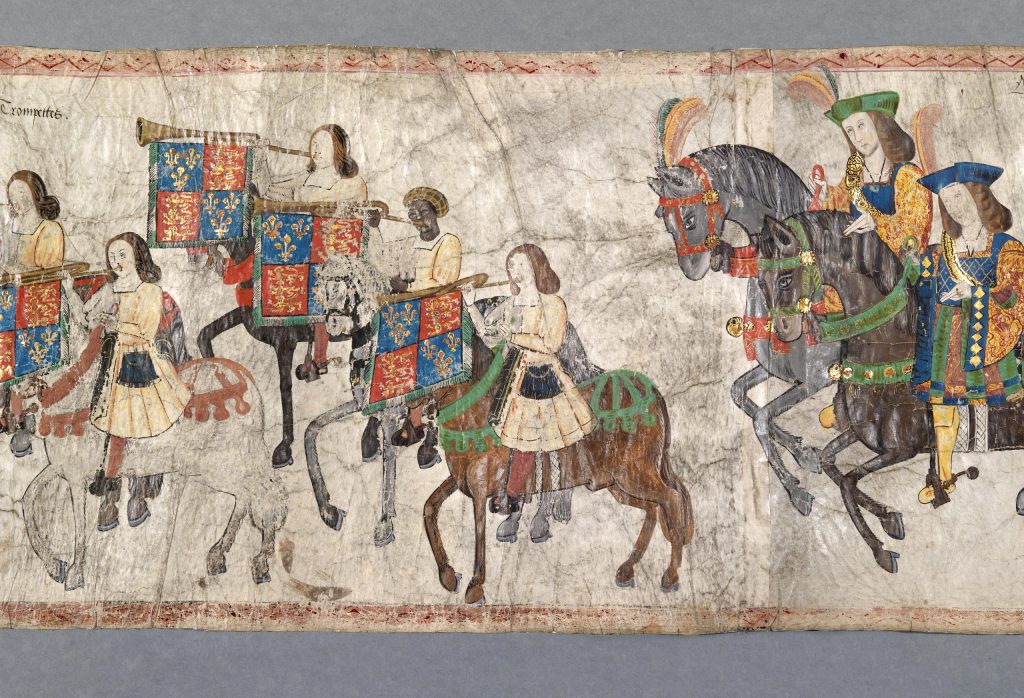 The Black presence at the Tudor court
I see the Black presence at the Tudor court as a natural outcome of England's aspirations to be seen as magnificent not just by its own people, but by the whole of Europe, such were the ambitions of its machiavellian Renaissance King Henry VIII.
At the time it would have been accepted, even expected, that Black musicians would be a presence at each of Europe's major courts. Black musicians in European courts can be dated back to the 12th century, with the arrival of the Holy Roman Emperor Henry VI in Palermo, Sicily announced by Black trumpeters. Here, the Emperor was borrowing the pomp and ceremony first witnessed in Europe at the Islamic courts in Spain, which went on to be replicated in the other royal European courts.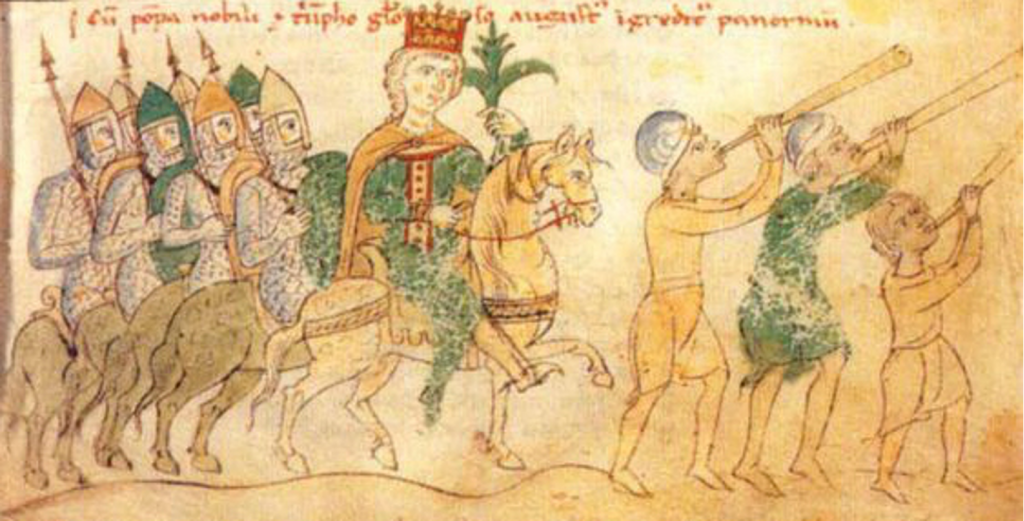 However, it took 300 years for a Black musician – John Blanke – to arrive at the English court, as it was not until the late 1400s that England transitioned from being a cold damp nation on the edge of Europe divided by years of civil wars, to a unified, peaceful country looking to make connections with other European courts. In order to do so, Tudor monarchs imported and adopted the manners and customs found in the European courts of Spain, Flanders, Italy and the Holy Roman Empire, such as employing Black musicians.
To cement the legitimacy of the Tudor court in Europe, Henry VIII's father Henry VII negotiated the marriage of his elder son Arthur to Katherine of Aragon, the daughter of the King and Queen of Spain. We believe that John Blanke may well have arrived in 1501 as part of Katherine's entourage, though such is the prevalence and mobility of musicians in European courtly circles at the time he could well have come from almost any court in Europe.
Nor was John Blanke the only person of colour at the Tudor court that we know about. Katherine had a lady of the bedchamber, Catalina of Motril, a Muslim Moor originally from the Emirate of Granada who attended to her mistress's most personal and intimate needs. But while John Blanke was a free man (he was paid wages and even successfully petitioned for a wage increase!) Catalina was a slave, who was only later manumitted.
Music, magnificence and the Black presence
Music was an essential part Henry VIII's court life: in private he was gifted multi-instrumentalist, and in public he employed up to 60 musicians. John Blanke himself would have played a part in the private performances with the King, as it was usual for the professional musicians to equally be multi-instrumentalists — particularly those coming from the Spanish court. So perhaps John Blanke might have accompanied Henry VIII in performances of of the King's many compositions…

At the same time, Henry was building on his father's successful diplomacy in Europe, despite being one of the smallest countries in Europe (In 1500 the population of the British Isles was around 4.4m, compared to France's 16.4m, and the Holy Roman Empire's 26.7m). He drove England to punch above her weight, as he wanted his court to be seen as leading the way in Europe. To achieve this, Henry spared no expense when it came to pageantry and masquerading. And as we already know, there was a Black presence in Henry VIII's pageants and masques.
We can see in court records that John Blanke certainly played a part in pageantry at great ceremonial occasions of state: he is listed as playing at the funerals of Henry VIII's brother Arthur in 1502 and his father Henry VII in May 1509, and at the coronation of Henry VIII and Katherine of Aragon in June 1509. Although no images survive of John Blanke taking part in these events, he is depicted twice on the 1511 Westminster Tournament Roll, a document produced to record the Great Joust Henry VIII called to celebrate the birth of his son on New Year's Day 1511.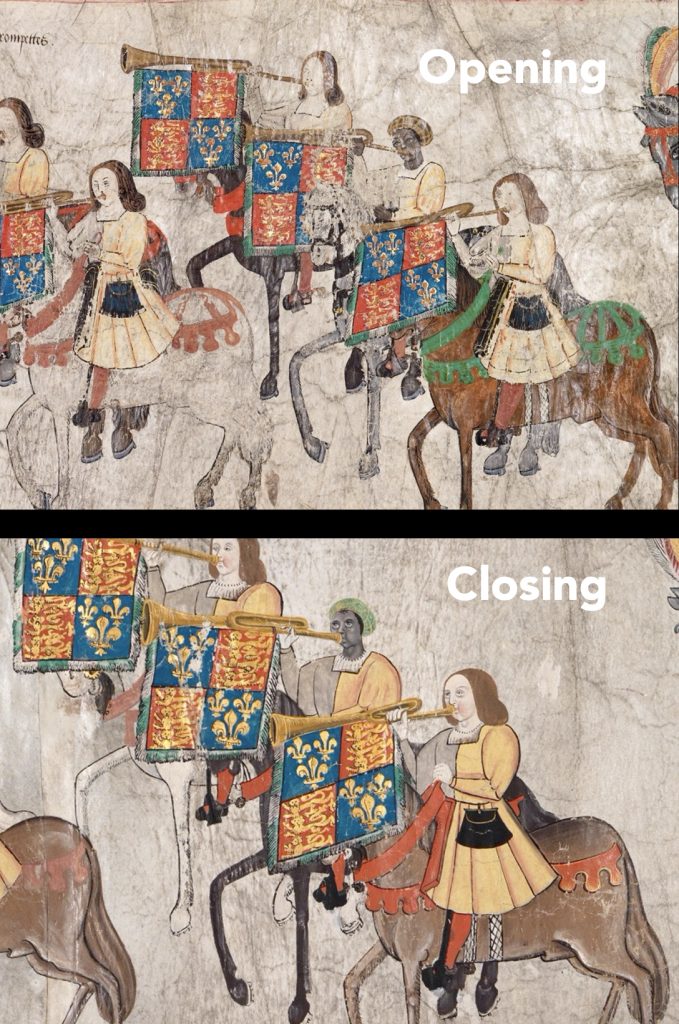 The 2-day joust was full of lavish chivalric ceremony, intended to match if not excel the extravagant displays seen on the continent at the Flanders or French courts. Such were the pomp and formalities that if we likened it to an Olympic Games its opening ceremony would be 2 weeks, the actual games just 2 days & its closing ceremony another week!
John Blanke's appearance in the Westminster Tournament Roll is special for two reasons. First, he is believed to be the first person of African descent in British history for whom we have both a record and an image; we have some idea of what he did and what he looked like. Second, a recognisable image of a non-noble in Tudor England is exceptional: portraits were novel and reserved for those of high status like King Henry.
Portraiture really took off at the Tudor court with the arrival of the artist Hans Holbein the Younger, who created many of the famous paintings of Henry's court including the iconic image of Henry standing on a valuable Turkish carpet (which would normally be used for covering tables displaying valuable objects, as seen in The Ambassadors). Prior to this, the presence of specific people at state occasions was usually signalled by their coated of arms rather than a life-like image, for example in the image of the gentlemen of the bedchamber surrounding Henry VII's death bed.
With all this in mind, it's amazing that we can put a name, a face, and a brief fragmentary biography to an ordinary person like John.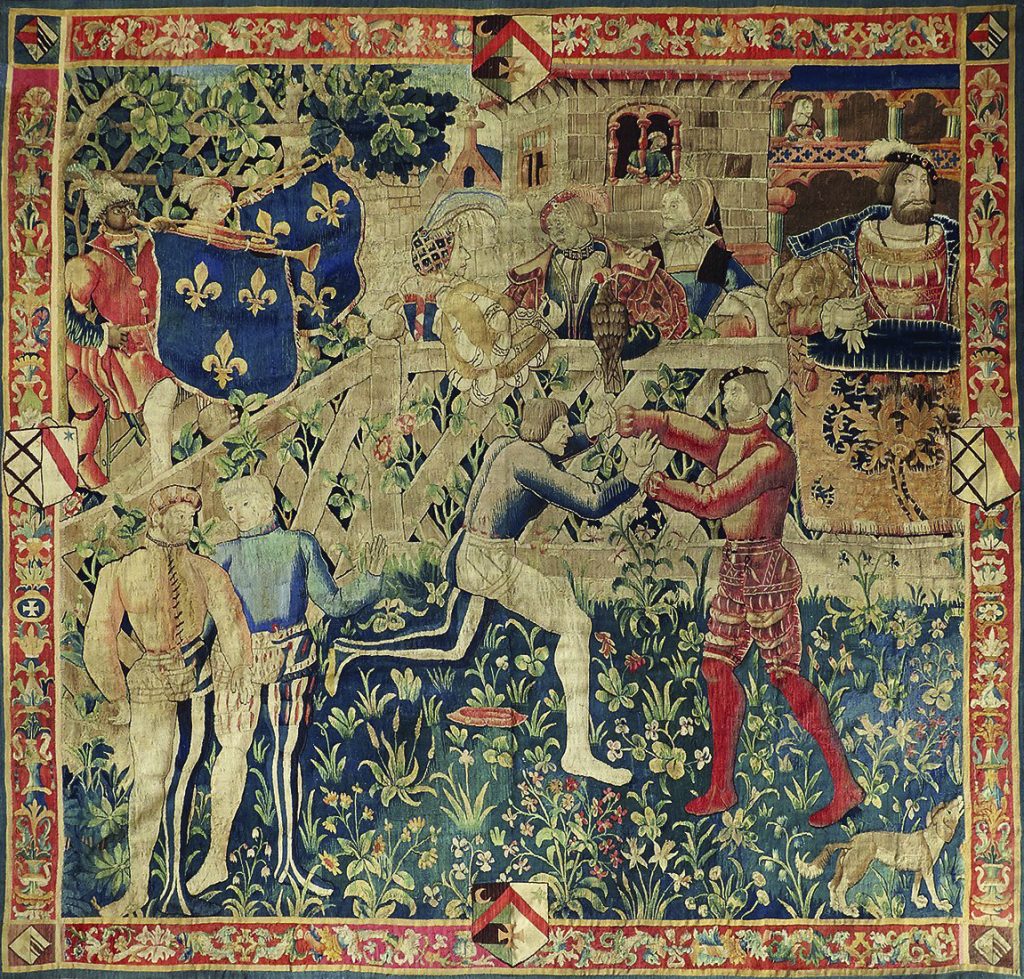 Black presence at the Field of the Cloth of Gold
Another major event John Blanke might have played at was the Field of the Cloth of Gold in 1520, a grand European festival designed to improve relations between the two great rival kingdoms of Henry VIII and François I of France. There is a French tapestry commemorating the event which has a Black trumpeter on it, and it could be speculated that this might again be John, as he was last mentioned in Henry VIII's records back in 1512 when he was given a wedding present. The next listing of English court trumpeters in 1514 does not include his name. So, could John have gone to France, and be the tapestry's Black trumpeter? We do not know who this trumpeter is, as many of the French court records from this period were unfortunately destroyed during the French Revolution. Sadly, we may never know for sure.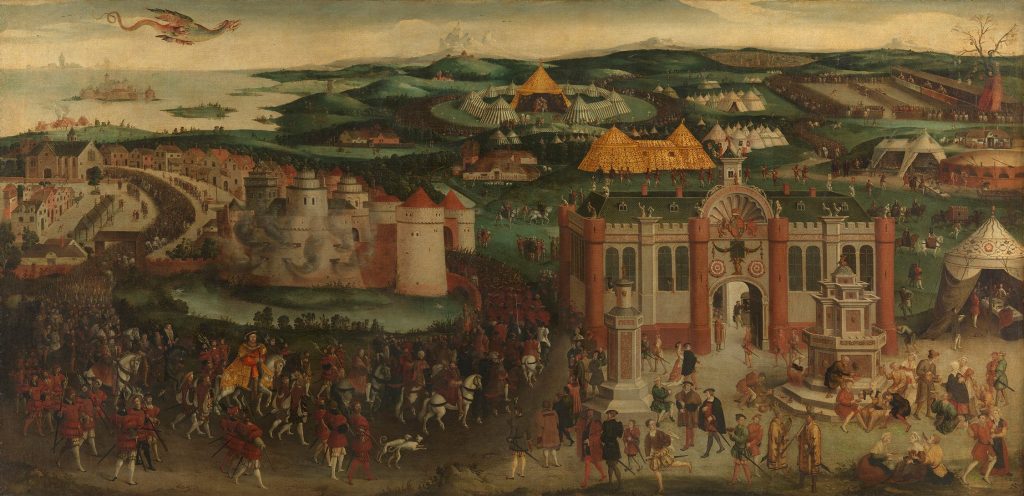 The other great work of art that survives from the Field of the Cloth of Gold is a huge painting commissioned by Henry VIII. When I first saw the painting on display at Hampton Court Palace, I immediately looked for John Blanke. As the procession depicted had the same intent as the Westminster Tournament Roll (to present Henry's extravagance and magnificence to the courts of Europe) it would have been natural for Henry's procession into his camp to be led by trumpeters. There are no trumpeters depicted, Black or otherwise. There are however two rather oddly dressed figures (when compared to all the others in the painting) who can be seen in the right foreground between the two drinking fountains. They are carrying trumpets, but are dressed as a westernised view of Ottoman janissaries — the elite group of soldiers who guarded the Sultan.
They are there perhaps to take part in a masquerade as part of the celebrations. Henry VIII enjoyed dressing up and wearing Ottoman clothing, and often appeared at festivities and masques dressed as a Sultan. He is recorded as having on occasion worn silk and velvet with a turban, alongside torch bearers with blackened faces dressed like members of the Sultan's Turkish court.
In conclusion
To conclude, we know that there was a Black African presence in Tudor court: it is explicitly seen in written and visual records of the trumpeter John Blanke, and implicitly in the Spanish court records of Catalina of Motril (Katherine of Aragon's bed chambermaid for whom we have a record but no image). And there are many other clues, too: the unknown Black trumpeter in the Field of the Cloth of Gold tapestry is intriguing, but as the French court records have been destroyed, we know nothing about him other than his image. The visual and written records do not give a complete picture of any of these figures, but they prove that there was a Black presence at the Tudor court and give us the opportunity to fill in the many blanks with our imagination.
Recommended further reading
Anglo, S (1968) The Great Tournament Roll of Westminster : Historical Introduction
Brotton , J (2016)  This Orient Isle: Elizabethan England and the Islamic World Penguin UK
Fryer P. (1984) Staying Power: The History of Black People in Britain, Pluto Press, London
Habib, I (2008) Black Lives in the English Archives, 1500–1677: Imprints of the Invisible Ashgate, Aldershot
Kaufmann, M. (2017) Black Tudors: The Untold Story Oneworld, London
Onyeka, (Oct 2013) Blackamoores: Africans in Tudor England, Their Presence, Status and Origins
Richardson, G (2013) The Field of Cloth of Gold, 2013, Yale University Press
Merriman, J (1996) A History of Modern Europe, Vol One From the Renaissance to the Age of Napoleon , Norton, New York
Michael I. Ohajuru
Senior Fellow Inst of Commonwealth Studies
http://about.me/michaelohajuru
[email protected]