The metal threads on our throne canopy are remarkable survivors from a time when bling really was the thing! Sewn into the embroidered emblems and fringing, they would certainly have made an impact glistening with splendour in the candlelight.

Whilst metal threads look incredible when new, they are intrinsically delicate and highly sensitive to tarnishing. Their presence always has an impact on a conservator's treatment choices.
The term metal thread describes any thread that is partially or entirely made of metal. Gold and silver threads are made from gold and silver respectively but can sometimes be made of silver gilt; a combination of the two. The threads on the fringing of the valances have been made by cutting a flat strip of silver gilt which has been tightly wrapped around a silk yarn core.
These highly-magnified photographs show the complex nature of the metal threads on the throne canopy. Although some small areas of the sparkling silver-gilt remain, it is hardly surprising that with the passing of over 300 years the majority of the threads have lost some of their original brilliance. Tarnishing has resulted in a thin layer of dull grey corrosion forming over each thread. In some areas this corrosion has chemically bound itself to the metal making it brittle and at risk of splitting.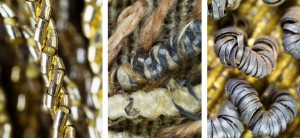 It would be amazing to return the metal threads to their former shimmering glory however to remove the tarnished layer would mean removing some of the silver-gilt, weakening the already fine metal strips and causing more harm than good. Our main priority instead has been to support and protect them in their current state.
Although the metal threads no longer glisten as richly as they once did, an occasional fleeting glimpse of gold can still be seen acting as a fitting reminder of the opulence of the throne canopy.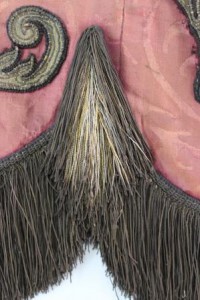 By Alice Young, Textile Conservator
In our next post, we will examine the conservation of the emblems in more detail and explain the mystery of the missing crown….
Acquired with the assistance of the Art Fund. Conserved with assistance from Lord Barnby's Foundation, Idlewild Trust, The Radcliffe Trust, The Leche trust, Broadley Charitable Trust and the Worshipful Company of Tin Plate Workers alias Wire Workers. We are grateful for their support.