The Collections Management team at Historic Royal Palaces runs an 'object of the month' competition to showcase some of the unusual pieces in our collection and share their stories with our staff and volunteers.  This month's winner was a beautiful jug dating from the late 15th century and made in a style known as maiolica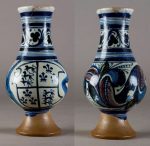 The year 1937 was a significant one for the development of archaeology in London. This included the excavation of the moat at the Tower of London, which unearthed this rather rare and interesting maiolica jug. Sitting amongst an abundance of broken domestic ware pottery, dating to the medieval and post-medieval periods.
This tin-glazed earthenware drinking jug, or vase, is painted in cobalt blue and manganese purple. With flowers and foliage decoration around the neck and body, the central motif depicts the Tudor tournament shield and arms, with conventional quartering reversed. The late-15th century design of the royal arms of England is most commonly associated to Henry VII.
The jug was excavated close to the Middle Tower in 1936-7, and was found almost complete, except for the foot. This was then reconstructed in 1938. At this time, the Victoria and Albert Museum had just acquired a similar jug, also excavated in the City of London.
These two rare jugs are interesting, as they are likely to be from the Netherlands, rather than the more common Italian maiolica. Although the decoration is of English origin, it has been disputed that maiolica was manufactured in England at this time, so they were most likely imported, maybe for use by Henry VII himself!
Rebecca Wallace, Registrar