Today, a white dress is synonymous with a traditional wedding, and any other colour can seem like a shocking deviation. Like the vast majority of weddings, royal marriages for the last century have featured a white dress, and, as with many traditions, the Victorians are credited as having started the trend.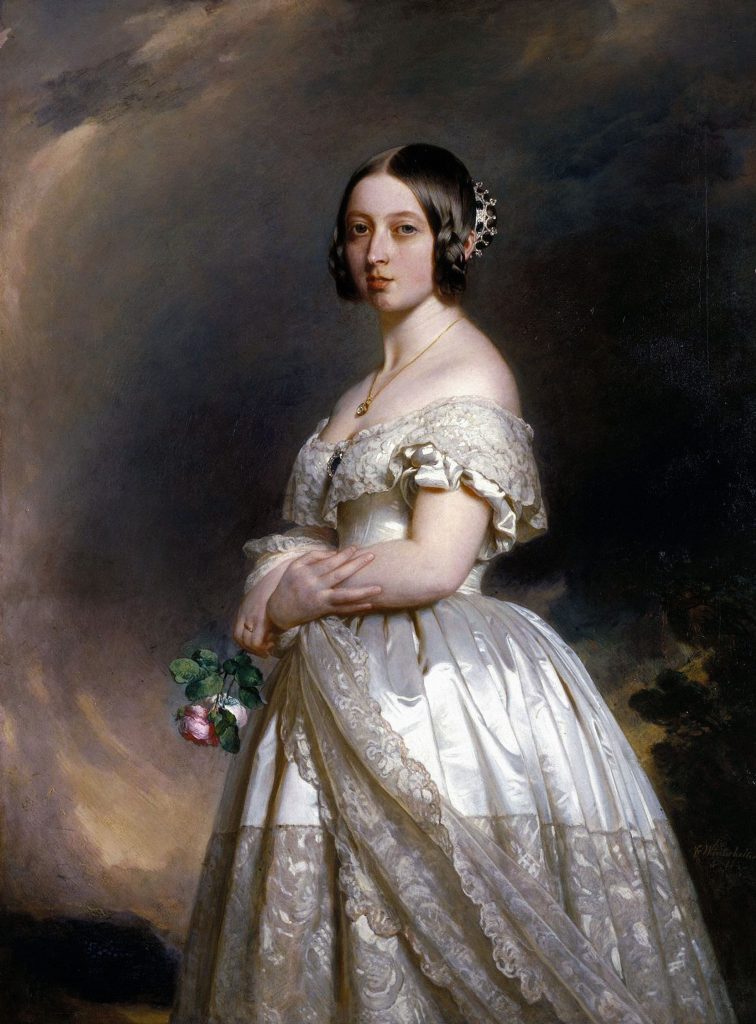 In fact, white was often chosen by wealthy brides, while a variety of other colours were widely popular, since it was common for a bride to simply wear her best dress on her big day. However, when in 1840 Queen Victoria opted for a simple white dress with lace made in Britain, its popularity was secured and its impact was powerful.
Victoria's dress was designed by William Dyce, head of the Government School of Design and it was made by Victoria's dressmaker Mary Bettans. In her diary, the young Queen describes her dress and those of her bridesmaids on the day of her wedding: 'I wore a white satin gown, with a very deep flounce of Honiton lace, imitation of old. I wore my Turkish diamond necklace and earrings, and my Angel's beautiful sapphire broach… When I arrived at St James's I went into the dressing-room where my 12 young Train-bearers were, dressed all in white with white roses, which had a beautiful effect.'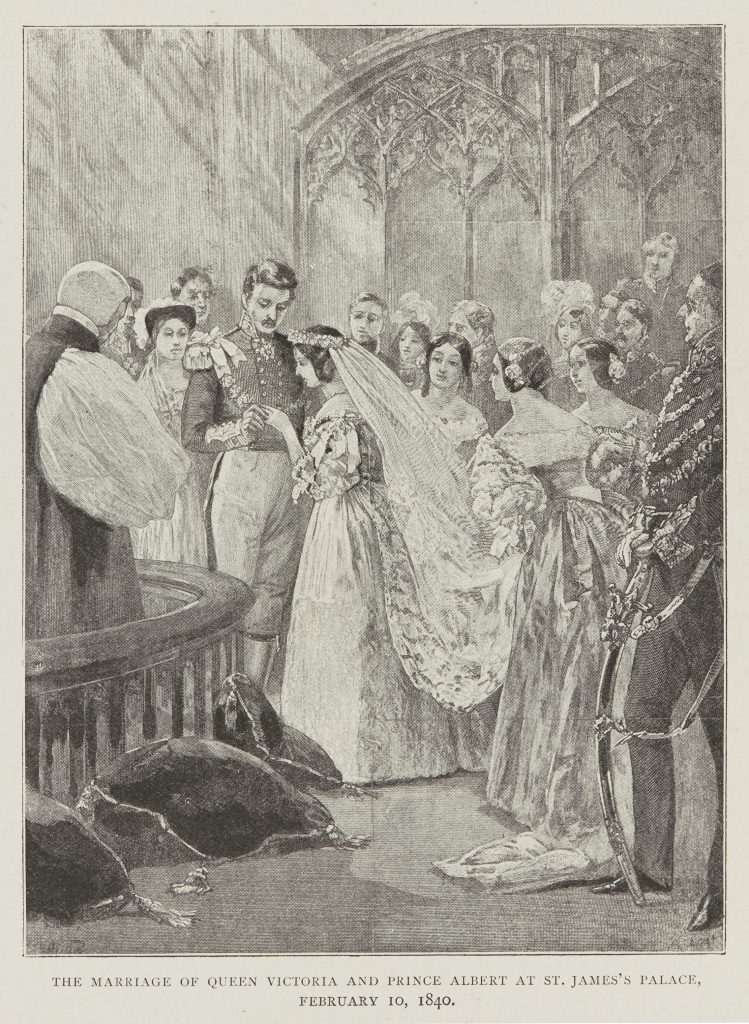 Soon after Victoria's wedding, white became the principal choice. By 1865, a book entitled The Etiquette of Courtship and Matrimony stated, 'A bride's costume should be white, or some hue as close as possible to it.' Brides and Bridals, published in 1872, pronounced, '…the girl who arranges to be married in any colour but white, takes a sure means of making her bridal doings talked about as savouring of eccentricity'. Indeed, the proliferation of print media, fashion plates and souvenirs in the wake of the wedding widely spread the image of Victoria's white gown, cementing the idea of a white satin dress, lace and orange blossom as bridal-wear ideals.
Victoria's dress was actually criticised by some of her contemporaries for its simplicity – not what was expected of a royal. The Queen wore orange blossoms in her hair instead of a crown and lace made in Devon. No crimson velvet, no ermine fur. But despite a few critics, in the public's eyes Victoria could do no wrong on her wedding day. In her diary she describes the throngs of people on her journey from Buckingham Palace to Windsor: "There was an immense crowd of people outside the Palace, and which I must say never ceased till we reached Windsor Castle. Our reception was most enthusiastic and hearty and gratifying in every way; the people quite deafening us… We came through Eton where all the Boys received us most kindly, and cheered and shouted. Really I was quite touched." Young Victoria was the quintessential bride, and newlyweds ever since, whether knowingly or not, have followed suit.
Explore Queen Victoria's life in our exhibition currently at Kensington Palace, Victoria Revealed
Annabel Sheen
Digital Media Officer