Dr Megan Gooch, AHRC Leadership Fellow, and Dr Eleanor O'Keeffe are researching the many ways people experienced the installation Blood Swept Lands & Seas of Red at the Tower of London. Here, Eleanor describes some of her work on visitor and staff responses, and tells us emotions feature strongly in their research.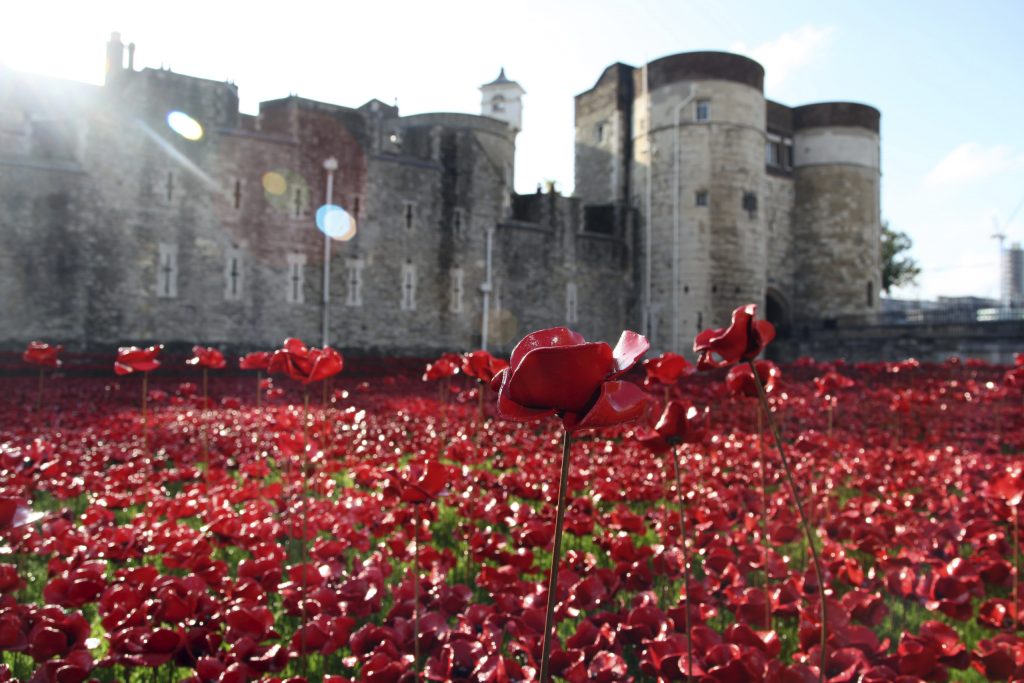 November 11 is approaching and with it another year of reflections on our historic, collective experience of conflict. Remembrance Day is widely accepted as an emotional one for many people, an association that has deep roots in the aftermath of 1918. Not everyone had a family member who died in the First World War, but most people knew someone – a neighbour, a friend, a close work colleague – who they personally mourned for. Likewise, not all neighbourhoods were scarred like Accrington famously was, but most communities bore their sacrifices collectively, as the proliferation of memorials shows. The national culture that this inspired, including Remembrance Day itself, has evolved over the years, as changing generations remade and repurposed it. Yet, the emotional power of remembrance has seemingly remained constant, cultivated most recently by the arts programme for the First World War Centenary and evident in the considerable public response to it. But what did people feel in the remembrance spaces of the centenary?
In 2014, Historic Royal Palaces hosted a commemorative event on a vast scale at the Tower of London, Blood Swept Lands & Seas of Red, better known as 'Tower Poppies'. Through the legacy data remaining from this incredibly popular five-month installation, we have considerable insight into the range of emotional responses to commemorative events: visceral and present grief, inherited family trauma, pride, nostalgia, a spiritual feeling of 'communitas' or togetherness. Emotions that we might find less palatable are there too: disappointment, frustration, even anger. Recognising this, we can now perhaps appreciate fully the challenges that HRP faced. After all, the centenary made remembrance the business of a new set of organisations, such as HRP, because it translated the practice through arts and culture to new generations of people. According to HRP's former CEO Michael Day, in a formal project review, "Blood Swept Lands & Seas of Red arguably had greater positive public impact than any other single project delivered by a cultural institution ever." It ran for over five months, brought with it the management of nearly 30,000 volunteers and new customer interfaces to deal with exceptional participation. An estimated five million people witnessed the installation in situ, more than the entire visitor footprint of HRP's six palaces for a whole year, let alone the millions more who engaged online. Behind the image of a calm sea of poppies, transmitted through a voluminous visual legacy, was the furious and continuous effort of hundreds, even thousands, of people.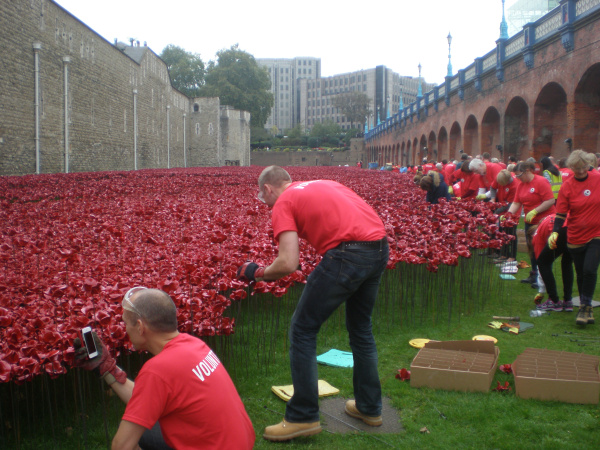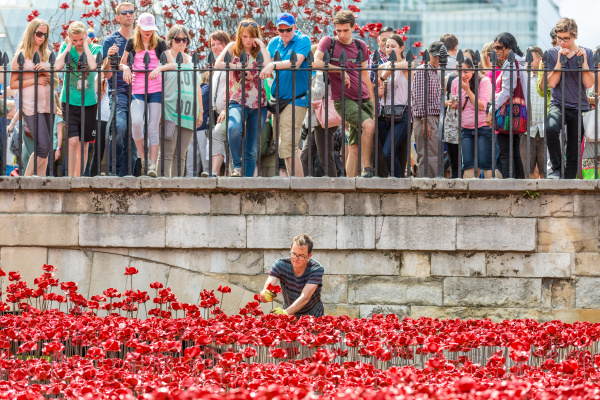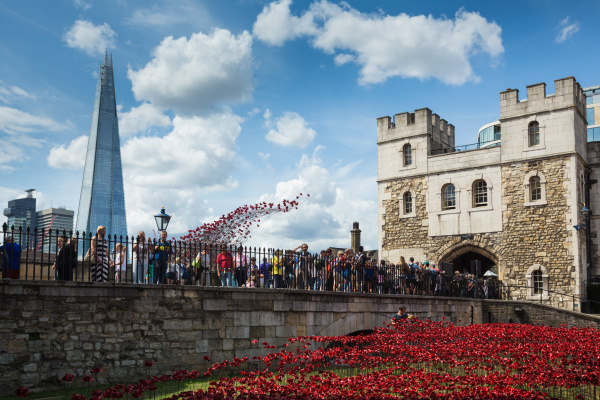 Our growing oral history collection of staff interviews tells us so much about how 'poppies' actually happened: the challenges faced by HRP staff, the project team, and the Tower Community and how they overcame them. It also testifies to the experiences of those who lived with 'Tower Poppies', dealt with visitors, volunteers, and poppy customers. Many remain proud of, and gratified by, their contribution to such a meaningful and successful event. They also speak of stressful and anxiety-ridden moments. Because when a heritage organisation asks the public to come and feel in a sacred space, and millions of them respond, you test everyone's emotional capacities. The volume on all emotions was turned up, particularly when Tower Hill became almost unmanageably crowded. Some visitors expressed anger or frustration at staff that they were not allowed in the moat, for instance, or when names were unwittingly mispronounced or omitted. These instances were by far in the minority, but the memory lingers for those on the receiving end.
Staff emotions became heightened, too. Some with service backgrounds, particularly, felt at pain to meet particular requests because they felt they knew how important these were to people. This made 'poppies' incredibly meaningful for them, and gratifying, but it could make it acutely stressful at times. Remembrance is also so deeply associated with personal loss and grief that staff who didn't have a connection to the military or to the war also felt a deep sense of guilt if they had to let people down with specific requests: when the poppies were sold out, for instance, or a name could not be read out on an anniversary.  The installation's almost overnight success generated a fast learning curve within HRP, but this did not prevent people feeling overwhelmed at the thousands of emails steadily mounting in inboxes. And whilst daily tuning into the commemorative stillness was inspiring for so many, the thousands-strong crowds around them sometimes left those inside the Tower feeling embattled.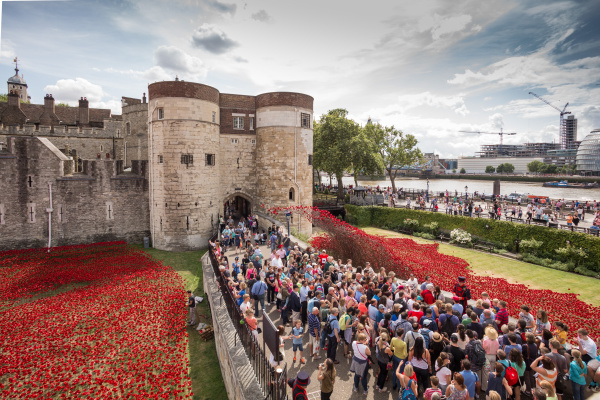 Why do we include these emotional experiences in our research? Partly because we cannot avoid them. All of our data is emotional in some sense and, when we hold interviews, people talk more about how they felt rather than what they thought. Also, because heritage organisations are increasingly prioritising emotions as a route for audience engagement. The centenary has boosted the idea of emotions-as-history, somewhat because of the success of Blood Swept Lands. Remembering that it was a heritage event, which had organisational ramifications, will be important for anyone embarking on a similar path. Indeed, one could argue it's even more important to understand Blood Swept Lands, which has been used as an exemplar of a truly national feeling by Government Ministers as well as Arts & Culture pundits. There is no doubt that people often judged 'Tower Poppies'' success and its meaning according to its feeling qualities, but we should always ask about the productivity of this route: what do emotions do? In the case of Blood Swept Lands, did they unite a disparate crowd of pilgrim-onlookers into a commemorative community? What were the consequences of so much feeling? We hope to address these questions, and more, in our publications next year.
Dr Eleanor O'Keeffe
Research Associate
Arts & Culture, Live Programming