Season Two of HRP's Outliers podcast is here – our history fiction podcast that tells stories from the perspective of those standing in the shadows of historical events. In this Outliers blog series, we're uncovering the true history that inspired our podcasts' compelling stories. In this week's episode, Fortune's Wheel, we heard the story of the rise and fall of Eleanor Cobham, Duchess of Gloucester.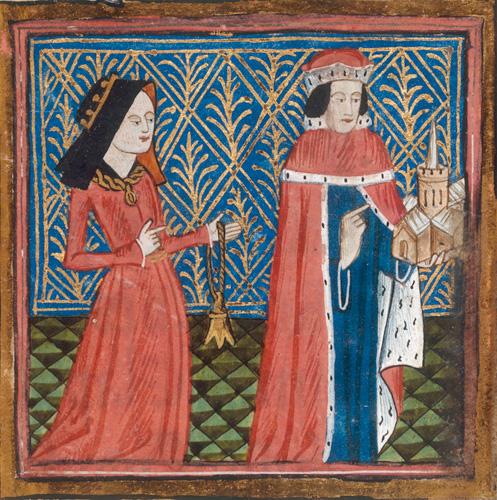 Eleanor is used to getting her own way, but sadly not when it comes to producing an heir. In her desperation to conceive, she turns to witchcraft but soon becomes embroiled in its throes. She is accused of being a sorceress, and her accomplices are imprisoned and tortured in the Tower of London, eventually being put to death. Eleanor is stripped of her status and wealth and forced to perform public penance. Her fall is as quick as her rise.
Set during the unstable reign of Henry VI, the backdrop to this story is the power vacuum that was left in the wake of the untimely death of Henry V. He had been a popular king due to his strong military prowess in the Hundred Years War against France. He is perhaps most famous for his victory at the Battle of Agincourt in 1415. His early and sudden death at the age of 35 left his 9-month-old son Henry VI on the throne. This is where our story starts…
In Fortune's Wheel Eleanor decides the Duke of Gloucester is the man she wants to marry as soon as she sees him. She is a strong and ambitious woman, a striking contrast to the Duke's first wife, Jaqueline of Hainault. Becoming the Duke's second wife represented a massive social elevation for Eleanor, a member of the minor gentry. Gloucester was Henry VI's uncle, as well as Lord Protector of England during the young king's minority. We know that Eleanor's low status caused the royal court to deem the marriage unsuitable and her rise unpopular.
In this story we wanted to play on the theme of witchcraft and the assumption that an ambitious and powerful woman must be a witch. It is Eleanor's desire for a son and heir that leads her, in desperation, to seek out sorcery, and we feel her genuine remorse when her friends are put to death as a result of her actions. Eleanor is depicted as a strong woman in her own right as the driving force behind her husband's successes. Although we do not know if this was true, we do know that the Duke and Duchess of Gloucester were an intelligent 'power couple' who built up a strong and influential court around them. The historic Eleanor, as well as the Eleanor in our story, was said to be clever, beautiful and ambitious. It is easy to imagine why their enemies might have wanted to see Eleanor fall.
There is currently inefficient historical documentation to get to the bottom of the conspiracy. Did Eleanor really predict and bring about the king's death? It is likely that accusations were exaggerated, and that it was decided to make an example of Eleanor and her alleged co-conspirators. As in our story, it is probable that Eleanor's enemies sought to thwart her ambition through accusations of witchcraft. We know for certain that Margery Jourdemayne, Roger Bolingbroke, Thomas Southwell and John Home were imprisoned in the Tower of London, charged with heresy, necromancy, treason and witchcraft, and put to death. Eleanor's public penance and exile is seen in our story as merciful in comparison. It's likely that in reality she lost everything.
The end of this episode of Outliers is pure fiction. We know very little about Eleanor's life once she went into exile. The ending, which hints at her involvement in the start of the Wars of the Roses, feels like a fitting close to the life of a strong and powerful woman who knew her own mind.
Fortune's Wheel is now available to download. Listen to the new story and to all previous episodes on Apple Podcasts, Spotify, or Stitcher.
You can read the full transcript of Fortune's Wheel here.
Claudia Strange
Assistant Digital Producer