Models sashayed on the runways at London Fashion Week this month, exhibiting the latest trends from top designers. At Historic Royal Palaces, we have one of the largest collections of royal clothing in the country – the Royal Ceremonial Dress Collection. This treasure trove holds items such as Henry VIII's hat, William III's tunic and Queen Victoria's silk boots. Looking through the collections, we wondered – might these royals have fit in on this year's catwalks?
Here's a few trends that appear to bridge the centuries:
1. High neck frills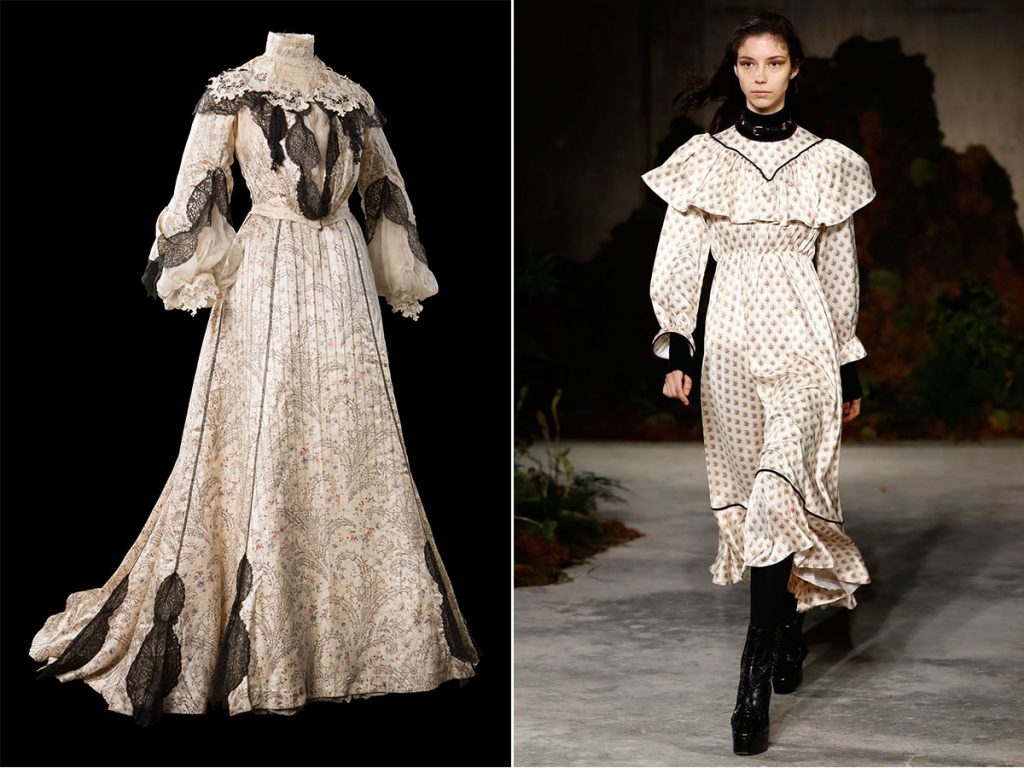 This lady's court dress of white satin with black lace godets dates from 1905. It sports a high collar, a popular design that was made fashionable by the stylish Princess Alexandra, who it is said had a scar on her neck and used the design to mask it. This dress was worn by Lady Ardwall to an Afternoon Court at Holyrood Palace, Edinburgh in 1905. A hundred years later, high collars are again in trend, as in Alexa Chung's monochrome silk dress (perhaps the designer was inspired by Lady Ardwall).
2. Embroidered Louis heel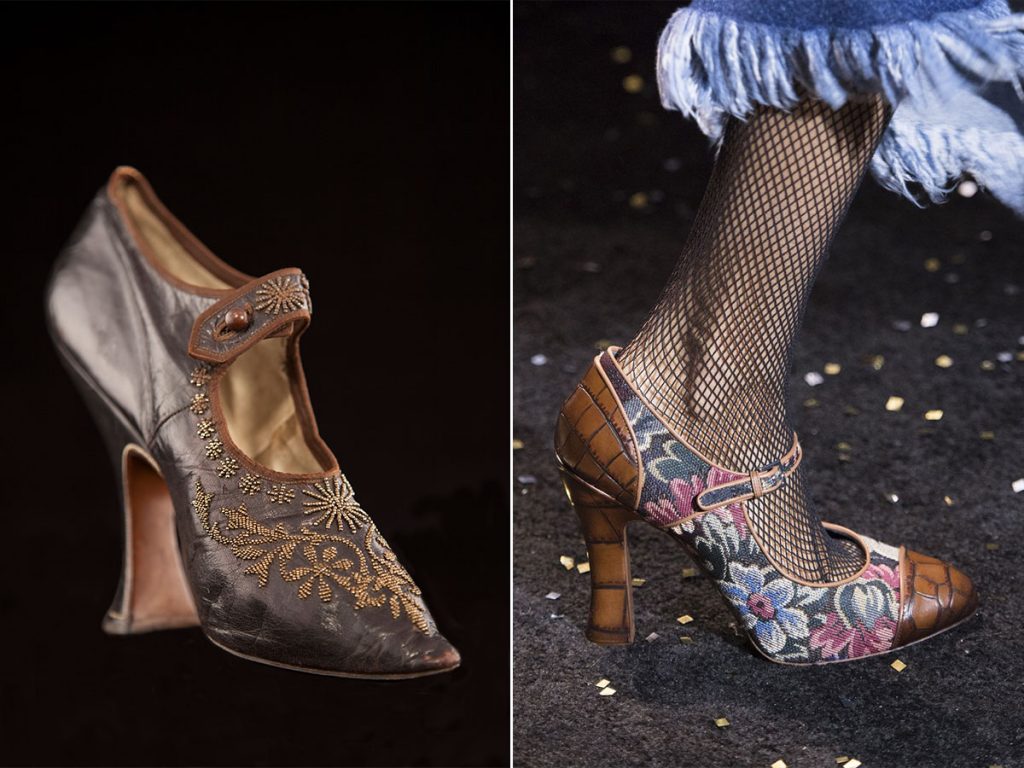 This lady's court shoe is dark brown glacé kid with a high Louis heel, from 1895-1900. The shoe is bound with brown silk ribbon and embroidered with gilt beads. This style originated in the 17th century in the court of King Louis XIV. Originally worn by men (Louis was not very tall), the style soon became fashionable for ladies too. This classic shape has maintained its popularity for centuries; here it is in a design by Michael Kors.
3. Blue midi dress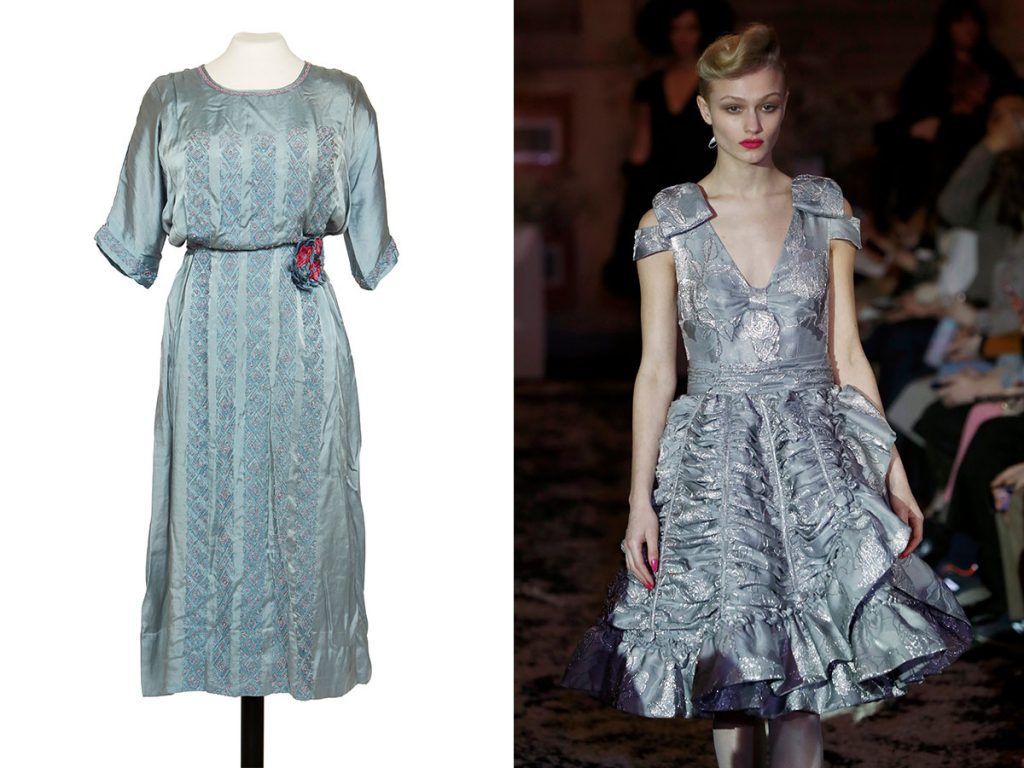 This is a going-away dress worn by Princess Mary, Princess Royal following her wedding to Viscount Lascelles, 6th Earl of Harewood in 1922. It is a blue silk charmeuse dress with a boatneck and short kimono sleeve, decorated with crystal and pale pink coral beads, with a rose velvet corsage at the waist. This beautiful soft shade is still a winner with designer Ryan Lo – just add a few extra ruffles.
4. Chic monochrome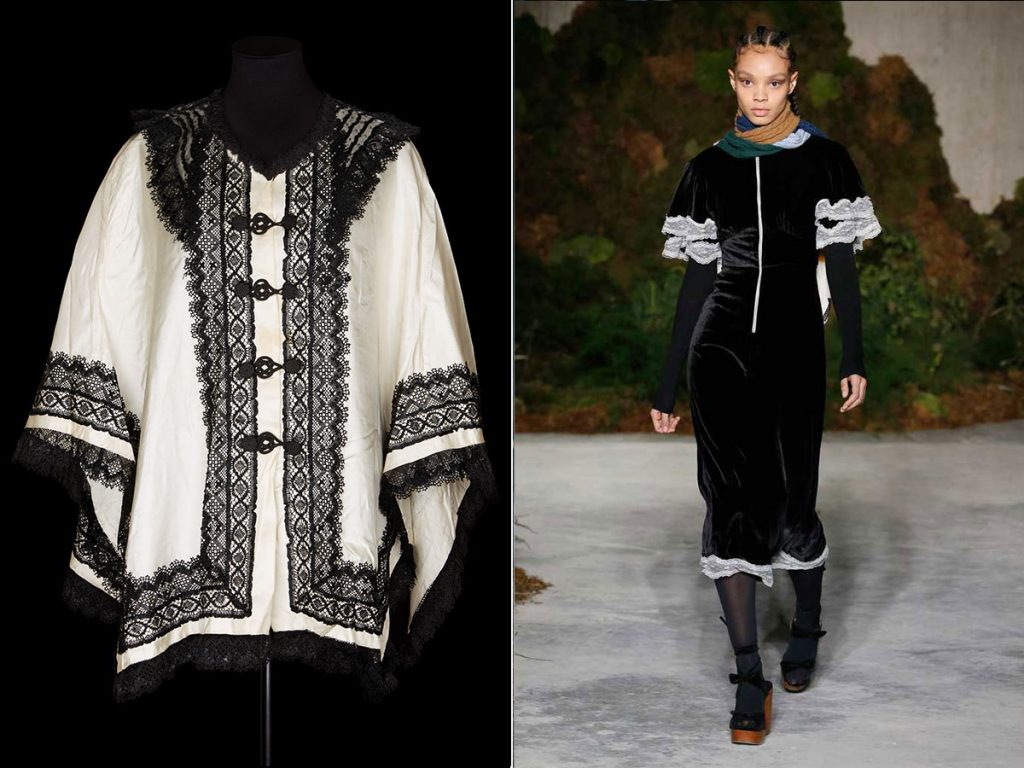 Who can resist classic yet dramatic monochrome? This silk and lace cape was worn by Queen Victoria and dates from around 1860-80. It is a white faille dolman trimmed with black lace and silk ribbons, and will be going on display at Kensington Palace later this year. Alexa Chung's velvet black and white dress on this year's catwalk is equally dramatic in style, and picks up on the lace trim too.
5. Puffed sleeves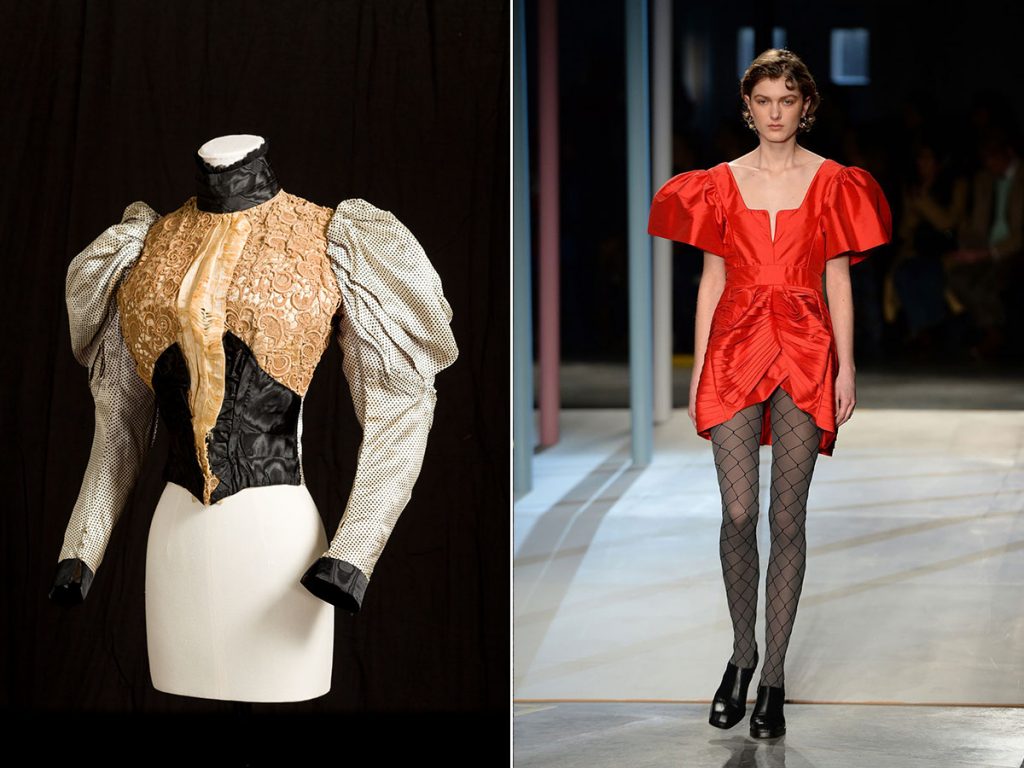 This bodice is from a dress worn by Queen Alexandra to the christening of her grandson (the future King Edward VIII) in 1894. The piece was extremely fashionable, particularly with its large 'leg of mutton' sleeves. The elaborate design combines many different fabrics. The sleeves are fashioned from purple (faded to grey) silk satin covered in small black polka dots. Designer Thornton Bregazzi has taken direct inspiration from the mutton sleeves of yore for this little red number.
6. Super wide skirt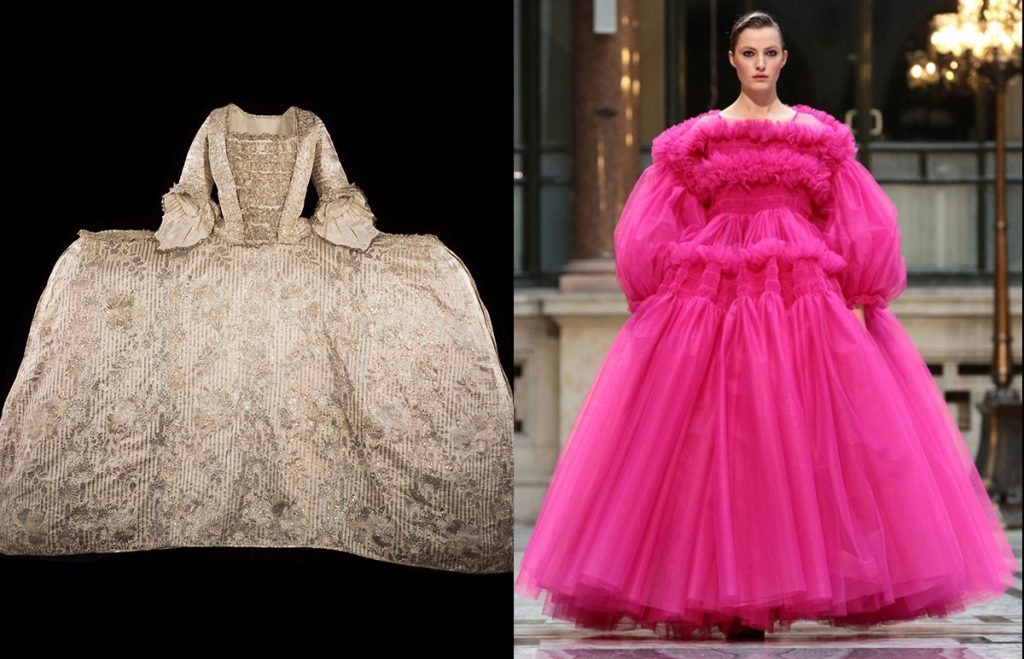 The Rockingham mantua dates from c.1760. It's made of silk satin brocaded in silver thread with silver lace trim. It was probably worn by Mary, Marchioness of Rockingham. The mantua dress was fashionable in late 17th and 18th centuries. The style became increasingly wide, sometimes multiple metres, and was used to show off luxurious fabrics, the wearer's wealth, status and taste. Molly Goddard's pink dress for AW19 is almost as extravagant as the mantua and would definitely be a display of reputation today.
7. Camel travelling jacket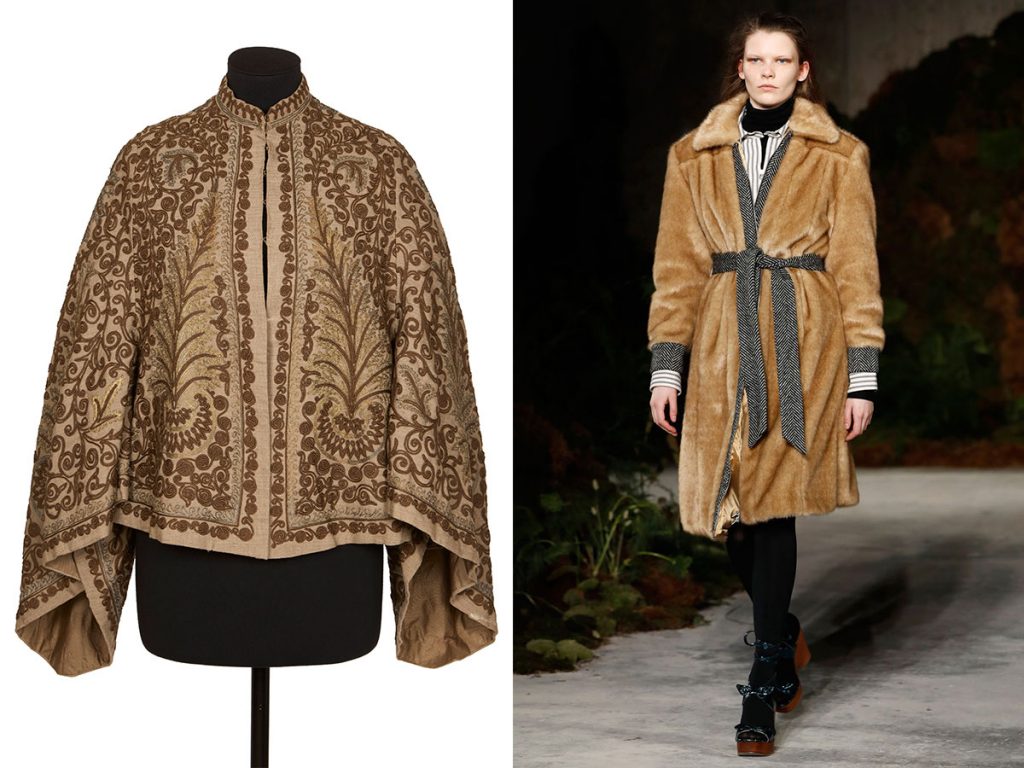 This Cashmere cape was worn by Princess Alexandra, later Queen Alexandra. It is made of brown cashmere embroidered with chocolate brown silk braid and ombre silver and gold braid, giving it a fashionable camel hue – not too dissimilar from today's trendy camel-coloured coats such as this fur design by Alexa Chung with patterned edging.
8. Bold hat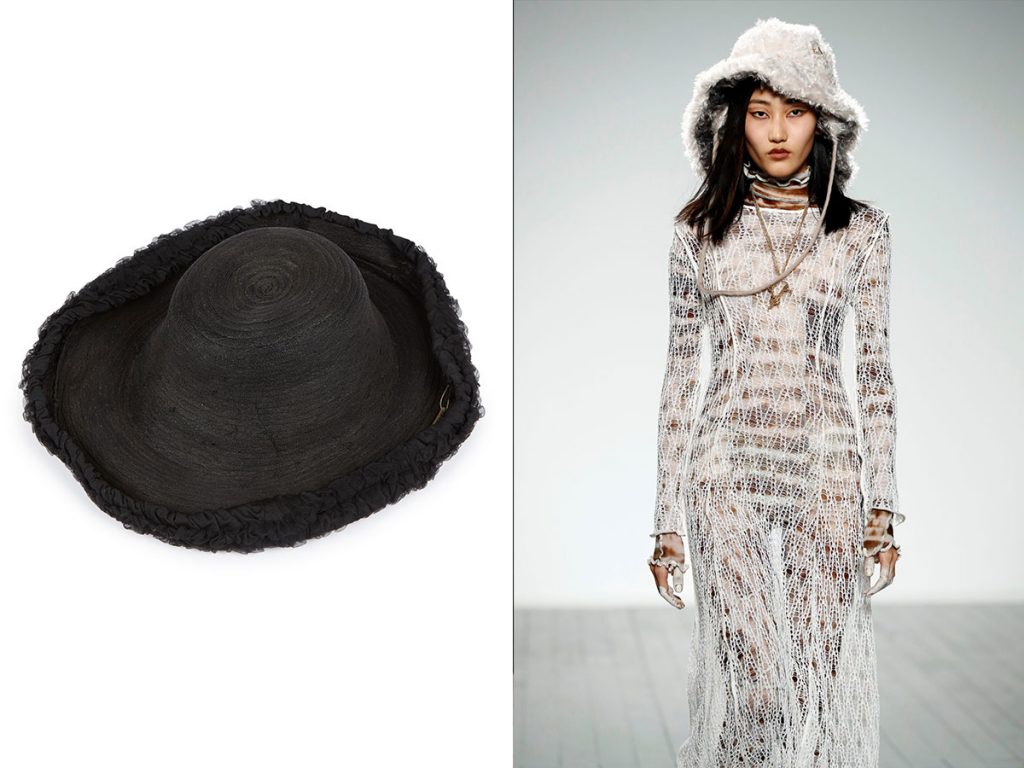 This black hat of horse hair, chiffon and silk was worn by Queen Victoria in the 1880s. Accessorising with a simple but bold hat is also the look adopted by designer ASAI.
9. Copious lace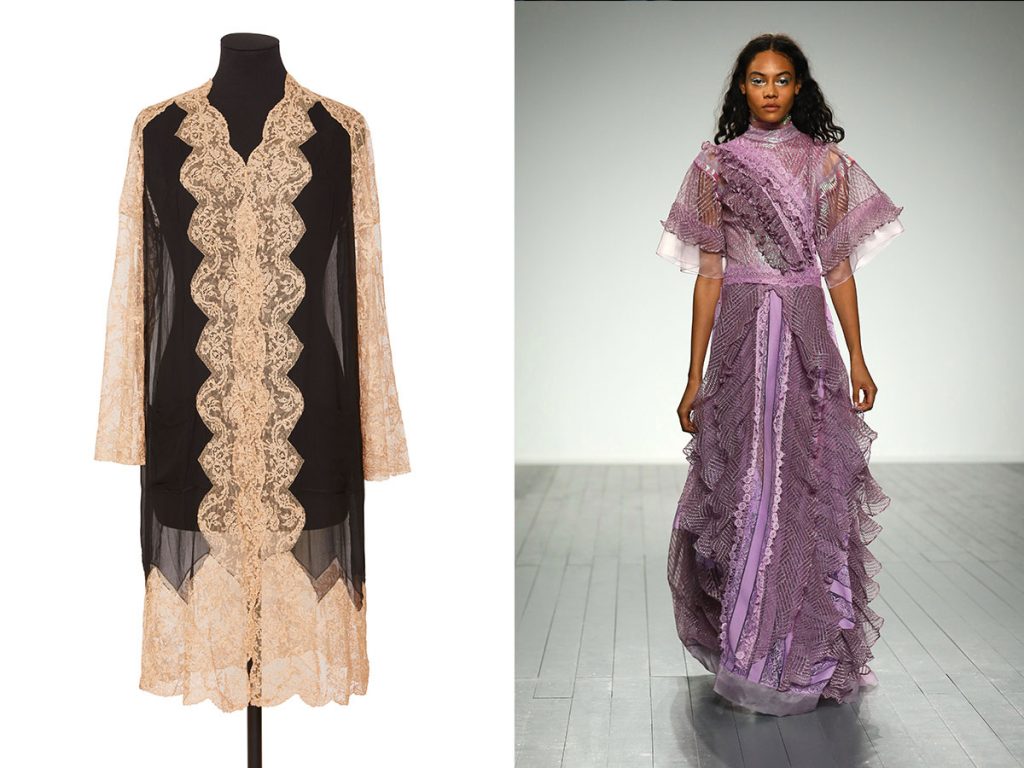 This négligée or dressing gown from 1926 belonged to Princess Marina, a former Kensington Palace resident. It is made of black chiffon with sheer lace sleeves and ecru Alençon lace trim. Princess Marina became renown for her elegance and style. Nearly a hundred years later, lace is still used to create elegant designs. Designer Bora Aksu has gone for a look of lace in abundance.
10. Fluffy accessories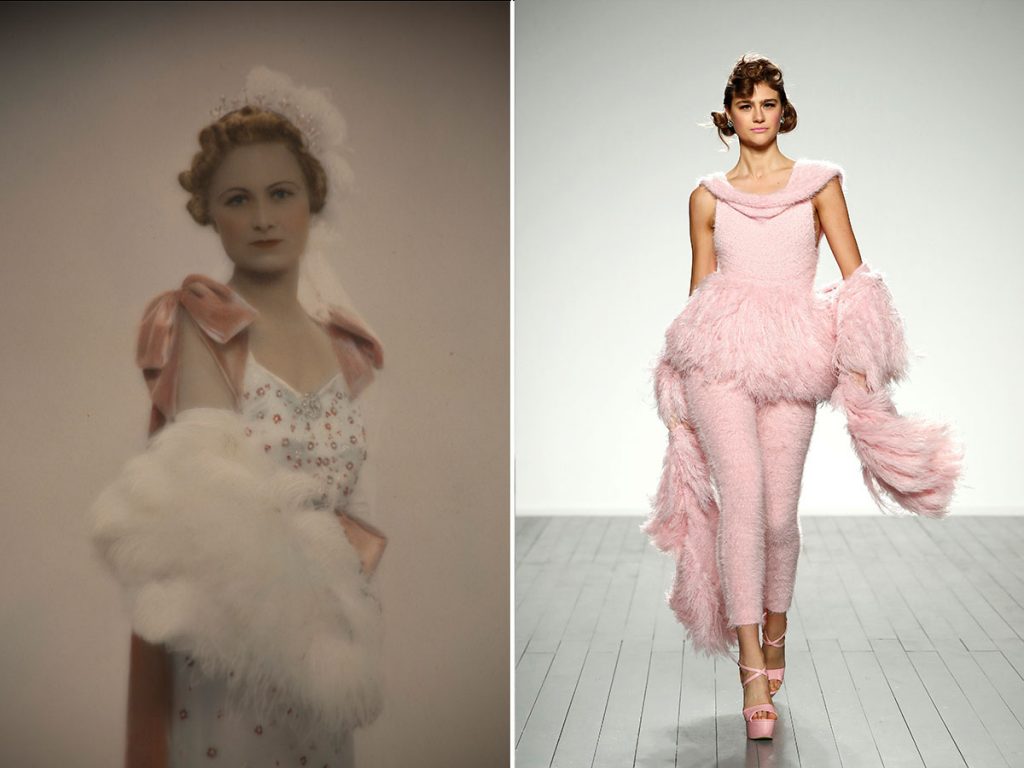 In this photograph from 1930-5, Mrs Archibald Gifford Scott wears a white satin court dress by Norman Hartnell. To accessorise the dress she holds a large white ostrich feather fan. Debutante style meets Sandy from Grease in this design by Mark Fast, in which the model flaunts her own ostrich feather accessory.
11: Total blackout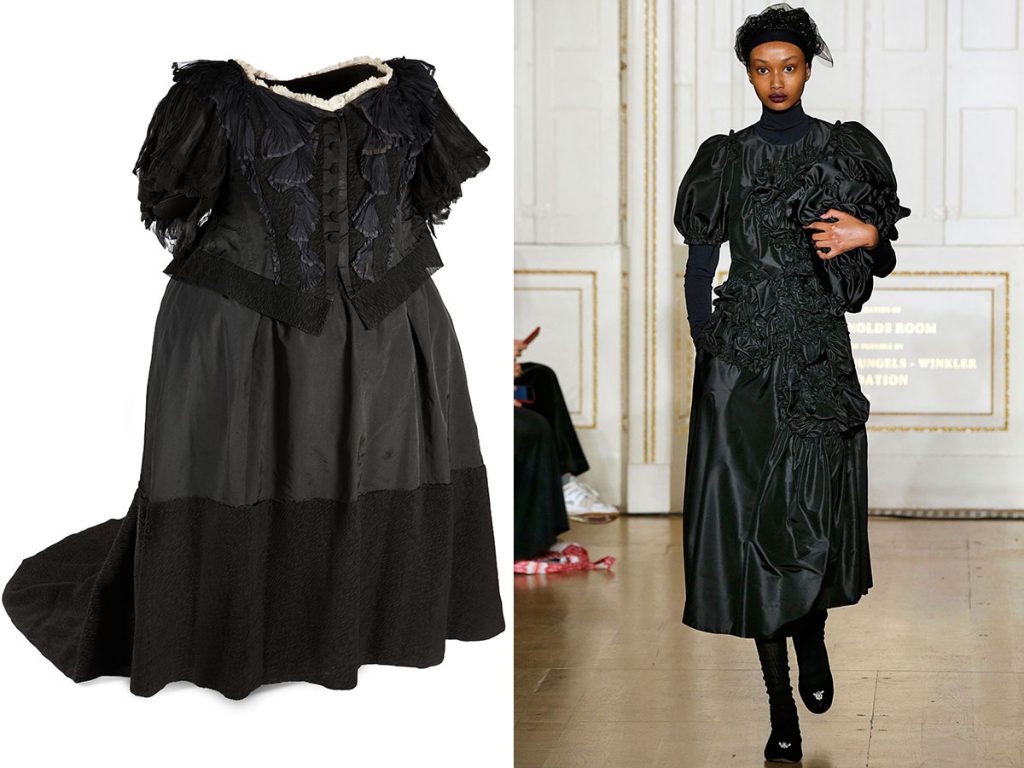 This is Queen Victoria's mourning dress from c.1898. The bodice and skirt with trained back are of black silk, black crepe and silk chiffon. It is exquisitely made though simple. After the death of Prince Albert in 1861 Victoria went into mourning and wore black for the rest of her life. Simone Rocha's black silk dress picks on Victorian mourning vibes in this design with a lot of ruched silk and black accessories – Queen Victoria's influence is still being felt.
Annabel Sheen
Digital Media Officer