The 'Tower Poppies' installation in 2014 was a major event of commemoration. But how do we measure the impact this huge project had on the public, staff, volunteers and other participants? HRP Research Leadership Fellow Megan Gooch introduces the important research since undertaken to understand how people have responded to the Poppies and other commemorative events.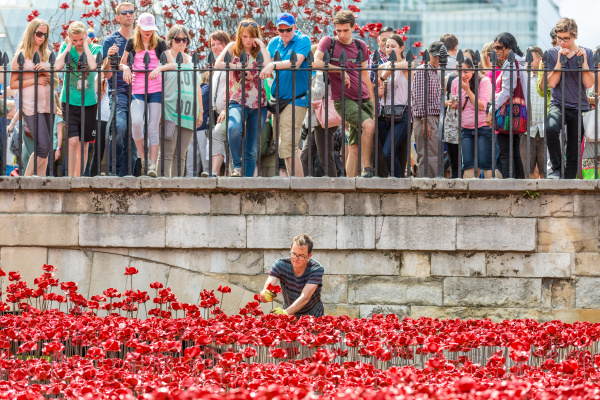 How do we know what the Tower Poppies meant to people? If you've heard of Blood Swept Lands and Seas of Red, the Poppies tour or Beyond the Deepening Shadow, this might seem like a stupid question. And if you visited those installations, or engaged in other ways such as by volunteering or buying a poppy, you may think it a very stupid question, and perhaps not one not even worth asking.
But asking questions about what happens in museums and heritage sites is fundamental to understanding how to improve them, and how to develop new events, installations and experiences for visitors. Without asking the questions, and changing in response, museums would be static and never respond to the world around them, or even think about mounting vast public engagement projects such as the 'Tower Poppies'.
So how do museums know anything? The short answer is: by doing a lot of research. When you think of research in a museum or heritage site, you probably imagine curators wrangling curled up medieval manuscripts, wearing white gloves to closely examine a precious artefact, or putting on their work boots to see the latest exciting archaeological find. As a curator I have done all those kinds of research (and boy, did I struggle with those manuscripts!), but in addition to researching the past, I also research how history is used in the present.
This kind of work is often done by all sorts of people in museums, and you may be familiar with museum audience research if you've ever been asked to fill out a questionnaire after an activity or a visit to a museum. It is this kind of work, looking at current visitor responses to practices that happen within museums that I am interested in. To me, uncovering the reasons behind the success of the Tower's World War I commemorative programme is as exciting as a find from my previous curatorial life such as the discovery of a new Viking coin hoard!
Unlike my past historical and curatorial research, where the subjects of your research have all been dead for hundreds of years, things are trickier when it comes to researching living people. Instead of reading archival material or studying artefacts, you have to talk to people about their experiences. My background is as a numismatist (someone who studies coins and medals) where I looked at Viking coins, and thought about how they were made and used in the past. I've worked on coin exhibitions at the British Museum and the Tower of London, where I had to think not just about what happened in the past, but how to communicate this to people today. I've also worked on audience research projects to understand which schools visit the sites, and how people make sense of the 1,000-year-old castle that is the Tower of London. Researching the Tower's commemorations in the Lest We Forget research project brought all of these together.
So what did our day-to-day research look like? We looked at a lot of sources, such as spreadsheets from the Poppies project, we interviewed visitors in the moat during Beyond the Deepening Shadow, and we recorded oral history interviews with staff, volunteers and participants of both commemorative events: everyone from the Creative Producer to the Head of Security!  We also spent a lot of time reading people's (sometimes heart-breaking) stories of commemoration, and looking at portraits or the gravestones of their deceased relatives. At times, the work was emotionally draining, reading about so much death and destruction. But there were moments of hope and joy – of people sharing their pride in working on or attending these events, of pictures of new-born babies shared to represent the positive legacies of a distant conflict, of new relatives found through family history research inspired by the World War I Centenary.
The hard part of any research is always bringing together your findings and writing your results, and that is the final stage of the project. What we do know is that the Tower's commemorative events didn't have the same meaning for everyone, and people used the Tower and its digital spaces to commemorate on an unprecedented scale. There are probably as many interpretations and reactions to the Tower's commemorations as there are people, and we will never know the true extent of its impact; the best we can do is to identify trends and share them with other researchers.
As researchers who work at Historic Royal Palaces, we are particularly interested in how the experience of these events differed between staff, volunteers, visitors and other people who interacted with the commemorations. Of course it's a very different experience standing in a cold moat for four hours delivering an event, to walking around the moat as a visitor, but each perspective gives a fascinating insight into how people took the Tower's World War I centenary artworks into their lives.
Megan Gooch
Creative Producer & Research Leadership Fellow
Historic Royal Palaces
This research project is funded by the Arts and Humanities Research Council