It's Mothering Sunday on the 22 March and as usual at Hampton Court Palace we will be celebrating by opening the whole of the King's Apartments to a team of dedicated flowers arrangers from the National Association of Flower Arrangement Societies (NAFAS). Florimania is here again, a well-loved event now in its 23rd year.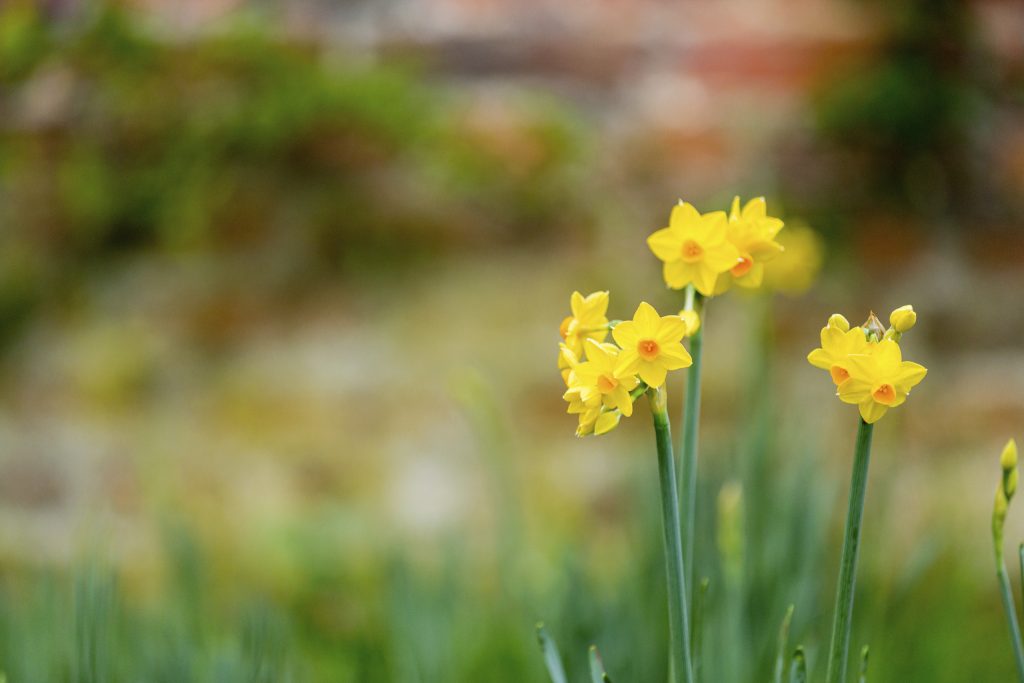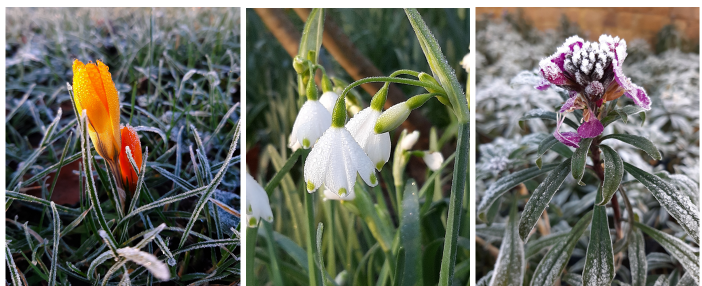 In early March this year, it seemed that winter would never end, although nature was doing her best in the gardens, with daffodils and other flowers coming out early. However, the best sign that spring is finally there, will be Florimania, when Hampton Court Palace is overrun with flowers!
This year Historic Royal Palaces is celebrating the 500-year anniversary of the Field of Cloth of Gold, when in June 1520, King Henry VIII met his "beloved cousin", the King of France, Francis I. The Florimania exhibition team were asked to be part of the celebrations. After a bit of head scratching, we decided that we would choose heraldry as our theme. At Hampton Court we are lucky enough to be surrounded by heraldic symbols. They are in the stonework, the stained glass and the decorative finishes of our walls and ceilings.
We also have new signage for Florimania; last year's banner, all pinks and greens, will be kept for another year. Our design team had the brilliant idea of re-using a design by Clare Curtis for the Magic Garden, perfect for what we needed – we already had beautiful design for a heraldic lion, a dragon, a unicorn and Tudor roses! We also had a strange fish, but we left that one out!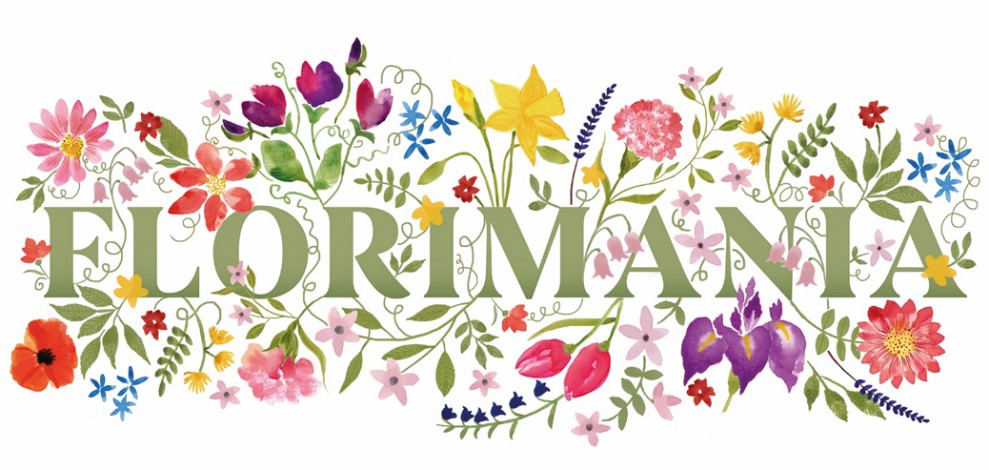 From this original graphic, Evie Crockard from the design team added colour and the title of the exhibition "Heraldry in Flowers", resulting in a wonderful dark blue and gold logo. (By coincidence, the colours of Francis I, although of course we'll be supporting Henry VIII at the Tudor Games!) I particularly love the dragon resting his head on the 'F'.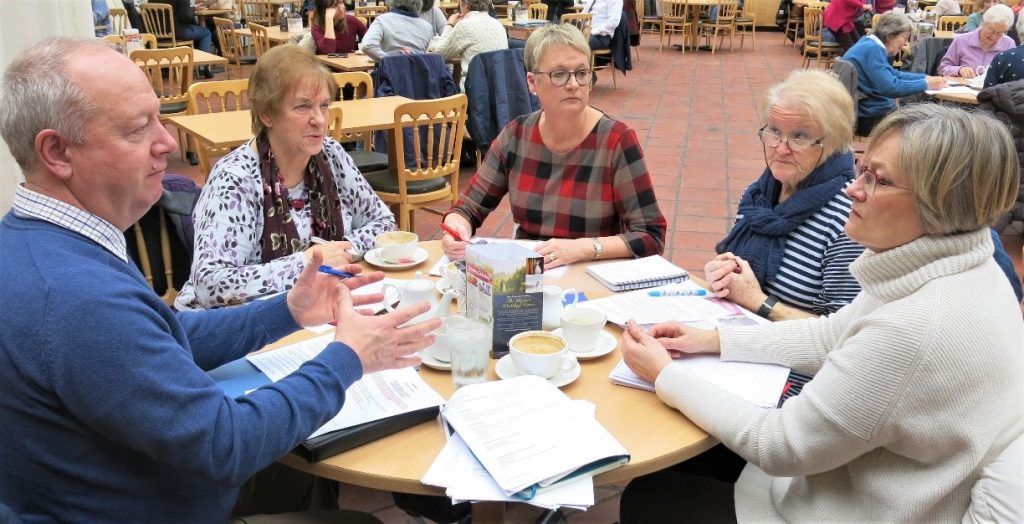 The Florimania team have been meeting regularly to discuss the nitty gritty of design and what we are going to use where; our NAFAS ladies will be well and truly challenged this year. We will be representing heraldic symbols in both fresh and dried flowers, depending on the artist's preference. We're thanking Henry for having had so many wives and three children – there's a lot of rooms to fill in the grand King's Apartments!
We struggled to decide what technique to use to represent Elizabeth I, as her symbol is very complicated. Pat from NAFAS suggested dried flowers could be good solution.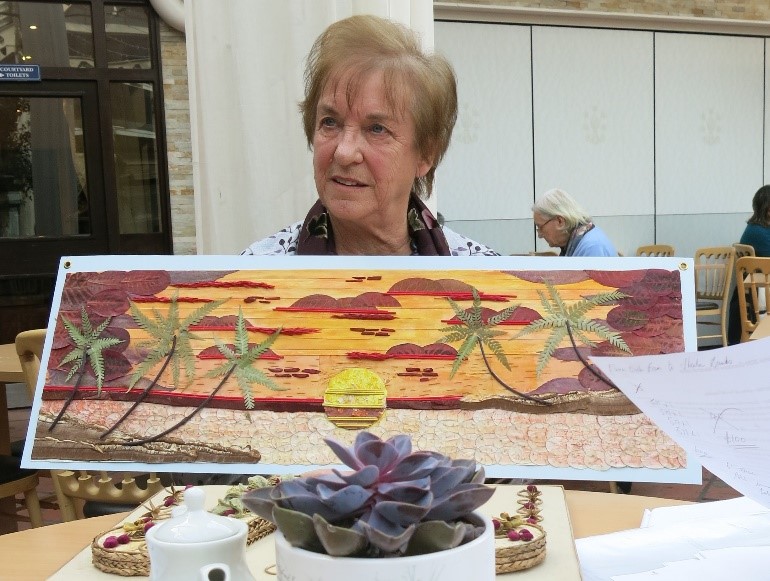 Henry's meeting at the Field of Cloth of Gold was a very rich affair, so we are looking at using luxurious cloth and tapestry replicas to drape under some of our arrangements. Thank goodness we have a lovely archive of materials, such as this fabulous green silk!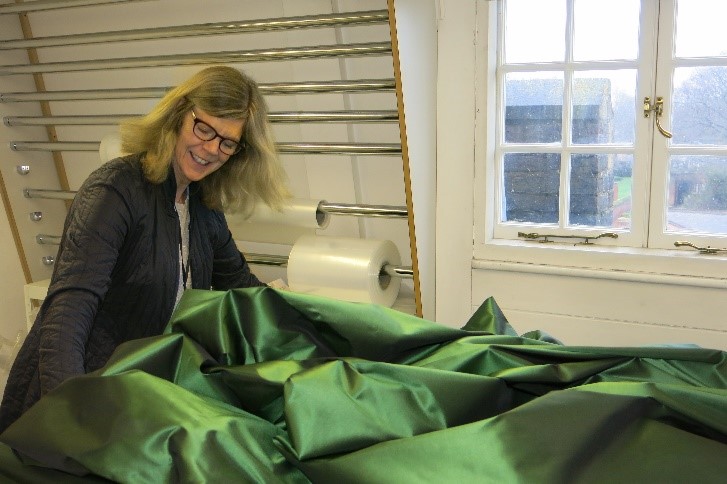 Another challenge was creating a Tudor-themed Florimania exhibition inside 18th century rooms, but the key is in the details. We bought some green Tudor pots to replace our lovely blue and white 18th century Het Loo replicas. After the exhibition the green pots will be dotted about the gardens so we can still enjoy them.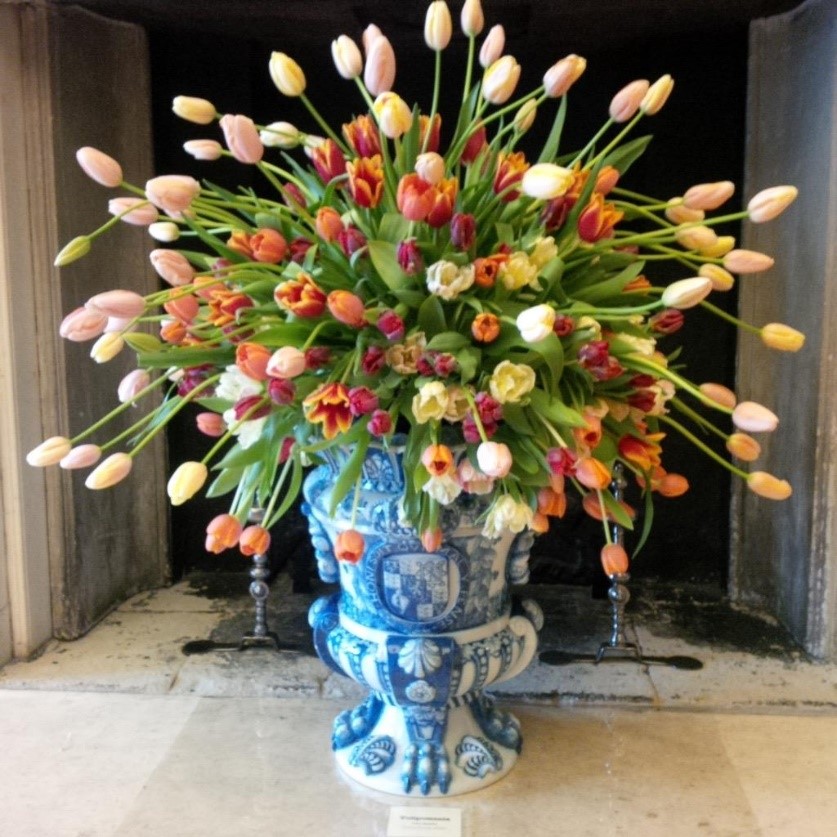 To give grandeur and pizzazz to our exhibition we decided to commission two willow artists to help us decorate the King's Apartments. Debbie Hall of Salix Arts, based in Cambridge, is making an impressive entrance arch for the King's Apartments; at 3.5 metres tall, it will be nearly as tall as the door. We went to see Debbie at home to meet her and watch her work. Who knew willow came in so many colours!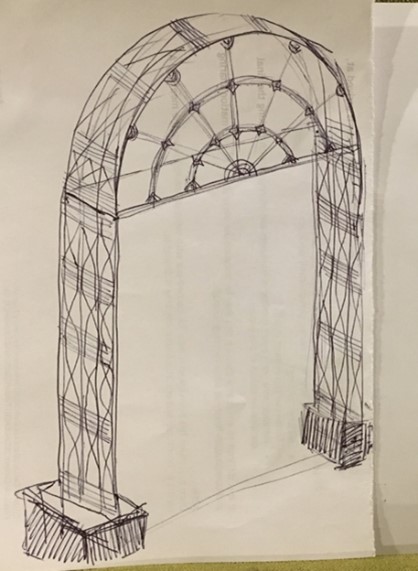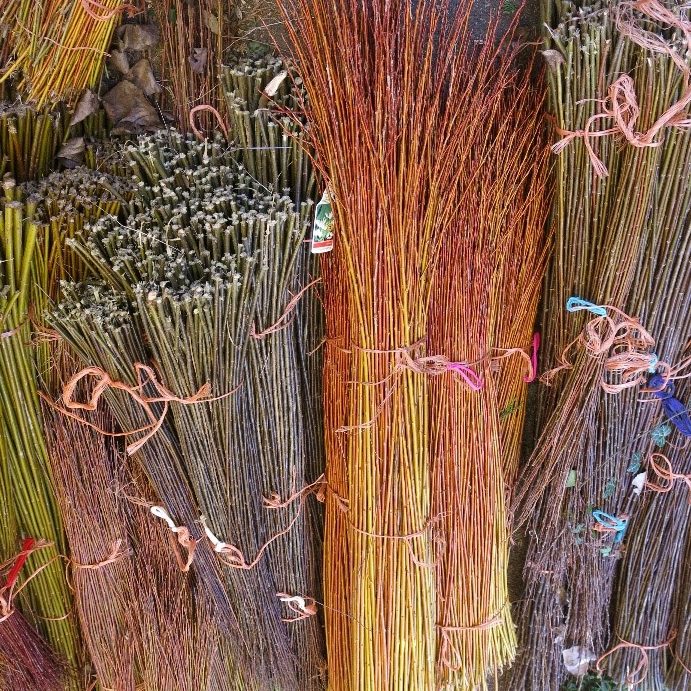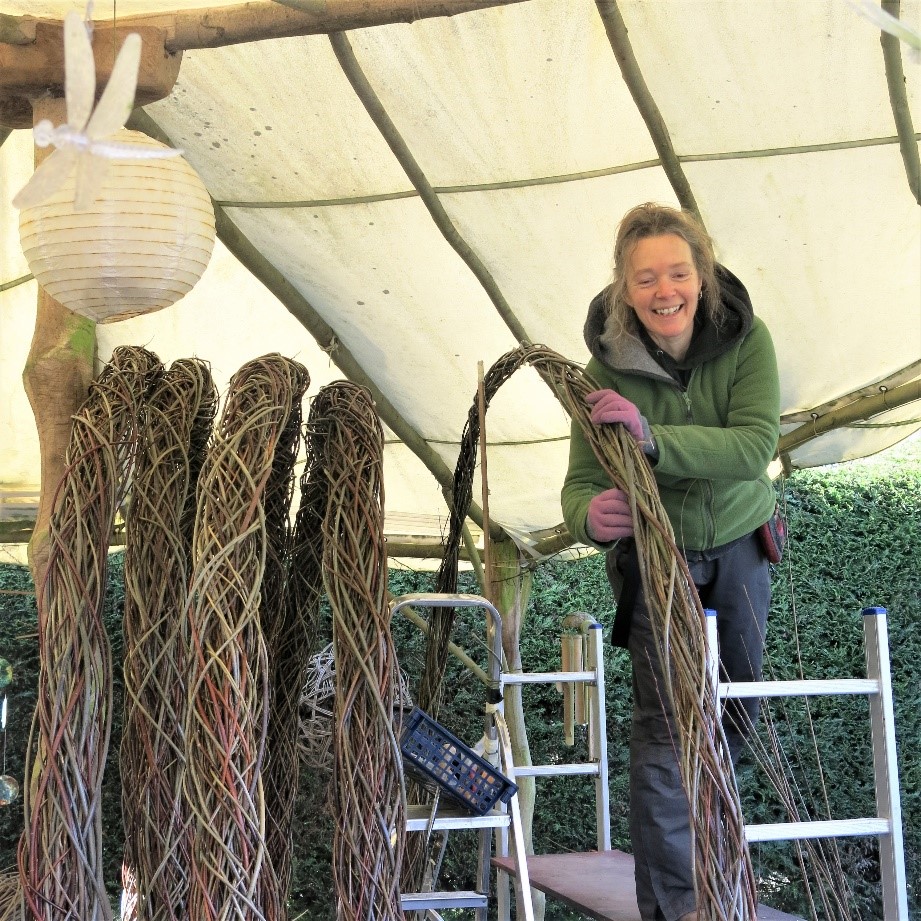 In the King's Staircase, we will be displaying a heraldic lion, made of woven willow, a supporter for the arms of England since 1509. Joolz Doncaster of Wicked Willow made the rampant lion and regularly sent us photographs as he was progressing, taken in her workshop. You can see the metal support work that gives shape to the final form.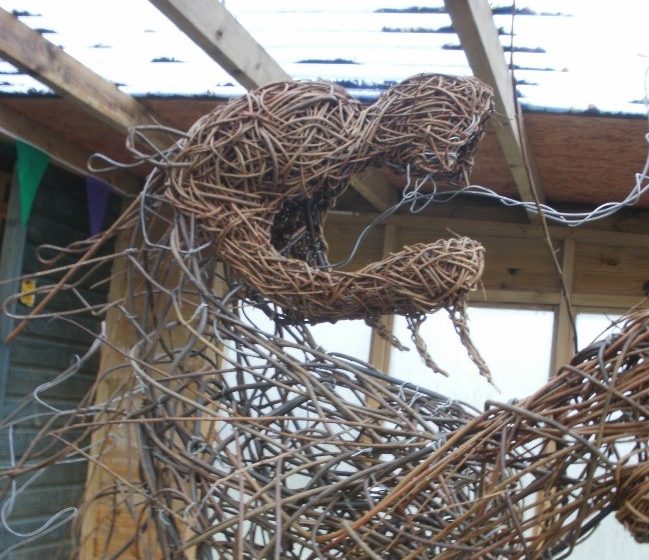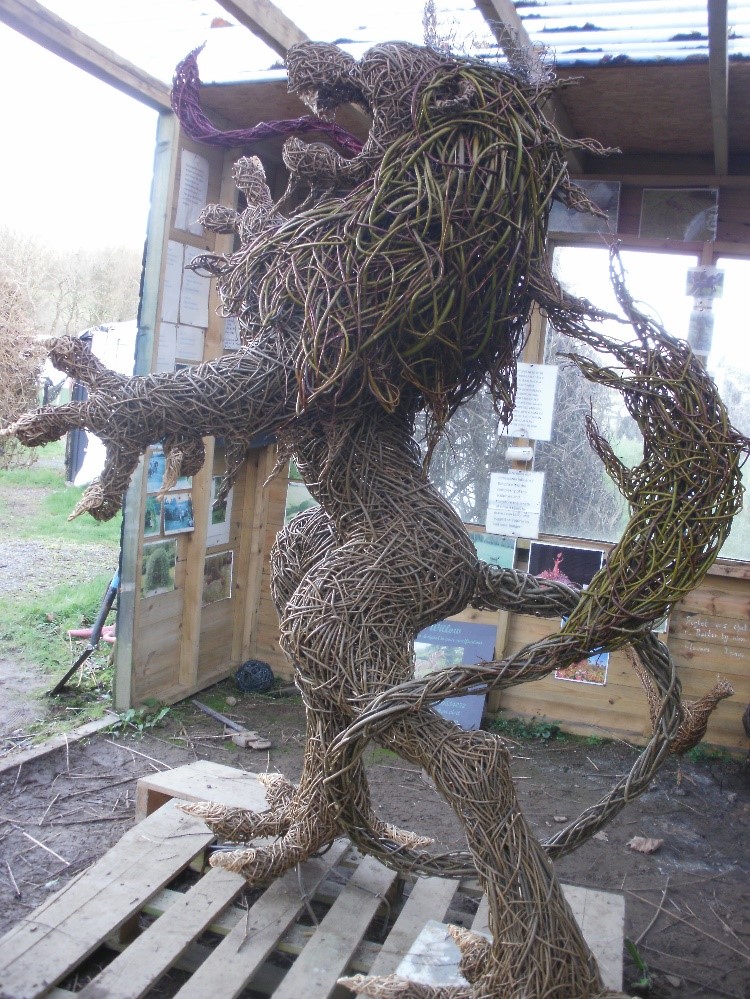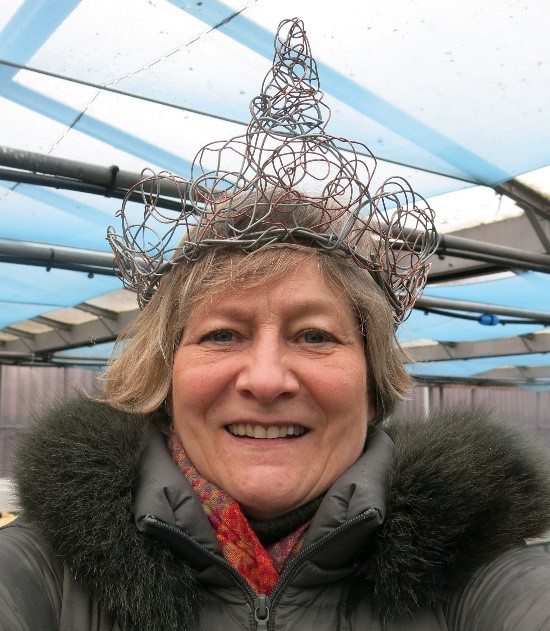 He has a red tongue, which is made of natural willow, fearsome claws and a crown which I had to try on even though it isn't very comfortable! Our heraldic lion arrived with a recipe for his maintenance. Joolz mixes linseed oil and turpentine and if sprayed every six months he could last over ten years. This is great as the lion will be going into the gardens after the exhibition.
Having blown the budget with willow work, we are saving money by re-using items which have been on display before such as the banners, which some of you will remember from a few years ago.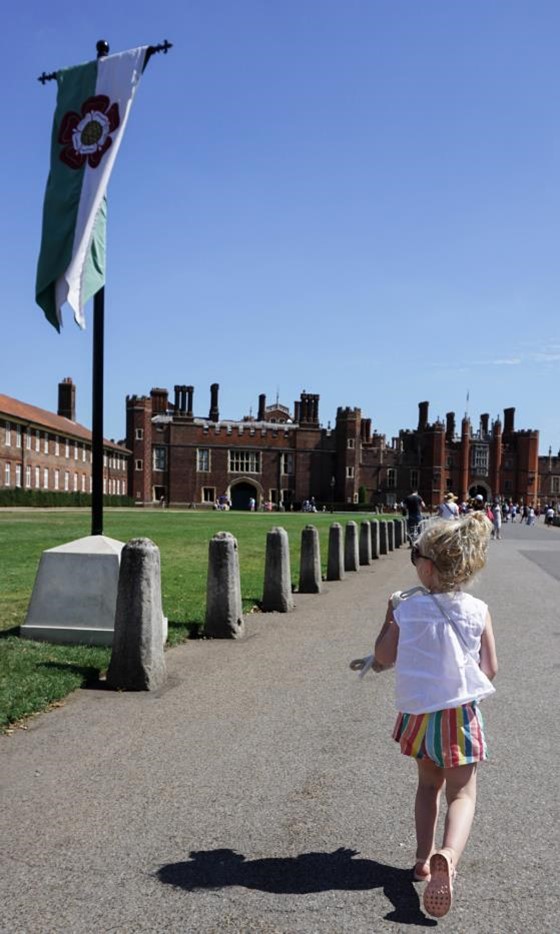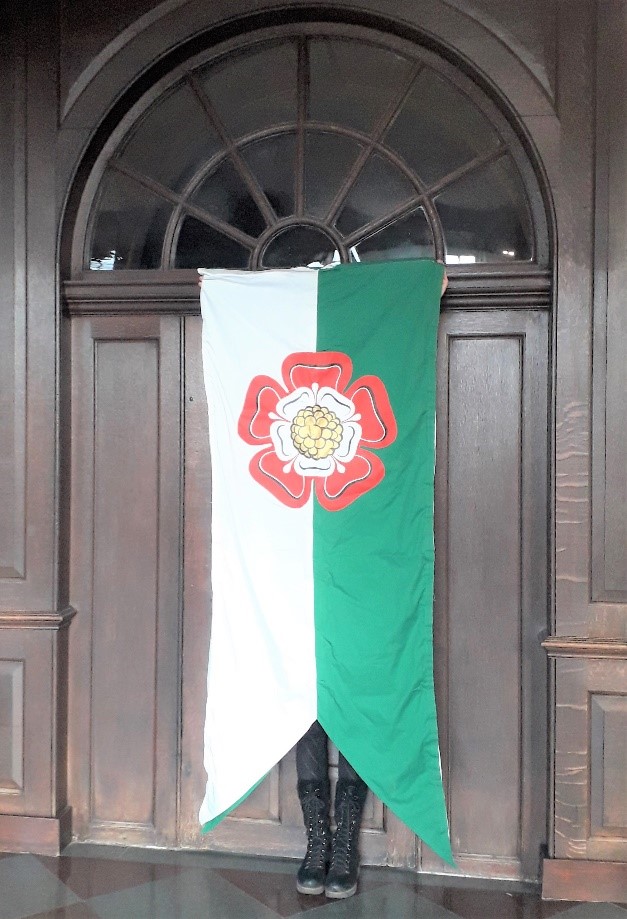 Here is Kate demonstrating the fact that cut down they will fit very nicely in the Orangery, once we have washed the pigeon poo off them first of course!
We also rooted around the gardener's storage spaces and found some lovely potato baskets which, once painted, will look lovely with flowers in.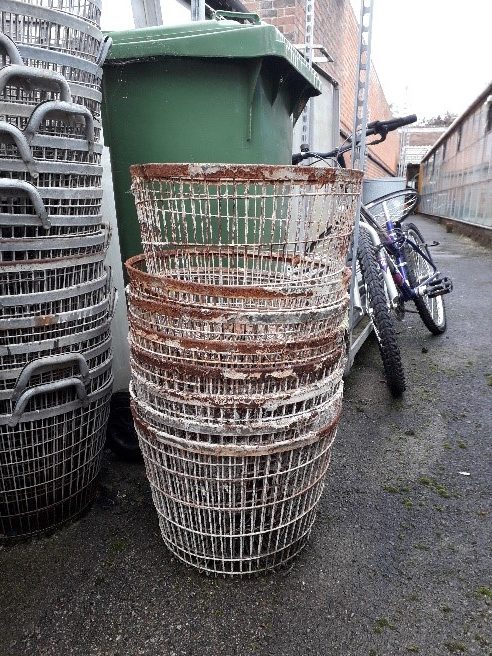 In the orangery we are using stripy poles to support heraldic beasts going on display. The poles will have been painted as part of a job lot for the Field of Cloth of Gold exhibition.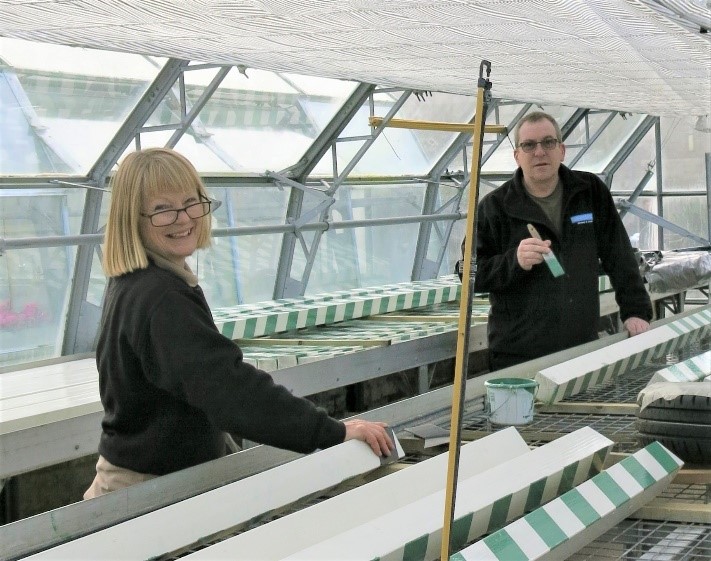 Poor James, he used to be a painter and decorator before he became a gardener; he is now regretting letting that bit of information slip after spending the past few months painting stripes in the orangery!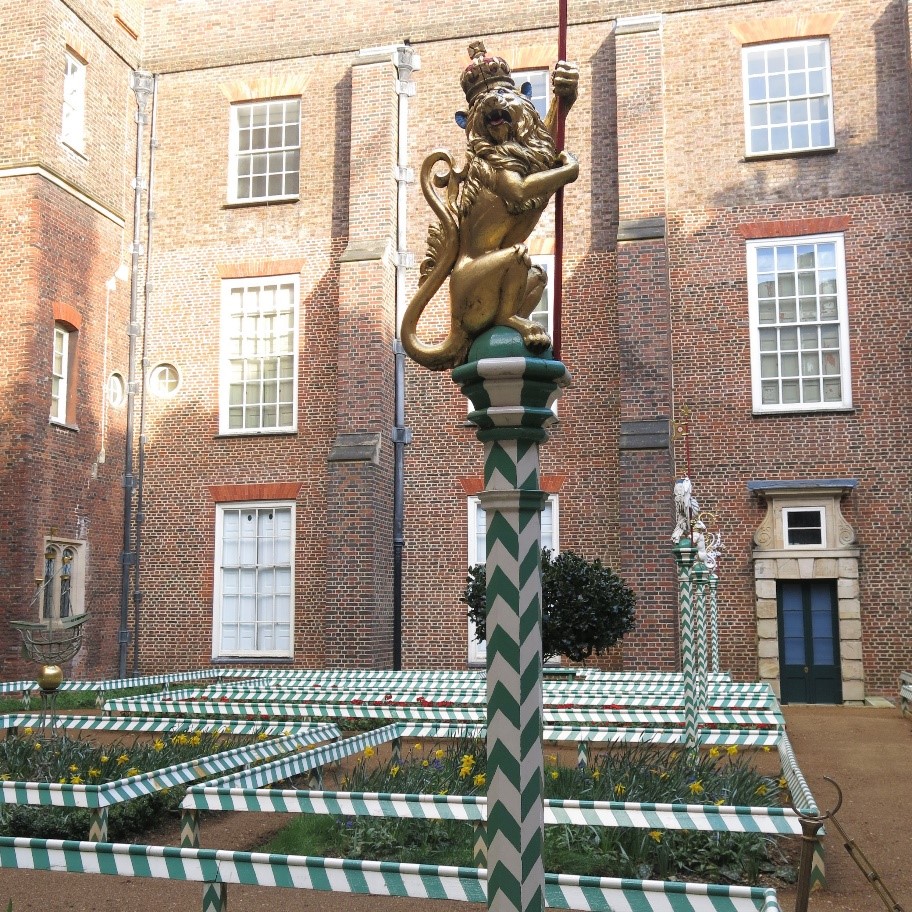 The stripy poles match those in the recreated Tudor Garden next to the Chapel.
A selection of Florilegium paintings will also be going on display. They will match Henry's colours of green and white – it's quite a challenge to choose only 11 of them!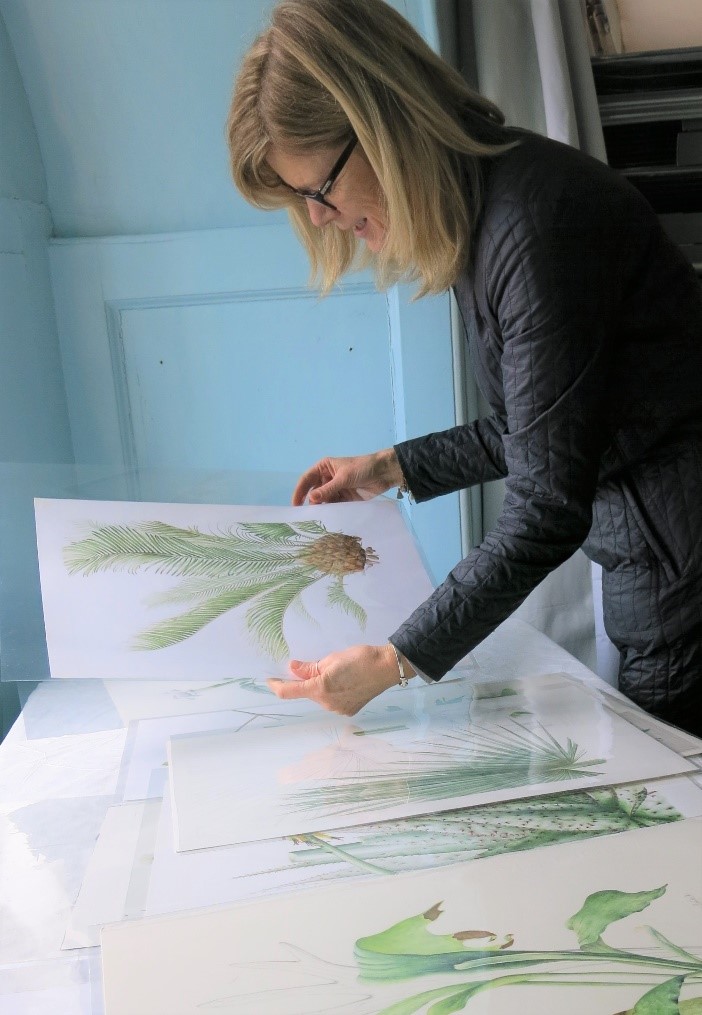 With just a few weeks to go, we have the labels to send to the printers, the banner is going up at the front of the Palace, and we are very nearly there. No doubt there will be a rush at the end, but we will be ready.
Laurie Gibbs
Along our partners, NAFAS, we have made the difficult decision not to proceed with the 'Florimania' event at Hampton Court Palace this weekend. This is a precautionary measure being taken to protect participants in the event. The Palace will remain open and we hope you enjoy our other displays.