Historic Royal Palaces have been hosting Florimania for over 20 years for Mother's Day weekend at Hampton Court Palace. Each year, the King's Apartments are filled with elaborate flower arrangements designed by the National Association of Flower Arrangement Societies to celebrate spring. An exhibition such as this takes a lot of planning. In this blog post, Conservation Coordinator Laurie Gibbs charts some of the many behind-the-scenes steps that went into pulling together this year's floral extravaganza.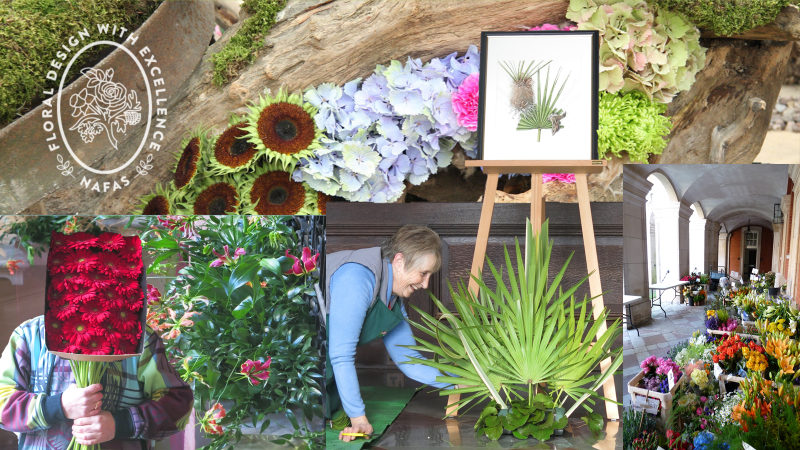 April 2018
In spring last year, we decided to jazz up our 2019 exhibition by adding another layer to our floral offer: we would display a selection of flower-embroidered objects, usually kept in storage, belonging to both Historic Royal Palaces and the Royal School of Needlework (RSN). Spring colours green and pink as well as a floral font would be used to unify all the different elements and we would call this exhibition, "Embroidered treasures of Hampton Court".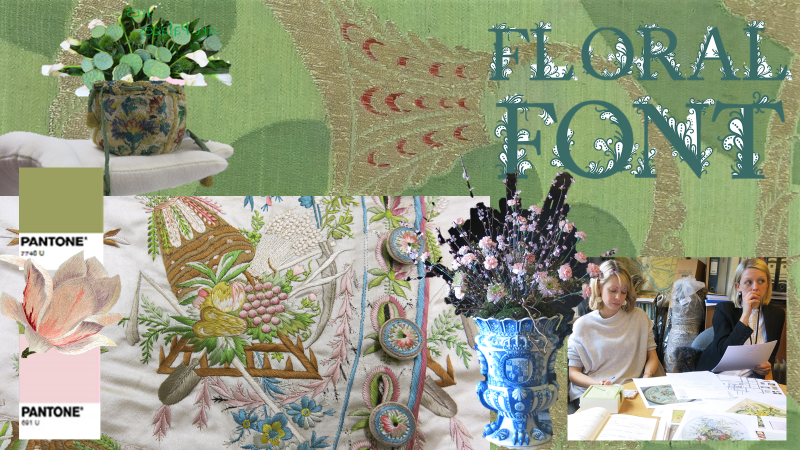 May 2018
Almost a year in advance of the exhibition, we started to the hunt for objects. It was necessary to choose items that would fit into our small showcases. Unfortunately, the dolls' house bed that belonged to George III's children, did not match the measurements. However, the search was fruitful – in fact we found so many treasures that we knew it was going to be hard to choose – including an abundance of fabulous shoes!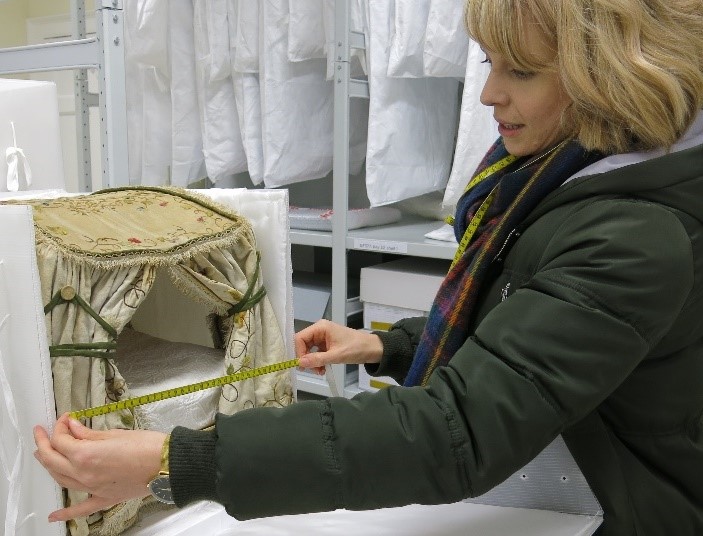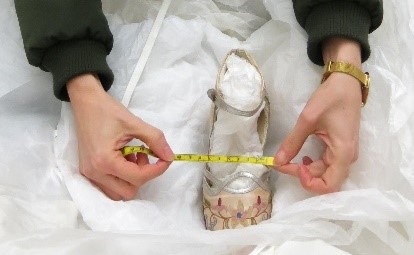 June 2018
We wanted to use objects belonging to the RSN from the very beginning and a visit to their storage area proved to be amazing, finding a treasure trove of small delectable objects. We were delighted, although it made narrowing down the object list even harder!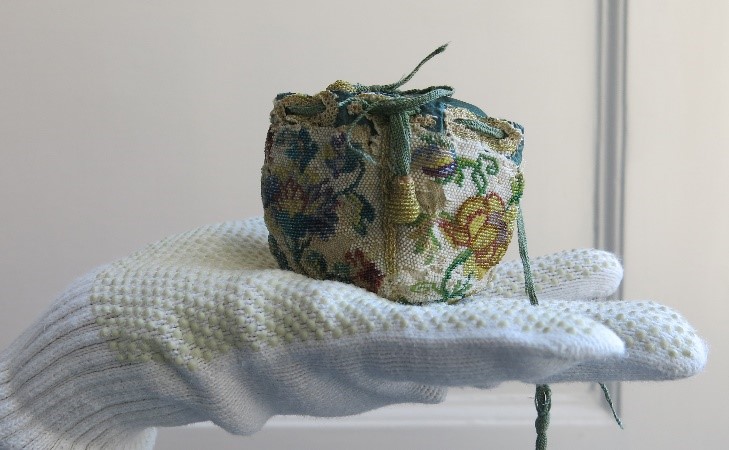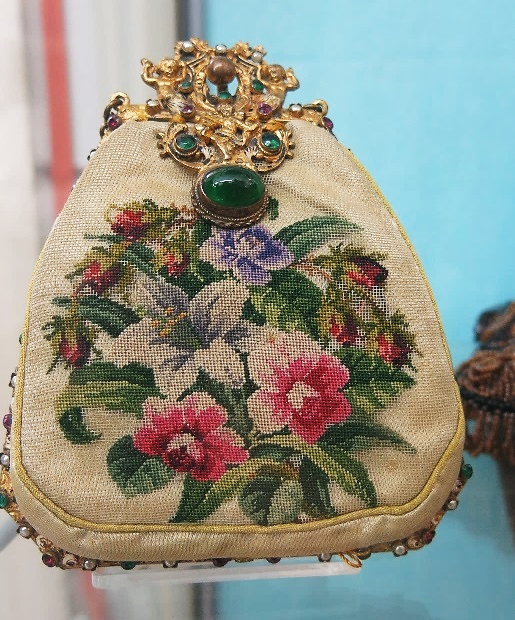 While we were having fun exploring the collections and choosing objects, our carpenters were hard at work making new bases for the showcases.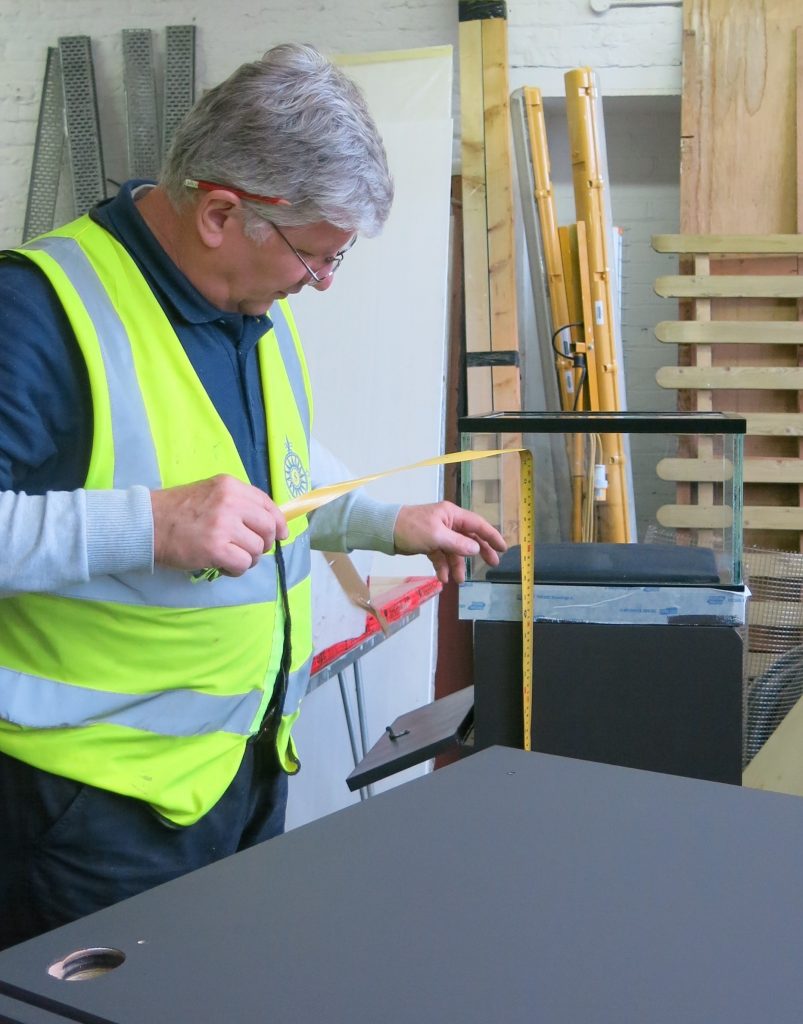 July 2018
By July, we had decided which objects would be displayed. We invited our National Association of Flower Arrangement Societies (NAFAS) friends to come and have a look at what they will be working with, so that they could use the historical items as inspiration for their accompanying flower arrangements.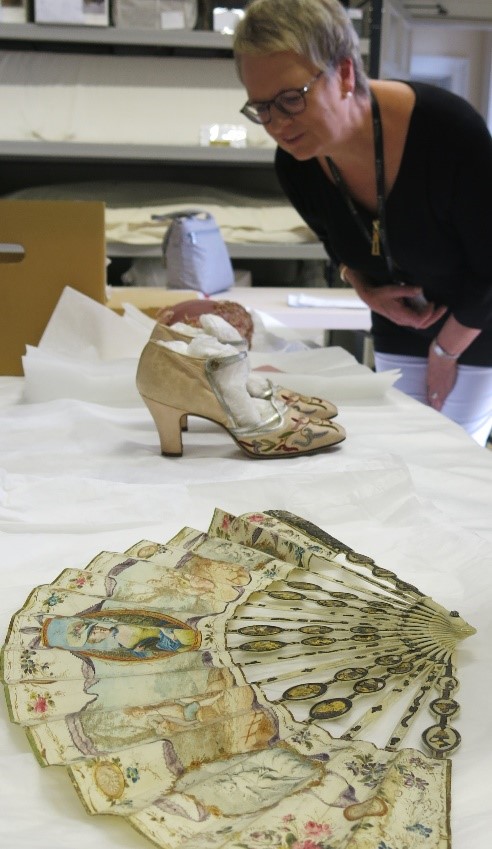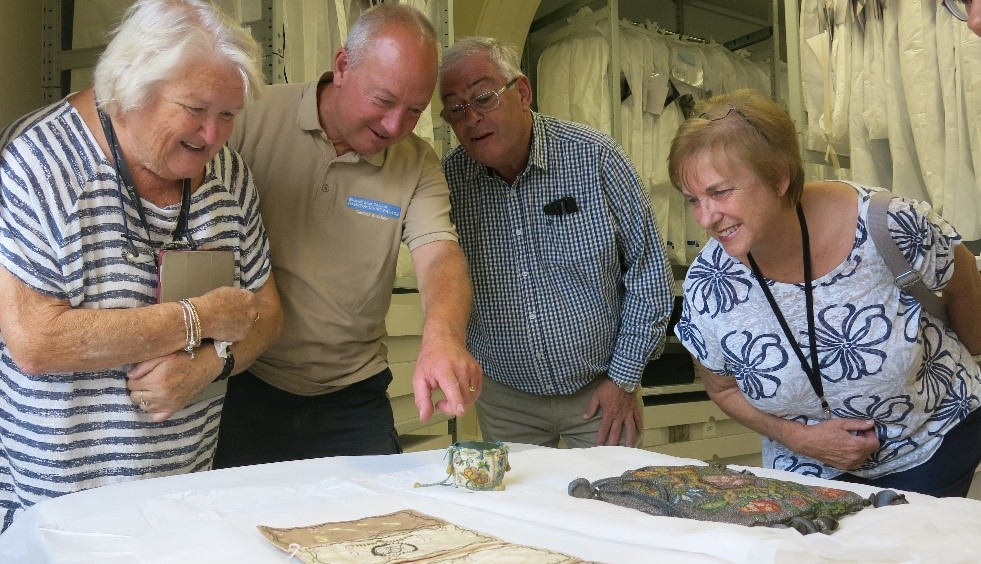 August 2018
The Hampton Court Palace Florilegium Society artists meet every month to paint the plants growing in the gardens and glasshouses of Hampton Court. As part of the Florimania exhibition, the Orangery at Hampton Court will be used for a display of botanical drawings from Florilegium. Alongside these will be displays of potted exotic plants in Delft pots. There were many drawings to choose from, but we were looking for artworks that matched the blue and white scheme in the Orangery, inspired by the blue and white of the Delft pots.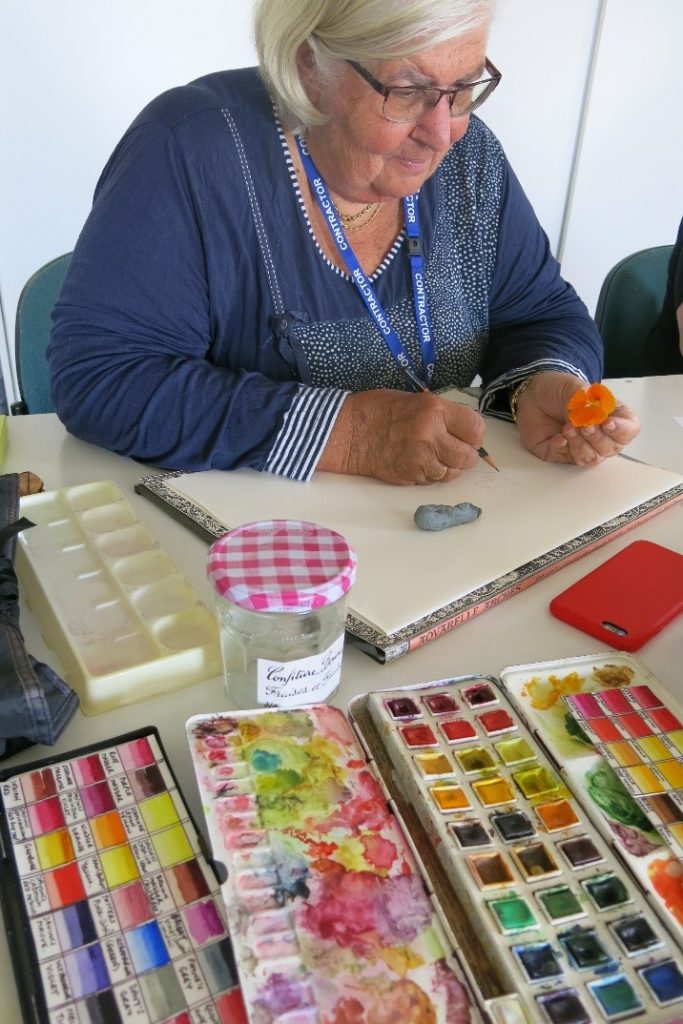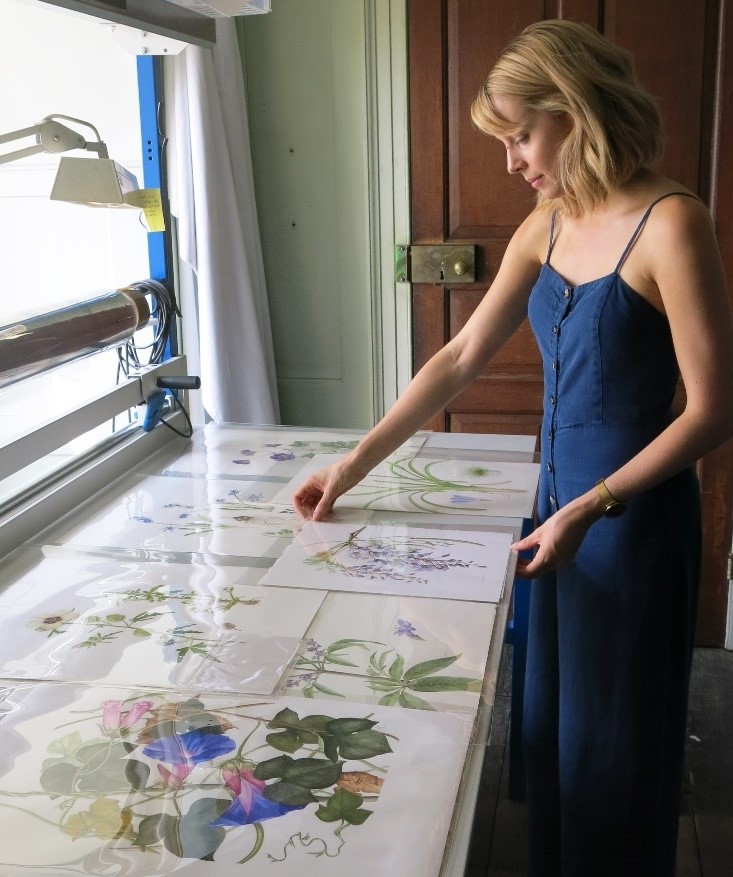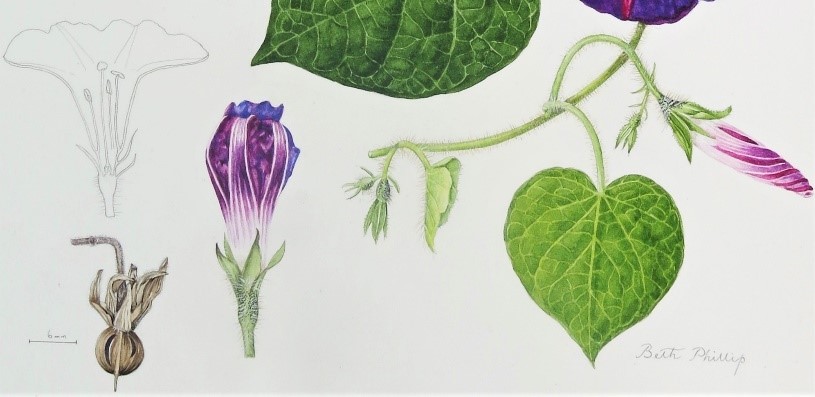 September 2018
These are 18th century silk shoes brocaded in lime green and yellow silk in a design incorporating ears of wheat and sprays of leaves and flowers, and they will be included in the exhibition. They are made of Spitalfields silk, named after the area of London where the silk was woven, and they are in amazing condition for an object that's 300 years old! Items such as this need to be prepared for display to ensure that they can withstand the new conditions of display as well as to show them off as their best. For these shoes, conservator Viola Nicastro designed and made padded silk inserts to support the shoes while they are on exhibition.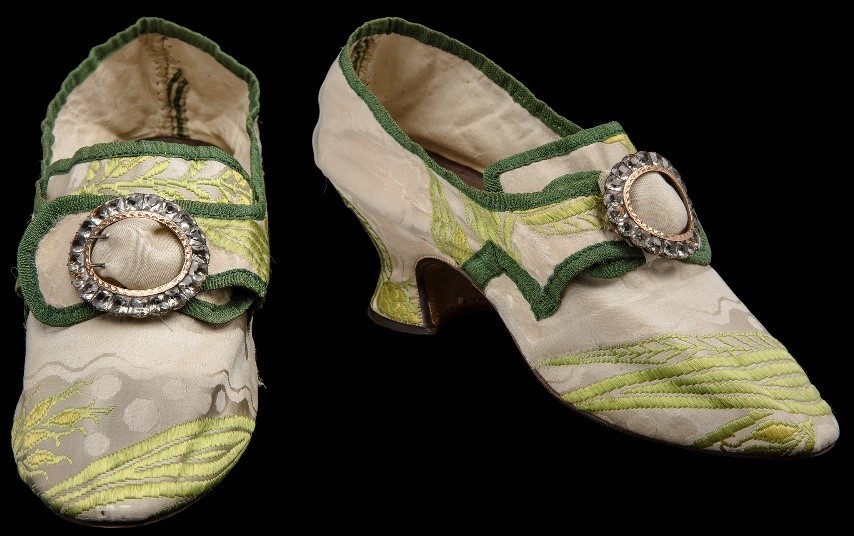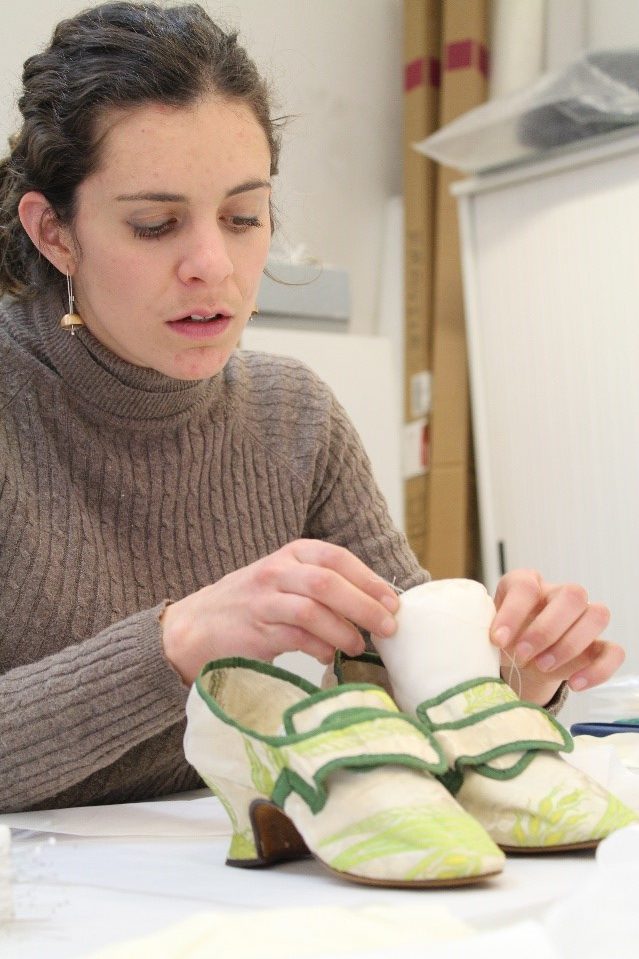 October 2018
In October, we made sure that the objects fitted the showcases and decided how we were going to display them to their best advantage. Some of the items have embroidery on both sides, so it was a question of deciding which side works best on show.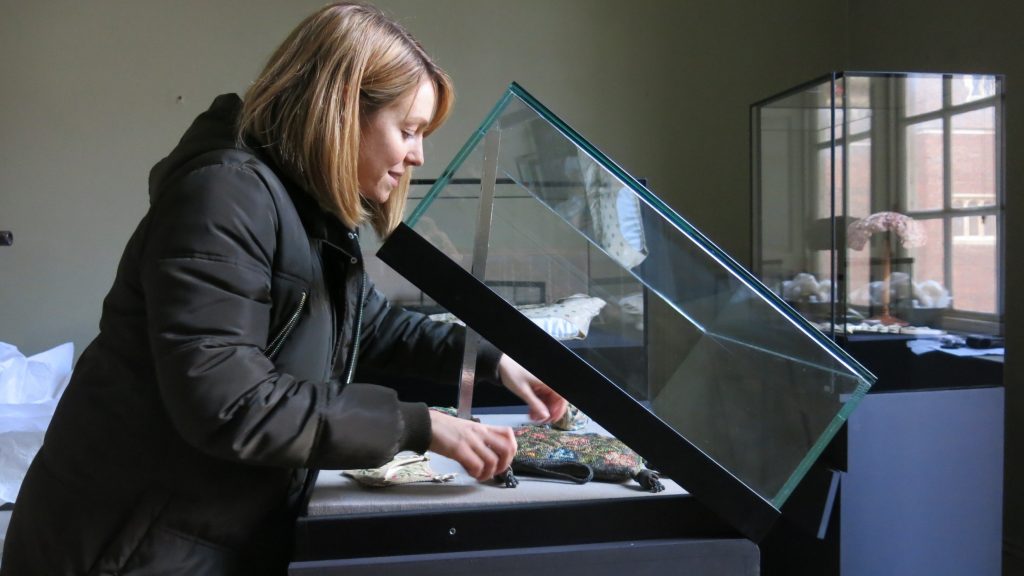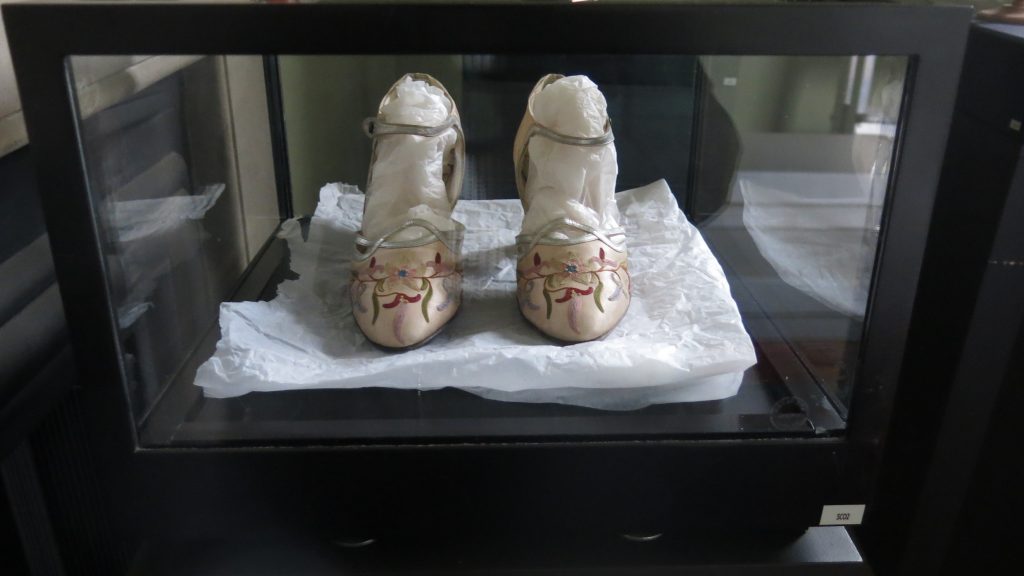 This pair of pale pink, high-heeled shoes of silk satin are embroidered with floss silk, stylised flowers and leaves. These shoes illustrate many features typical of 1920's design. As hemlines on dresses rose in the 1920's these shoes would have been very visible, for all to see and admire.
The shoes' showcase was almost made to measure! To ensure that the shoes were stable and didn't wobble when upright, small pins covered in surgical tubing were nailed into their stand to gently support the shoes where they stood.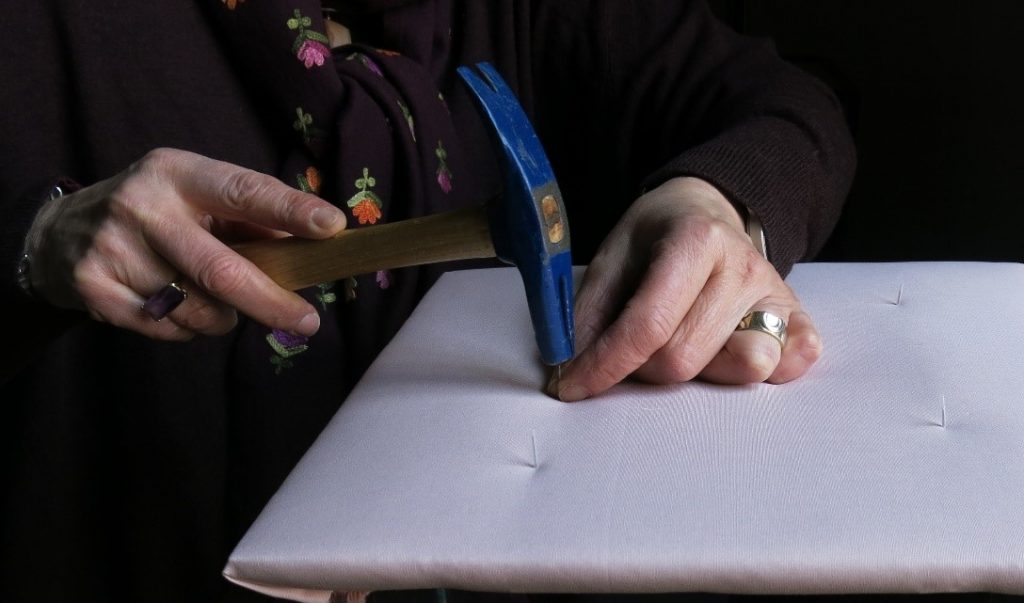 January 2019
All the tables and urns are being repainted and repaired to look their best for the exhibition. Of course, everything is stored on the third floor so it took all morning for the gardeners to move it all out!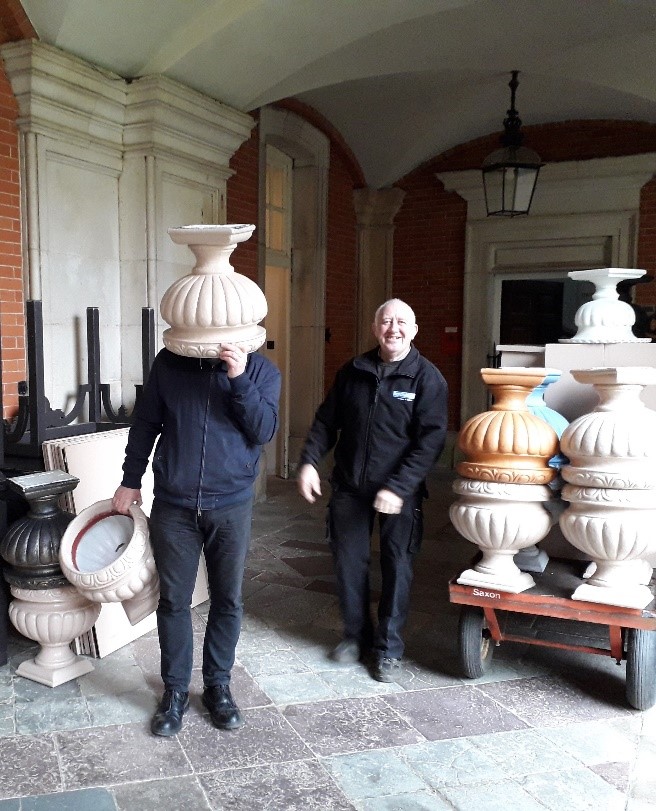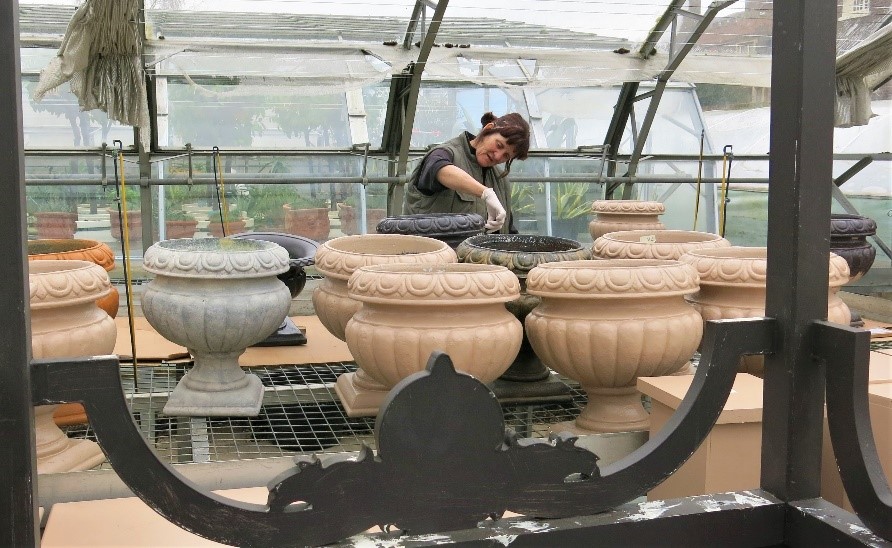 February 2019
Not long to go! The new logo for Florimania came through just in time for the tickets to go on sale!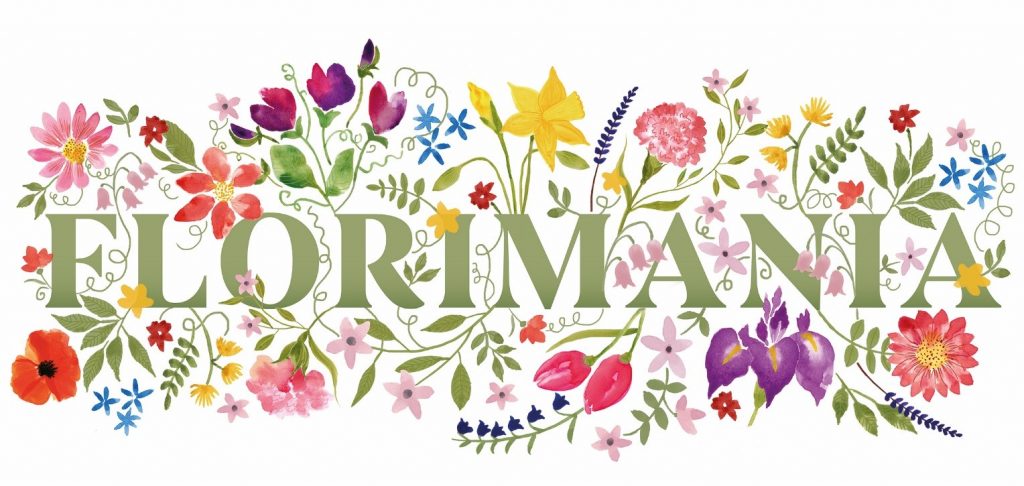 March 2019
There's only a few final things to tie up. We're creating signage to go in both the courtyards and the restaurant using terracotta pots planted with spring bulbs by the gardeners. The metal sign holders for the showcases have arrived and will need painting. The banner for the front of the palace arrives in a couple of days so we will be rushing out with cable ties. It might be a case of all hands to the pump!
See you all at the end of the month, we'll be ready!
Laurie Gibbs
Preventive Conservation Coordinator
Florimania is at Hampton Court Palace 29-31 March. There will be floral and embroidery demonstrations on each day. Book tickets here: bit.ly/florimania19