Alas, the exhibition Diana: Her Fashion Story is now closed. For two years, seeing and talking about the 37 incredible dresses we had on display (including a few rotations along the way) was a big part of my working days at Kensington Palace. It sounds nostalgic, but seeing them packed and put away felt like the markings of a new era. A new era indeed, 2019 is a very exciting year with two brand new exhibitions on Queen Victoria's early life and reign opening soon.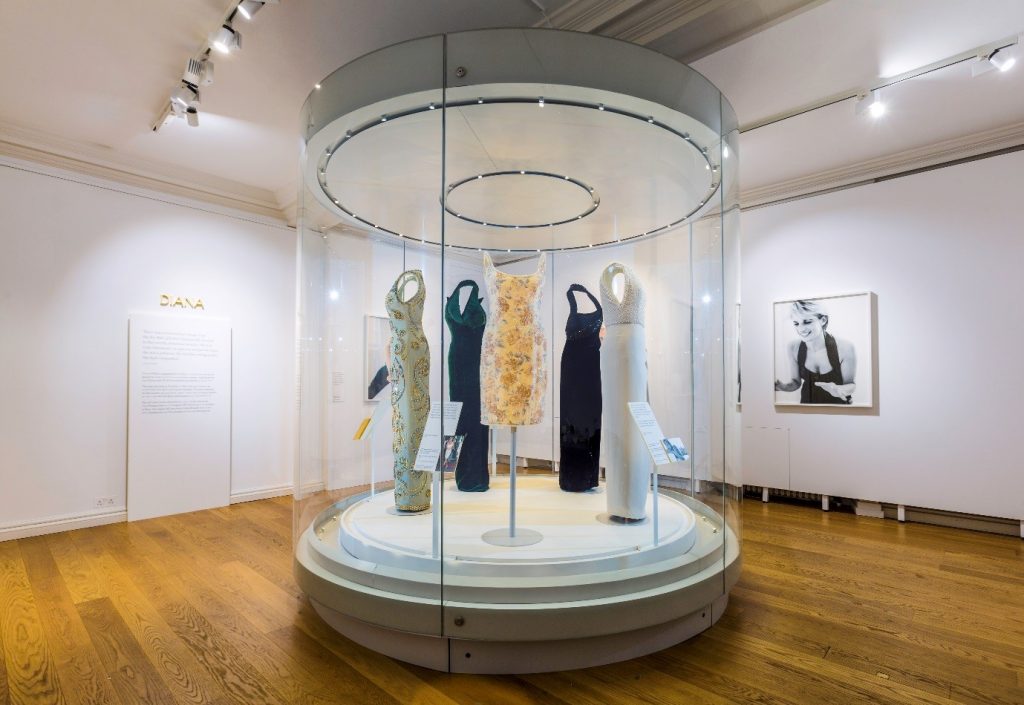 Although Queen Victoria is the lady of the moment here at the Palace, we were keen to maintain something of the late Princess on display. After all, Diana is still a cultural force and her appeal is undiminished – as the popularity of our exhibition rightly proved. Therefore, in the Princess Court Arcade, there are now a series of sketches by David Sassoon on view. These are part of a large collection of sketches the designer generously donated to the Royal Ceremonial Dress Collection, many of which have never been on display before.
David Sassoon, from the duo Bellville Sassoon, was one of the Diana's favourite designers. Between 1981 and 1993, he created more than seventy outfits for the Princess, many worn at significant events, including: Diana's first official press photograph with Her Majesty The Queen; the official engagement portrait commissioned by the Royal Mail for stamps; her first solo engagement; first State Opening of Parliament; and the christening of her first child. Together with his business partner Belinda, they also designed the Princess's going away suit, worn to board the train to her honeymoon.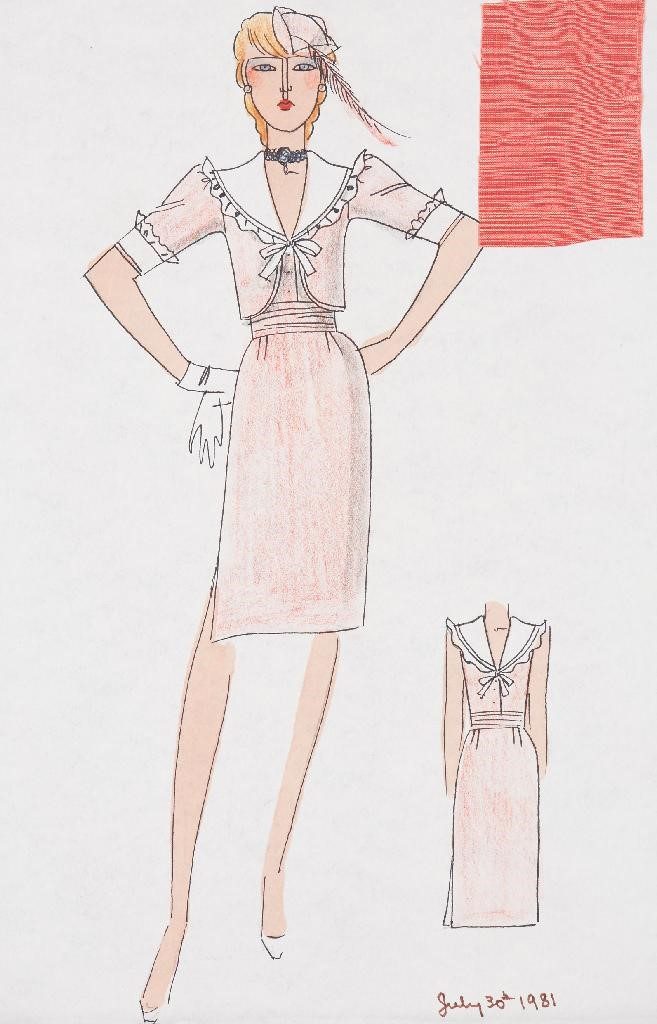 Diana first met the creative duo following her engagement to The Prince of Wales. At the time, the young Lady Diana Spencer had very few clothes of her own and even less experience with high fashion. Her mother, who was already a client of Bellville Sassoon, felt Diana needed a designer wardrobe to embark on her new life as Princess Wales. And so, as it is customary in the world of couture, she introduced her daughter to her trusted couturiers.
While the young Princess was beginning her fashion journey, David and Belinda were veterans in the art of dressing royals. Since the 1960s, their distinguished clients included many members of the Royal Family, such as Princess Margaret, Princess Alexandra, Princess Anne, Princess Alice of Gloucester, the Duchess of Gloucester, Duchess of Kent and Princess Michael of Kent. They also donned several of the Queen's ladies-in-waiting, ambassadors' wives and guests to Windsor Castle or Balmoral. Although always very mindful of the protocols and etiquette for each official occasion (royal weddings, overseas tours etc.), dressing such clientele had its perils. David Sassoon recalls a memorable fashion incident: "On one occasion, three of our customers were invited to stay with the Queen at Windsor during Ascot week. … When the guests came down to dinner on the first evening, three guests appeared in the same Bellville dress. … Not everyone tells us where they plan to wear their dresses, and even when they do, last-minute changes of mind can't be ruled out – which is exactly what had happened here. The ladies were not amused – but the Queen was. As they were all presented in their evening finery, the Queen looked at each dress, and with a twinkle in her eye, said: 'Bellville! Bellville! Bellville!'"
Although Diana's mother introduced her young daughter to the designers, for her fittings the Princess-to-be always came on her own. Her appointments were under the code name 'Miss Buckingham' – an attempt to fool the press! David recalls how much fun she had in these fittings – her eyes would twinkle every time a dress came to life. The designer also remembers a particular funny story during a fitting for the going away outfit:
"One day she came to us straight from her final hat fitting, with a take-away coffee and she couldn't stop laughing: "I went in to get my cup of coffee," she explained, "and the girl behind the counter said to me, 'You look just like Princess Diana'." The Princess had instinctively replied, "That's the nicest thing anyone's ever said to me!" and the girl had been thrilled. Diana had kept her secret to herself, and she'd been giggling about it all the way to our fitting."
The final outfit comprises a Cantaloupe silk dress and bolero style jacket. The dress has a white silk organza collar edged with a frill and a cummerbund sash at the waist. There were two jackets made: one with short sleeves and an alternative with long sleeves – one can never really trust British weather!  Luckily, the day was beautifully sunny, so the Princess wore the short-sleeved version.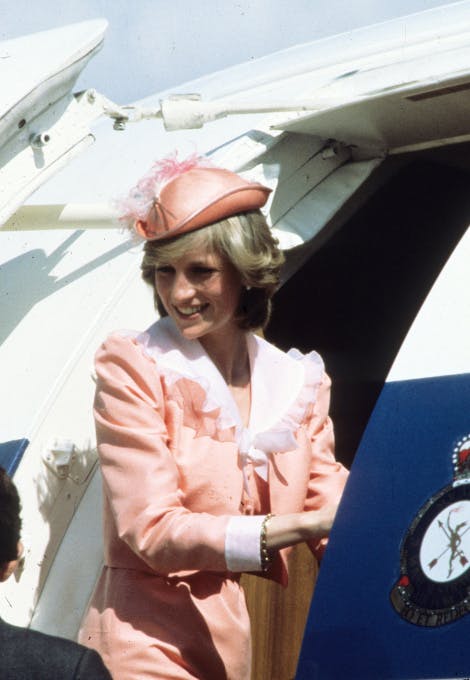 David saw his cherished client for the last time at the London preview of the Christie's auction, in June 1997. Diana had personally chosen 79 of her most iconic dresses to be sold by the auction house in New York, and all the proceedings (£3.4 million in total) were donated to AIDS and cancer charities. Not only was that event a great success, but it also marked an important moment in her life: she was closing a chapter on her royal life and style, paring back her wardrobe and focussing on humanitarian work. David asked her about the going away outfit, wondering if she was planning to sell it as well. 'No, I've still got it,' she replied, 'I want to keep that.'
Isabella Coraça
Assistant Curator
The sketches will be on display at Kensington Palace throughout 2019, with new rotations in summer.