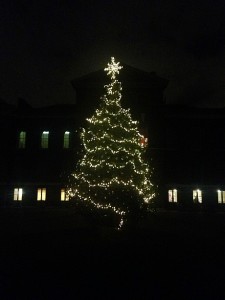 William III's extravagant party on 30 November 1699 attracted Princess Anne of Denmark with an entourage of 'sixty Ladies of the first Quality' who, observers said, were as glamorous as the ladies at Carnival in Venice. The evening undoubtedly featured all the food and drink the King usually served at these things – beer, ale, mead, cider, port and other wines, bread, a towering pyramid of sugared fruit, meat and seafood. Party guests drank, played cards and gambled while the King, who moved from table to table, 'seemed exceedingly pleased.' Kensington's Christmas entertainment programme had begun.
The King would spend much of the winter at Hampton Court, 'finding the Air at Kensington to be somewhat offensive'. However, in 1699, he decided to make Kensington a party venue for the whole of December. At Kensington, his month-long party programme boasted music every Monday night and entertainment for 'Persons of Quality.' Gaming was the main focus. High-stakes card games like basset fuelled the excitement.
In the spirit of William III's Christmas plans, we worked with games studio Hide&Seek to produce Christmas at Kensington Palace: Game of Crowns – a Christmas gaming experience to rival William's 1699 winter party season. These contemporary games are inspired by Christmas traditions like wren hunting (you'll be pleased to know no animals harmed here!) and mummers' plays. An enormous Christmas tree stands twinkling at the palace entrance and the scent of fresh evergreen hits you when you walk through the door. Everyone gets a paper crown to decorate and if you feel it wouldn't be truly authentic without the booze, there's mulled wine in the café. This is a cleaner version of William III's Christmas games – less drinking and gambling, more fun.
Visit us and find out more this Christmas at Kensington Palace
Deirdre Murphy
Collections Curator, Kensington Palace