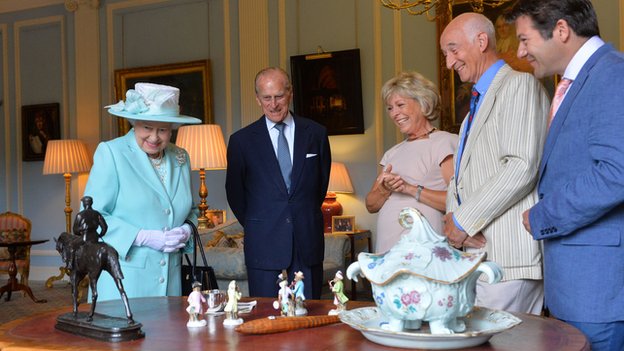 Recently, Historic Royal Palaces' 'newest' site, Hillsborough Castle in Northern Ireland, played host to Her Majesty The Queen, His Royal Highness The Duke of Edinburgh, and Ms Fiona Bruce along with her Antiques Roadshow colleagues. There was a brief period when all our guests were here at the same time, and so the opportunity arose for several antiques experts to discuss a few items in the collection here at Hillsborough Castle.
An Australian Aboriginal Wanga-Wanga stick caught the attention of the Duke of Edinburgh; a bronze after the French sculptor Menes of a Derby winner caught the Queen's eye. These were among other items which included a silver christening cup linked to the Queen's aunt Lady Granville, a Chinese 18th century soup tureen, and beneath them all, a George IV Library Table.
What caught the eye of Fiona Bruce was the collection of ceramic orchestral monkeys by Meissen, on loan to us from the National Museum of Northern Ireland. Ms Bruce's comment that they were "fake, and only worth £80" got me thinking. While the value is immaterial, I reflected on concepts of fake, copy or reproduction.
Grand Tourists, while in Rome, Vienna, Paris or other cultural destinations, would commission eminent artists to recreate famous Renaissance paintings. For this reason, versions of Titian's Rape of Danae, or his Perseus and Andromeda, can be seen hanging in country houses up and down Britain and Ireland, and beyond. Scottish artist Allan Ramsay, after spending some years in Rome creating such fakes, copies and reproductions, created such a memorable image of George III and Queen Charlotte in their coronation robes that he never painted anything else again. Many versions of these two royal portraits by Ramsay – including those at Hillsborough Castle – can be seen near the Titian 'fakes'.
So how should we value them? Apart from the material value placed on an object by an antiques expert (of course, read 'dealer') which may be easier to quantify, how can one put a value on the events in time or place that produced these pieces, often by eminent artists of note? Other cultural messages can still be transmitted; biblical and historical stories can still be learnt; concepts of the aesthete can be broadcast by the owner. And memories of a wonderful trip to Rome, Vienna or Paris can remain fresh through looking at one's own Perseus and Andromeda. This was after all the photography of its age.
In the case of the £80 monkeys, I think they are of immense value in many ways. Those seen by the Queen at Hillsborough Castle were created by the Meissen factory in the 1850s, after the original of 1753. This is testament to the popularity of the figures. Totalling 21, each is a monkey dressed in human 18th century garb and playing a musical instrument. One reason for their popularity in the 1850s was that they poked a satirical eye at the stuffy and imperial societies that survived the revolutions of the late 1840s in France, Germany and Austria. So how can we value a fake, copy or a reproduction, when they engender ideas of political history, cultural history, collecting, memory, and of course, are just plain fun?
Dr Christopher Warleigh-Lack, Curator of Hillsborough Castle