On Saturday 31st May 1533 Anne Boleyn was taken in procession from the Tower through London to Westminster where she was crowned the following days. If I ever do get hold of a time machine I'll make sure I'm there in the crowd to see what must have been a spectacular display. The new Knights of the Bath joined a long line of courtiers and dignitaries who escorted Anne through the city's streets (which had been freshly cleaned and laid with sand and gravel to prevent the horses from slipping). Along the route of the procession people had hung tapestries and coloured cloths from their windows, the municipal fountains ran with wine and the city's guilds had spared no expense (despite some grumbling about the costs) in creating great pageants with which to welcome Anne and demonstrate their allegiance to their controversial new Queen.
Edward Hall describes a whole series of pageants but there are two that, given the opportunity, I would push to the front to see. At the corner of Fenchurch Street and Gracechurch Street the resident Hanseatic merchant community had built a huge triumphal arch on top of which was a model of Mount Parnassus on which sat actors in the guise of Apollo and the four Muses reciting speeches in Anne's honour. What made this pageant particularly special is that it was designed by the renowned artist Hans Holbein the Younger, and his drawing of it still survives.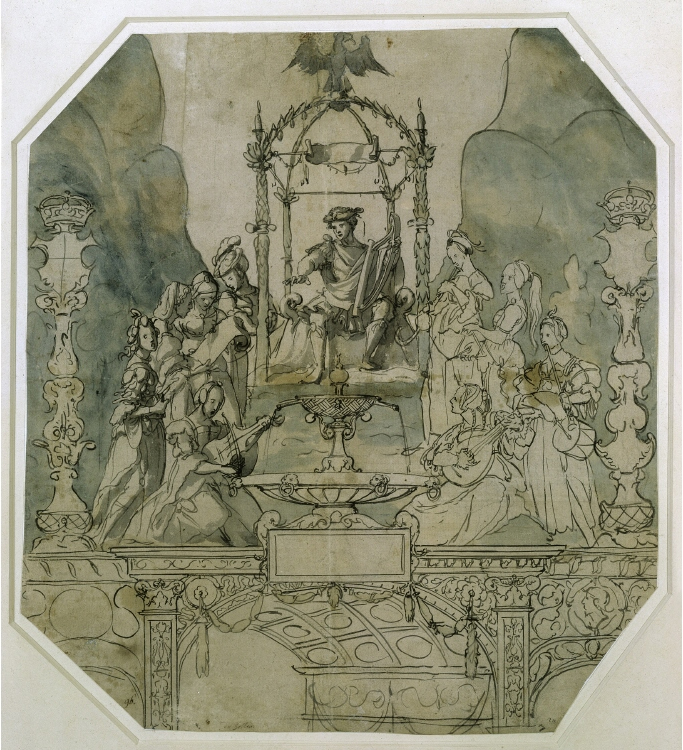 When that pageant was over Anne's litter moved on to Leadenhall where she saw a stage in the form of a castle on which was a field of Tudor roses with, at its centre, a golden tree-stump. As Anne watched a white falcon (Anne Boleyn's own heraldic badge) descended from the ceiling of the stage and landed on the stump, followed by an angel who placed a crown on the falcon's head in a none-too-subtle representation of her own coronation. Like the fire-breathing dragon on the boat this spectacular effect was presumably achieved with automaton, clever stage-craft and engineering. I would love to know how it was all done; where's that time machine when you need it?
Anne continued on, passing through Cheapside, around St Pauls, and along Fleet Street. Edward Hall portrays the event as one of great cheer and celebration, but the Imperial ambassador Eustace Chapuys, whose allegiance remained with Henry's Spanish first wife, Katherine of Aragon, gives a conflicting account. He records that despite the pageantry Londoners were hostile and that pockets of the crowd openly laughed at Anne with cries of 'Ha! Ha! Ha!' (a cruel play on the joined initials of Henry and Anne that appeared on many of the decorations along the route). Both Hall and Chapuys were biased witnesses and it is difficult to know who to trust; there is no doubt that the atmosphere in the city must have been charged but whether it developed into open hostility is more debatable. As a historian it's when answering those sorts of questions that time travel would truly come in useful.
The coronation itself took place the next day and was followed by a great feast in Westminster Hall (the time travelling me would be there hoping to get some food). Over the following days jousts and tournaments were staged and the celebrations continued.
Of course it didn't take long for the celebratory mood to abate. Three years later Anne Boleyn found herself travelling back along the river to the Tower. This time, however, there was no triumphal entry or pageantry; Anne was a prisoner on her way to the block. Her gruesome execution on Tower Green on 19th May 1536 is not an event I'd be in any hurry to witness. My time machine, when I get it, will be reserved for happier occasions than that.
Alden Gregory, Assistant Curator of Historic Buildings (Tower of London)
The above map shows the route Anne Boleyn's coronation procession followed from the Tower of London to Westminster Hall. Please click on the markers to learn more about the different sights Anne would have enjoyed during the procession.