My lunch today was a cut above the usual miserable-looking sandwich at my desk. I was lucky enough to be invited to the press launch of the newly revamped Tudor Kitchens at Hampton Court, for which a special Tudor-inspired feast was prepared. We tucked into:
Sallett (Salad of lettuce, capers, olives and diced lemon)
Chawettys (Beef pie)
Perre (Mushy peas)
Roast beef (No translation required!)
Roast Chike & sauce gauncille (Roast chicken with garlic sauce)
Dowcettes (Custard tarts)
Pears and caraway (Stewed pears flavoured with caraway seeds)
Clowted creme with sugar (Clotted cream)
Scraped chese with sugar (Cheese and biscuits)
As it would have been at Henry VIII's court, all of this was served up at the same time. This is what our resident Tudor Kitchens expert Richard Fitch described as the single most important fact about sixteenth century dining: there was no differentiation between 'savoury' and 'sweet' courses. They were eaten together – on the same plate. Our Interpretation Manager Aaron Manning, who has been working around the clock with Richard over the past few weeks to get the new re-presentation in place, gamely tried a dollop of clotted cream with his beef pie. His verdict? Not for the faint hearted.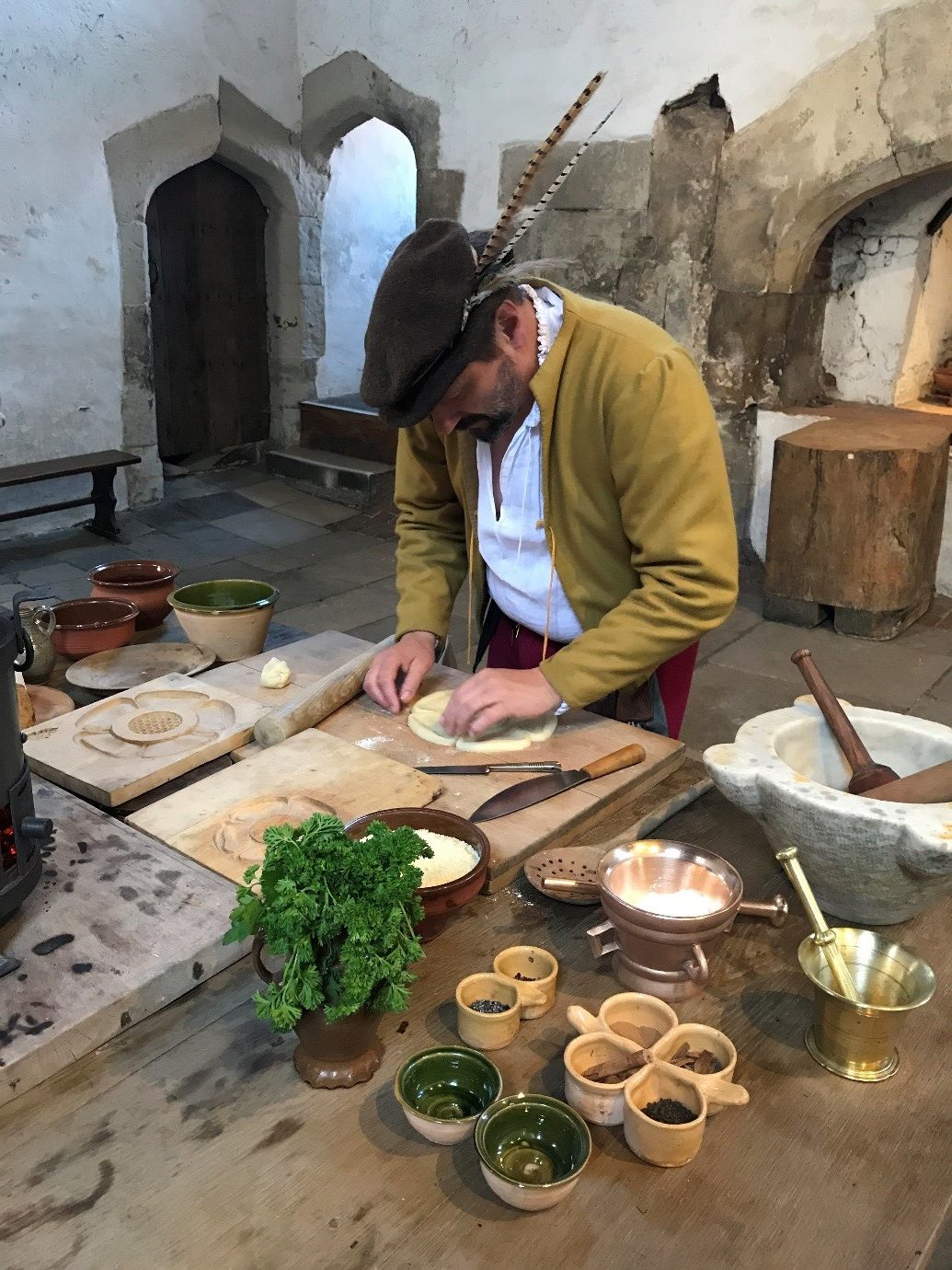 It is many years since Hampton Court's magnificent Tudor Kitchens have had any serious TLC, so this refurbishment was long overdue. In the intervening years, new technologies have developed in the world of historic interpretation, and we have employed some of the best in this project. My favourite are the chopping boards that suddenly come to life when you touch them, cooking pots that you can feel bubbling with stews and other delights, and replica meat that feels as well as looks like the real thing. The Kitchens are also filled with sacks of provisions: exotic spices from far-flung corners of the globe, as well as fresh fruit and vegetables from Henry VIII's Kitchen Garden. And of course, there are Tudor chefs aplenty, busily roasting meat on the huge fire or sculpting elaborate delicacies out of marchpane (marzipan to you and I).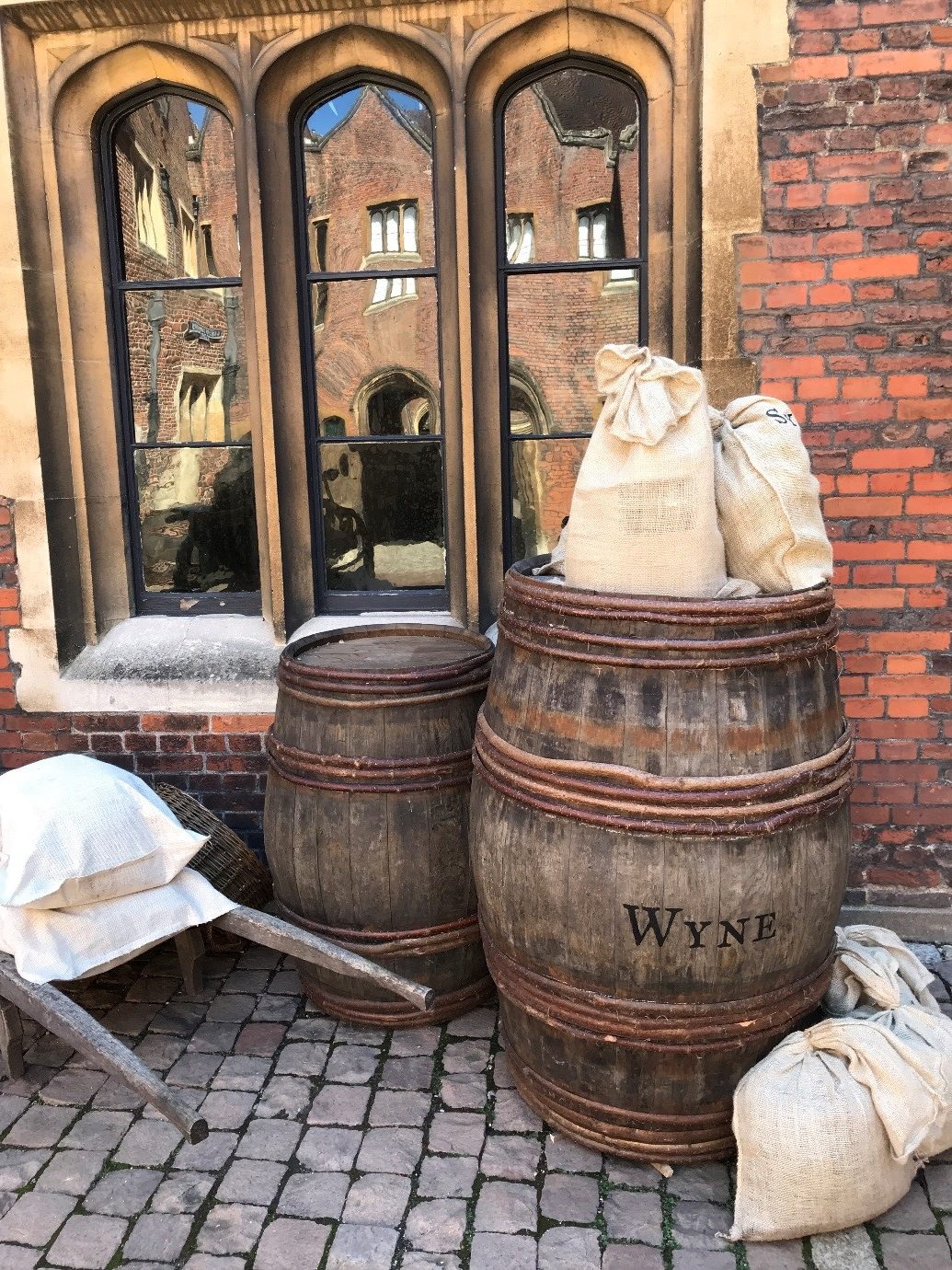 The only thing we couldn't recreate was the heat. In their heyday, the Tudor Kitchens were described as a 'veritable hell'. With numerous fires and ovens blazing from dawn to dusk and more than 200 staff crowded into the different spaces, this was extremely hard – and hot – work. The 'Great Kitchen' served Henry VIII's enormous household, which involved preparing an average of 450 meals twice a day: the first at 10am and the second at 4pm. It was all run like a military operation, with a clear hierarchy of staff and closely monitored provisions to ensure no pilfering. The 'Eltham Ordinances', drawn up in 1526, record in meticulous detail what the various ranks of courtiers could eat: the more important you were, the more dishes you had to choose from.
Of course, nobody had a greater choice than Henry himself. But his meals weren't prepared in the main kitchens. He had his own Privy Kitchen, complete with French chef, to rustle up a bewildering array of different delicacies. Eating an average of 5,000 calories a day, there's little wonder that Henry suffered from a little, er, middle-aged spread.
The Tudor Kitchens re-opened to the public on 5 May and have already proved a huge hit. Do come along and experience the sights, sounds and smells of Henry's pride and joy.
The Tudor Kitchens at Hampton Court Palace
Tracy Borman
Joint Chief Curator