At the Tower of London we look after more than just the Crown Jewels. We are also responsible for the large collection of historic buildings located on the site. I've recently been researching the history of St Peter ad Vincula, one of the Tower's two chapels, to help support some conservation work. This chapel is infamous as the burial place of former prisoners, including Anne Boleyn, Catherine Howard, Lady Jane Grey and Sir Thomas More. As they were condemned as traitors, their resting places are either unknown, or marked only by a simple stone slab.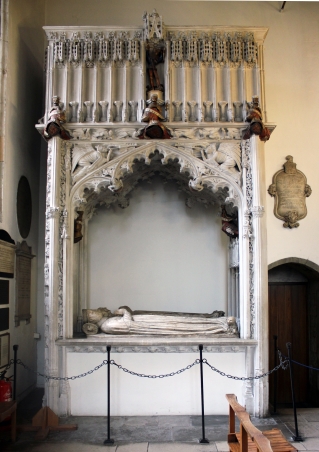 Far more elaborate, however, are the several tombs to former residents of the Tower. They are rare as the chapel was one of the very few to survive the Great Fire of London. My favourite was only moved to the Tower in 1950, when its former home in Regent's Park was demolished, but it's actually the oldest in the chapel. It belongs to Sir John Holland, Duke of Exeter who died in 1447. Holland was one of England's leading military commanders during the Hundred Years War and he was rewarded for his service by being created Constable of the Tower in 1420. Despite his military success, he never had much money, and he married three wealthy widows to try and support his lavish lifestyle. The tomb was commissioned after the death of his first wife in 1432. It was originally built into the wall of the nearby church of St Katharine's Hospital (since demolished) and would have formed part of a separate chantry chapel, where regular prayers would have been said for Sir John and his family.
It is decorated with angels playing trumpets as well as groups of musicians. We don't think it would originally have been painted, although many of the shields which decorate it are. It also has several hunting scenes, with dogs chasing animals around the columns. One scene involves the medieval literary character, Reynard the Fox. He is shown trying to capture a goose, but is foiled when it escapes. The goose then catches Reynard and hangs him from a tree!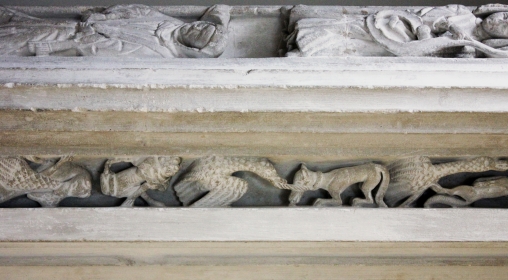 You can have a look for yourself as part of a Yeomen Warder tour around the Tower of London – we'd love to hear about what else you can spot.
George Roberts – Curatorial Intern, Tower of London