In 1675, two future queens performed in one of the most glittering and glamorous performances ever to grace a London stage. Princesses Mary and Anne, the future Queen Mary II and Queen Anne, were the stars of 'Callisto: Or, The Chaste Nymph', a court masque commissioned by their uncle Charles II and written by John Crowne. The production consumed daily life at Whitehall Palace for six months, and, like many stories of the dramatic stage, has an awful lot of LGBT+ history to uncover.
When we think about how LGBT+ history is done, we often start by looking for people in the past who remind us of ourselves today: women falling in love with other women, or people living as a gender other than the one they were assigned at birth. But there is another way of doing LGBT+ history: we can look at how people in the past expressed their own understanding of sexuality and gender. Looking at the art of the past is a great place to find a record of these lost social codes.
For LGBT history month, I've written up a little introduction to Callisto, a court masque that perfectly represents the complicated history of life in the Restoration court of Charles II.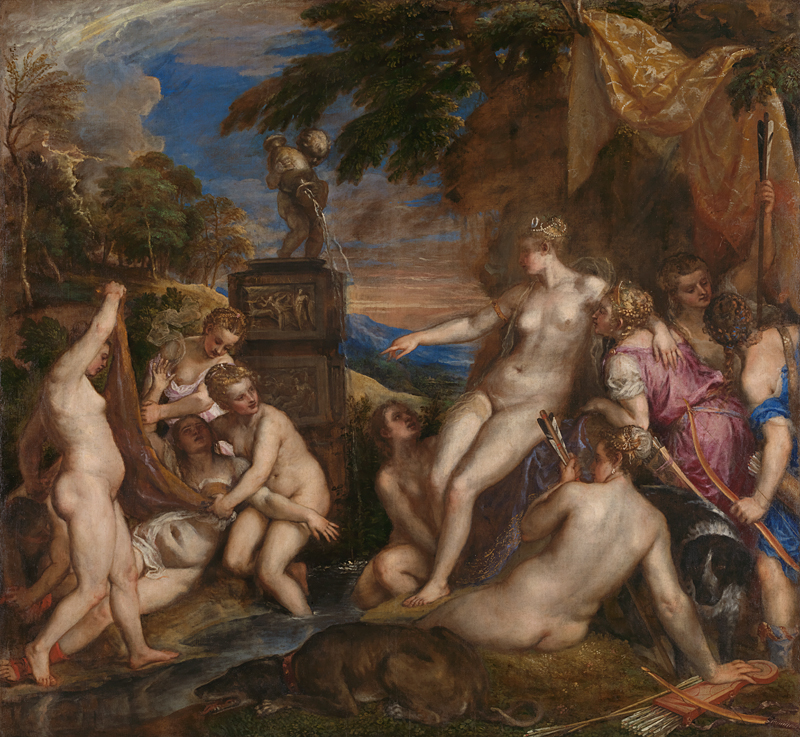 Callisto retells an ancient Roman myth from Ovid's Metamorphoses of the nymph Callisto. Callisto was a follower of the goddess Diana, who attracts the unwanted attentions of Jupiter. In Ovid's story, Jupiter disguises himself as Diana to seduce Callisto. In the Roman telling, Jupiter rapes Callisto, who becomes pregnant with Jupiter's illegitimate child, Arcas, and is eventually turned into a bear by Jupiter's jealous wife, Juno. 
In Crowne's version there is no explicit scene of assault. A rape scene would have offended his late 17th-century audience and certainly would not have been appropriate for a masque staring the young royal nieces, Mary was only twelve and her sister Anne was ten. Rather, Crowne bowdlerised the myth and portrayed Jupiter's advances disguised as Diana as a suggestive scene of lesbian seduction. At Whitehall Palace the role of Jupiter was played by a young woman, so Mary's Callisto is shown refusing the advances of a woman playing a male god, disguised as a goddess.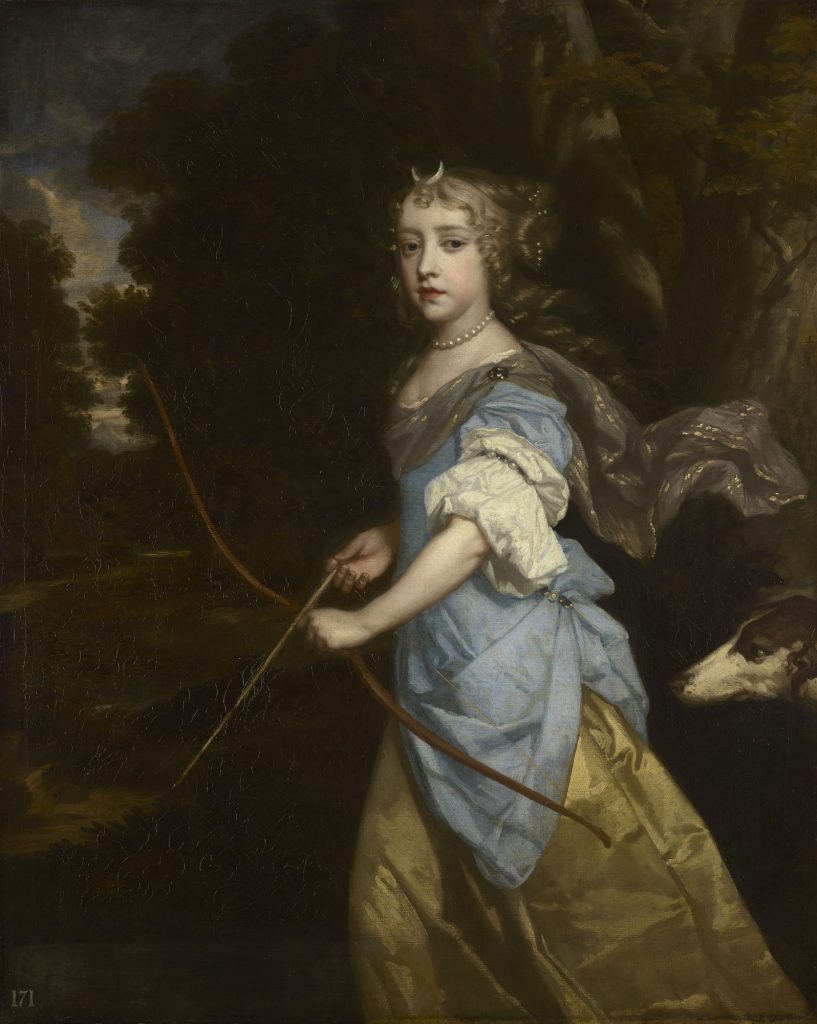 Crowne's masque was highly political. The cast of about 111 players, many drawn from the highest levels of court families, featured Princess Mary in the title role of Calisto. The masque was meant to introduce the 12 year old Princess to the international political marriage world. The many months of open rehearsals and the performances brought young Mary to the attention of ambassadors of other courts, including the ambassador from the House of Orange, setting up her marriage to the future William III. Scholars have long noted that the highly moral tone of the masque was Crowne's critique of the loose morals of Charles II's court.  
Mary and Anne's lives were both marked by close relationships with women. Thanks to Olivia Colman's star turn in The Favourite much has been made recently of Queen Anne's female favourites. However, Mary, and to some extent Anne, both shared a deep attachment to their Maid of Honour, Lady Frances Apsley. Mary had a very intimate friendship with Apsley—exchanging letters laden with pet names and in-jokes, and playing the part of a wife to Frances as her husband. While we can debate the nature of their relationship, it is clear that the affection of another woman was deeply important to a young Mary. Their bond formed in the years after Mary engaged in similar intimate exchanges with another woman on stage as Calisto.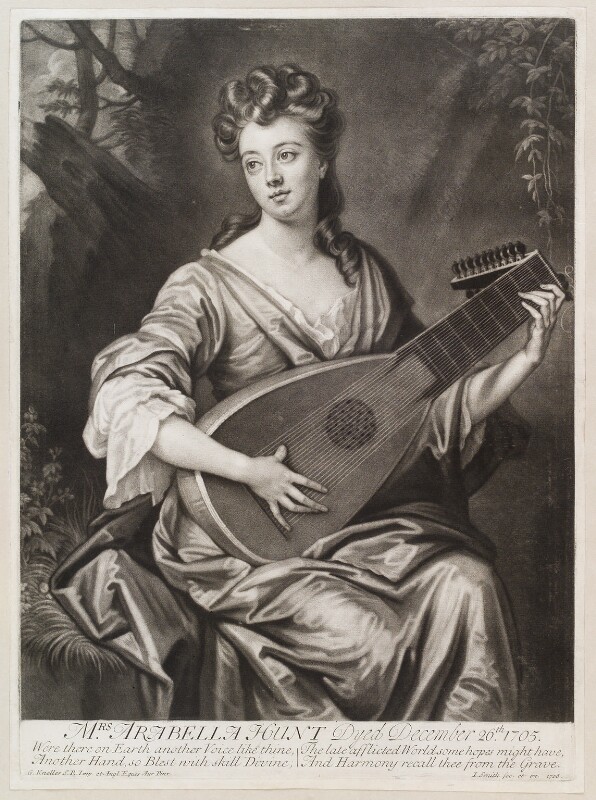 While Mary and Anne's affections for other women are documented through letters, another cast member of Callisto left a much clearer record of her queer encounters. Arabella Hunt, a beautiful and talented musician, made her court debut in Callisto at about age thirteen. She went on to have a successful career entertaining five monarchs, from Charles II to Queen Anne. A few years after her appearance in Callisto, Arabella married James Howard at the London church of St Marylebone. When they were courting, James had sometimes dressed in women's clothes to woo Arabella. After only six months living together as spouses the marriage fell apart when Arabella sued for annulment claiming that James was, in fact, a woman named Amy Poulter.  
Amy agreed to the annulment, claiming that the whole affair had been 'a mere frolicsome prank.' In court Arabella alleged that in addition to cross dressing, Amy was 'of a double gender,' or intersex. Court records show that a jury of five midwives inspected Amy's genitals and affirmed 'Amy Poulter is a perfect woman in all her parts, by us inspected.' Arabella and Amy were both cleared by the court to remarry after their annulment, but neither ever did. Amy died soon after the annulment: it has been suggested she ended her own life. 
What can we make of Arabella and Amy's story? While the court records document Arabella's apparent confusion and shock upon learning that Amy was a woman, the pair lived together for six months and Amy had dressed in male and female clothes. Amy claimed the marriage was a joke, but getting married is taking a joke very far indeed. The story of the masque of Callisto, Arabella's court debut, show that a seduction scene between two women could be portrayed at the highest levels of society. 
I am working at Historic Royal Palaces on a placement to research LGBT+ histories from the Queer History MA Course at Goldsmiths College. I come to history from a background as an artist, so I look at paintings, drawings and other creative works to get an understanding of a period. While Historic Royal Palaces has introduced me to a much older history than I am used to, early modern history is fascinating. We can see in it the beginnings of the social and moral codes that still govern life in the UK today.    
Telling the story of 1675 court masque Callisto requires a little of both of the approaches to LGBT+ history described above. There's a lot more for us to find out, particularly how John Crowne went about writing a play for such an important audience. He knew that the daughters of the most powerful men of the day would star in the masque, and yet he still critiqued the morals of Charles II's court. The result was a masque that depicted what we now might now call queer stories of women courting women. In addition, the women acting in the masque, Mary, Anne and Arabella, themselves went on to have intimate relationships with other women. Asking questions about how these real and fictional relationships were and are depicted can open up a new view of love and desire in the past.  
Virgil Taylor, Curatorial Work Placement Student