On 21 November 1840, Victoria gave birth to her first child. After a twelve-hour labour, the baby arrived two weeks prematurely. To her profound disappointment, it was a daughter.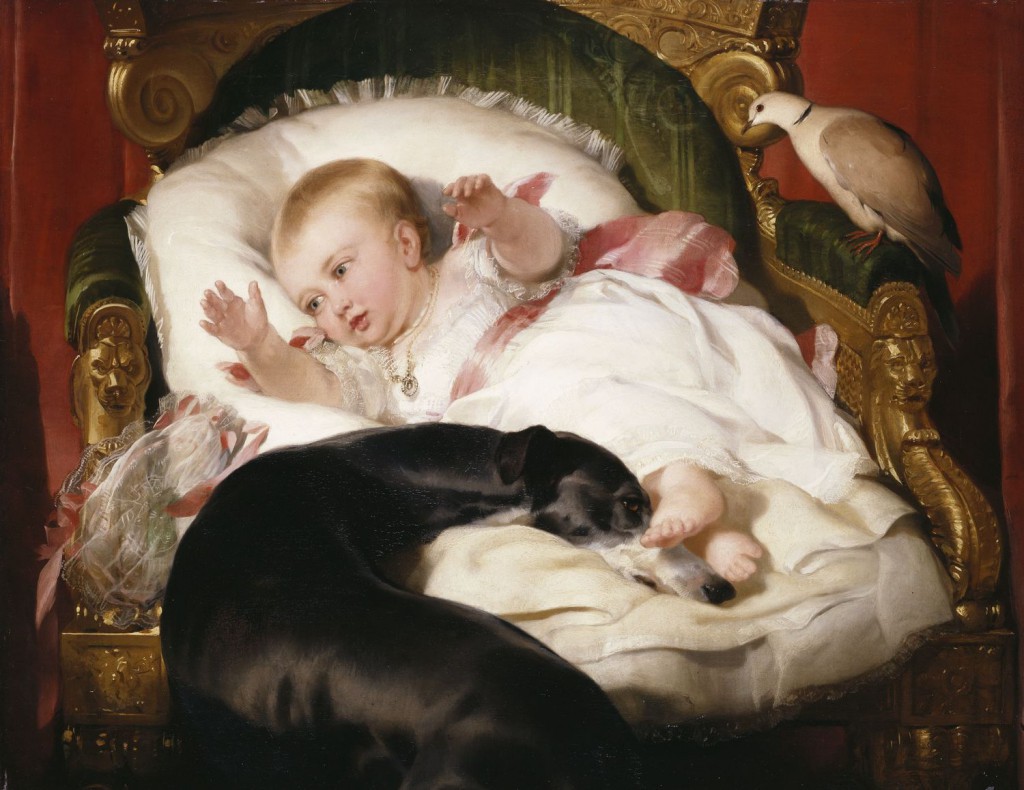 The little princess, christened Victoria Adelaide Mary Louisa and known affectionately as 'Vicky', would grow up to become German Empress and Queen of Prussia through her marriage to German Emperor Frederick III. Like her mother, she went on to have a large family and spent the latter years of her life cloaked in the black cloth of widowhood. Politically liberal, she championed further education and training for women and continued her father's legacy as a patron of the arts. As mother to the future German Emperor, Wilhelm II, Vicky's role in shaping German history is evident, but prior to this her birth was also to have a profound effect on the nature and character of her mother's reign.
Queen Victoria married Albert of Saxe-Coburg-Gotha on 10th February 1840. The match had been four years in the making and her diary entry of that evening makes clear her long-awaited ecstasy:
'My dearest dearest dear Albert…his excessive love and affection gave me feelings of heavenly love and happiness … really how can I ever be thankful enough to have such a Husband… bliss beyond belief!'
Yet just weeks later, Victoria's marital bliss was to be shattered by the news that she had fallen pregnant. She was, perhaps understandably, furious. Not only did pregnancy interrupt the first happy months of marriage, it also occurred after a mere three years as monarch. Though Victoria eventually reigned for 64 years, her ascent to the throne was marred by the attempts of her mother and the ambitious Sir John Conroy to impose a Regency. Independence was hard-won and rigorously defended by the feisty young Queen. Victoria's deepest wish for her marriage was that life would continue as normal, only with the addition of Albert as her lover. Though clearly besotted with her husband, she was distinctly reluctant to share her authority and deeply resented her unborn child, aware that pregnancy would not only wreak havoc on her tiny frame but also have a seismic impact on the power dynamic within her marriage.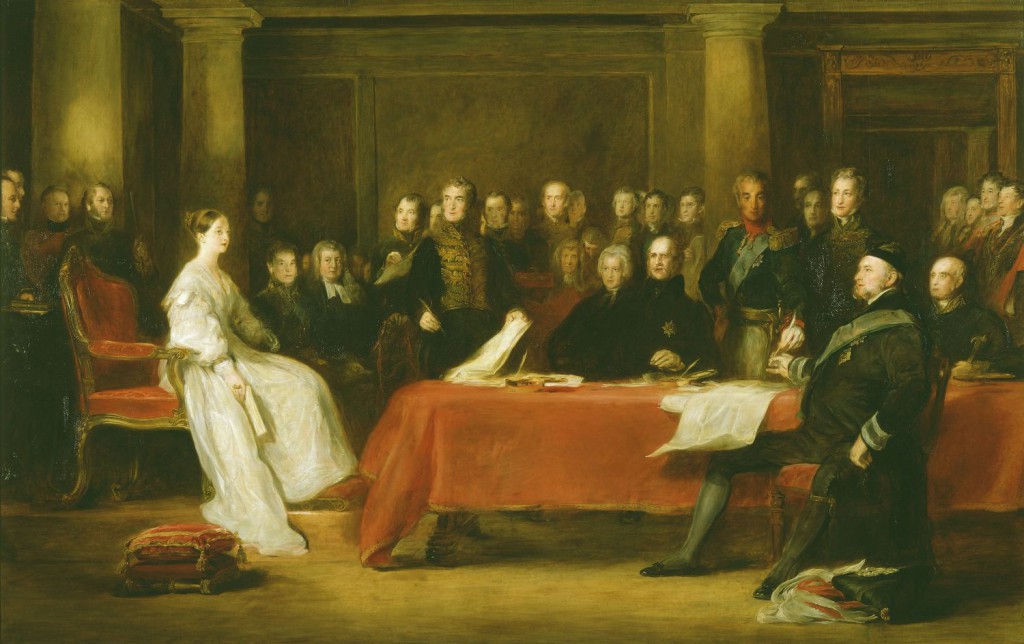 Whilst Victoria complained bitterly of having her 'wings clipped' by pregnancy, for Albert it was a blessing and would prove a turning point in the Prince's career as Consort. Not only did Vicky's birth provide the necessary contingency of an heir, it also meant that Albert was made Regent. Jubilantly, he told his brother, 'I am to be Regent – alone – Regent without a Council… it gives my position here in the country a fresh significance.' Of course Albert wanted to support his wife but his letters make clear that he also intended to direct her and wield political influence.
As if to confirm the Queen's concerns, on the day of Princess Vicky's birth, Prince Albert represented her at a Privy Council meeting. Over the following months, he would be granted keys to Cabinet boxes, be present at audiences with ministers, be appointed Privy Counsellor, made a Freeman of the City of London and deliver his first public speech as President of the Anti-Slavery Society. By 1845, English statesman Lord Clarendon declared Albert 'King in all but name'. Over Victoria's 17 years of childbearing, Albert became her most influential advisor, often representing the Queen during her periods of confinement and inherently transforming the shape of monarchy.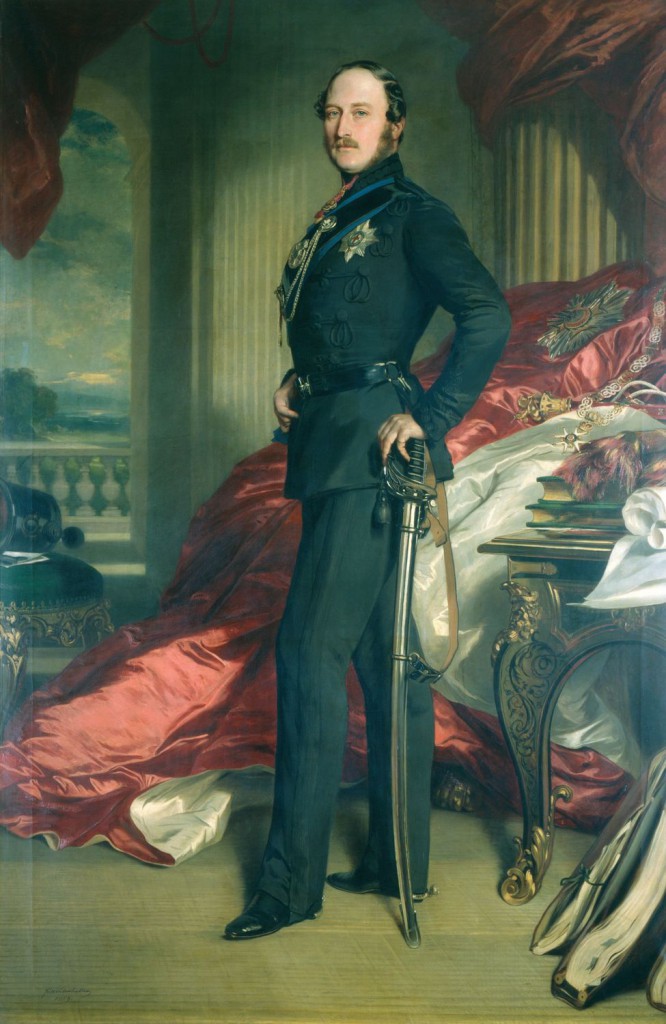 For Victoria, Vicky's birth was premature in more ways than one. It signalled an unwelcome turning point in her reign as the first of successive pregnancies that would impede her capacity to rule, and in so doing would also strengthen Albert's influence. The arrival of this little princess, therefore, helped create the conditions in which her father came to be considered a king without a crown. Whilst Victoria was initially reluctant to give Albert a political role, he went on to transform the way in which the Queen exercised her powers, demonstrating such a flair for politics and a passionate concern for the welfare of his wife's subjects that he became one of the most powerful men in Europe. Ultimately he influenced many of the features of the British monarchy that are most admired today.
Claudia Williams