From our ex-colleague, former Historic Royal Palaces curator, Suzie Lipscomb…who is by no means done with working on Henry VIII!
Henry VIII's last will and testament, drawn up a month before his death on 28 January 1547, is one of the most intriguing and contested documents in British history. Whilst other kings, like Henry VI and Edward IV, had spent the majority of their wills apportioning their estates, Henry VIII's will had a different raison d'être. In it, he states that 'our chief labour and study in this world is to establish him [his son, Edward] in the Crown Imperial of our Realm'. Henry VIII's will was dedicated, as his life had been, to determining the succession and to ensuring the future of the Tudor dynasty.
It also had serious legal and constitutional clout, as the 1536 and 1544 Acts of Succession had allowed Henry VIII to nominate his successor by his last will, and it is unique among royal wills in the extent to which its author tried to rule from beyond the grave.
It has also been the source of great controversy. In the sixteenth century, it was called on to justify both the erection and the dissolution of the Protectorate of Edward Seymour, was overruled to enable the accession of Lady Jane Grey, was cited to justify the reign of Queen Mary I, and was deemed invalid by the supporters of Mary, Queen of Scots.
In the centuries since, historians, too, have disagreed vehemently over its intended meaning, its authenticity and validity, and the circumstances of its creation.
The prevailing orthodoxy, until now, has been that the will was the product of a conspiracy, staged by a reforming religious faction at court led by Edward Seymour, Earl of Hertford, and Sir William Paget. Hertford and Paget are thought to have manipulated Henry into ruling out certain of their enemies from joining the regency council that Henry prescribed for the rule of his son, Edward, and to have tampered with the will after it was signed to include forged clauses that would facilitate their assumption of power after the old king's death.
In writing The King is Dead, I found evidence that made me question this orthodoxy. I discovered that the case for a conspiracy is based on some critical historical errors and that, in fact, the accumulated evidence points persuasively in a very different direction. Forensically investigating the last years of Henry VIII's life, and, especially, those crucial last few months, I found evidence to suggest that the truth is actually very different.
From this new examination of the evidence, the inescapable conclusion is that no such elaborate conspiracy theory is needed nor justified to explain the events of the last months of Henry VIII's life, nor the creation of his last testament.
Henry VIII's will was quite literally his will: the product of his volition alone.
Suzannah Lipscomb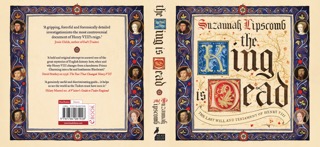 The King is Dead! The Last Will and Testament of Henry VIII is published by Head of Zeus at £14.99 and available to buy here:
http://www.amazon.co.uk/King-Dead-Suzannah-Lipscomb/dp/1784081922/ref=sr_1_1?ie=UTF8&qid=1453039975&sr=8-1&keywords=the+king+is+dead