I'd like to congratulate the Duke and Duchess of Cambridge on the birth of their daughter, Charlotte Elizabeth Diana. It's also a brilliant opportunity to blog about Charlotte of Mecklenberg-Strelitz, consort of George III and the first royal Charlotte.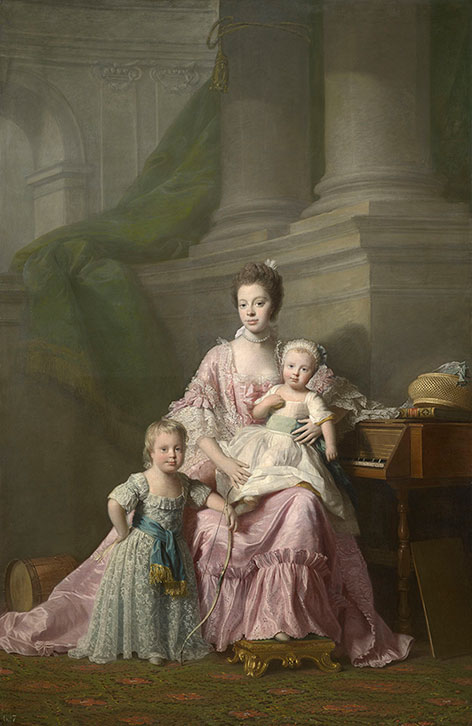 Queen Charlotte was born in 1744 in the Palace of Mirow in Mecklenberg-Strelitz, Germany. It was an idyllic location to grow up in, surrounded by woods and lakes. Her parents' court was informal, indeed when Frederick the Great visited he was shocked by the outrageous drinking habits of the Duke. Despite this reputation for being rough round the edges, her father provided her with a good education and a love of music.
In 1761, aged 17, Charlotte found herself chosen by George III as his bride. She had good royal credentials but was also young, good natured, in good health, Protestant, and, according to Colonel Graeme who scouted her out, in possession of 'white and even teeth'.
It was an excellent match. Like George III, Charlotte was diligent and interested in learning and self-improvement, and they both enjoyed playing and listening to music. Before George III was struck by mental and physical illness, they both frequented the opera and invited musicians to play and compose for them. Most notably, in 1764, Charlotte commissioned the 8 year old Mozart to compose six sonatas for harpsichord, accompanied by violin and flute. The sonatas were published as "Opus 3" in January 1765 (today, they are known as K10-15) and dedicated to her.
Together, she and the King had fifteen children. All except for two lived to adulthood.  Considering how basic medical practice was in comparison to today this was a remarkable achievement. Charlotte took her mothering duties seriously, personally approving the appointment of wet nurses, tutors and governesses. Her most important appointment was Charlotte Finch as governess to the children. Lady Finch was chosen because amongst high society it was known that she had provided the best education for her own children.
Charlotte is amongst the most scientifically minded of British queens. She surrounded herself with academically minded men and women such as the botanists Joseph Banks, Daniel Solander and John Lightfoot and the geologist, Jean Andre de Luc. Her circle included Elizabeth Harcourt and Margaret Cavendish, Duchess of Portland, who were enthusiastic naturalists and, in their day, were considered 'bluestockings'. Charlotte enjoyed the company of intelligent women; she employed the novelist Fanny Burney as Mistress of the Robes and through her met the botanist and artist Mary Delaney. The Queen's own interests focussed on botany, cataloguing and drawing the remarkable plants and flowers that were grown in the gardens at Kew.
Much of Queen Charlotte's time was devoted to philanthropic causes. She gave a staggering £5000 a year to charity. Her causes included Phoebe Wright's school of embroidery, which trained girls for skilled employment, the alsmhouse at St Katherine's Hospital,and the Magdalen Hospital. Most famously she supported Queen Charlotte's Hospital which has specialised in maternity care for over two hundred years.  Her generosity exceeded her means and so when she died, almost all of her possessions were sold. Touchingly, her children bought some of her more personal items to keep them in the family.
The first twenty five years of Charlotte's married life were happy. She and the King, where possible, lived in seclusion, enjoying time with their children. However, the behaviour of Prince George, the future George IV, and the King's illness brought unrest. The King's violent behaviour and strange professions of love to other women affected Charlotte greatly and she became deeply afraid of him. The stress of his first period of illness in 1789 turned her hair completely white. During the last seven years of her life, from 1811, she lived in separation from her husband. Their presence was far too stressful for each other to bear. The historian Clarissa Campbell Orr  calls it 'a poignant end to what had been a very affectionate, companionate marriage'.
Queen Charlotte suffered from a horrendous illness called dropsy, which causes fluid to seep and gather throughout the body. The illness confined her to Kew for the final months of her life. For that reason, the weddings of the Duke of Kent and the Duke of Clarence to their German brides took place in the drawing room at Kew Palace.  After months of confinement, Queen Charlotte died on November 17th 1818 sitting on a chair in her room. Today the chair is still kept in Kew Palace. Her daughter Princess Mary was with her, and recalled: 'We had the consolation of seeing her expire without a pang and with a sweet smile on her face'.
I am very proud to help look after Queen Charlotte's Cottage in Kew Gardens. The rustic exterior hides a sophisticated building which was used by the Queen and princesses as a "pretty retreat" for taking tea in. Although, having said that, I think a nice cup of tea is exactly what you need whilst contemplating charity, science, fifteen children and a sick husband. We're currently undertaking research in order to restore the Cottage. It'll take a few years, but I can't wait to return this beautiful building to an appearance the remarkable Queen Charlotte would recognise.
Polly Putnam, Collections Curator