Amid all the fanfare and media attention at this week's two hugely significant national anniversaries – 800 years since the signing of Magna Carta and 200 years since Wellington's victory at the Battle Waterloo – my attention has been attracted by two more unusual souvenirs of the 'Iron Duke' found in our collection at Hampton Court Palace. In 1815 this palace was a sleepy royal backwater, no longer inhabited by kings but an ageing population of Grace and Favour residents, who were unprepared for the excitement of massed day-trippers, soon to be admitted by Queen Victoria.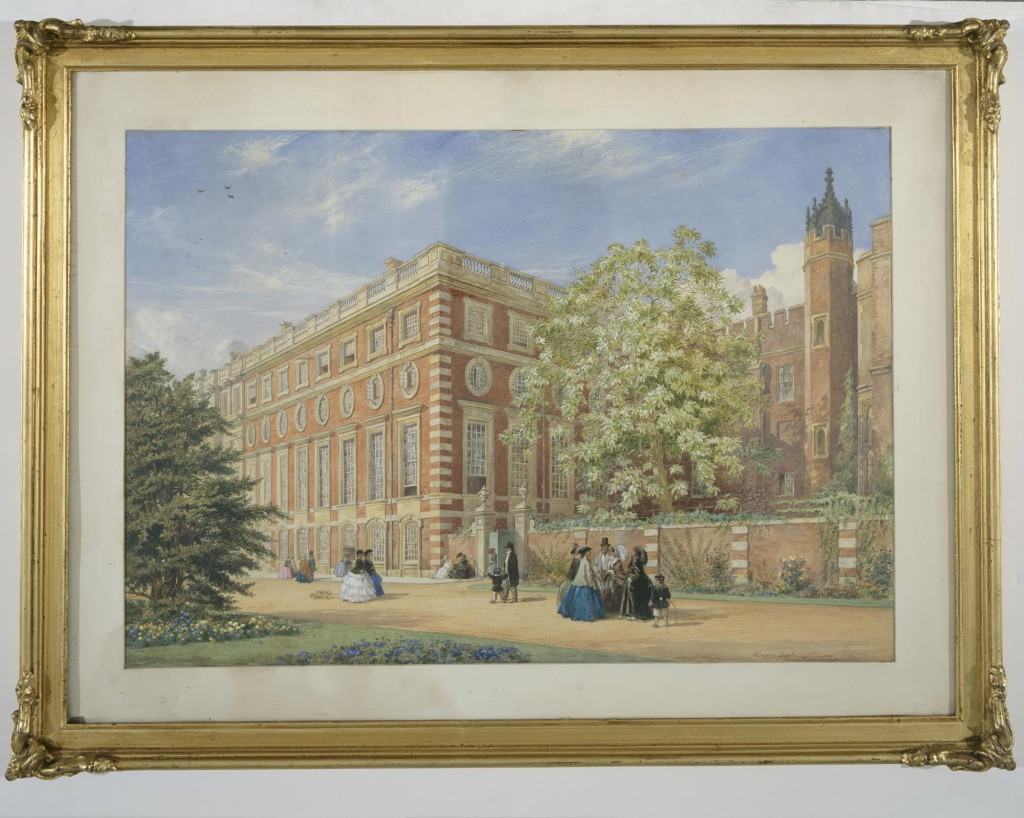 This delightful watercolour evoking a summer's day at the palace focuses on the walled garden named after Wellington's mother, Lady Mornington, who lived at the palace along with a number of other relations and dependents of old soldiers from the Napoleonic wars that – in more generous times – the nation was happy to honour alongside their dead heroes. The great Catalpa or 'Indian Bean Tree' it shows was planted by the countess in her garden, which was probably the place called 'Purr Corner' by the Duke, where he visited the old ladies of the palace. A very different kind of image of the cool-headed, military commander that ruefully saw thousands die in battle on both sides. Wellington was the third son in the family of an Anglo-Irish aristocrat, who unusually was a musician. After his father's early death the family's fortunes rapidly dwindled and it was probably thanks to Wellington's elder brother, Richard – an ambitious politician – that Lady Mornington was granted this desirable apartment at Hampton Court, long before the future duke became famous. Anne Hill (1768-1844) lived a long life but was, according to her husband's biographer, a 'severe and demanding woman largely ignored by her children'! She should, however, be given credit for raising two famous children and coping with the family's embarrassment caused by her husband's careless and over-generous nature.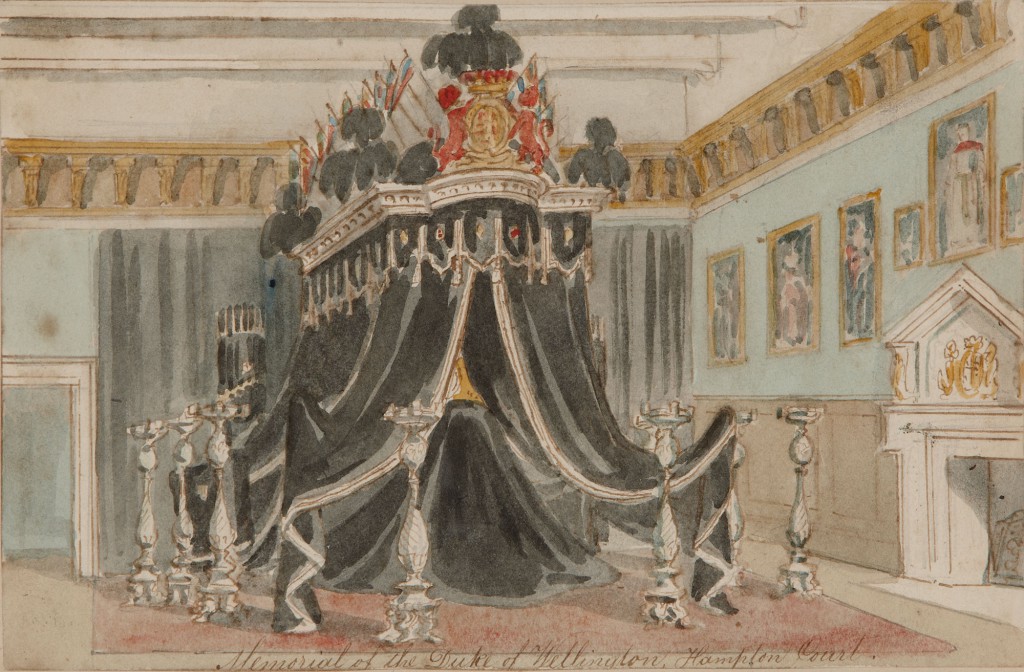 Contemplating his own death, Wellington the hero said, 'Where the tree falls, let it die' but this man of modest habits would never have his wish to be buried simply by his beloved Walmer Castle granted. Instead he was buried almost like a king in full state in St Paul's Cathedral, alongside his naval counterpart, Admiral Lord Nelson. The young Queen Victoria had been devastated by her friend the Duke's death and was removed in tears from his lying-in-state in the Great Hall at the Royal Hospital in Chelsea on 11 November 1852. A million onlookers watched his great funeral procession and Wellington's coffin sat beneath the cathedral's great dome of St Paul's Cathedral, surrounded by everyone who was anyone in Victorian Britain. This unusual painting records a long-lost visitor attraction of Hampton Court, when the Queen agreed to place the enormous, black canopy of state in the Public Dining Room. It would seem nobody had the heart to dispose of this ghoulish memento of elaborate Victorian mourning ritual. In earlier but less sentimental times the funeral draperies of kings and queens were given away to their servants, who sold them for ready money. We don't know who painted this scene from a fascinating series which show early paying visitors to the palace, but when the American writer, Nathaniel Hawthorne (author of The Scarlet Letter) visited this scene in 1856, he described it as 'very gorgeous, of black velvet embroidered with silver and adorned escutcheons'.
I think it must certainly have been a more dignified souvenir of the great man than the locks of his (thinning) hair sought by many – including his queen herself – or his false teeth, claimed by his daughter-in-law. It is a pity this magnificent piece of Victorian 'art of death' has not survived, although if this is your sort of thing, you can still see Wellington's monstrous iron funeral carriage at his country home of Stratfield Saye, in Hampshire.
Sebastian Edwards
Deputy Chief Curator and Head of Collections