As we all grow sick of staring at the same four walls during this latest period of lockdown, you may be surprised to learn that back in Elizabethan England spending time cooped up in cramped rooms with your nearest and dearest was all the rage!
Curator of our Royal Ceremonial Dress Collection Eleri Lynn explores the Renaissance concept of 'multum in parvo' ('much in little')…
As the days get shorter and colder, and with lockdowns and restrictions around us, I've noticed that the lifestyle supplements of newspapers and magazines currently abound with advice on how to 'Survive Lockdown'. Surviving lockdown, it seems, is best done with the aid of some cosy Scandinavian concepts such as the Danish 'hygge' (pronounced hoo-guh), or the Swedish 'lagom' (pronounced law-gum).
I'm a big fan of hygge. Louisa Thomsen Brits, author of The Book of Hygge, The Danish Art of Living Well, writes that hygge is about caring for ourselves, and each other, by finding comfort and meaning in the daily objects and rituals of our lives, like going for a walk with family or a friend, or taking time to cook a nice meal. It also seems to be a lot about creating a relaxed cosy atmosphere, slowing down, and paying close attention to the little things that make you feel content.
However, we could also look to the Tudors for a bit of advice too. The Renaissance concept of 'multum in parvo' translates as 'much in little'. It suggested that smaller spaces and things were symbolically more meaningful than more expansive ones, and was a concept that the later Tudors, particularly Elizabeth I, lived by.
Elizabeth I famously said that she had spent her life in little rooms – a state of protective isolation that was imposed upon her by her concerned counsellors, fearful of an assassin's plot.  (Elizabeth was a protestant Queen, and loyal Catholics were positively encouraged by the Pope to overthrow her by any means). Certainly, towards the end of the sixteenth-century, ceremony and spectacle shifted from the large outdoor tournaments, to indoor events like masques, where visual effects were more easily controlled. Instead of the jousts and the enormous tapestries of martial or Biblical scenes favoured by Henry VIII, something else, more symbolic, coded, and intimate, took precedence.
In 1564 Sir James Melville visited Whitehall Palace. He was the Scottish ambassador to London, sent from Elizabeth's cousin, Mary Queen of Scots. Elizabeth promised to 'open a good part of her inward mind' to Melville, who recalled that 'she took me to her bed-chamber and opened a little cabinet wherein were diverse little pictures wrapt within paper and their names written with her own hand upon the papers'. These miniatures included portraits of the Queen of Scots, and of Robert Dudley, Earl of Leicester. The bedchamber and the 'little cabinet', and these 'little pictures' create an evocative image of the Queen, finding comfort and joy in small, personal objects, taking time to wrap them and to write on them individually. The court and the nobility commonly kept their miniatures in the bedchamber or the closet, and looked at them with their confidants and intimates, in a marked contrast to the way that tapestries and murals of previous years were viewed.
Miniatures were hugely fashionable during Elizabeth's reign. The master of the art, Nicholas Hilliard, said: 'it is a kind of gentle painting… it is a secret'. He was referring not only to the secrets of his craft, which he had developed from his training as a goldsmith, nor, indeed simply to the fact that a miniature could be viewed only by an individual rather than a crowd, but also to the secret symbols he would deploy within his paintings. He would often back his portraits with playing cards – one miniature of Elizabeth was backed with the queen of hearts.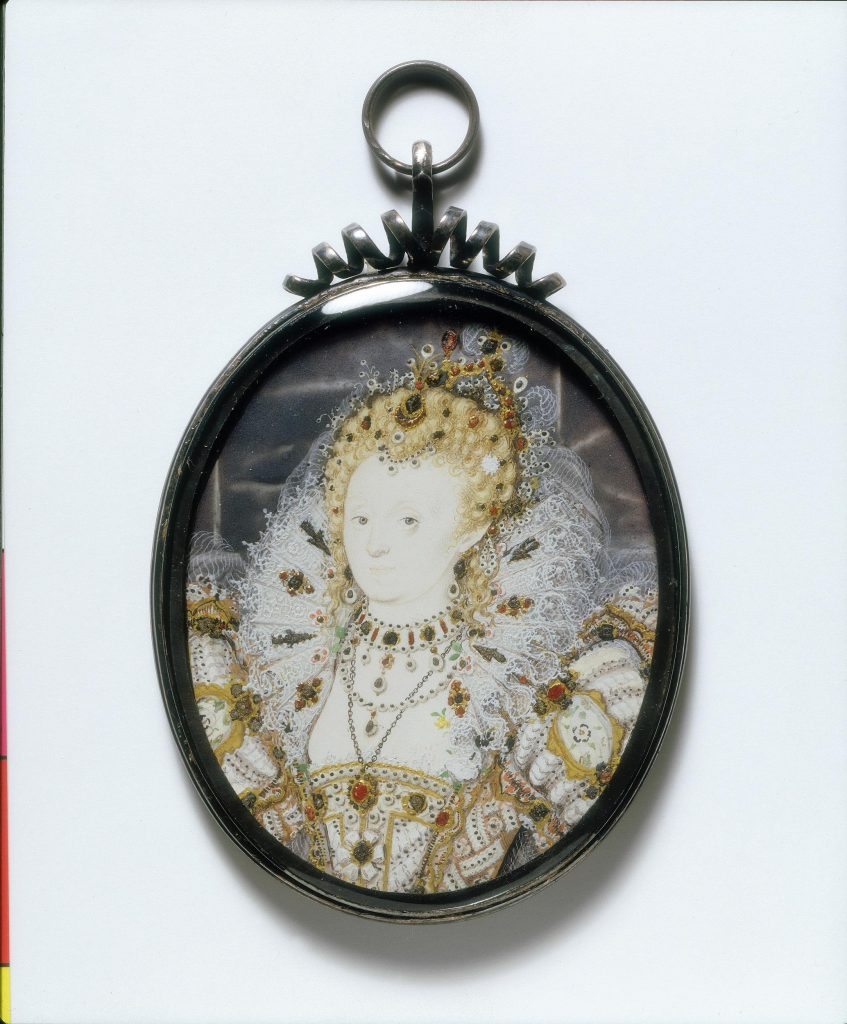 These games and codes were highly favoured by Elizabeth and her court. They became sophisticated puzzles to challenge and delight the viewer and to demonstrate learning and culture. In 1586, Geoffrey Whitney dedicated his book, 'A Choice of Emblems', to his patron Robert Dudley. It was an illustrated guide to symbols and their hidden meanings. His book set out a language of symbolism: the rainbow represented the celestial, the arrow was martial loyalty, the serpent was intelligence or wisdom, the heart was mercy, the pelican was maternal love or sacrifice, and so on. Each emblem appeared with a verse and an image. These symbols found their way into portraits and portrait miniatures, jewellery and – importantly for me as the curator of the Royal Ceremonial Dress Collection – embroidery. In the inventory of Elizabeth's wardrobe taken in 1600 were petticoats and gowns embroidered with rainbows, clouds, spires, snakes of gold, seas, spiders, flowers and fruits. Each of these had meaning, and the Tudor court was fluent in this language of small symbols.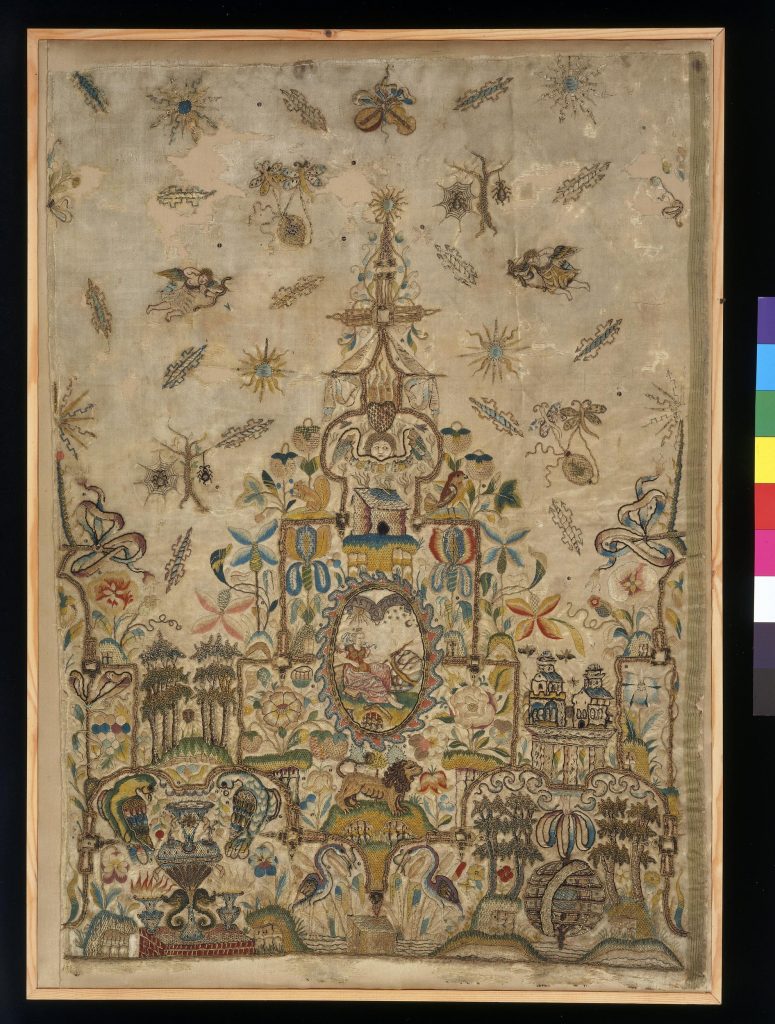 Elizabeth encouraged a court culture of elaborate personal rituals. She was fond of giving her courtiers nicknames and they often gave her jewellery that echoed these private in-jokes. She called the Earl of Leicester 'Eyes', and he consequently gave her a gold ring with ruby eyes. She gave Sir Walter Raleigh the nickname 'Water' (both for his sea-faring career and the way his west country accent made him pronounce his own name). Sir Christopher Hatton, a favourite of Elizabeth's who was jealous of her attentions to Raleigh, sent her a gold charm made like a little bucket with a note to say he knew she would need it as 'water' was sure to be around her. We know that she also received jewels shaped like arrow heads from the sons of Sir Henry Norris (who had been executed by Henry VIII for alleged adultery with Elizabeth's mother, Anne Boleyn). Arrow heads denoted martial loyalty, and usually ran alongside the motto: 'I fly only for my sovereign'.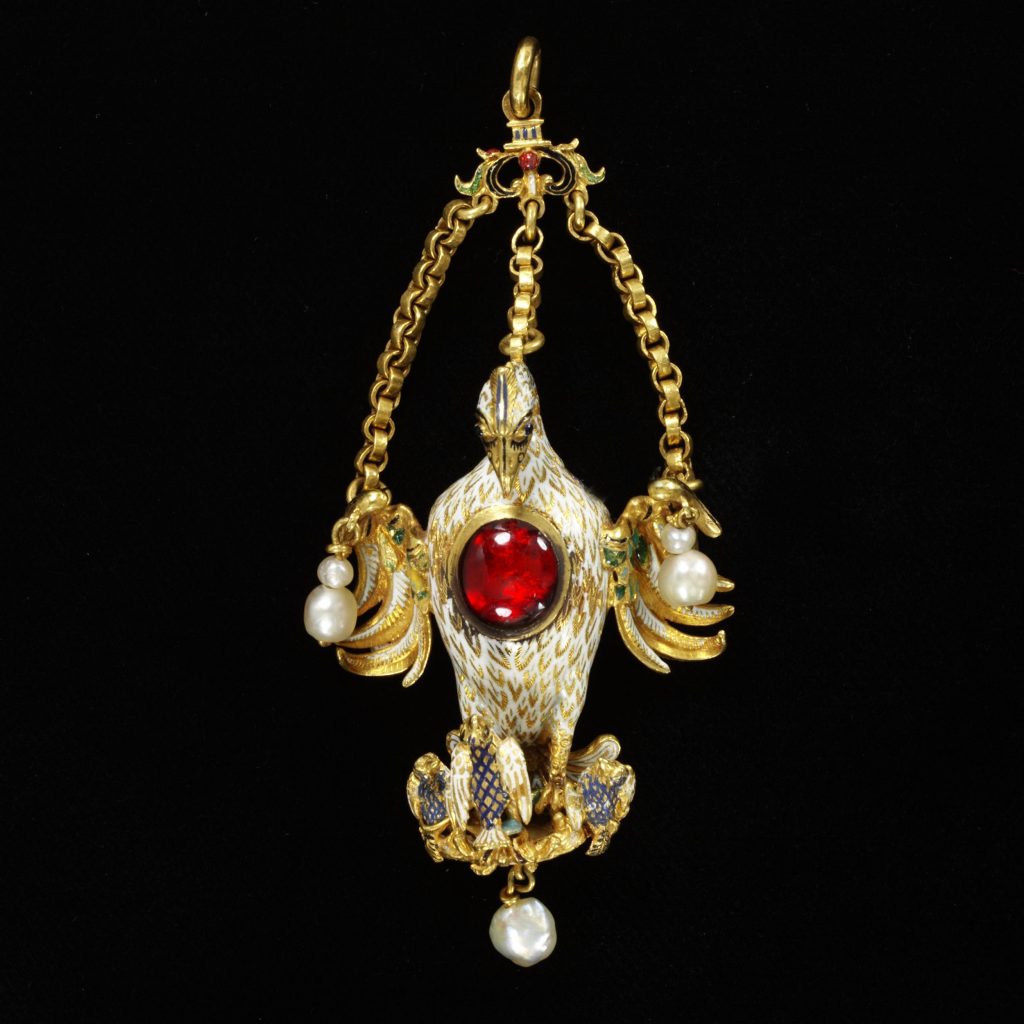 It wasn't only the small objects of court life in which 'multum in parvo' manifested. It was also in its rooms. Indeed, the smaller the space, the more important it became. Though the Great Hall of Hampton Court was lavishly decorated with expensive tapestries, it was a relatively public space, and was only the first of a series of rooms that became increasingly exclusive with each door you went through. The most important spaces were the private apartments that the Queen inhabited, and access to these privy, or private, chambers was highly privileged and controlled. These privy chambers represented proximity to the royal person and an intimacy suggesting private counsel and confidences. As such – and even though these rooms were seen by few people – they were the most lavishly and expensively decorated. One of Elizabeth's private apartments at Hampton Court was called the Paradise Chamber. To get to 'Paradise' you had to walk through a small room hung with costly silk hangings, said to be a gift from the Earl of Leicester, and once inside, you were surrounded by a beautifully painted ceiling, a gold canopy adorned with precious jewels, and fine tapestries. These rooms were, of course, used to impress important guests such as ambassadors, serving a political purpose beyond private relaxation (and, yes, interior decoration with cloth of gold is an admittedly far cry from the hygge concept of taking pleasure in the simple things!). However, they demonstrate that the Elizabethan court considered small gatherings in intimate spaces to be more significant than those in larger public spheres, and they lavished much care and attention on decorating their private chambers and the small personal objects that they carried.
It is important to note that Elizabeth's father, Henry VIII, left the treasury fairly depleted, as a result of his palace-building schemes, expensive tapestry commissions, and wars with France. As a consequence of this, Elizabeth was actually quite frugal in her spending. She recycled quite a lot of her clothing and kept most of the décor at Hampton Court as it had been during her father's time. The true fashions and diversions of Elizabeth's reign were not in the grand statements of previous decades, but in the sort of small, intimate, personal objects, appreciated in small, intimate spaces that emphasised the concept of 'multum in parvo' – much in little.
Eleri Lynn
Curator
Royal Ceremonial Dress Collection
Historic Royal Palaces