Charlotte Barker is an intern with the Historic Buildings Curators' Team at Historic Royal Palaces.  In this photo she's photographing ironwork from the collection, and in the words below she describes a typical day's work…
'Being an intern for the building curators at Hampton Court Palace is a lot more exciting than making coffee, photocopying, and filing. They let me do things and touch stuff, but not just anything, with old stuff. Loving history as I do, this thrills me.
The news that I would be rooting around in the floorboards of the Cumberland Suite to look for 'exciting things' was received with mixed reactions, though. I don't mind getting dirty, or a bit of physical work. It was my odd phobia of putting my hands in a place where I couldn't see them that got to me, especially with the Cardinal spiders (google it, you'll scream!) living in the Tudor buildings.
Starting out I found I was a little squeamish but after a few silent screams at cobwebs, I was gaining confidence. Yet the work was pretty slow. I thought I would have to settle with my best find being a milk bottle from the fifties. The highlight of my morning had been causing a mini cave-in of fire damaged material, hidden in the panelling.
Just as I thought I should pop off to lunch, I pressed my face to floor to have one last look under a wall. That's when I found it. Something large, something carved, and something (Cardinal spiders be damned!) I had to get. I slid my hand under, and then my whole arm disappeared into the wall to pull out this beauty of a find.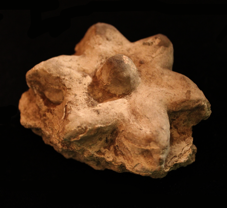 This moulded plaster star-flower is the only surviving piece of an elaborately decorated ceiling in the Duke of Cumberland's Bedchamber. Designed by William Kent in 1732, the ceiling was completely destroyed by fire in 1952.
Having found a unique piece of history, lodged in a wall, it shows that the past is still out there waiting to be discovered…. and that you should get on with work no matter how big the spiders are.'