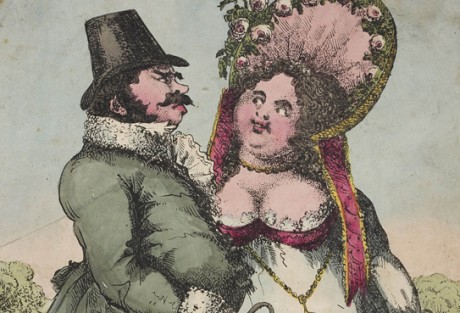 The savage depictions of Georgian royal weddings in the caricatures of the period are still shocking by today's standards. Prints of the weddings of the overweight, aging daughters of George III to their ludicrously corpulent German husbands provided amusement for the general public when they appeared in the print shop windows. And whilst the love match wedding of the 20 year old Princess Charlotte aroused the nation's warmest wishes, the caricaturists didn't pass by this opportunity to pillory the rest of the royal family!
This was the 'golden age' of Georgian satire, with caricaturists such as James Gillray and George Cruikshank at their most influential. They took full advantage of public's curiosity in, and jokes and rumours surrounding, royal weddings of the period to produce works such as the following: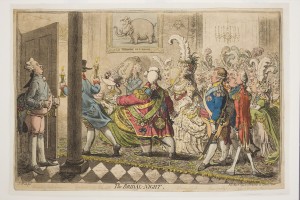 James Gillray's 'The Bridal Night', published in May 1797, depicts the marriage of Charlotte Princess Royal, the eldest daughter of George III, to Frederick Duke of Wurttemberg.  Dubbed the "Bellygerant" and described by Napoleon, "that God had put him on earth to see how far skin could stretch…", Gillray depicts Frederick as quite unfeasibly fat, and cheekily represents the wedding night with a cherub sat atop an elephant.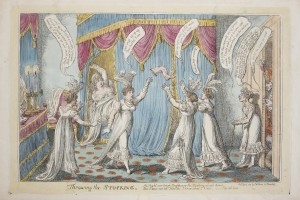 Charles Williams' 'Throwing the Stocking', published in April 1816,  shows Princess Charlotte, the daughter of George IV, on her wedding night in her bed, throwing her stocking to the four old maid aunts (the daughters of George III).  Her husband, Prince Leopold of Saxe-Coburg, is impatiently peeping round the door. The caricature contrasts her marriage of 'love' with her aunts, kept unmarried first by their father, then by their mother to buffer her from their father in his 'madness'. Kew Palace became renowned for being home to these sisters, unmarried against their will.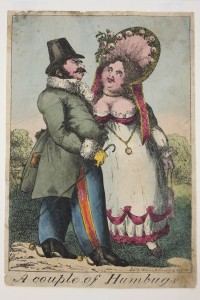 A Couple of Humbugs, 1818, has a happier ending, It shows Princess Elizabeth, the third daughter of George III, gazing adoringly at her unprepossessing husband, the larger and older Prince Frederick of Hesse-Homburg. This 'adoration' may not have been due to the love-match of the wedding, but more to do with the marriage being an escape from Kew Palace for the princess. Already 48 at the time of their wedding, she moved permanently to Germany, becoming the Landgravine of Hesse-Homburg, free from the confines of the British court.
These prints are currently on display at Kew Palace, the home of King George III, as part of an exhibition to mark the 250th anniversary year of his coronation. The exhibition features a collection of rarely-seen Georgian royal caricatures, including numerous satirical portrayals of George III himself, united for the first time with personal objects belonging to the victims of their 'humour'. The prints have been loaned to Kew Palace for the exhibition by Lord Baker of Dorking. Further details about the exhibition can ebe found at www.hrp.org.uk/KewPalace