With the exhibition, Victoria: Woman and Crown, coming to an end at Kensington Palace, Curatorial Assistant Emma Olver looks back at some of her favourite objects in the exhibition: clothes that belonged to Queen Victoria's children – and the research process behind their display.
One of my more challenging and intriguing tasks while working on this exhibition was to research a collection of clothes that belonged to the children of Queen Victoria, a number of which are currently on display in the new exhibition. This research has taken me down a number of different routes and caused me to think about aspects of historical clothing and its study that I had not considered before – I hope you enjoy my findings!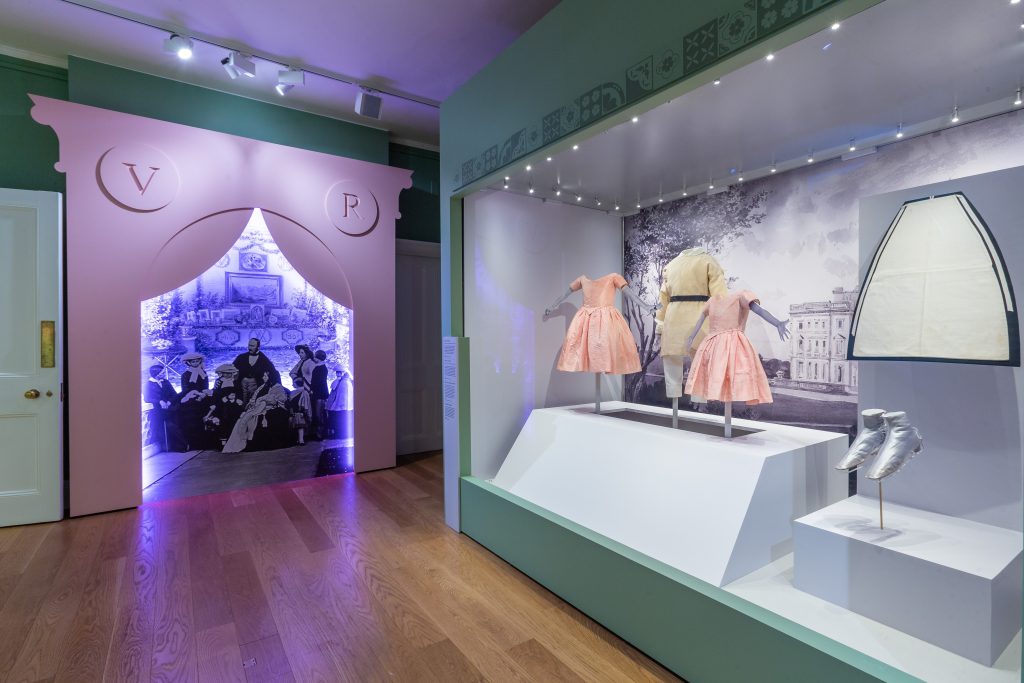 The collection that I looked at consists of seventeen items, all recently acquired by Historic Royal Palaces from the Helen Larson Collection. Helen Larson was a successful entrepreneur from California who amassed a huge collection of historical clothing over the course of a number of decades, from roughly the 1940s to her death in 1998. This included a number of items with a royal provenance, including clothes worn by Queen Victoria, Queen Alexandra and Queen Mary. Larson's purchase of English historical clothing, and royal clothing in particular, was facilitated by her great friend Doris Langley Moore (1902-89), who founded the Fashion Museum, Bath in 1963, and wrote a number of important early texts on the history of fashion. I must admit, prior to researching these women, I had no idea just how recent the study of fashion history, and the inclusion of items of historical clothing in museum displays, was – this was quite an eye-opener!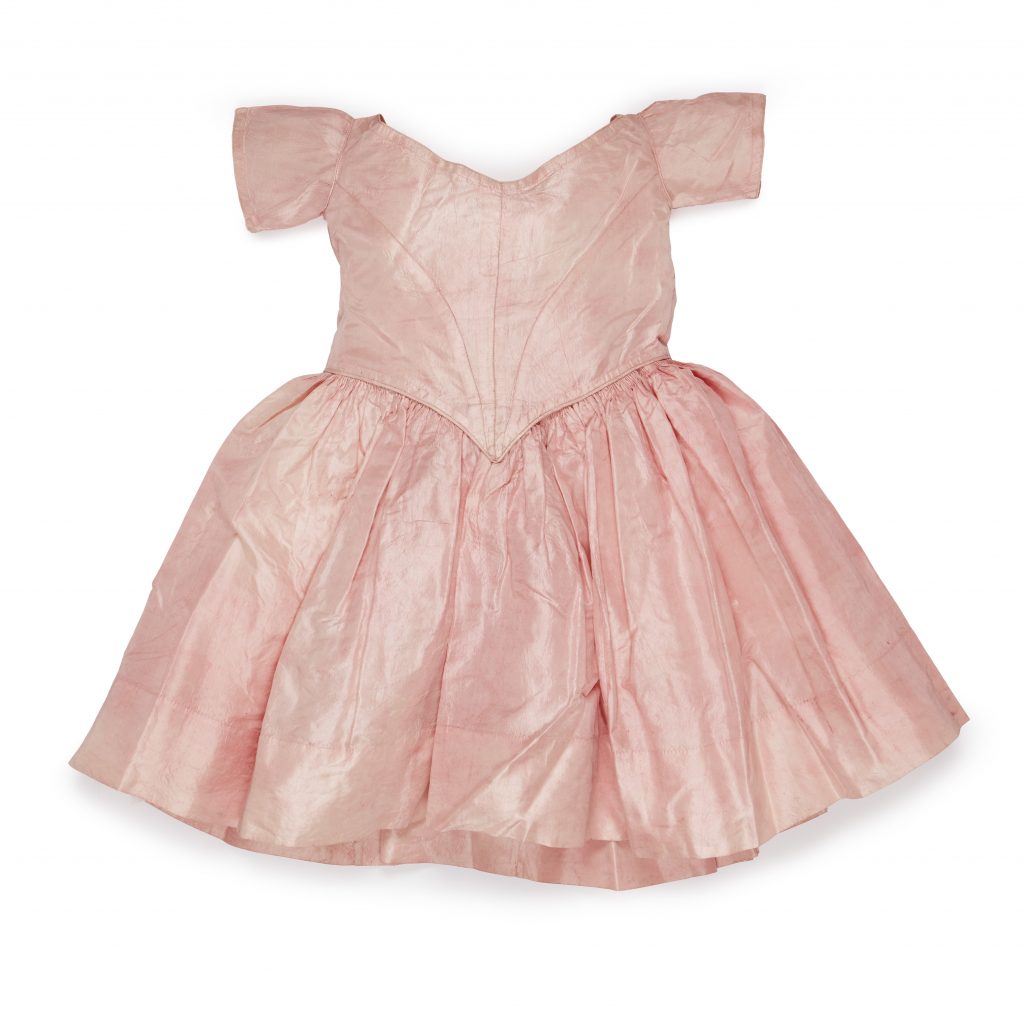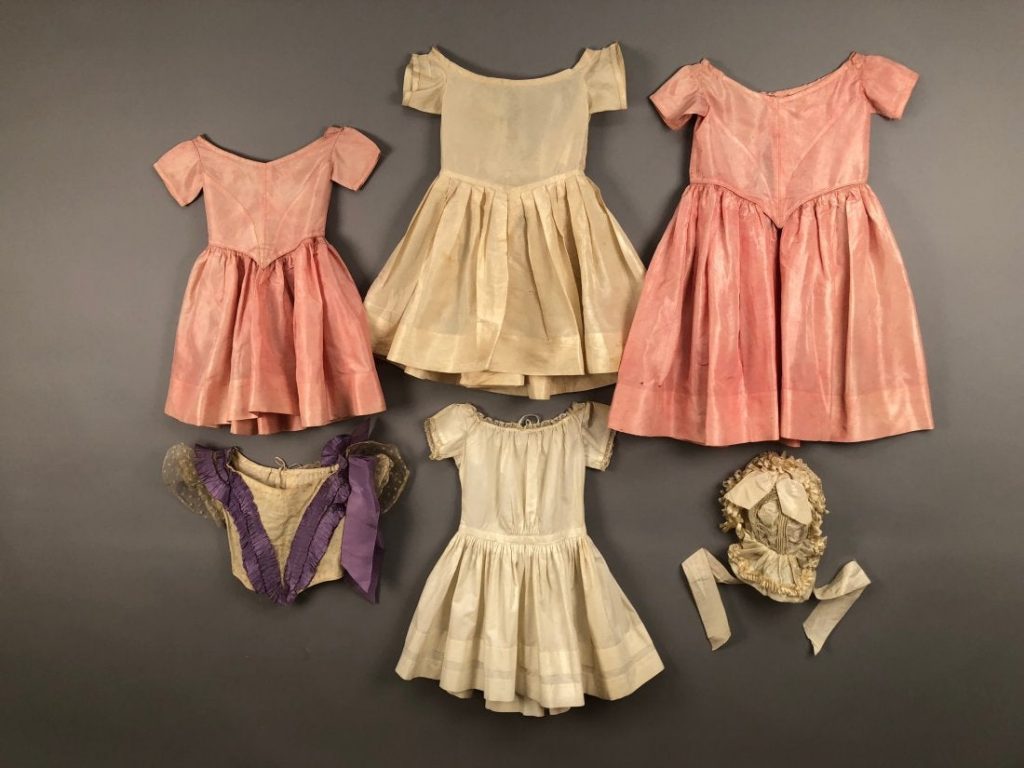 The royal children's clothes that I researched were purchased by Helen from Doris in 1965. Next question – how did they come into Doris's possession? The answer lies in a letter dated 1964, where Doris talks of a number of clothes with a Queen Victoria provenance, saying: 'All were bought by me from a niece of Mrs. Toogood, one of the Queen's dresses and quite beyond question'. This is how most items of clothing leave the royal family – they were given as gifts to both the aristocratic ladies-in-waiting who serve the royals, as well as their day-to-day dressers. Anyone who watched the first series of ITV's Victoria might remember the incident with Miss Skerrett and the gloves? Although that sort of 'giving' probably happened a lot, the gifting of royal clothes and objects had been a common perquisite for those in important court positions since at least the 1600s, so it is no surprise to find that this continued apace under Queen Victoria. Seeing as Queen Victoria gave birth to nine children, all of whom survived to adulthood, there certainly would have been plenty of royal children's clothes to go around!
Undoubtedly the most difficult part of my research was trying to figure out which of the nine children these clothes belonged to. Some of them have obvious clues, for instance, the linen blouse with a small red 'L' sewn into the neckline was probably worn by Leopold, Queen Victoria's eighth child, born in 1853. Others are more complicated, for instance the three silk dresses in the collection, two pink and one cream, all in the same style.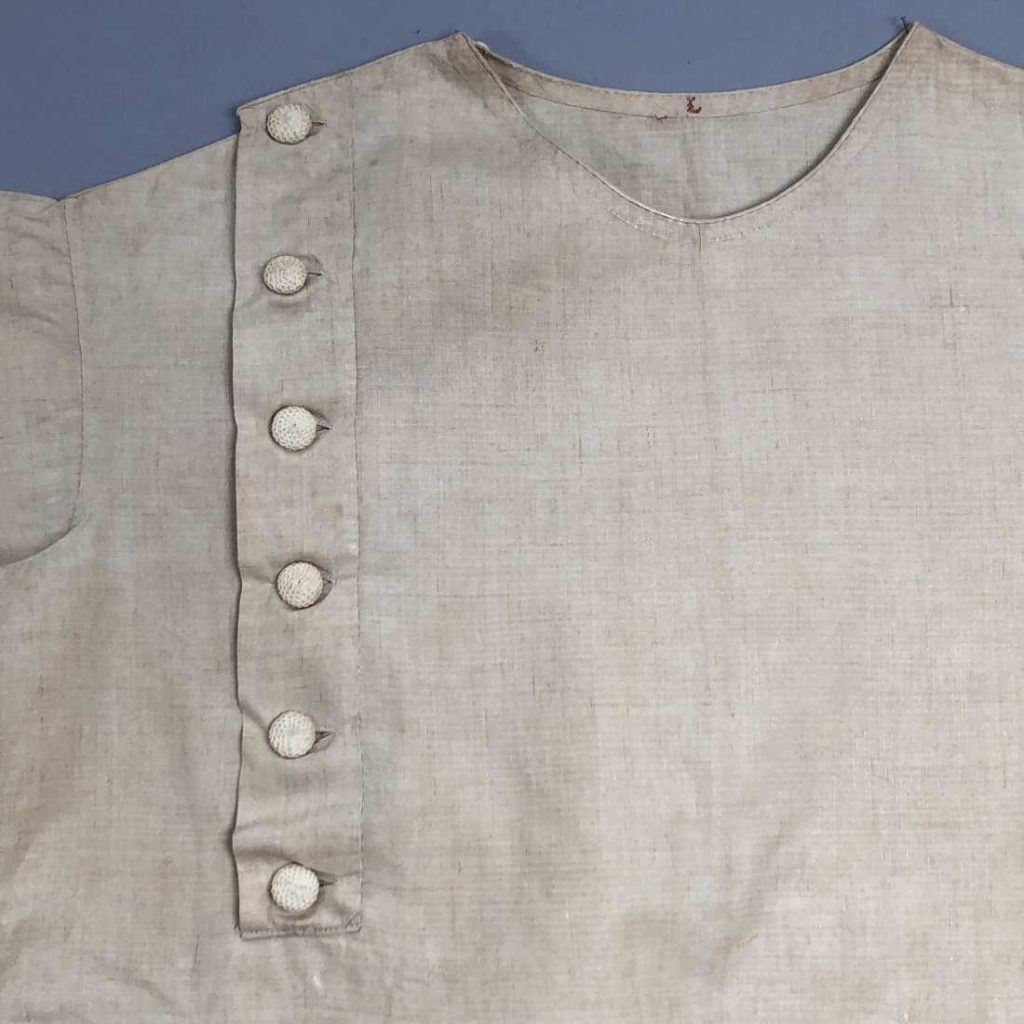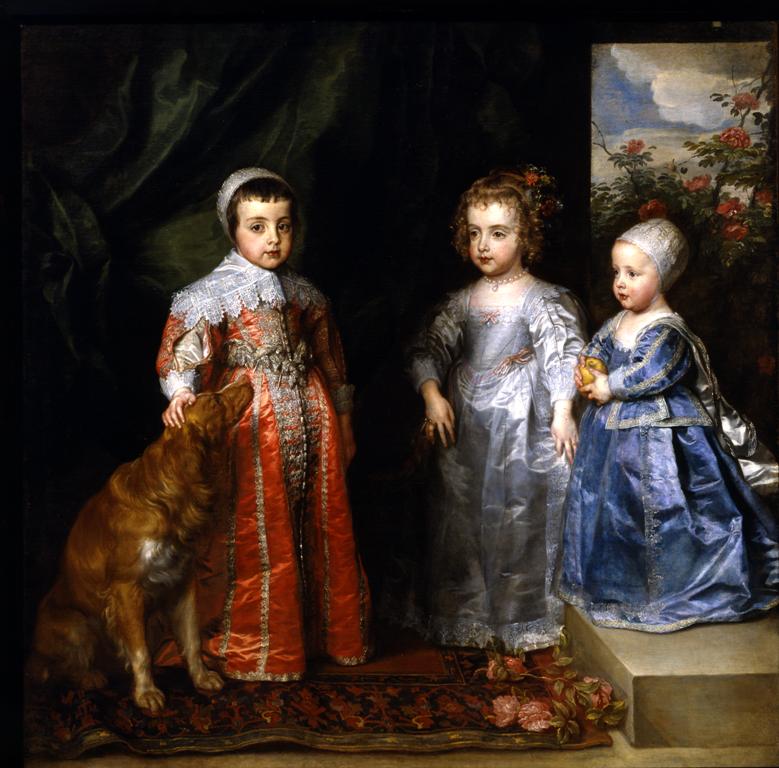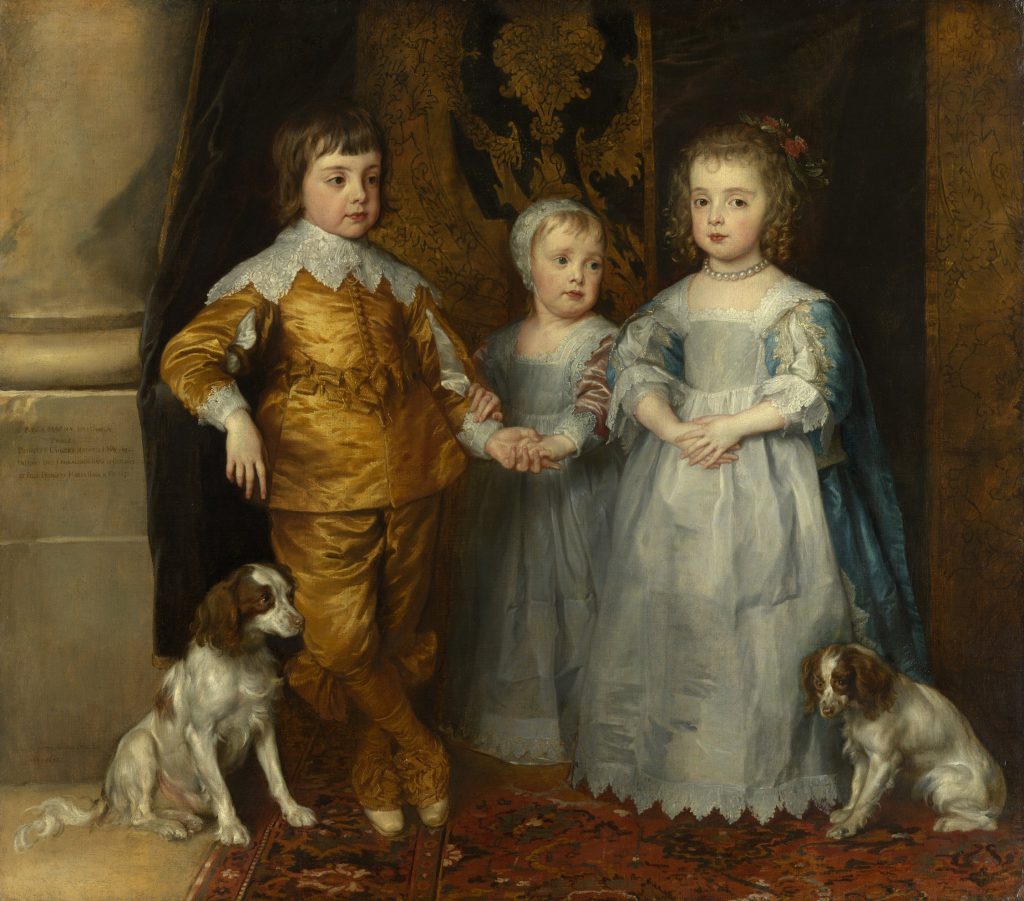 These could have been worn by either Victoria's sons or daughters because during the 1800s young boys continued to wear dresses and skirts up until the age of about four or five. As with the perquisites, this was something that had a long tradition – one of my favourite examples is Anthony van Dyck's picture of Charles I's children, where the future Charles II was first painted in skirts and it wasn't until the picture was completed that his father decided the time had come for his son to be 'breeched' (put into breeches / trousers) and so van Dyck then had to paint the same picture again, with Charles now in trousers. There are many different theories as to why this tradition came into existence, but the reason for its continuance seems fairly clear: simple practicality – it is a lot easier to change a child's nappy when it is wearing a skirt, not trousers.
I must admit that my first thought was that the pink dresses were probably worn by the girls purely because of the colour. Cue research on colour genderisation (blue for boys, pink for girls), which revealed that although this is not thought to have taken place until the early-20th century, there is no visual evidence of any of Victoria's sons having worn pink. This is despite there being numerous images of the children from a young age, many of them by Victoria herself. These show both genders wearing a lot of white, but also a lot a rich, dark coloured clothing, which would have been more expensive. The closest matching example to these dresses that I came across was a beautiful little watercolour by Queen Victoria of Princess Alice, her third child, aged two.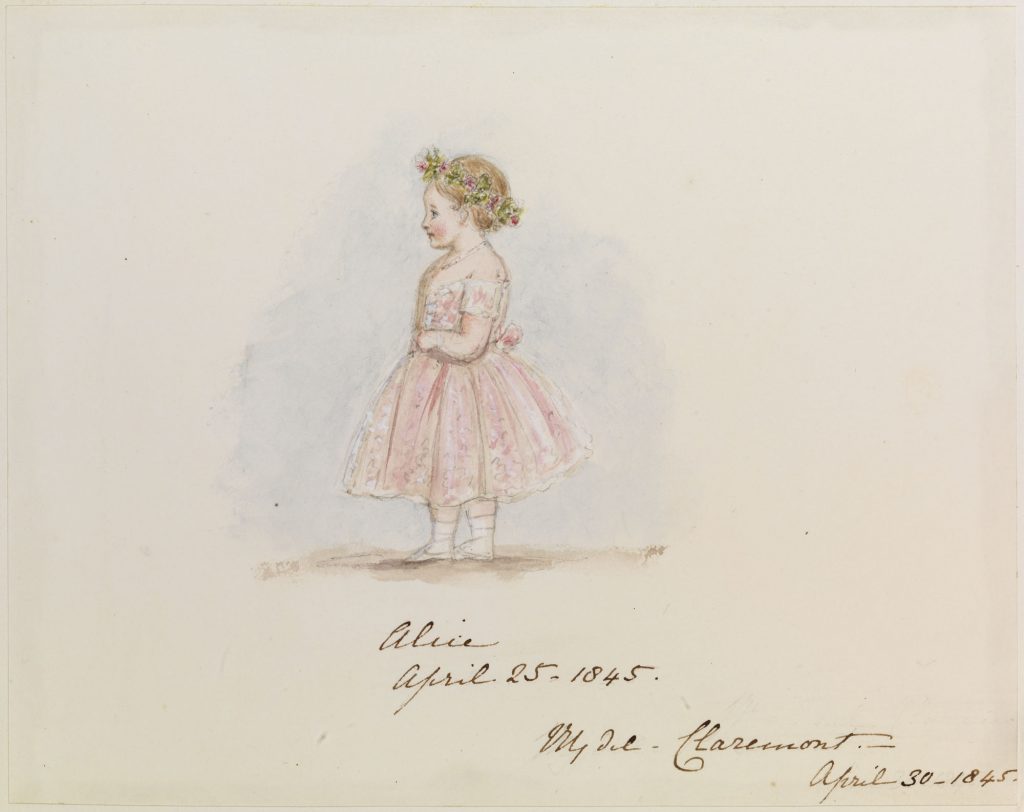 This detailed and intimate picture certainly refutes the stereotype of Queen Victoria as an unloving mother and must have taken some time to complete. Because the three dresses are all in exactly the same style, it therefore seems likely that the colour difference was intended to differentiate between the boys and girls. Based on the relative sizes of the dresses, their style and the age gaps between the different children, we can conclude that the clothes were probably either made for Victoria, Bertie and Alice (born 1840, 1841 and 1843), or Alice, Alfred and Helena (born 1843, 1844 and 1846) – perhaps not as precise an identification as I would like, but certainly a step in the right direction!
Victoria: Woman and Crown closes at Kensington Palace on 5 January – get tickets before it ends!
Emma Olver
Curatorial Assistant