We've all looked back in horror at snapshots of days-gone-by and thought "what was I thinking?!" But how do we think future generations will interpret these sources as evidence of our lives and personality? Collections Curator Brett Dolman reflects on how portraiture has moulded our understanding of the past.
That Doesn't Look Like Me!
Or, Furlough hobbies #37: sorting out old photograph albums.
If a spring lockdown finally effected for you a chance to attack either an overgrown garden, or an over-indulged physique through (socially distanced) outdoor exercise, then the autumnal version has seen many of us, I suspect, seize the cosier opportunity for a grand sort-out indoors. For me, this has meant braving the attic boxes of uncatalogued family photographs that have been for me, as a curator of collections, a guilt-ridden shame for years. 'How dare you ignore us?' they have screamed, 'Whilst you spend time with your HRP collections of historic prints and drawings, describing, indexing and lovingly creating metadata!'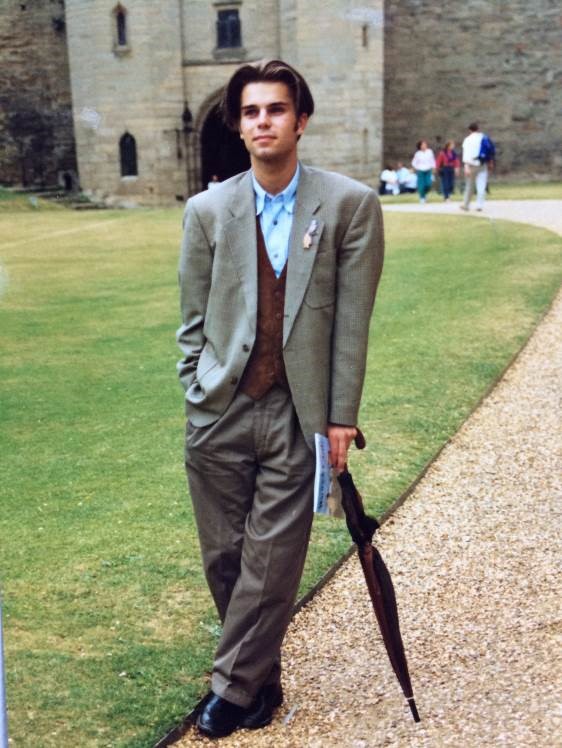 Having taken the plunge (if one can plunge into an attic crawl-space), and discovered, among other things, those frightful and frightening images of teenaged years and moments in time – old friends caught mid-gurn, clad in the tragedies of ephemeral fashion, and framed by hairdressing experiments of the past, including of course plentiful photos of one's own past forms, looks, tastes and identities – I am reminded how circumspect we ought to be when judging our favourite historical figures from a photograph or portrait …
Photography catches only a version of reality, sometimes carefully contrived by subject or photographer, often taken (especially these days, when it's so easy) without any thought for composition or intent, merely as record. But a record of what exactly? An event, perhaps – but from what angle and at what subjective moment? A person, possibly – but how can a momentary snapshot capture the complexity of a person's character and their mutability over time?
Before photography, there was painted portraiture, and here we have the added filter of artistic competence with which to contend, not to mention the artist's own subjective viewpoint or commissioned assignment. And yet this doesn't stop us from producing confident testimonies about an individual based on the flimsiest of evidence … 'Look at him! He's clearly eccentric/handsome/arrogant/shy/brave/cruel [delete as applicable]!' Or, conversely, 'That doesn't look like me!'
What a Tudor Portrait Isn't
Of course, it might be possible, given a hundred different images of a particular individual, to sort the wheat from the chaff, and to draw some conclusions. But what if we have only one? The problem with historical figures is that we often have very few images to work with: of those portraits to have survived the vicissitudes of time, many have questionable identities or no provenance; even when we're sure we have the identity correct and the context established, a portrait can still prove tantalisingly silent.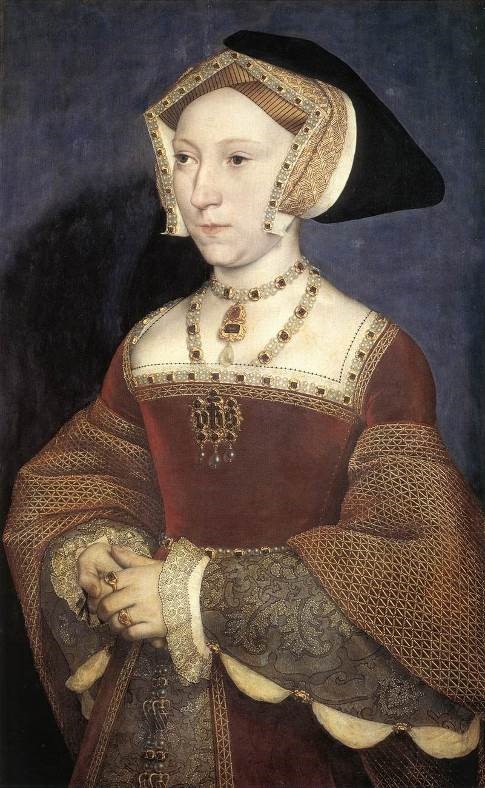 This is the portrait of Henry VIII's third wife Jane Seymour, created by the court artist, Hans Holbein the younger in 1536. Let's hear what some erudite historians have had to say about this specific portrait:
Jane quite clearly has a 'large resolute face', or, alternatively, 'mousy, peaked features and mean, pointed chin'. Henry's queen is therefore, portrayed here as 'a woman of calm good sense' and, simultaneously, 'a coarse, apathetic looking woman with a large face and small features … with a sinister expression, the mouth very small, the lips thin, (her complexion) cold and hard.'
All of these incompatible conclusions might be justified and reasoned pronouncements on Jane's character, based on an analysis of her life, to be debated and argued as the contradictory evidence is sifted and measured, but none of them are conclusions that can be drawn from the painting alone. It is one thing to read a Tudor portrait through what we know of Renaissance symbolism, through the choice of dress, jewellery, attribute, inscription or background, but another to sentimentalise or romanticise a work of art to discover the inner characters of Henry's queens, who remain – in portraiture at least – enigmatic and elusive.
And what of the infamous monarch himself?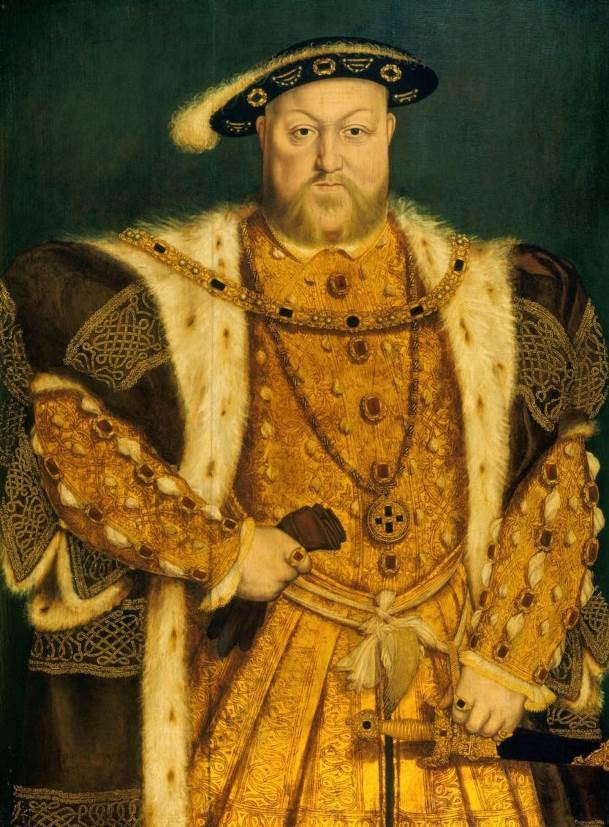 Our popular perception of Henry VIII remains almost entirely dependent on this image created by Holbein in the 1530s. He is arguably the only king recognisable simply through his stance! Until quite recently, almost every description or filmic representation of Henry was drawn from this image. 'This is Henry VIII': the bombastic, self-assured tyrant, consumer of food and women, creator of the Church of England, voted one of England's top three monarchs ever in 2007.
And yet, this image was originally created by Holbein as part of a family mural that decorated the wall of the King's Privy Chamber at Whitehall Palace. The design for the mural survives, as do copies of the painting and of Henry on his own, but the original was lost in a fire of 1698, which destroyed the palace. The context for the original picture should give us pause for thought …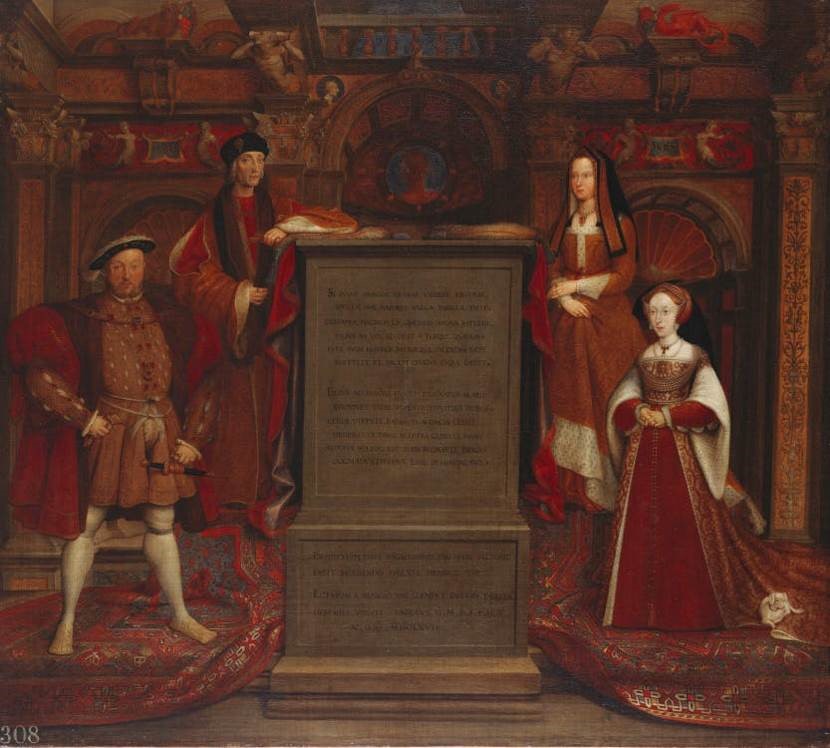 Henry is pictorially side-lined, made to play second-fiddle to an inscribed monument. It's also been suggested that the composition was intended as a kind of legacy for Henry's teenaged son, Edward: something Henry's young successor could stand in front of, framed and supported by the ghosts and achievements of the two preceding generations of the Tudor dynasty. This is not the egotistical and power-mad Henry that we have come to 'know' at all.
Indeed, far from being the only portrait of Henry VIII in the 1500s, there were plenty of other images too, from young athletic Henry, to old, infirm Henry.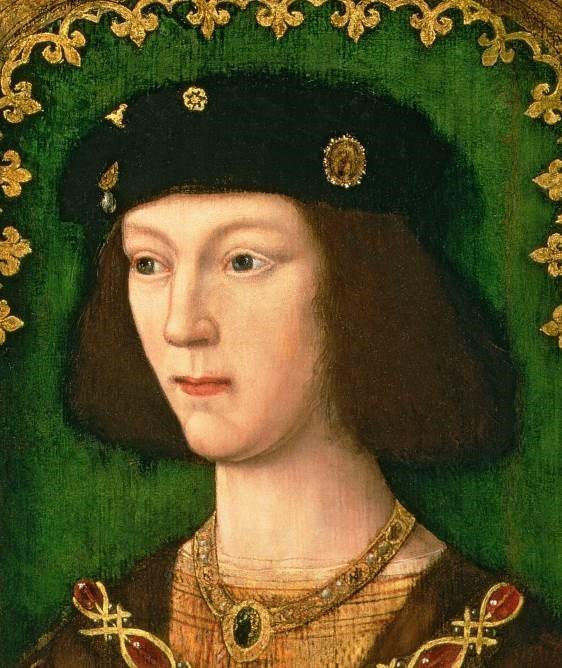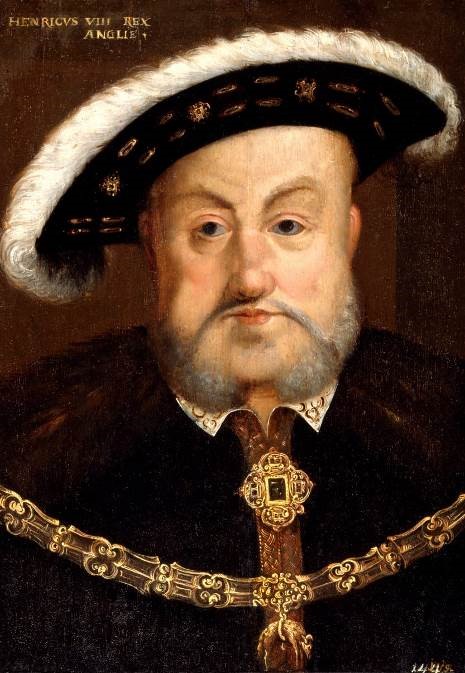 It should be clear that none of these representations of Henry VIII make do on their own as a comprehensive delineation of what he looked like, what he felt, what he was. In particular, no Tudor portrait is able, by itself, to reveal inner truths. This is what we would like our historic paintings to provide – the very word, 'portrait' carries with it expectations of understanding, insight, assessment – but these are alien concepts to a Tudor portraitist. Yes, there are some very basic, explicit messages about wealth, power, confidence perhaps. But these are common artistic devices employed by artists like Holbein across his extensive catalogue of subjects: they are hardly peculiar to Henry VIII.
Past and Present
Studious readers of this blog may remember a short despatch celebrating Henry VIII's birthday so they will know that I'm not his biggest fan. Indeed, despite promising to retain an open mind (as every historian should), I haven't managed, yet, to excavate myself from my entrenched position that he was a loathsome, vicious coward, and a self-pitying vainglorious vandal.
But it may well be that my subjective view of Henry, informed though it is by a long and ghastly acquaintance with Tudor history as part of my job, says more about me than it does about him. I don't approve of his behaviour (viewed as it is through a modern moral compass) therefore I'm likely to find fault rather than understanding; I'm not keen on a teleological historical narrative that overstates England's manifest destiny (so I am likely to underplay Henry's political achievements). This is what we do to our poor misunderstood historic figures. We rip their stories out of the pages of history and translate them into modern narratives that fit our politics, our world view, our own personal stories and tastes and opinions, our own self-image.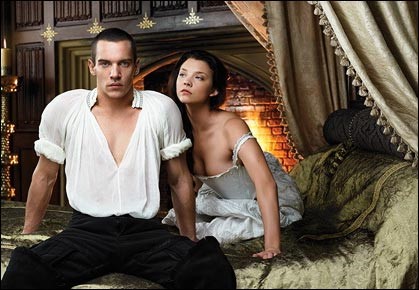 It is the same with pictures of the past. Just over a decade ago, ubiquitous 'Holbein Henry' finally gave up screen-time to a new Henry VIII in the TV show, The Tudors. This was Henry VIII du jour – no longer Charles Laughton or Sid James, but Jonathan Rhys Meyers: a young, sexy, priapic Henry, a Tudor king live-streamed into your living room as an almost tangible high-resolution experience. Again, this almost certainly tells us more about modern culture than our Tudor past.
So, if you are sorting out your photo albums this lockdown, beware of casting hasty judgments.
Brett Dolman
Curator, Collections
Historic Royal Palaces