My work on the AHRC funded Portable Palaces research project is progressing well. I have spent the last few months in the archives working on the records of the Office of Tents and Revels. Getting to handle and read original manuscripts is a privilege and one of the perks of my job. There's a real immediacy to exploring documents that are five hundred years old. The world they reveal is both familiar and strange to the modern eye. I get a little buzz of excitement every time an archivist brings a new document out of the stores for me.
Portable Palaces in the Archives
As far as 16th-century tents and timber lodgings are concerned the best collection of manuscript sources is split between the Folger Shakespeare Library in Washington D.C. (who generously make their collection available online) and the Surrey History Centre. I've become a bit of a regular in the latter's wonderful reading room in Woking.
Archival research is like panning for gold; there's much that's mundane or irrelevant to sift through but occasionally a shiny nugget of new information jumps to the surface. Sometimes there are little moments of delight when you recognise a famous name from history (think geeky celebrity-spotting). In Woking, for example, I've seen records of payments to the painter Hans Holbein and a letter from the renowned Tudor poet and diplomat Thomas Wyatt asking to borrow tents for storing gunpowder. I can't deny that the buzz of excitement returns when I encounter someone I know in a document, although in truth neither of these examples has added much to the Portable Palaces research.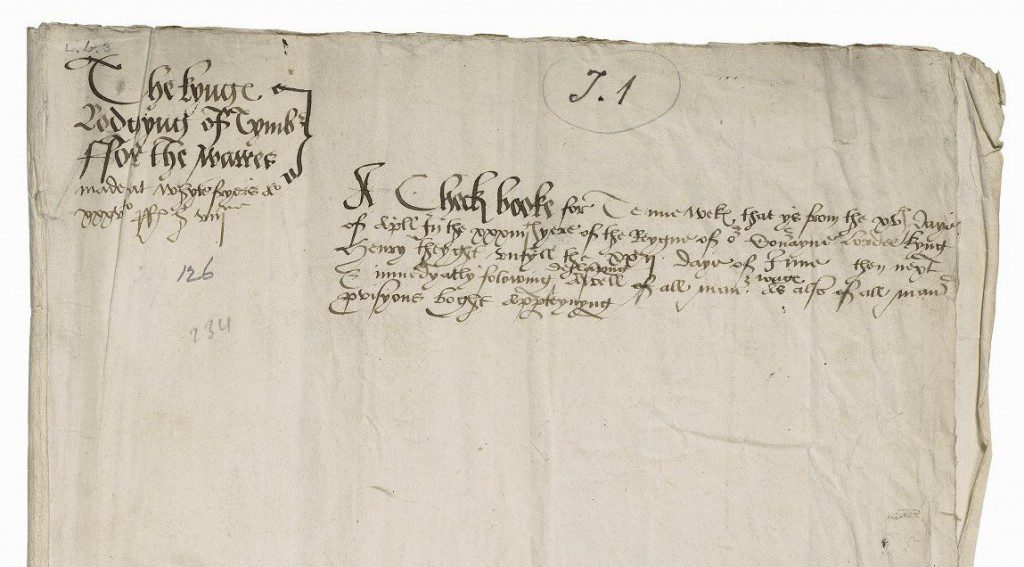 Like a Miniature Castle
More useful at the moment are the accounts for the specific tents and timber lodgings that I've come to know. When I began the Portable Palaces research I was inspired by a short description of one of Henry VIII's timber lodgings in the inventory of his belongings compiled after his death in 1547. Timber lodgings were relocatable wooden buildings that were often used in conjunction with tents to accommodate the King on his travels. My sense is that some of these buildings were extremely innovative architecturally. I've quoted the 1547 inventory description that whetted my appetite in previous blog posts but it's worth doing so again. It records a…
'timber house all of fir painted and gilded with a square tower at every end and corner all covered with white plates scallop-wise and ceiled within with paste work painted, the windows of horn, with all the [heraldic] beasts, vanes and devices belonging to it'
Now, thanks to documents at the Folger and the Surrey History Centre, I can begin to add more detail to this picture. It must have looked like a miniature castle with its four square corner towers but the 'white plates scallop-wise' (or 'scale-wise' as another description puts it) that covered the roofs and perhaps some of the walls were probably bullnose tiles made of steel or tin that made this timber lodging glitter in the sunshine. On top of the roof and towers were seven wooden heraldic beasts with vanes (small metal flags) while surrounding the roof was a carved timber battlement that was jettied outwards from the walls. Below, two doors led into the building from under a porch or portico with turned columns supporting a pediment bearing the carved coats-of-arms of both Henry VIII and his young son Prince Edward (later Edward VI). Inside the horn windows were casements set in lead frames and the allusions to classical architecture created on the outside, by the porch, were continued here by turned window mullions like small columns and carved decoration in the 'antique' or Italianate style. This was truly a remarkable piece of architecture.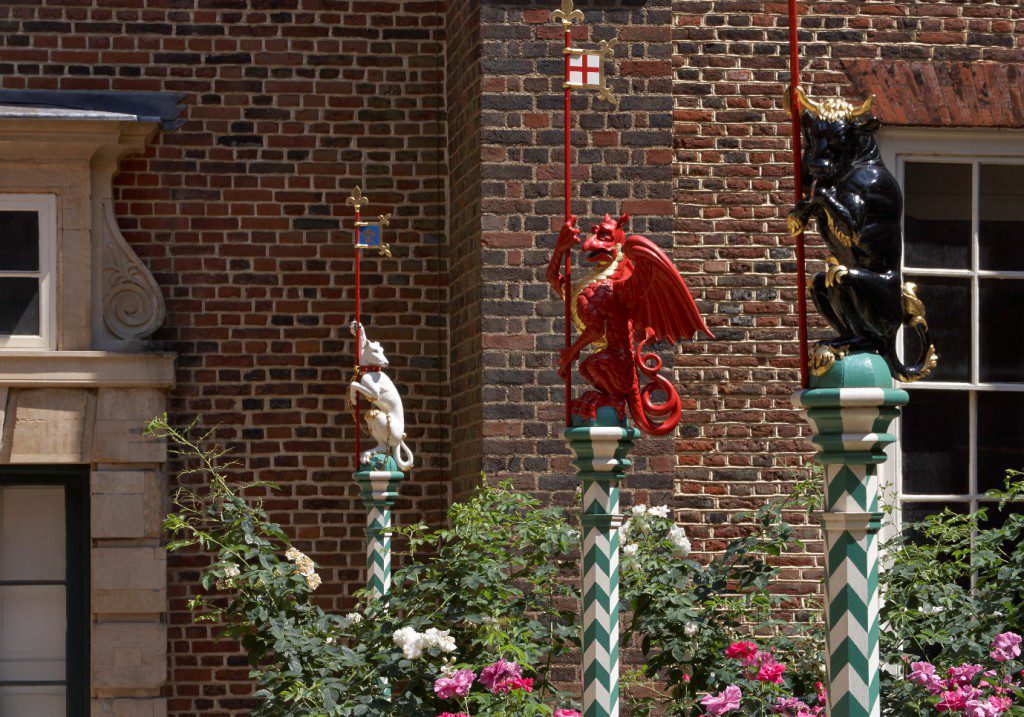 Held Together with Nuts and Bolts
What's perhaps more extraordinary though is that this was not some folly created for a garden or park, but a portable palace that was created for Henry VIII to take on military campaign in France in 1544. It was designed to move with the army and unlike traditional timber-framed buildings whose joints are secured with timber pegs, this building was held together with nuts, bolts and screws so that it could be rapidly assembled. This was a relatively new and innovative technology in the 1540s.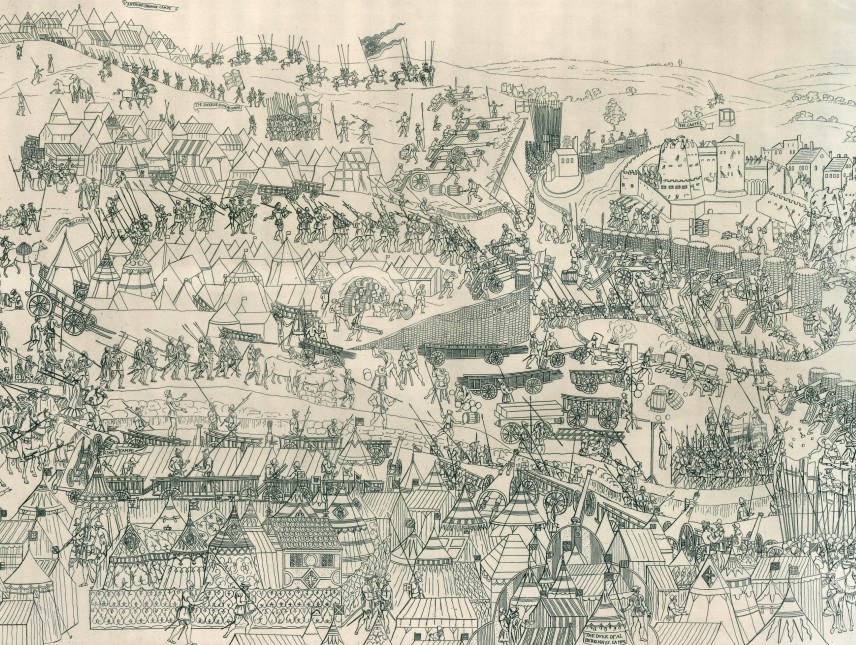 Unanswered Questions
There remain some unanswered questions of course, like how big was the building? The documents provide some clues but I'm still trying to work out exactly what they mean. However, the descriptions of other timber lodgings that appear in the archives suggest that they could range in size from little bigger than a large garden shed to footprints in excess of 50ft x 50ft. My guess is that the timber lodging described in the 1547 inventory was towards the larger end of the scale and must have presented a magnificent image of royal power, architectural innovation and technological prowess to anyone who saw it.
It's these sorts of treasures that can be uncovered in the archives and that make trawling through piles of manuscripts so worthwhile and exciting. I and all of my colleagues in the Curators' team at Historic Royal Palaces rely on the wonderful collections held by our national and regional archives and we are indebted to the amazing teams of archivists and conservators who care for them and make them accessible to researchers.
Alden Gregory, Curator of Historic Buildings and AHRC Leadership Fellow
Portable Palaces: Royal Tents and Timber Lodgings 1509-1603 is supported by the Arts and Humanities Research Council.