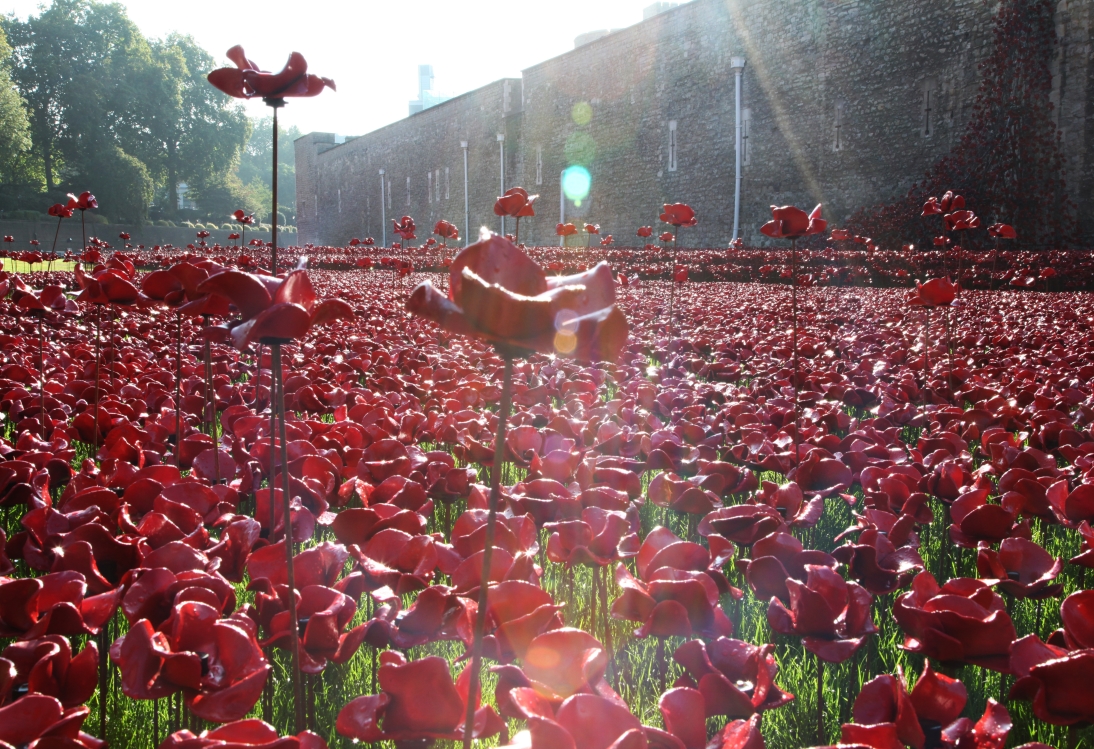 New Research at HRP
Dr Eleanor O'Keeffe, Post-Doctoral Research Associate, discusses the changing practices of remembrance and how Lest We Forget, an AHRC funded project based at Historic Royal Palaces, is studying them.
There was a time, probably in the 1980s, when we all thought we were done with remembrance and the First World War. As the presence of war veterans dwindled around war memorials, remembrance, as an activity, slipped from public space and nestled into more nurturing venues. As a child of the 80s, there were few spaces where I was asked to 'remember': School was one, Church was another. I was raised Catholic, but I paraded with my brownie troop at Remembrance Sunday at our local Anglican Church. This was less about pomp (no flags, no music) and more a mechanism of getting every Brownie into a pew in the quickest possible time. I don't remember any be-medalled veterans at the service, nor was I conscious of any relative of mine who had served or died in 1914-18. When Blackadder came along in 1989, I lacked any understanding of why it was satirical. It was still funny.
The Beginnings of remembrance
A child of the 1920s, of course, 'remembered' very differently. The original remembrance generation had survived through (what was then) the most catastrophic experience of conflict in human history. They were far from united on what war had meant, or what the future should look like, but remembrance helped find a common ground: the Sacrifice of the Dead, and the loss of the Bereaved, demanded national respect and the resolve to 'never again' commit the nation to such slaughter. You may have seen photographs of the first 'Armistice day' crowds in 1919. It was this staggering participation that established a new and powerful ritual across the UK. The frenetic memorial making belonged to this time, too. Back then, processions meant processions: pipes and drums, lines of uniformed participants from girl scouts to tram workers. A child of the 1920s may have laid a wreath 'For Daddy', or helped pin war medals to a Sunday best suit. Equally, she may have learned not to ask the question – 'What did you do in the war?' Remembrance was both disease and tonic. It seeped from war's wounds and was so often the medicine used to treat them.
By the time I entered university, that way of doing remembrance, the rituals and commemorative forms that were created to solve the intractable problems of the post-war generation, seemed archaic and historical – something you studied, rather than lived with. In the 1990s, a 'cultural turn' in history generated a new scholarship interested in remembrance culture after 1918, which reconnected students with the buried history of grief and death around them. Jay Winter, for instance, whose work on war and remembrance spearheaded this research, used to have to point out war memorials to his students, lost as they were in the urban landscape, covered in the grime of pollution and disregard. Investigation of the War's 'myths', too, showed us the different ways that successive generations reimagined the Great War through culture. Remembrance had its own momentum.
100 years of remembrance
For this centenary generation, remembrance has made a comeback. Poppies have returned to railway stations and streets, sales have massively increased, and the pressure on public figures to wear it annually makes the news. Even before the government spurred commemoration with its own funding, the two minutes' silence had become a permanent fixture in national life – invoked to remember the dead of all wars, and as a bulwark of defence against terror attacks. With the centenary programme, too, came a budget for community action, administered through the Heritage Lottery Fund. War memorials have a new sheen and a new cultural presence in local spaces. And any child who feels the lack of direct family tradition can search for an ancestor through the internet, or research a name on a local war memorial.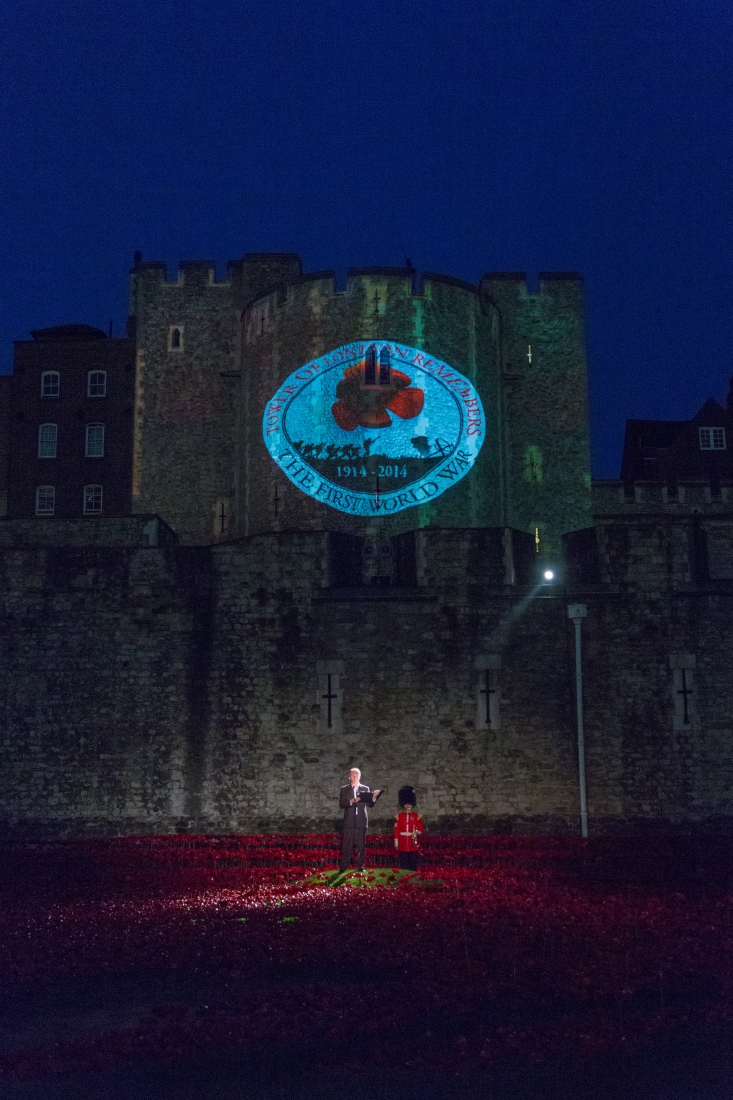 Then, of course, there was Blood Swept Lands and Seas of Red or 'poppies at the Tower' in 2014, which is where our research project begins. Remember that? It's worth emphasising here that this installation by artist Paul Cummins and designer Tom Piper was not part of the centenary programme of 14-18NOW. It became a central moment of that commemoration because it won considerable participation from thousands, even millions, of people. Over 30,000 people volunteered in the installation. Some 19,000 applied for the nightly 'roll of honour' ceremony, where names of the dead were read out each evening. Huge numbers of people, an estimated 5 million over the four months, attended in person – gathering on Tower Hill as solemn witnesses to an event, which started as art and ended as ritual. That's without exploring social media and the digital life of the 'Tower poppies' – that's another story altogether.
Lest We Forget
Our project, the AHRC-funded Lest We Forget, aims to make sense of this activity.  Why did Blood Swept Lands have such a cultural impact? Who did it really resonate with and why?  What does it tell us about people's relationship to the past and the commemorative practices of today? Our team of two has a great deal of research to complete over this next year. There are, for instance, over 9,000 entries to the dedication memorial mosaic to analyse and 418 objects (nominally referred to as 'ephemera' for want of a better word) that people left or 'dedicated' in the moat to catalogue and research. We will also be conducting some fieldwork on Beyond the Deepening Shadow: The Tower Remembers, which is in production.
This represents a challenge for any researcher. There are complex drivers of this activity, historical and sociological, that we need to unpick. We are dealing with Big Data, memories, and material culture, employing different methodological toolkits to understand each – we'll need to eventually pull that all together. Each day, we come into contact with deeply personal moments, which we need to handle with historical, legal and ethical sensitivity.
This is not just a challenge for us personally, it is also a test of Historic Royal Palaces (HRP) as an Independent Research Organisation (IRO), a status it was awarded in 2015. This is, after all, a project based in HRP, which demands a critical reflection on the ways in which cultural organisations, like HRP, invoke and inspire commemorative practices.
Over the next few weeks, whilst remembrance is in the air, we will also be giving you an insight into our project and our research concerns. What will we eventually find? We will let you know.