So what does an archaeologist do all day? Well most days we strive to make the most out of an often muddy, filthy situation, hoping to uncover anything, however small and seemingly insignificant that might contribute to creating a link between the present and the past; learning how our ancestors lived, how they interacted with their environment and what made them tick. But more specifically, what on earth does an archaeologist based at Hampton Court Palace and the Tower of London do all day? Surely there's nothing left to uncover?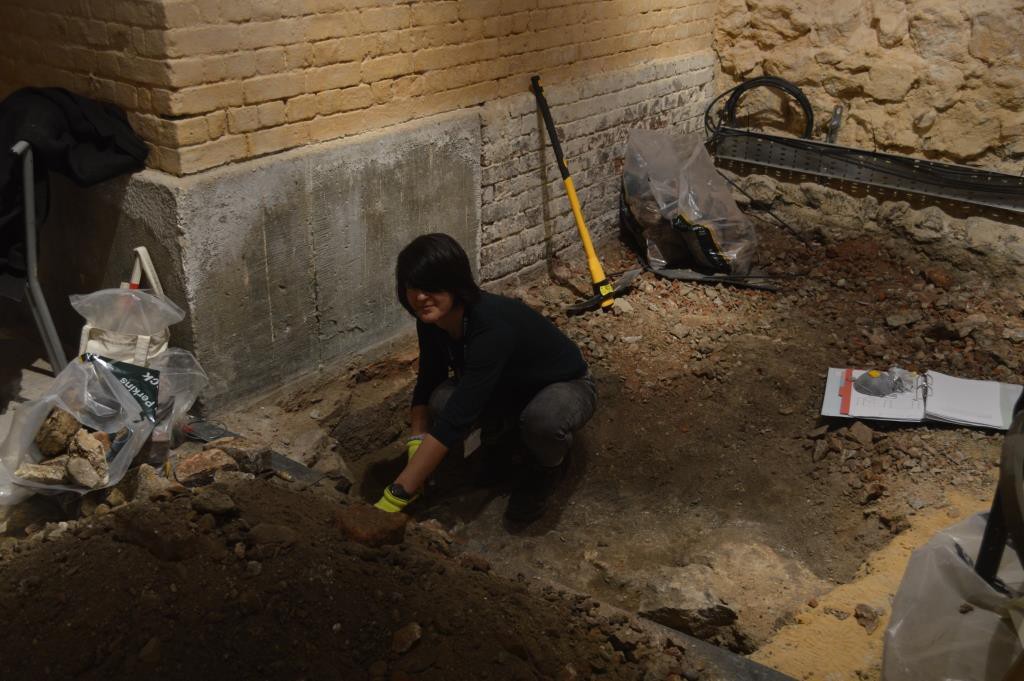 Of course I'd love to have the luxury of being paid to sit back and admire these incredible historical surroundings, but being an assistant curator of archaeology and historic buildings at HRP is a busy and varied role and might not involve exactly what you would expect. Firstly, it's a distant cry from my previous experience in commercial archaeology where I was used to being one of an often large team of archaeologists desperately digging, shovelling, cleaning, sampling and recording structures, buildings, features and layers before they were swept away forever by new developments. My role here does of course involve most of these things too (minus the desperation), but here we are lucky enough to be able protect the archaeological and historically significant elements that help us to increase our understanding of how the palaces have evolved over time, and unlike commercial archaeology, which is an important part of development projects, it is preserved in situ for as long as is possible.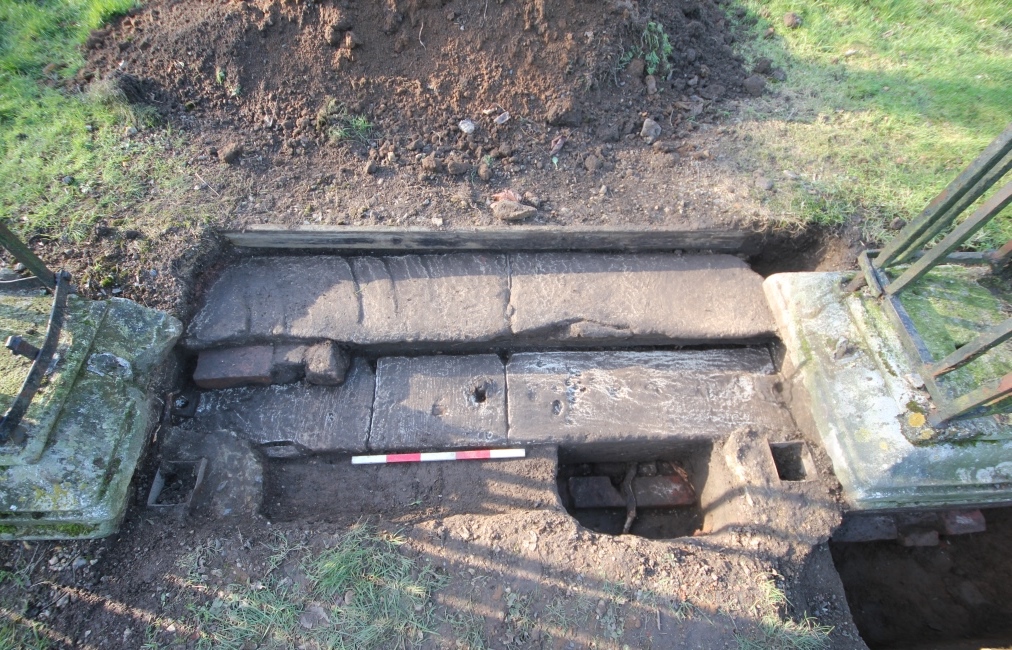 This means that my trowel is indeed poised and ready to plunge itself into muddy or dusty action whenever any kind of repair, conservation or maintenance work might entail creating holes around any of the palaces. In fact never before had I heard of an 'archaeological emergency' until I started working at HRP, but when you have urgent gas repair works right at the heart of an old burial ground at the Tower of London you can be almost certain that you'll end up exposing some sort of exciting relic from the past!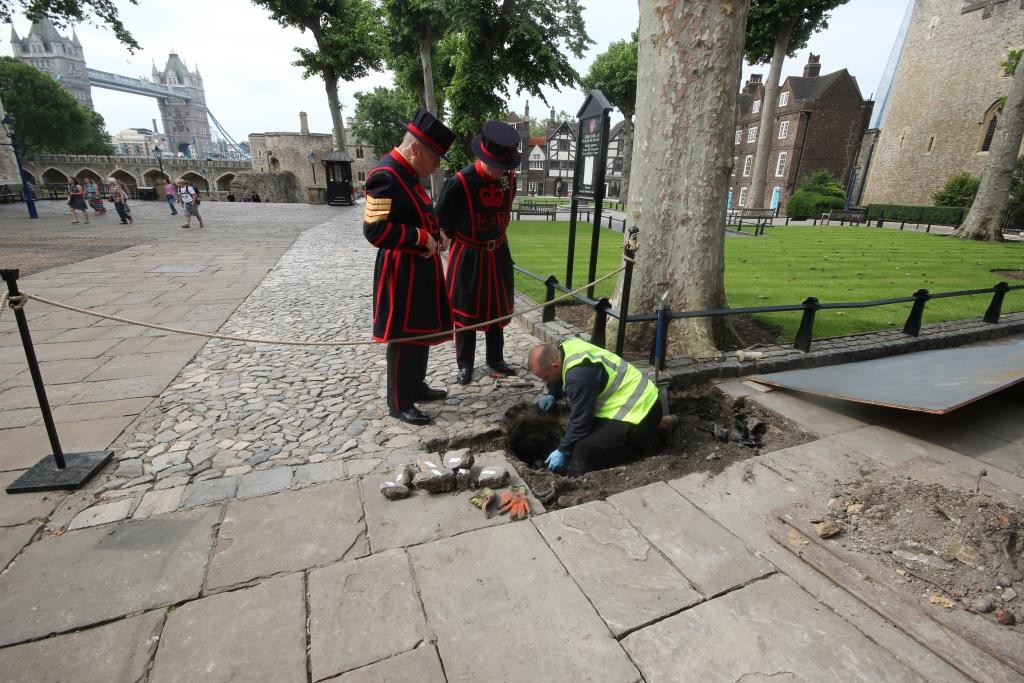 There is rarely a predictable moment, whether it's zipping across London from one Palace to another on an archaeological mission, turning up to another seemingly dreary hole only to find an unexpected Tudor wall, excavating a beautifully preserved 17th century threshold just a few centimetres below the earth or even scrambling up onto the roof of Hampton Court Palace to record a wonky chimney. Sometimes I even find myself fighting off the curious and often presumptuous swans and geese of Hampton Court as they try to muscle in on the action if I find myself working in the gardens.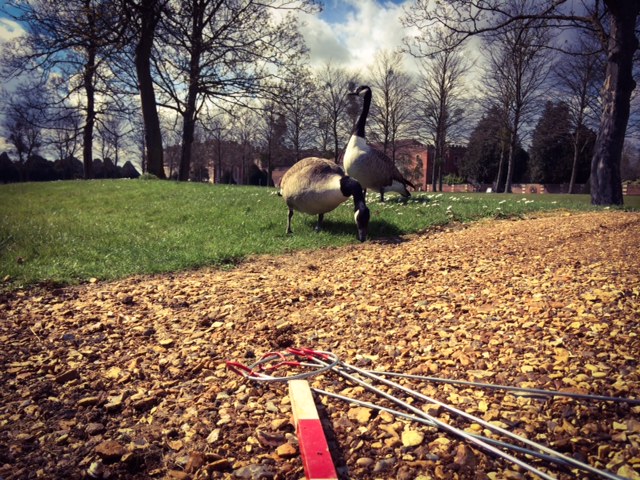 Most of the projects I work on are what we call watching briefs or evaluations, which is jargon for monitoring someone excavate a hole or digging an exploratory hole myself to see what I might find! This may not seem too technical, but it can often yield a great wealth of new data about our Royal Palaces, and often provides key information for surveyors and conservators alike prior to commencing their projects. So having an in-house archaeologist at hand is really quite handy!
Of course there's more to it than simply monitoring, excavating and recording holes in the ground, although on occasion I have been referred to as the 'the hole inspector'. It's just as important if not more so to add context to all the archaeological findings by doing some research and looking at past archaeological records if they exist. This gives me the chance to learn about another corner of one of the palaces, by taking time to read, to look at ancient maps and plans, photographs and records and of course talking to the experienced curators at the palaces. When it comes to the various objects discovered as a result of all this rootling around the palaces, sometimes it is necessary to seek specialised expertise from outside, which helps us in our endeavour to ensure that the final outcome is comprehensive, accurate and meaningful. I am lucky enough to have a whole wealth of knowledge and information at my fingertips and sometimes it's a question of needing to delve deep into the records in order to unearth forgotten documents. You simply never know what you might haul out from beneath the ground or within the very walls, nooks and crannies of each palace!
Alexandra Stevenson
Assistant Curator of Archaeology (Maternity Cover)