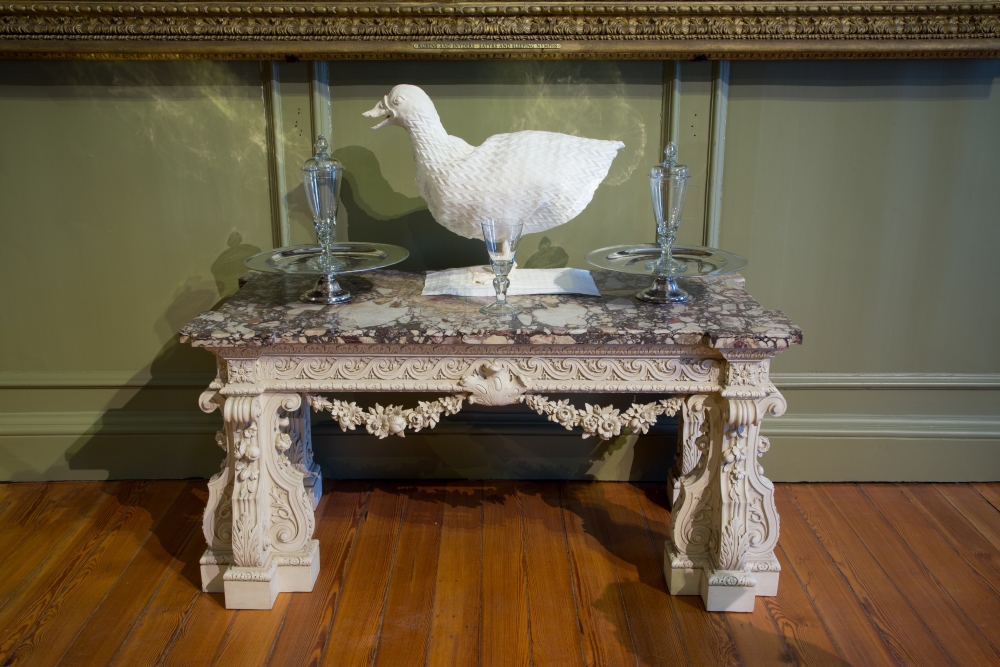 It's that time of year again when even curators' minds wander from the library desk (more likely a computer screen) to preparations for the Christmas holiday, distracted by thoughts of gifts to find and food to prepare. In the middle of summer colleagues were answering obscure questions about a Georgian Christmas in Ireland, the Princess Victoria's Christmas at Kensington or an Elizabethan Yule Log at Hampton Court (you can find out more for yourselves by visiting our palaces this Christmas).
But what did the royal family tuck into in Christmas's past? Recently I have been writing about the early Georgians for a new history of Kensington Palace, so I have dipped into a wonderful clerk of the kitchen's Bill of Fare book we have for this palace, which covers the period leading up to the death of Queen Caroline in 1737. It is a very remarkable survival, for unlike the many neatly copied volumes we regularly go to in the National Archives, this is small, roughly written volume where the clerk, Mr William Daniel- who started his career as kitchen boy working for King William III – scrawls down the menu for each day as he was commanded by the monarch, or Lord Steward (his boss). There are numerous crossings out, marginal notes, doodles, even grease marks. This is where the cooking, not the household accounts actually took place.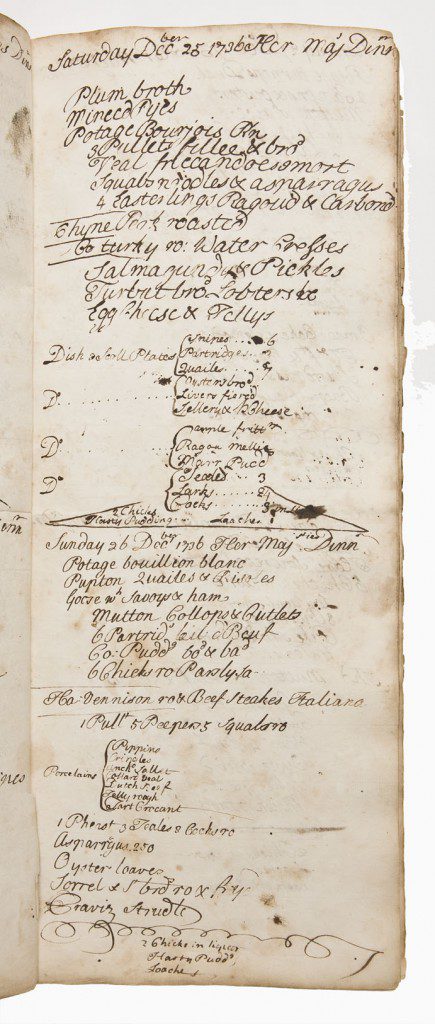 The menu for Saturday 25th December 1736, when Queen Caroline dined alone at Kensington, which she was once again using as a winter palace as it was first intended, was as follows:
Plum broth
Minced Pyes
Potage Boujois
Pullets fillee & brod [broiled]
Veal fricassandoessmort [strips in a kind of gravy]
Squabs noodles & asparagus
Easterlings Ragoud & Carbon'd
Chyne Pork Roasted
Co[ld] turky w: Water Cresses
Salmagundy & Pickles [a meaty salad]
Turbut brod Lobsters
Egg Cheese & Jellys
And then follow special dishes served on decorative plates with individual delicacies including all sorts of game birds, livers, oysters, and even larks, which may well be the second course, although this menu is rather different from ordinary days.
Although King George II was away, and indeed had just escaped a violent storm trying to return home from Holland, Queen Caroline seems not to have lost her appetite on Christmas Day. The numbers of dishes – served in the style of a buffet – are considerably less than the forty or so served on state days, so we can imagine this is the Georgian version of a family Christmas dinner, attended by the royal children and the Queen's close servants, all of them peeresses. First up on the menu is plum broth, a variation on the plum (or 'Christmas') pudding which regularly featured at the royal Christmas dinner 250 years ago. It really is Christmas pud as a savoury soup – one foreign visitor thought it 'a great treat for English people, but not for me'! And of course mince pies – the meaty variety which is today reduced to including suet, if you make them yourself and are not vegetarian. There is still plenty of mixing sweet and savoury on the royal table at this date. However, if I've read this right, turkey is served cold with a salad: sounds more like Boxing Day nowadays. However just as today turkeys were a special dish, even though they had been bred in England since Elizabethan times. (Earlier this year I tried to discover why the next king's gardener, 'Capability' Brown locked up the Wilderness at Hampton Court, which included our famous maze, to breed turkeys for himself. Even our brilliant food historians could not come up with a good explanation for such extraordinary gardening behaviour apart from a desire to eat turkey on the cheap!).
If that modest Christmas meal has made you feel rather bloated, you can turn to the next Christmas, when poor King George was recently widowed. Famously grumpy as he was, he deeply loved his Queen. It sounds healthy but rather dreary: simply squabs (baby pigeons), chicken fricassy, grilled capon, mutton, and of course, cold turkey. And to follow, plum broth, minced pies and white puddings.
There was one other important feature of the Georgian Christmas dinner – the household all received an extra ration of mince pies and plum broth – Now bring us some figgy pudding!
Sebastian Edwards, Head of Collections