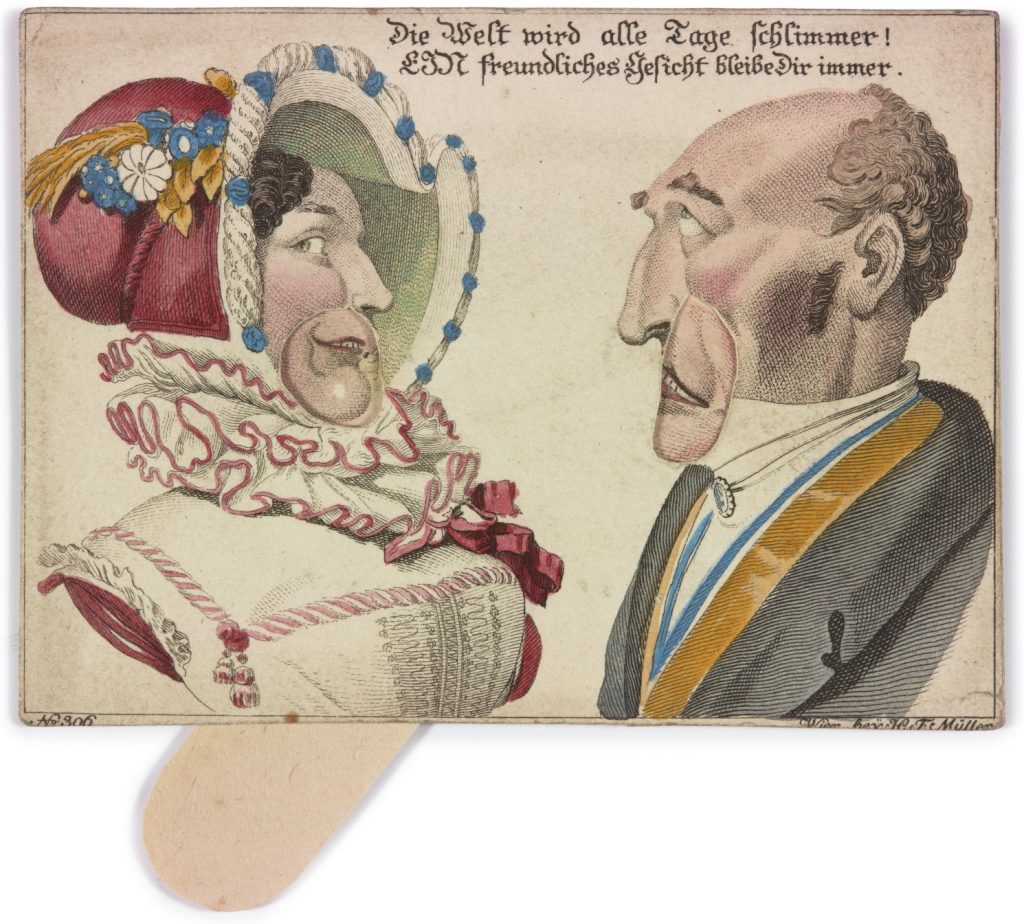 New Year's Cards?
The first English Christmas cards were famously printed in 1843 by busy civil servant Henry Cole who didn't have time to write individual festive messages to his friends and family. The trend quickly spread, but Historic Royal Palace's latest acquisition is a reminder that commercially printed cards have a much longer history, and that sales of novelty prints were booming across continental Europe in the early 1800s. Our new object measures a tiny seven by nine centimetres and is a Viennese 'Neujahrskarte' or New Year's card, sent in 1824. It is a cheerful satirical image of a man and woman, face to face, his eyes roll upwards and hers glance out to the viewer. The cartoonish-style of their faces is because they actually move – there is a tab to pull which make their mouths smile.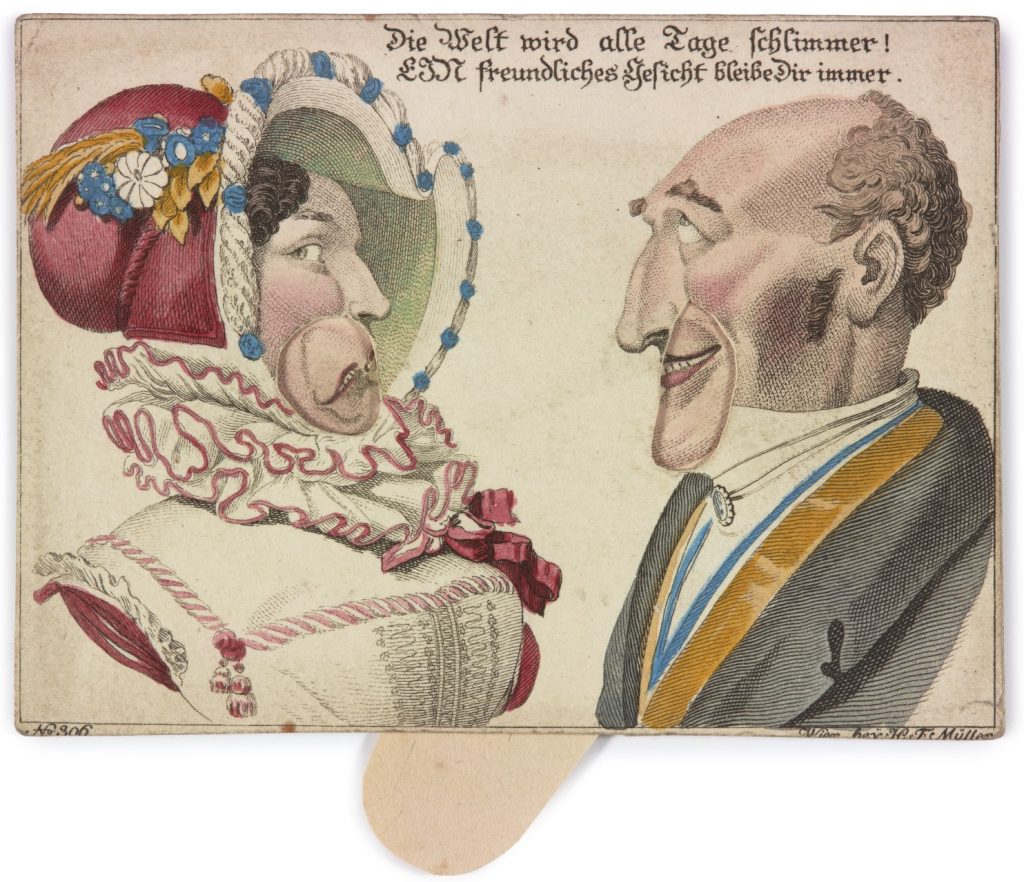 Written above the grinning pair are lines of German text which can be translated as: 'The world becomes more evil every day, ONE friendly face I'll always be to you'. Finally, an elegant handwritten message on the back of the card reads: 'First fashionables from London, Victoire, 1824'.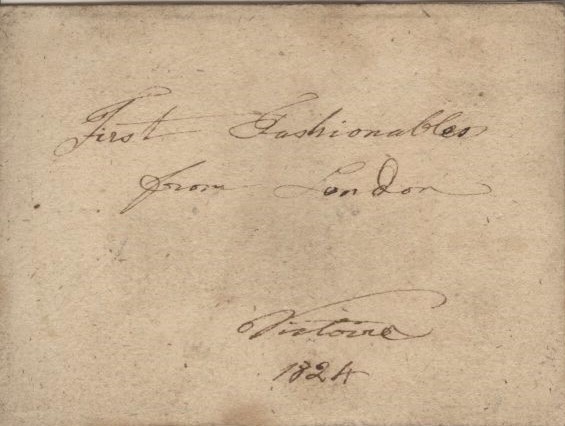 Who was Princess Victoire?
'Victoire' is Queen Victoria's mother, a young, stylish and gentle widowed Saxe-Coburg princess who arrived in England in 1818, speaking almost no English, to marry George III's fourth son – a man she barely knew. Their sole aim: to provide new heirs to the British throne, following the terrible death of George's only legitimate grandchild, Princess Charlotte of Wales in 1817.
Today Queen Victoria's parents are footnotes in history, overtaken in every way by their daughter's extraordinary role on the world stage. But the lives of Edward and Victoire, the Duke and Duchess of Kent are riveting nonetheless, packed with drama and tragedy, as well as pivotal to the shaping of their era-defining Empress daughter.
Despite their hastily-arranged dynastic marriage (including Edward's abrupt ditching of his beloved mistress of thirty years) Victoire and Edward were surprisingly happy in their short time together. Years later, their daughter read through love letters and was amazed at the 'sincere attachment' they developed so quickly. It didn't last. Edward died painfully and unexpectedly of pneumonia and a heartbroken Victoire was left alone with their eight-month-old daughter, forced to sell off their possessions to pay her late husband's extensive debts.
Widowhood and Motherhood at Kensington Palace
Four years later, Victoire was still struggling. Living at Kensington Palace, pleading with a hostile English court for handouts to 'live in a manner befitting her rank' and failing to manage her nearly five-year-old daughter who had emerged from a cossetted babyhood as a temper-tantruming 'very very very very horribly naughty' little girl.
It is at this moment in 1824 that Victoire writes her New Year's greeting. She is following the fashionable habits of her German home country in sending out dozens of these stylish, modern, beautifully crafted cards to her household and family. This card is printed with the maker's name – the Viennese publisher Heinrich Friedrich Müller (1779-1848) who dominated the European market for picture books, board-games and peepshows, skillfully exploiting the early 1800s craze for optical illusions.
First Fashionables
'First fashionables' – Victoire's message on the back of the card – is a phrase of the time for the most stylish individuals at the top of society. There is the possibility that irony or humour might underpin the remark, given the state of Victoire's debts and her precarious position in the royal hierarchy at that point (her daughter was not formally confirmed as next in line to the throne until after 1830). But as her daughter grew and their allowance increased, Victoire's lavish entertaining at Kensington Palace certainly placed her as a 'first fashionable' herself.
We don't yet know if Victoire commissioned her cards privately, but one of the delightful aspects of it is that the female figure in pink bonnet and frothing pink-trimmed collar bears a strong resemblance to Victoire herself. She was famed as a 'showy dresser… who was capable of spending more than £100 on a single spectacular hat'.
Faithful Friend or Scandalous Servant?
The man on the card is also not dissimilar to Victoire's controversial household comptroller Sir John Conroy, who could certainly be 'the one friendly face' of the verse. Beset by rivalries with her in-laws (the squabbling off-spring of George III and their race to beget more heirs) Victoire's world must indeed have seemed 'evil' so she turned instead to Conroy – a handsome, able and arrogant military equerry, charged by her husband on his deathbed to look after her.
Conroy (or 'King John' as William IV called him, with deep loathing) took charge, directing Victoire's household as her sole confidante and advisor for the next eighteen years. Baby Victoria grew up under a strict system of control and criticism in which her fragile, anxious mother always sided with the bullying Conroy and not her own increasingly frustrated and miserable daughter.
The relationship between Victoire and Conroy was the subject of scandalous gossip, despite the constant presence of Conroy's wife and children in the Kensington household. In a later letter held at Balliol College Archive of 21 Oct 1830, Victoire writes to Conroy on his birthday entirely in the spirit of overwhelming gratitude: 'my dearest Sir John, Let me wish you many many happy returns of the day to yourself, to your amiable family and to myself for whom you have done, and still do so much. Never can Victoria and her poor mother recompense you adequately all what you did for us… I do not write well, but you understand the meaning and the grateful heart which dictated it. Your very sincere friend, Victoire'
Victoria: A Royal Childhood
Victoire's 1824 New Year's card will go on display in our Kensington Palace visitor route 'Victoria: A Royal Childhood' – a recently opened, sumptuously furnished and boldly patterned set of royal apartments in Regency style. They tell the story of Queen Victoria's early years in the very rooms in which she was born and grew up under the watchful eye of her mother Victoire and Conroy.
The card gives us an intimate glimpse into the family and high society fashions of Victoria's earliest days and is particularly valuable as so little has survived at Kensington Palace to help us tell the palace's story. Victoire and Edward's magnificent furnishings, carpets and wallpaper have gone and so along with Victoria's own travel bed and other treasures and portraits from our own collection and the Royal Collection Trust, this little New Year's card, only recently found in an autograph dealer's album of Royal Christmas cards, is a playful addition to our story, but also marks Victoire's dependence on the manipulative Conroy and ultimately the start of the deterioration of her relationship with her teenage daughter. Victoire's world is sadly about to get more 'evil' yet.
Emma Shepley
Collections Curator
Visit the exhibition: Victoria: A Royal Childhood at Kensington Palace
Suggested Further Reading:
The Secret Life of Victorian cards by Barbara Rusch,
Queen Victoria, daughter, wife, mother widow by Lucy Worsley, Hodder and Stoughton, 2018
The Young Victoria by Deirdre Murphy, Yale University Press, 2019