Catherine and her sisters, Sophia and Bamba, were granted Grace and Favour accommodation in Faraday House, Hampton Court Palace by their Godmother, Queen Victoria. Their father was deposed by the East India Company as the ruler of Punjab in 1849 and taken to England in 1854, whereupon Queen Victoria grew quite fond of the young Maharaja Duleep Singh (1838-93). This moment of British aggression in India also marks the Crown's acquisition of the Koh-I-Noor diamond, among other riches taken from the Maharaja's Lahore court. Maharaja Duleep Singh would become a naturalised British citizen, and all of his children were born in the United Kingdom.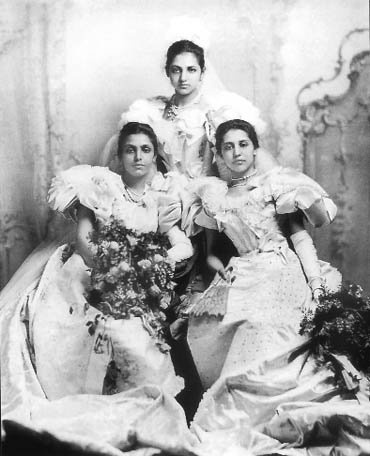 Catherine, like her sisters, was proud of her heritage and visited Punjab many times during her life.  She was an ardent suffragette—she would continue to attend the annual dinners and other suffragette events even after women had won the right to vote.
While her father was away organizing an ill-fated attempt to regain control of his throne and wrest India from British rule, Catherine and her siblings were placed in the care of Arthur Oliphant. It was under Oliphant's care, at the age of 15, that she met Lina Schäfer, a German governess who would become her lifelong companion. While there is no explicit reference to a sexual relationship between the two women, their relationship is often described as 'intimate'.
Catherine lived with Schäfer in Kassel, in a mansion Schäfer acquired in 1908. Catherine would stay with her partner through the First World War, a risky move. There is little indication that Catherine's family ever raised any issue with this arrangement. After Schäfer's death in 1937, Catherine returned to England—growing weary of the Nazi presence in Kassel. Catherine was said to be deeply upset by her death. In her will, she requested that a quarter of her ashes be `buried as near as possible to the coffin of my friend Fraulein Lina Schäfer.'
During her later years in England, staying in Coalhatch House in Penn, Buckinghamshire, she took in a series of Geman-Jewish refugees until her death in 1942. She was cremated in Golders Green crematorium. Only her sister Sophia could attend; Bamba was already in Lahore and was not able to return because of the Second World War. Sophia and Bamba had Catherine's home renamed in her honour—Hilden Hall, after her middle name Hilda.
In 1997, a dormant Swiss bank account and deposit box were identified in her name, a joint account with Schäfer. After much popular media speculation, the account was given to the descendants of her sister Bamba's heir. None of the Duleep Singh children had children themselves—Bamba passed away in 1957, the last heir to the Sikh empire.
Virgil Taylor
Curatorial Work Placement Student