There's a hive of activity around the Queen's Apartments at Hampton Court as King George I and his entourage return to the palace after 300 years. A great portrait of our first German king leans ready to be hung in the very place where monarchs sat in state; showcases are filled with rich clothes that have hardly been seen since his coronation in October 1714; music by his favourite – foreign – composers  echoes through these lofty rooms once again. 
We like our kings to be very bad or mad – and –  preferably dashing.  Our queens should be virginal with the occasional innocent victim. However, George just will not fit these ideals and, to make matters worse, he gets muddled with all the other Georges who fell off the schools' curriculum cliff decades ago. So who was this middle-aged, minor European prince that the English chose to become their king and, as luck would have it, found one of our most successful royal dynasties?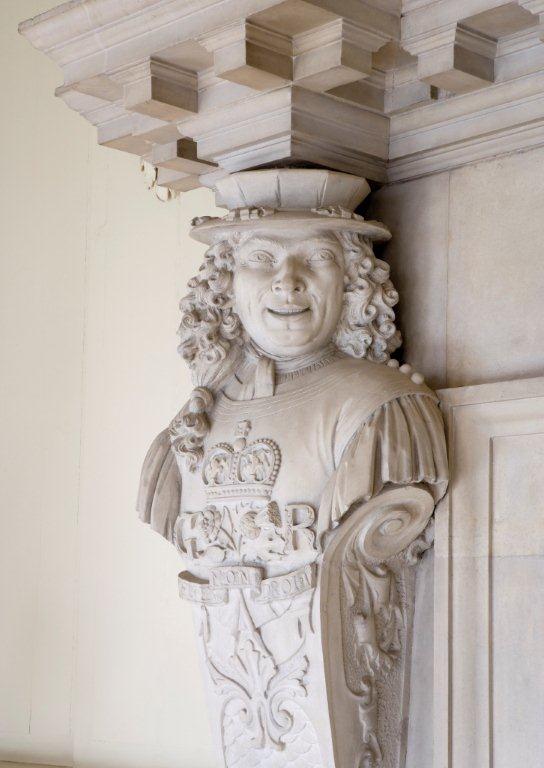 As I wander in George I's footsteps through the Queen's Apartments I find some clues about the identity of this misunderstood monarch. In the Guard Chamber I am confronted by a ridiculously large chimneypiece, carved with two grinning, jolly giant Yeoman of the Guard. Surely the king, and his actor-playwright-architect John Vanbrugh were having a laugh? I am sure they were – George liked a show and even built a theatre into Henry VIII's Great Hall.
The xenophobic English named him 'King Turnip' but George loved his food and knew how to entertain when he was among friends. He stuck his Hanover badges in marble in his new Dining Room and re-introduced the English to dining in grand style. Over 40 dishes at one serving and gasp … favoured guests were even invited to sit down with their king! A very un-English thing to do. This room also doubled as his Ball Room, for George enjoyed Italian masquerades: masked balls where you could hide your sins.
The fact that these apartments were inhabited by his son and daughter-in-law (the future George II and Queen Caroline) also speaks volumes. The first George came to England with no queen, having divorced his wife for blatant adultery and locked her up in a castle back in Germany. Pretty bad behaviour: everyone thought so. George was definitely a sinner with his two German 'mistresses', his abandoned wife and spiteful behaviour to this son. Yet above me, in the Bedchamber, are painted three generations of this unhappy family harmoniously overlooking a tumultuous scene of infidelity amongst the ancient gods.
James Thornhill's mural provides a pithy take on George I's messy, yet engrossing life. A king who so loved his family's honour that he came close to destroying them. A mis-understood and often shy king who loved his German homeland more than his new kingdom, but who was such a stickler for duty that he almost always did the right thing and let Britain get on with the job of becoming Great.
Every generation has a story, meet the Glorious Georges this year at Hampton Court Palace and find out more.
Sebastian Edwards, Head of Collections