When I'm out and about giving a talk, people often ask me how and why television programmes come to be made.
Well, in the case of 'Tales from the Royal Wardrobe', which is going to be shown on Monday 7th July at 9pm on BBC Four, here's the answer.  Once I had presented one or two programmes myself, I began to learn the ropes, and develop the confidence to write up ideas on two pages so that the BBC could see if they were interested.
So, last August, just getting on for a year ago, I sat down and wrote about 2,000 words on why I thought the Royal Ceremonial Dress Collection would make a good programme.  I had to pick out some interesting items to look at, and create an argument that ran from start (Elizabeth I) to finish (Elizabeth II).
Then Jasmeet, our curators' team administrator, helped me to select various beautiful images of items in our collection to illustrate this important document.  We sent it off to the BBC and waited.  And waited.  And then finally they said 'yes'!
A special 'Royal Wardrobe' team was formed, of a director, a production manager, a researcher, a camera operator and a sound recordist, all working for the production company Tiger Aspect, and we got to work for an intensive couple of months.
One third of the time was spent researching locations and contributors.  The director wanted to meet early on with my colleague Eleri Lynn in our curators' team, who has direct responsibility for the Royal Ceremonial Dress Collection.  She had lots of specialist knowledge to download.  We also brought in our other dress specialist, curator Deirdre Murphy, and I got to interview them both as part of the programme.  These two, of course, have lots of contacts among other costume curators, and I think we ended up having a total of eleven expert contributors taking part, each talking about his or her own particular area.
We also had to choose some other locations because our dress collection doesn't contain all the royal clothing in the world (although we would like it to!)  Once we started the second phase of the project, the actual filming, we had to go to the Museum of London to see George IV's bedroom slippers, and to Hatfield House to see the wonderful dress worn by Elizabeth I in her 'Rainbow Portrait'.  We visited Westminster Abbey to see the set of 1603 'stays' made for Elizabeth I's funeral effigy, and we went to the Victoria and Albert Museum to film King James II's wedding suit.  I had to travel to Sotheby's to interview the inimitable Meredith Etherington-Smith, who was in charge of the famous auction, for charity, of the dresses of Diana, Princess of Wales, in 1997.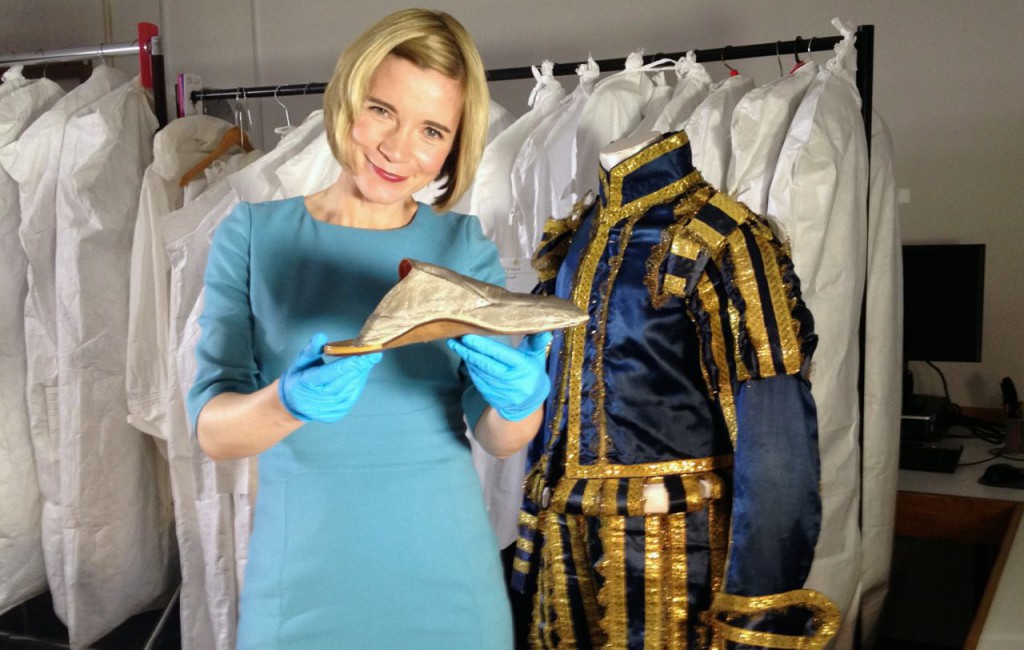 One day, Jasmeet had the unusual task of bringing a pair of shoes worn by Her Majesty The Queen in the 1970s from our store rooms at Hampton Court to Hardy Amies in Savile Row, so that the Hardy Amies archivist could talk about them during his interview there, and then to take them safely home again! It sounds like a lot a trouble to go to, but they are extremely valuable.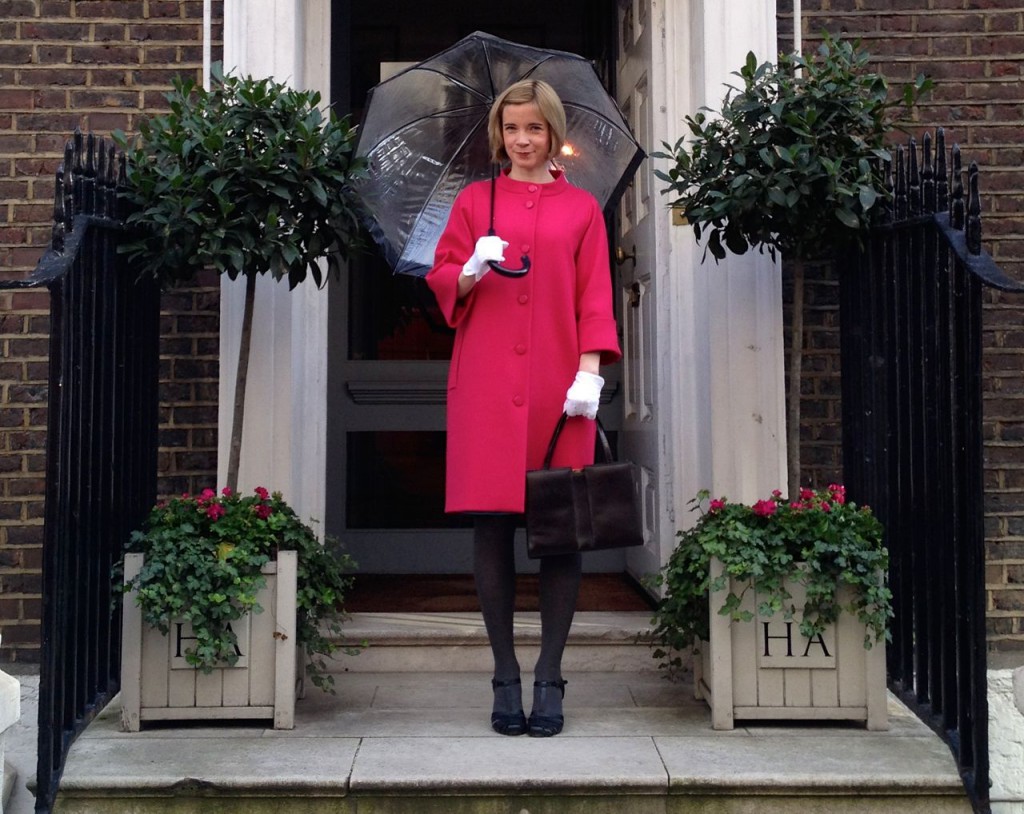 For much of the time, though, I hardly had to stir out of my usual office routine, because we were filming in the apartment at Hampton Court where the collection lives.  We looked at a dress of Queen Victoria's, a suit of Edward VIII's, an amazing eighteenth century court mantua, and a green velvet Catherine Walker dress belonging formerly to Diana, Princess of Wales.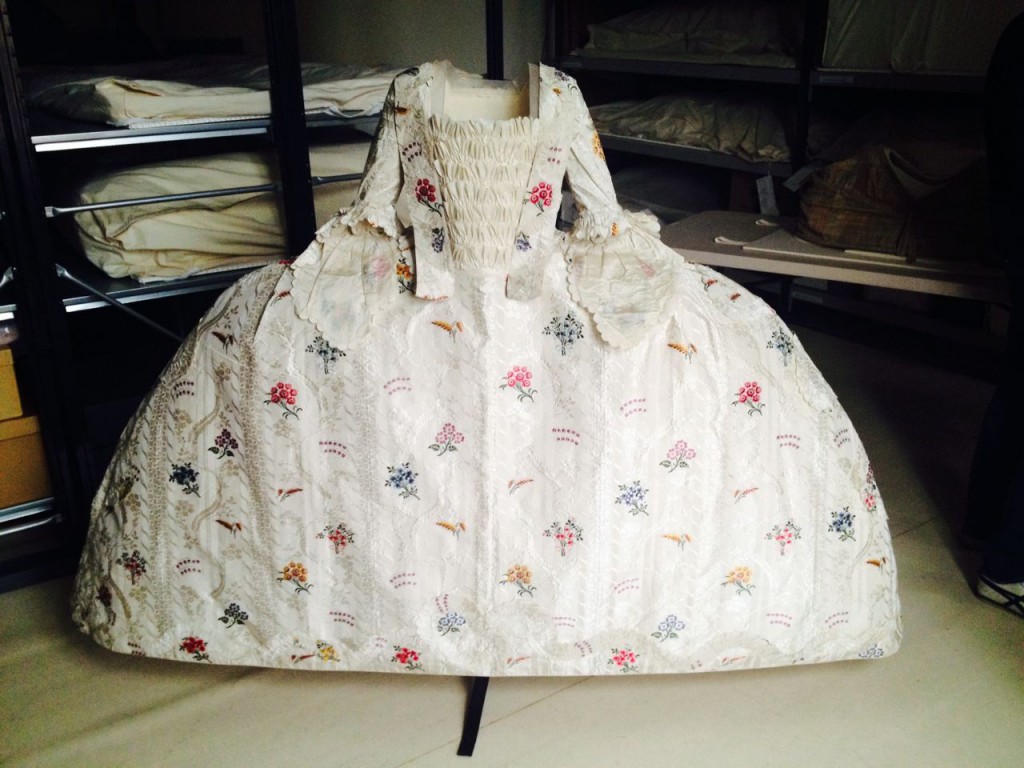 Then, when the filming was over (including some little fiddly extra bits we didn't know we'd need!) the final third of the time was spent putting it all together in a dark room somewhere in Soho.  To me, this part is incomprehensible wizardry, but I got the chance to say 'I don't like that bit!' and 'I think that bit's great!', to work on the script, and eventually to go to a studio to record the commentary.
And now it's all finished and you'll get the chance to watch it on Monday night, or afterwards on BBC iPlayer.  Hope you enjoy!
Lucy Worsley
Chief Curator, Historic Royal Palaces