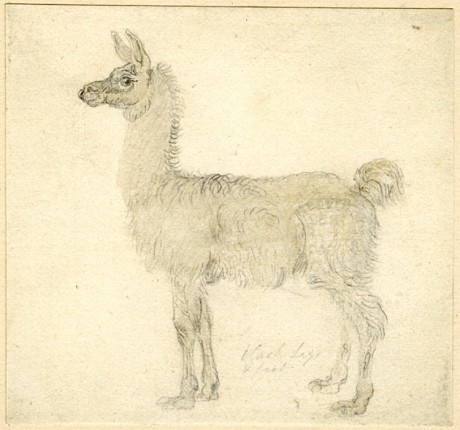 My research at Kensington Palace has involved unearthing a wide array of unusual events at the Georgian court. During the first half of the eighteenth century, the palace played host to a number of exotic creatures. In 1719, King George I was presented with 'Turkish Horses' in the gardens, brought over by the English ambassador to the Ottoman Empire, Sir Robert Sutton. Such horses were highly-valued for being slender yet tough, with long muscular legs.
Five years later, the London Journal reported that the MP Sir John Eyles had given the King a 'Tyger and Wannock' (a llama) as a gift, which he shipped to the palace to display. On arrival, the animals were 'shewn to the Court; when his Majesty was pleased with the sight of them and fed the Wannock with his own Hands, without receiving any Mark of the Beasts Unluckiness of Displeasure.' The King was fortunate that the llama did not spit 'in such Floods as some have said', and when moved 'carried his resentment no farther than a small spitting upon his Offender.' Newspapers marvelled how llamas had 'a Body like that of a Deer; a large Neck and Head like a Camel.' The only risk to a man was when a llama 'spits directly in his Face, and bedaubs him plentifully.' The Dublin Gazette reported that the animals were 'ordered to be kept at Kensington, where a Den and Cage are building for them.'
Other animals such as tortoises arrived at Kensington in sizeable quantities. Tortoises provided exotic gifts, given to the collector Sir Hans Sloane from a 'Captain Thompson' in 1735, and to Queen Caroline for her gardens from the Doge of Venice. In 1732, newspapers reported that 'Fifty fine Land Tortoises' had been sent from Genoa by Captain Watt as a present to the Queen, 'which are to be disposed of in the Royal Gardens at Kensington and Richmond.' Such a large array of tortoises crawling side by side through Kensington Gardens must have provided quite the spectacle.
Sally Holloway
Historical Researcher, Kensington Palace