I'm a bit of a fan of the gardens at Hampton Court. I say bit, what I really mean is, I have taken almost every lunch break since I started working here (apart from when it snowed!) to explore the magnificent displays outside. Working for the palace from January to June, I have really seen the full blossoming of the fantastic gardens and flower arrangements. With the Hampton Court Palace Flower Show set to take over the palace for the next week, we might instantly think of the gardens that surround it as the most obvious place to find beautiful flowers. But throughout history, they have not just been displayed around the palaces, but on the monarchs themselves, on the clothes they wore. The Tudor queen Elizabeth I is a prime example of a floral fashion fan, which we can see in the way she dressed through the dozens of portraits we have of her today.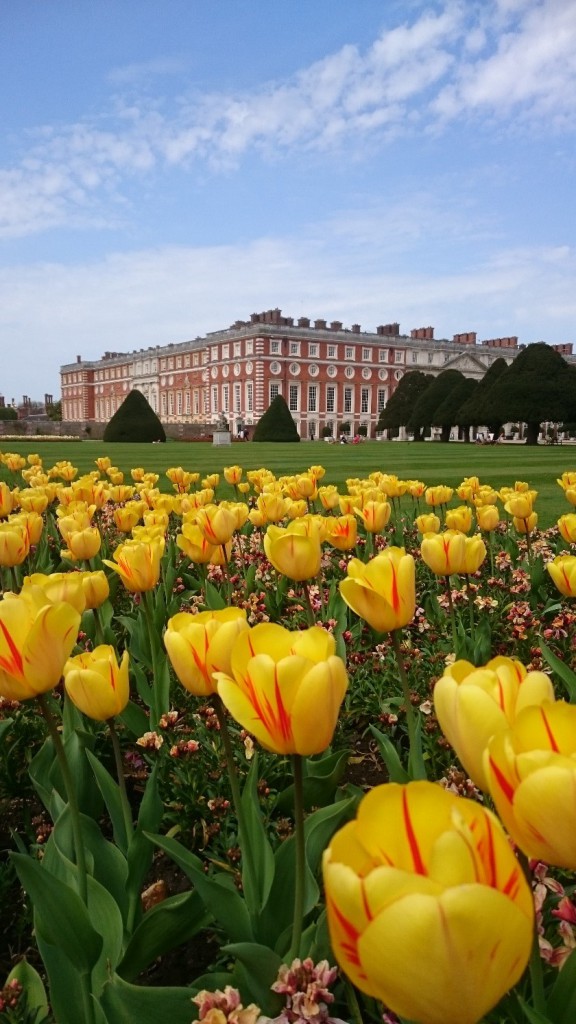 On first encounter with a portrait of Elizabeth I, you are instantly met with a ghostly-white face, dwarfed by oversized puffed sleeves and full skirt, bright red hair and adorned with a lavish quantity of pearls. A lot of scholars have argued that she is presented as the 'Virgin Queen'; her pearls representing her purity. However, there is another theme running through her clothes and adornments. If we look closely and really examine the embroidery, the jewels and the accessories she holds, we see another set of themes: astronomy, animals, and flowers. These pervade nearly all of Elizabeth's many portraits and, I think, are there to imply and represent her having power and domination over all of nature. Her portraits and clothes give out the message that she was Queen not just of Britain and its people, but queen of the natural world – a Mother Nature in the flesh.
Nature in the 16th century was associated with women, and often was portrayed as a caring, nurturing motherly provider. I think Elizabeth adopted this goddess-like figure, which was seen as an earthly servant or a wife of God, and the iconography that went alongside it. 'Mother Nature' was certainly a powerful image for Elizabeth to take up at a time when women were usually seen as inferior to men. As Elizabeth's reign progressed, she increasingly became associated with spring and flowers. The historian Roy Strong says that 'there came to be an enormously diffuse horticultural image in which the Queen, the kingdom, the spring, the garden and the flowers become inextricably intertwined.' Her reign was often seen as the 'Golden Age', and a time when spring reigned eternal. Elizabeth was seen as having the power of nature, and power over nature. The poet Sir John Davies (1569–1626) even described her as the 'Empresse of flowers'.
Flowers are seen extensively in Elizabeth's jewellery and on her clothes – in the jewels sewn to form the shape of flowers, and in flower embroidery. From the 1570s flowers became a feature of almost all of Elizabeth's gowns in her portraits. The 'Welbeck' or 'Wanstead' portrait here is an example. Embroidery like this would have taken hours for skilled craftswomen to complete and was very expensive; it was a true sign of a queen.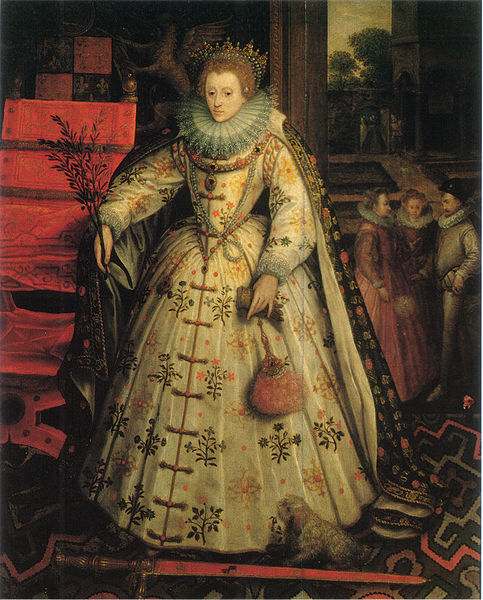 The flowers that were most regularly associated with Elizabeth were roses, as well as violets, pansies, honeysuckle, daisies, lilies, iris and carnations. These are predominately English flowers that blossom in the spring and early summer, and were to be found in the royal gardens of the palaces (you can still find them here today!). This connects the idea of her bringing in spring to a sense of patriotism. Flowers were also connected with certain qualities; for example, pansies were associated with thoughtfulness, and the daisy was named by Chaucer, 'The Empress of floures all'. This can explain why we see it so often in Elizabeth's floral embellishments.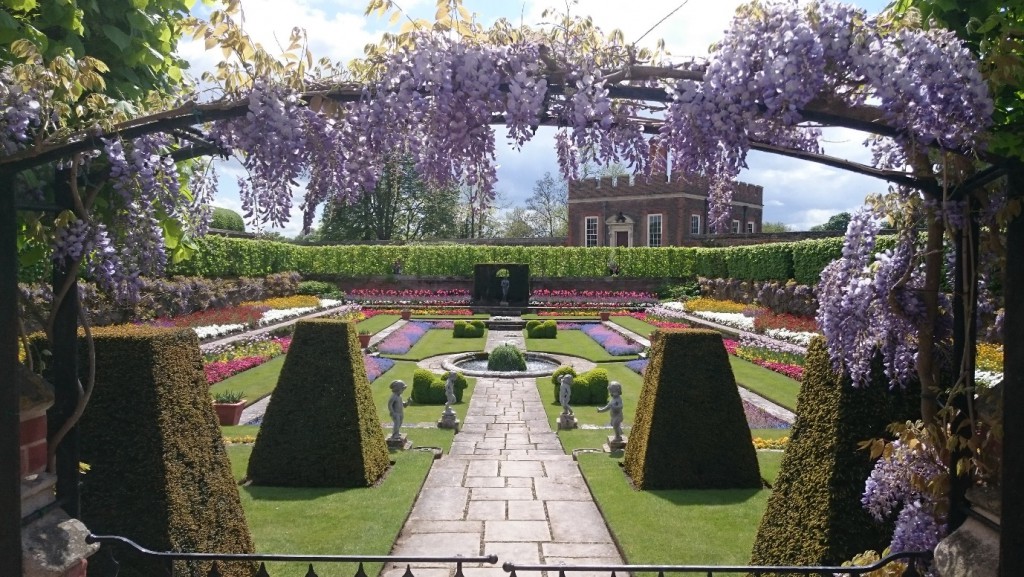 Of course, the most frequent flower to see was the Tudor rose, the symbol of her family and her power, which you can spot examples of in the decorations of the walls and ceilings here at Hampton Court. We see this flower regularly on patterns on Elizabeth's clothes and in her jewellery; for example, her 'Phoenix' Jewel depicts her profile encircled by a wreath of Tudor roses and eglantine in enamelled gold (you can see the Jewel for yourself at the British Museum, (http://www.britishmuseum.org/explore/highlights/highlight_objects/pe_mla/t/the_phoenix_jewel.aspx). This symbol helped to link her royal imagery with the idea of Mother Nature, giving her the image of a strong female leader.
Next time you see a portrait of Elizabeth I, take a careful look at the patterns on her dress and robe, or the accessories she wears and holds. They have a powerful symbolism of her, not just as ruler of her country, but over the forces of nature, over the whole earth.
RHS Hampton Court Palace Flower Show runs from the 30th June to 5th July.
Alice Walsh
Volunteer