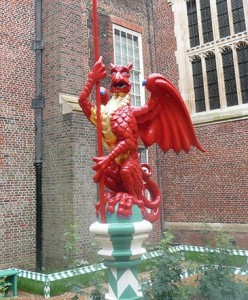 Sunday is the 1st of March, which means that it's Saint David's Day. Saint David, or Dewi Sant, is Wales' own patron saint, and here at Hampton Court, we're embracing our Welshness. In my opinion, one of the loveliest sights to be seen any spring-time is the carpet of daffodils in the gardens around the palace. They're not quite out yet; I counted 2 this morning amidst the crocuses and snowdrops, but do plan a visit when they're out, they're worth seeing! And there will certainly be Welsh Cakes in the office on Monday. However, there are other ways in which our Tudor palace shows its Welsh connections, not least, of course, in its history:
–  All the slate for the roof came from Wales – and still does when we have to replace a slate or two.
– The Tudors were Welsh! The name Tudor comes from the Welsh, Tewdwr. Henry VII's grandfather was Owain Tudor (Owain ap Meredudd ap Tewdwr), who in turn was descended from Llywelyn the Great's seneschal, Ednyfed Fychan.
– Henry VII himself was born at Pembroke Castle and was raised in Wales until his exile to France and Brittany. It's unlikely that he stepped foot in England before his arrival at Shrewsbury en route to Bosworth Field.
– Henry used his Welsh connections to take the throne from Richard III. In August 1485, he landed in Dale, west Wales, and crossed through the country collecting allies and soldiers for the fateful battle. He fought under the banner of the Welsh red dragon, which adorns various architectural features of the palace still.
– His supporters and poets called Henry 'Y Mab Darogan', or 'Son of the Prophecy'. It was thought he was the hero of legend who would free the Welsh from subjugation. It didn't quite work out like that…
– Henry's son, Henry VIII, was to oversee the Act of Union in 1535. This legislation absorbed Wales into the Kingdom of England and outlawed Wales' administrative and legislative traditions. It barred the use of Welsh as an official language, denying most of the population access to the laws of the land or any public offices.
– However, many Welshies held very prominent offices in the court of Henry's daughter, Elizabeth I. William Cecil, Lord Burghley, was Elizabeth's chief minister and adviser. Cecil was in fact a derivation of Seisyllt, a very definitely Welsh name. Her famed astrologer and alchemist, John Dee, was also of Welsh descent. And not least, her Chief Gentlewoman and Keeper of Her Majesty's Jewels, Blanche Parry (Blanche ferch Harry), was from the Welsh Marches. Blanche was a fluent Welsh speaker who served the Queen from infancy, leading to the prospect that Elizabeth herself might have had a few phrases and might, just might, have been able to say:
Dydd Gwyl Dewi hapus i chi gyd (Happy Saint David's Day to you all)!
Eleri Lynn
Collections Curator