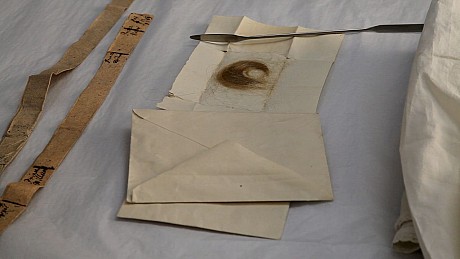 Developing a public collection is one of the fundamental roles of being a curator. We believe that objects can really help to bring our stories to life and this means that not only do we strive to look after and display the objects already under our care but that we must occasionally grow our collections. To misquote Woody Allen, "A collection, I think is like a shark. You know? It has to constantly move forward or it dies".
Recently I was given the task of buying a collection of relics of the family of George III at auction. They are lovely things, even though they are a little weird. The lot included Edward Duke of Kent's baby gown and bonnet, tiny gloves belonging to a very young William IV and a strip of brown paper with the heights of the Royal Princes in 1769. There was also hair, so much hair, belonging to King George, Queen Charlotte and their five eldest children. Some was sealed in little paper packets; more was put in a smart ivory frame. They were given to Anne Percy in 1769 after she finished her stint as wet nurse to the Royal Nursery and they have remained in the same family ever since. Together, there are fifty or so individual items all of which help tell the story of growing up in a Royal palace which is so important to our understanding of Kew.
I'm sent to bid for them, it's terrifying and I make the huge mistake of arriving early. Dealers crowd the room. Some are smart gentlemen in tweed; others are like smartly dressed wolves in sharp suits, hungry for a bargain. I sit through over a hundred lots. Some things have been sold for three times their estimate. I'm scared. These objects tell so many stories and I am desperate to have them. My stomach is in knots and my mouth is dry. My lot is next and suddenly I seem to have gone against everyone's advice and entered a bidding war with a man who appears to have bought most of the sale. Sweat creeps down my neck as I raise my paddle one more time. "Going once… going twice… gone to the lady in black". I'm relieved, I sigh so loudly that the whole room bursts out laughing. As I calm down, I realise we've got ourselves a good deal.
Some of the objects were recently on display at Kew Palace, and you will be able to see more of them appearing in our displays for many years to come.
Polly Putnam
Collections Curator, Hampton Court and Kew.