Invitations come in many different forms but they seldom have horns and four legs attached. Both James I and his consort, Queen Anne of Denmark, were exceptionally keen on 'the pleasures of the chase'. Hampton Court was prized for its deer park and in the 17th century it was one of several hunting palaces, established by Henry VIII, where the royal family could escape the pressures of the city and its dangers of disease. Whatever our views on hunting may be today, it was essential to court culture and to feeding the court in Tudor and Stuart times. Oatlands in Weybridge in Surrey was one of the palaces assigned to the Queen and in August 1618 she invited Piero Contarini, Venetian Ambassador Extraordinary in England, to join her there for a day's hunting. The occasion is vividly described by a member of his embassy, Horatio Busino.
The Queen sent a gift of 'two fat bucks, flayed according to the custom of the country' to the Ambassador as a taster for the visit. 'Two days later she sent a very large stag, quite whole, with the hide and his fine horns, here deemed a very worthy present.' Apartments were prepared for the Ambassador's use after his 'very long' journey from London, a distance of 18 miles, and a leading cavalier was sent to greet him. His audience with the Queen, surrounded by a circle of courtiers, 'all standing respectfully', focused on a discussion of the hunt. There was an ambitious plan 'to kill four head in various fashions, to fly falcon and the like' and we may imagine the Queen, as Paul Van Somer had portrayed her the previous year, in hunting dress with her liveried black groom holding her horse.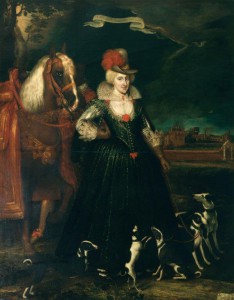 Oatlands had recently been refurbished for her use and the vantage point for Van Somer's painting, from the south east, shows her improvements. An exquisite Classical gateway between the hunting park and a new walled vineyard represents one of Inigo Jones's early building commissions, although he was already established as Surveyor of the King's Works and a designer for court masques. Royal hunting parties would have returned to the palace through this gateway and the Queen's new gardens at the close of a day's sport. Van Somer's portrait initially hung 'in ye gallery next ye vineyard' at Oatlands. It was moved within a year of its completion, however, to St James's Palace and it now hangs at Hampton Court where Anne of Denmark died in 1619.
Horatio Busino describes the banquet at Oatlands held in the Venetian Ambassador's honour. 'The table was distributed beautifully and profusely and everything was well served.' Inevitably there was venison and game of every sort 'some uncommon such as we had never seen before'. The fish, he wrote, was 'exquisite' and the banquet compared favourably with Italy's most famous feasts. The Ambassador was unfortunate, however, to have visited on a summer's day when it rained incessantly. 'The rain never left off, and as it was no longer possible to go out sporting and the evening was coming on, his Excellency was accompanied to his coach'. He returned to London 'extremely well satisfied' and perhaps just a little relieved not to have a stag or two in tow as a take-away trophy from the day's events.
Wendy Hitchmough
Head of Historic Buildings & Research