From the 30th April to 2nd May the moat of the Tower of London will once again be filled with multi-coloured tents housing an array of characters from the Tower's Tudor past.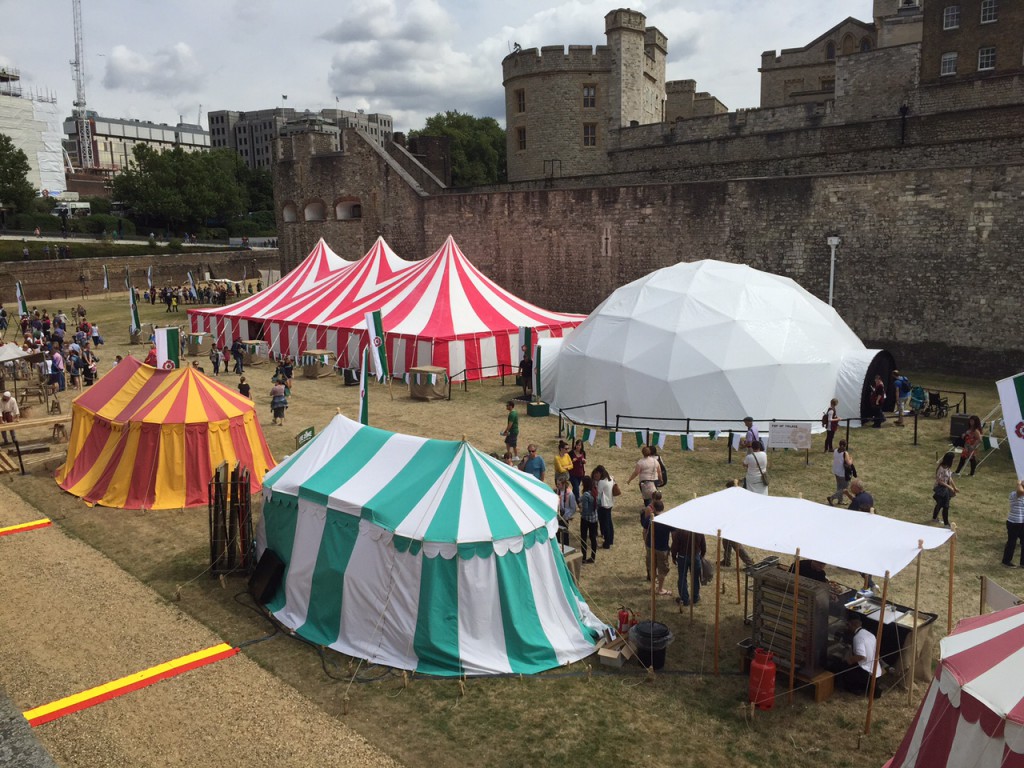 Amongst all the excitement of our Tudors at the Tower Family Festival the tents themselves will be easy to overlook, but for the Tudors tents could be extraordinary structures that were difficult to ignore. Many were made of costly materials (including some that were made of cloth of gold, woven with real gold threads) and the largest of them were formed of a series of large interconnecting marquees that replicated the layout of rooms found within palaces like Hampton Court. Descriptions of Henry VIII's tents dating from the early 16th century give a sense of their scale and magnificence. One description dating to 1514 records that visitors to the king's tent would have entered into a porch that led to a square pavilion tent measuring 18ft x 18ft. From there a 30ft long corridor led to another large rectangular tent described as the hall or great chamber. Another corridor led to the King's Great Chamber, housed in a tent 50ft long by 15ft wide. This was followed again by a cross corridor that led to two further square pavilion tents and finally to a structure described as the 'King's house of timber'.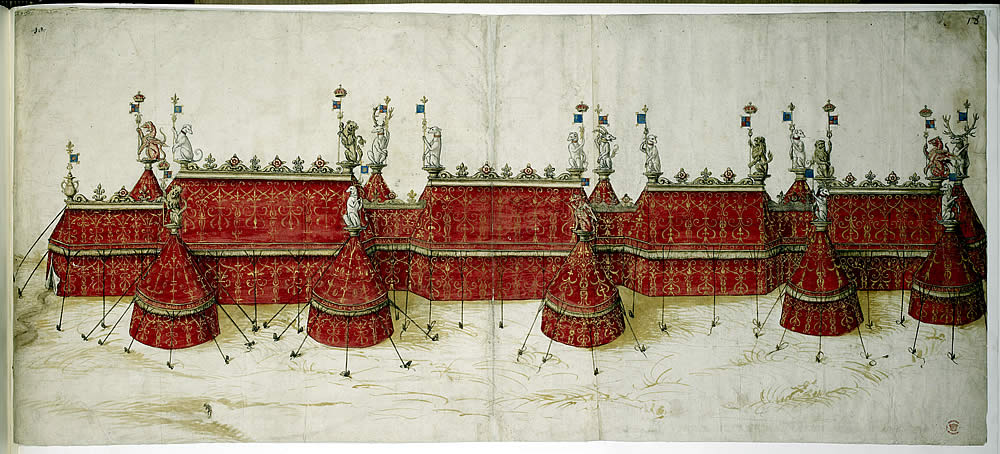 This 'house of timber' was a timber-framed building that was cleverly designed to be collapsible and transportable. Temporary buildings of this type were a usual part of the king's tents and may have provided him with a bit of additional security or comfort than was possible under canvas (or indeed under cloth of gold). Later descriptions of the timber lodgings show that they could be large and grand. Two such lodgings were listed amongst the tents in the inventory of Henry VIII's belongings that was taken after his death in 1547. The first was 40ft square with a 14ft x 8ft stool house (or toilet) adjoining to it. The ceiling of this structure was made of linen hung with three copper roses and it had a timber floor. The second timber lodging sounds even more spectacular. It was described as being made of painted and gilded softwood and as having a square tower at each corner. The outside was hung with white tiles 'scallop fashion' and its windows were made of thin sheets of horn. On the roof were vanes and carved statues of the royal heraldic beasts. The impression given by these contemporary descriptions is of a miniature palace or castle surrounded by a sea of lavish tents. The effect must have been magnificent.
Find out more about the Tudors at the Tower Family Festival here.
Alden Gregory
Curator of Historic Buildings