The Great Hall at Hampton Court Palace
This week we wanted to take you on a journey back in time via some of the amazing images in our collection. The Great Hall is one of the most iconic rooms in the palace and it's where our historic adventure's going to unfold!
Our first stop is this print by John Vardy created in 1749. It doesn't show the Great Hall as it appeared at the time. Instead the artist has tried to imagine what the palace would have looked like when Henry VIII was using the palace over 200 years earlier. For many of our visitors this is exactly what they are trying to do when they visit the palace today. John Vardy may have gotten a little carried away but he has managed to capture some of the bustle and magic of the Tudor court.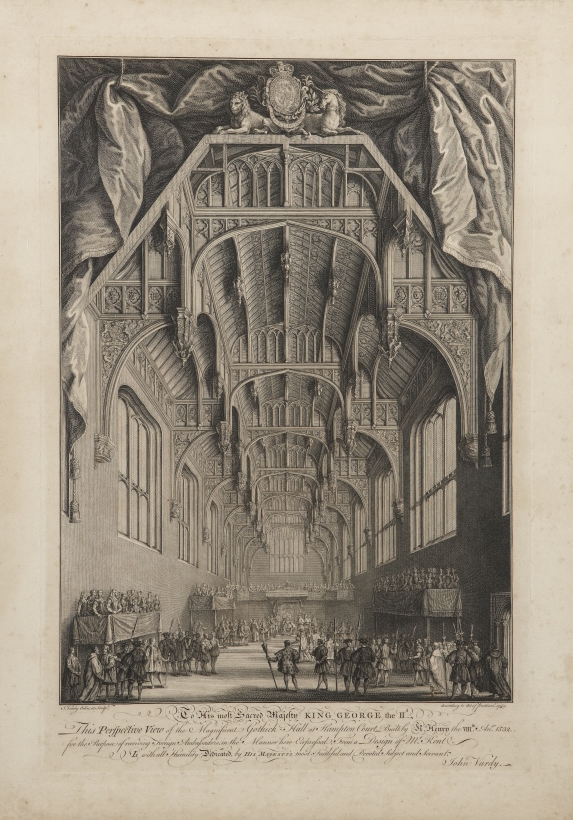 ---
Next up on our trip back in time is this image from 1819. It appeared in  W.H. Pyne's book, The History of the Royal Residences, which depicted the royal palaces as they appeared in the reign of King George III (1760-1820). The Great Hall had just undergone a significant building project and looks very different to how it is today. There are flagstones covering the floor and the walls have been plastered then made to look like stone blocks. Most surprising – there isn't a tapestry in sight and do you notice anything different about the windows?  Yep, the stained glass isn't there.  That came later.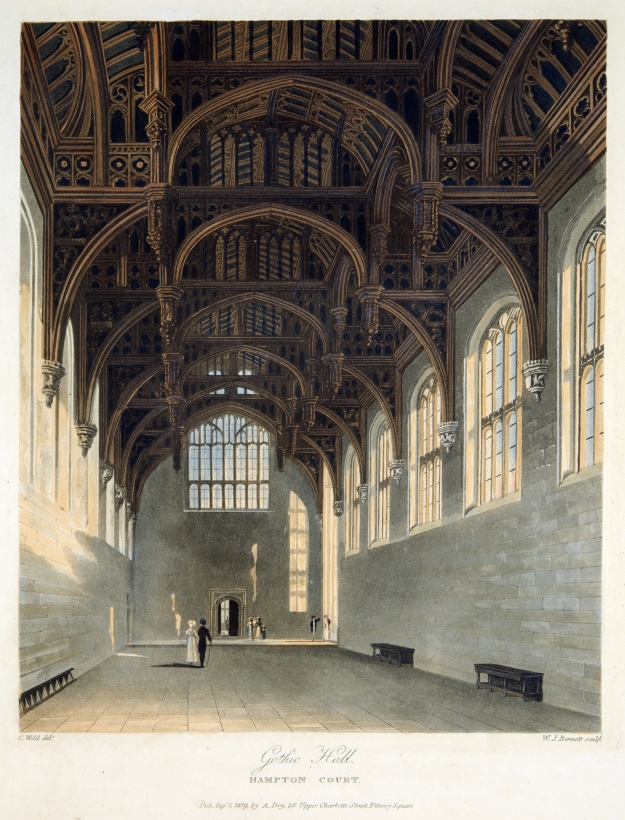 ---
Here we again see the Great Hall full of people but this time the image shows a real event. In 1863 the residents of the palace put on a concert to raise money for the Lancashire and Cheshire distress fund. The fund was set up to help the factory workers affected by the Cotton Famine. As a result of the famine there was massive disruption and unemployment in the North West of England. The concert was a great success and raised £140 (over £12,000 today) in a single morning.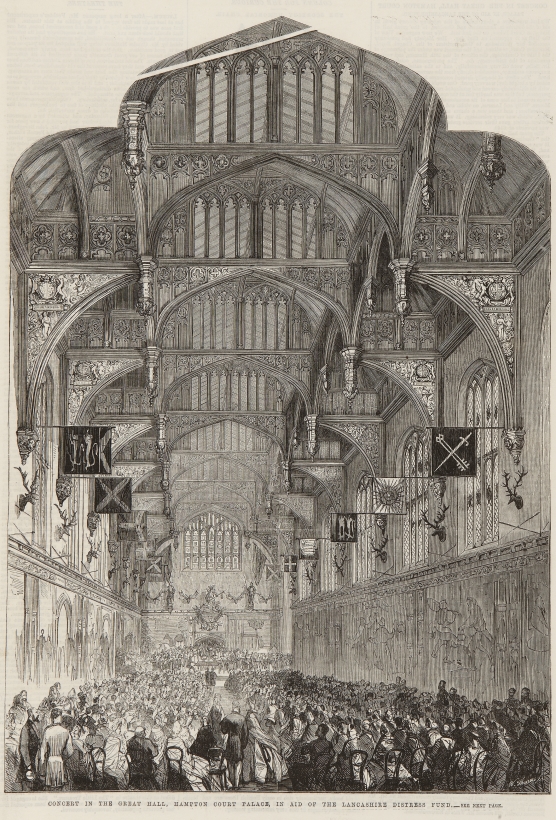 ---
We are nearing the end of our journey now as we step into the 20th century. Here we see a very brave chap clambering up a steel beam (he is at least 10ft in the air!) to secure a chain. In 1922 a survey had found severe rot and beetle damage in the wooden structure supporting our magnificent Tudor ceiling. As a result of this damage a new steel superstructure was needed. This structure – cleverly hidden away – is still hard at work supporting the amazing Tudor carpentry.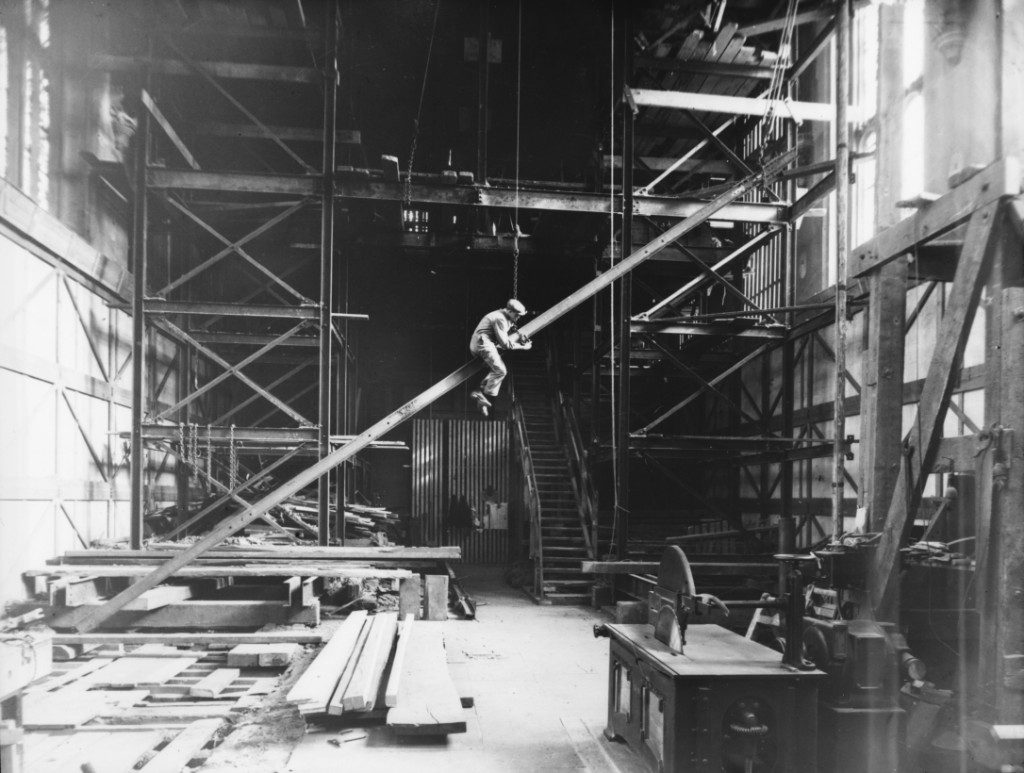 ---
Finally we arrive at our final stop and a scene many of you will hopefully find familiar. This photograph was taken in 2013 and shows some of our live interpreters during a performance. The Great Hall was used as a grand entrance, dining room and theatre by Henry VIII. It is wonderful to see it still performing some of those functions 500 years later.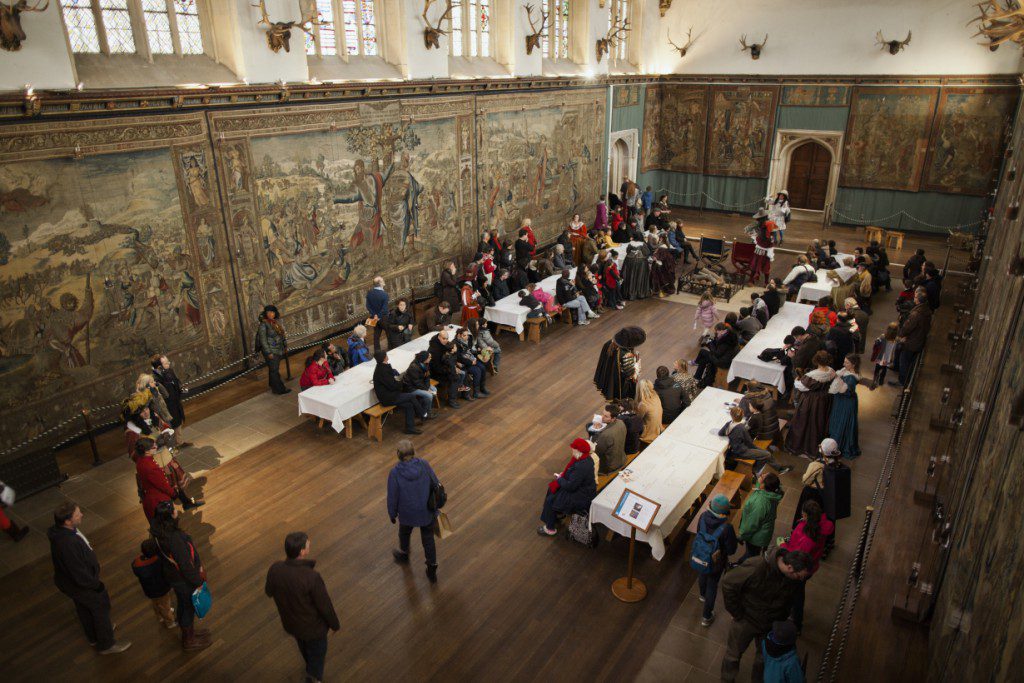 ---
Next time you visit Hampton Court Palace you can take your own photos of Henry VIII's great hall as you start your own journey back in time.
Daniel Jackson, Historic Buildings Curator, Hampton Court Palace