For the last two years, the curators at Historic Royal Palaces have been working with our colleagues at the Yale Center for British Art to create an exhibition to be shown, in 2017 both at Kensington Palace and at the Center, which sits in the heart of Yale University in New Haven, Connecticut.
The exhibition 'Enlightened Princesses. Caroline, Augusta, Charlotte and the shaping of the Modern World' will explore the role of three generations of royal women as patrons in the eighteenth century. The projects of these three princesses touch upon science, trade and industry, charity and medicine as well as art, architecture and music. They were all brilliant gardeners. We can't wait to share their neglected stories, and some beautiful objects, with the wider world.
One of the additional delights of working closely with an important art gallery has been to explore their collection in more detail, in search of royal connections. Amongst the treasures of the Yale Center for British Art is a study by Peter Paul Rubens for one of the panels which make up the ceiling of the Banqueting House, Whitehall.
The Yale Center for British Art's 'Peace embracing Plenty', made between 1633 and 1634, is worked in oil on canvas and measures just 62.9 x 47cm.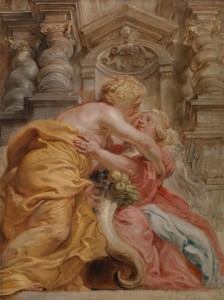 Rubens has largely followed the ideas he showed in his study by eventually depicting two women embracing; a cornucopia of fruit clasped by Plenty serves to identify her. But his first thought about the architectural setting would change significantly as this figure group was inserted into the larger work for the Banqueting House. In the large Banqueting House canvas, now installed at the south end of the ceiling, and called 'Peaceful Reign of James I', the figures are positioned at the right hand of the central figure of King James I enthroned. The king acknowledges them with a bold gesture of his left hand. The figure group is balanced with the figure of Victory triumphant on the King's left side. The foreshortened columns of the Yale study become part the framing for an elaborate broken pedimented niche in which the King is seated. The colours of the study are fresh and delicate, which shows how the varnishes applied to the actual panels of the Banqueting House ceiling, the conditions to which they have been subjected over the centuries, and later conservation have all subtly changed the colour palette.
The study for 'Peace embracing Plenty' was acquired for the Yale Center for British Art in 1977 by Paul Mellon, the son of the banker Andrew Mellon, an American of Scots descent. Paul Mellon was a passionate and perceptive collector of British Art, and would fund the building of the Center in New Haven, as well as endowing the Paul Mellon Centre for Studies in British Art, which fosters and encourages the finest scholarship in this field.
Joanna Marschner, Senior Curator at Kensington Palace