February is LGBT+ History Month in the UK, which aims to increase the visibility of lesbian, gay, bisexual and trans (LGBT+) people through the exploration of their history and stories. Collections Curator Matthew Story explores one such story.
This blog post explores themes of mental health problems and suicide, and of prejudice against an LGBT+ person.
On Friday 9th June 1916, during World War I, a fashionably dressed figure appeared at Highgate Magistrates Court. They wore a richly braided long blue coat, white kid gloves, and a college cap style hat with a veil. A wig and a well made-up face completed their elegant look. They wished to be called Kathleen Woodhouse, and over two court appearances, left a compelling record of their life to history.
While our palaces have witnessed thousands of lives we often focus on the monarchs and courtiers. It is important to remember that people from every level of society share a part of the story. Kathleen Woodhouse, also known as Frederick Wright, may be a small part of the history of the Tower of London, but their story gives an insight into the lives of LGBTQ+ people in the past. Although they did not want to be part of this history, as a Royal Fusilier they are tied to the story of the regiment headquartered at the Tower since 1685. Their court appearances were widely covered in newspapers across Britain and abroad, and these reports tell us a lot about their life in 1916, when they were 22 years old.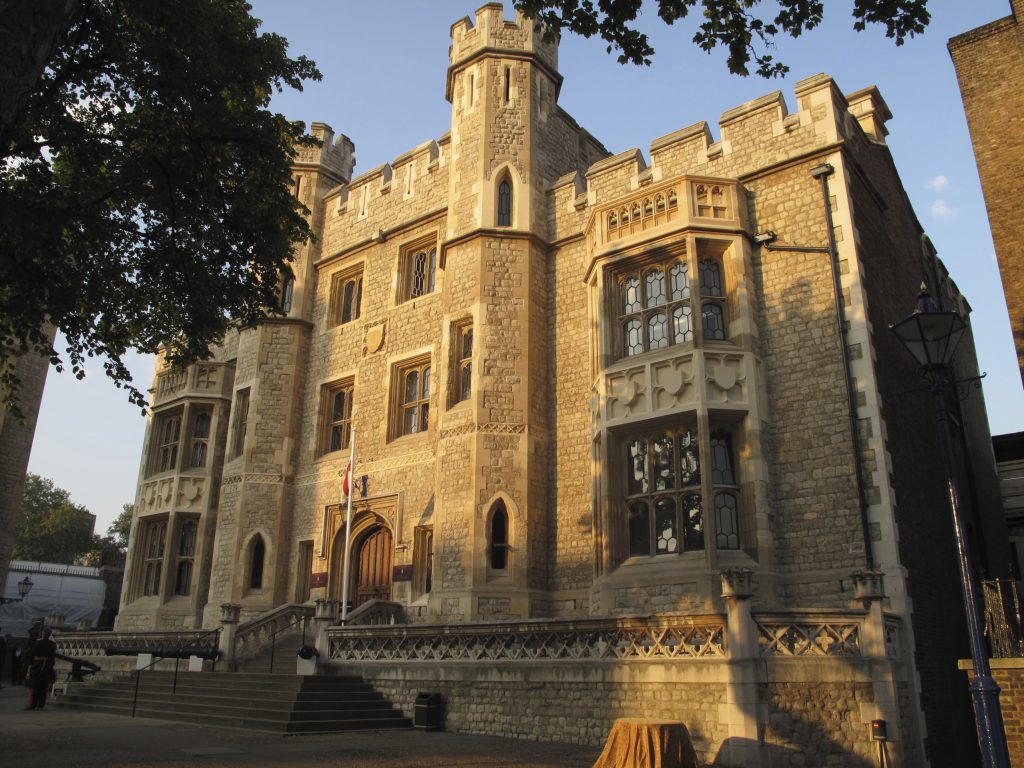 Enlisted into the Army
While they wanted to live as a woman, Frederick Wright was seen by society as a man, working in a male role as a valet. In March 1916 (although it may have been 1915), they had attempted to die by suicide by taking veronal tablets, a barbiturate used to aid sleep and to treat mental illness. At that time this was illegal, and they were found by the police, and probably appeared at Marylebone Magistrates Court on March 7th. They were bound over by the court with the condition that they join the army. A detective took them to enlist right away, although they did not want to. They may have agreed in order to avoid punishment for their suicide attempt, and in the middle of World War I many men were needed for the army.
Kathleen lodged with a Belgian lady in Percy Road, North Finchley. They chose the name Woodhouse from Woodhouse Road, just a couple of streets away. It seems they gave their name to their landlady as Kathleen Woodhouse, suggesting that they wished to live as a woman at this time. They also filled in an Aliens Registration Form in this name, suggesting that they were an immigrant, or perhaps were attempting to officially establish their identity as female by filling in an official document.
Arrested
On the night of Thursday 8th June they were found acting in a disorderly fashion in Percy Road, although I speculate that this charge came about because their landlady realised that they were choosing to live as a woman and reported them. They should also have been with their regiment on this date, as their pass to leave had expired on the 5th June. A Detective Schoenfelder attended the scene and according to his account Kathleen attempted to negotiate themselves out of the situation. They told the detective that "I have no occupation; my husband keeps me." When accused of being a man, they replied "Nonsense! You can ask my husband if you like. He is in a convalescent home." In fact, it was Kathleen's father who was in a convalescent home, but perhaps this was the first thing that came to their mind as they were attempting to persuade the detective not to arrest them, and to present a convincing version of their life as a woman. Getting desperate on the way to the police station, Kathleen unsuccessfully attempted to bribe Schoenfelder, saying, "I will give you £5 to let me go. I don't want a fuss."
Their room was searched, and the police found 'a plain gold ring, a fan, a fancy cap, some veronal, carmine [red makeup], and an eyebrow pencil, and a photo of a music hall artiste who posed as a woman.' They also had a chest containing feminine underclothing. While the make-up and feminine clothes show how Kathleen lived as a woman, the photograph of the cross-dressing music hall performer suggests they felt a connection to a broader queer culture in popular entertainment.
At the police station they were seen by Detective Inspector Ferrier, who recorded their words. Kathleen explained that their reason for 'adopting female attire was to evade military service.' They explained that they 'disliked soldiering and soldiers, and anything at all manly'. They added "I wish I had been a woman, as I love wearing beautiful clothes, and all my tastes are feminine. I intend to live as a woman till after the war is over, and then go back to be a valet." They may have been searched, as 'two sovereigns and one £1 Treasury note' were found 'tied up in a handkerchief'. Kathleen had tucked the money in the breast of their clothes, as they didn't have a pocket.
Highgate Magistrates Court
Kathleen appeared in court the next day, Friday 9th June 1916, where they were charged with 'being an idle and disorderly person in female attire', with 'giving a false description when registering at a boarding-house, and 'with being a deserter from the Royal Fusiliers'. They gave their name as Frederick Wright. While the newspaper accounts suggest that onlookers in the court were impressed with Kathleen's fashionable feminine appearance, this was undermined when the Mayor of Hornsey requested that they remove their hat and wig. When Kathleen complied with the order the people in the courtroom laughed at their appearance. Remanded in custody until the following Wednesday, they left the court between two detectives, still wearing their makeup.
On Wednesday 14th June 1916, they appeared in court again, dressed in the same blue coat, college cap and veil. More details of Kathleen's life were revealed, including that their father was in the North of England, and that they had two sisters who 'refused to have anything to do with him because of his effeminate ways'. It was also revealed that they had told their landlady they wanted to find employment as a companion to a lady, a respectable occupation for a woman who needed to work. This desire for a quiet life was met with more laughter in the court. The chairman of the court remanded Kathleen to await an escort back to the military, but remarked that he 'did not suppose that he would be of much use in the Army.' The police were asked to put Kathleen in 'proper garb', meaning masculine or military clothes, with the chairman adding "I should not send him to the Army in this condition."

A Snapshot in Time
As Kathleen is sent back to the army, the story that can be told from the newspaper reports ends. Perhaps further archival research can tell us more about their life before or after these decisive months in 1916. If they were sent to the army then they might well have seen action in World War I, but although the Fusilier Museum has several records for people called Frederick Wright, they do not appear to match Kathleen's details. As is so often the case with LGBTQ+ history, a court case gives us a vivid snapshot of a moment in a queer life, but only tells us when something went wrong for that individual. Kathleen seems to have wanted to live as a woman in 1916, and planned to continue to do so for a few years afterwards. However, there is the suggestion that they planned to return to living as a man after the war. Although everyone around them referred to them as 'Frederick' and as 'he', we cannot be certain how they viewed themselves, although their preference in 1916 was certainly to live as Kathleen Woodhouse.
Court cases, while valuable records for LGBTQ+ history, often highlight the negative attitudes to queer people so often held by societies. The newspaper reports show a fascination with Kathleen dressing as a woman, while recording that this prompted laughter in the court when her feminine appearance was undermined. They also focus on them as a deserter from the army, which at a time of war carried a huge stigma, and which many people today might still view as unacceptable. However, Kathleen's story also shows us how one person was able to conceive and try to live a life that was authentic to their sense of who they really were, despite the odds stacked against them.
Matthew Storey
Curator (Collections)
Historic Royal Palaces