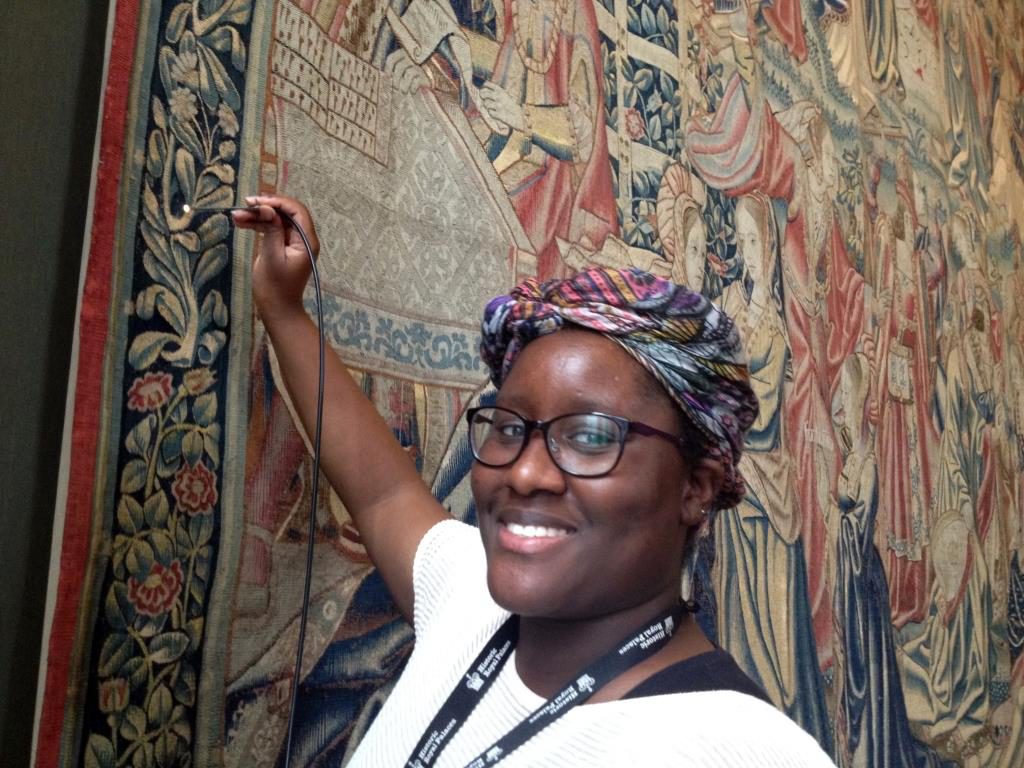 My name is Nanette Kissi and, supported by Historic Royal Palaces' Heritage Science Scholarship, I recently qualified with an MRes Science and Engineering in Art Heritage and Archaeology (SEAHA) from the UCL Institute for Sustainable Heritage. Between 2014 and 2016 as part of my studies I worked on a collaborative research project between Historic Royal Palaces and UCL Institute for Sustainable Heritage. My particular focus was on developing a non-invasive analytical method to scientifically measure the condition of the fabric of the tapestries and to begin to understand the impact of environmental change.
Over time light, humidity, temperature changes and many other factors might cause damage to the tapestry fibres. To understand how these changes occur we use scientific analysis to measure the properties of the fibres, in this case wool, a major component in Tudor tapestries. Before this research project we were able to do this by removing tiny samples of yarn from the back of the tapestry and analysing them in the laboratory. As vulnerable fragile objects that are over 500 years old, the tapestries can't just be taken down whenever there is a need for scientific investigation. The only other way to evaluate the condition of the tapestries was by looking at them very carefully to see, for example the effects of physical and chemical change through broken, frayed or brittle fibres but it is difficult to understand the chemical and physical changes that occur through visual assessments alone. This is why scientific research can be very useful!
During my project we looked into new analytical methods which are portable so we don't need to move the tapestry as the instruments can be used on site. Another benefit from using these analytical methods is that they don't require any sampling and we can examine many more locations on the large tapestries to get a better understanding for their condition without causing any damage.
Following careful research we selected to use a technique called near infrared spectroscopy (NIR) as it is possible to provide information on the chemical structure of the real tapestry fibres. The great thing about this technique is that it is non-invasive and results can be gained from the surface of the tapestry. However, on its own the information produced from NIR is often difficult to read and interpret so we had to calibrate this method with data measured with destructive analytical methods (such as fibre stress, or UV light induced chemical breakdown). Fortunately, at Historic Royal Palaces a collection of historic sacrificial samples was available that could be analysed destructively for this purpose and we can now use NIR to create mathematical models and predict fibre properties.
Great progress has taken place towards developing this non-invasive tool. The implications of its application are numerous! It will help us to gain a better understanding of the condition and provide evidence based decision making for the conservation of our tapestries.
To learn more about the project and the scholarship please watch this short video
Nanette Kissi, Heritage Science Scholar