In the Presence Chamber at Kensington Palace, HRP's building surveyors unexpectedly discovered historic fixings in the corner of the room, suggesting that a throne canopy would have stood there in the 18th century. This is great news for us as it means we can re-use those fixings and display the canopy in a historically accurate position.
To test how well the Queen Anne throne canopy will fit into the space and identify any concerns likely to arise during installation we created a life-sized mock-up. Our copy, made of corrugated plastic and cheap replica fabric with an outline of the coat of arms stitched onto the cloth of state actually looked surprisingly authentic! This can be handled as much as we like which is important as we want to avoid handling the original which is old and very fragile.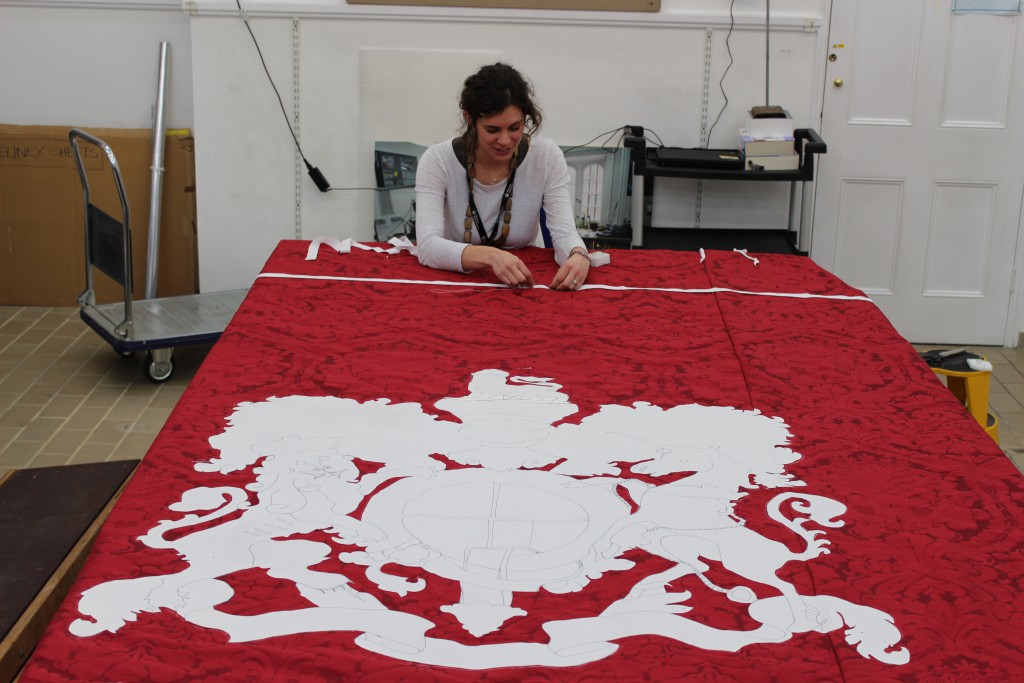 Together with our curators, we spent a day earlier this year testing its impact in the room: a throne canopy is designed to make a statement, so we were all thrilled to find that this corner location really works. We also needed to anticipate how it will be installed and check that the visitor flow will work around it. In addition, we need to maintain access for cleaning to manage dust and pest activity.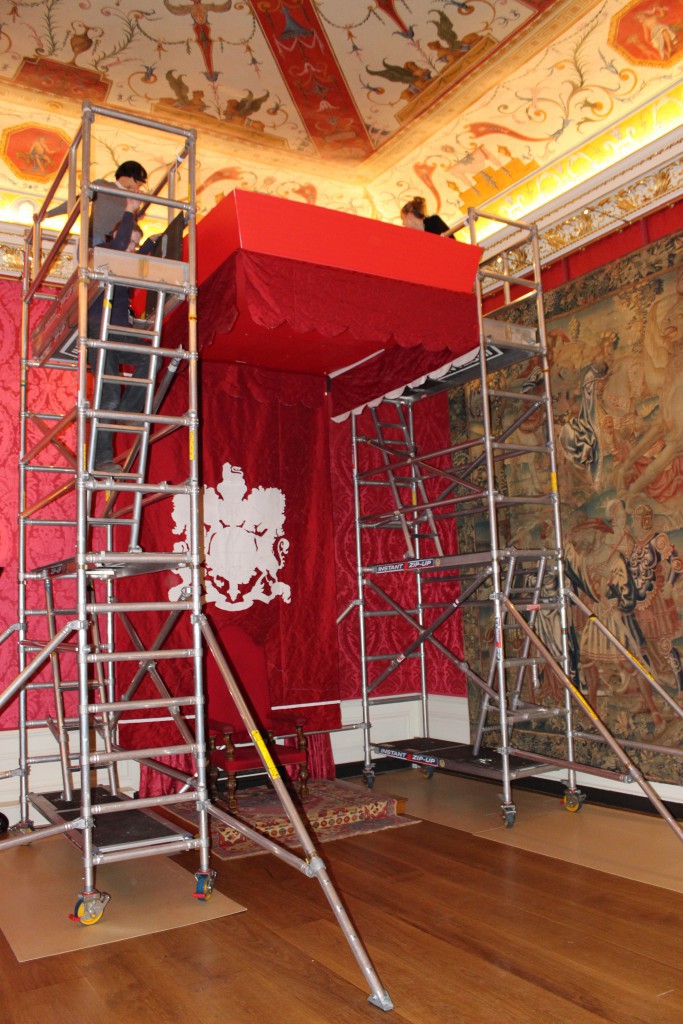 A throne canopy needs a throne, so we had to check how the two worked together – we wouldn't want the throne to obscure the coat of arms. As mentioned in our previous post which introduced the cloth of state, (here) the damask has a large hole behind the coat of arms so adjusting its position is out of the question – aside from the ethical debate, it would look rather unsightly. Luckily the positioning of the coat of arms works well, but the cloth itself is slightly too short for the room and stops abruptly above the wood panelling. For aesthetic reasons we will therefore extend it by attaching a new section along the lower edge.
All in a day's work! This was a crucial exercise, not only to check the throne canopy's location, but also to inform the approach to our conservation treatment and how it will be presented when on display.
In our next post we will explain in more detail how we colour the net that we use to protect the embroidered emblems and coat of arms
Charlotte Gamper, Senior Textile Conservator and Nikki Chard, Textile Conservator
Acquired with the assistance of the Art Fund. Conserved with assistance from Lord Barnby's Foundation, Idlewild Trust, The Radcliffe Trust, The Leche trust, Broadley Charitable Trust and the Worshipful Company of Tin Plate Workers alias Wire Workers. We are grateful for their support.