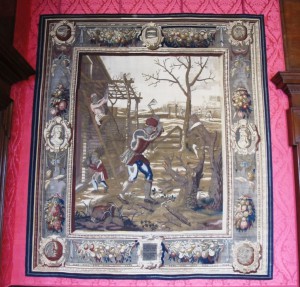 In February, the February tapestry from the Seasons series was reinstalled in the King's Privy Chamber at Kensington Palace following conservation in our textile studio at Hampton Court Palace. This is the third and final tapestry from the series to be conserved and displayed in this room.
These magnificent tapestries were commissioned in 1623 by Charles I, then Prince of Wales. They cost £500.00 and were designed to represent the twelve months of the year. The three on display at Kensington are February, July and August, and November. Woven at the famous Mortlake workshops in London, these are some of the best examples of tapestry ever created, by specialist weavers highly skilled in depicting natural textures and effects such as flesh and water.
February is incredibly fine, woven using silk and wool with highlighted areas of gold and silver, which you can see if you look closely. You might also notice the depiction of the star signs for each season, as well as the interlocking 'C' for Charles I and the Prince of Wales feathers.
At Historic Royal Palaces, we carry out a programme of conservation rather than restoration, where no original material is removed. We wash the tapestry in our custom-built wash tank to remove any acidic dirt, then stitch it to a linen support to spread the weight evenly and take the strain off the tapestry itself.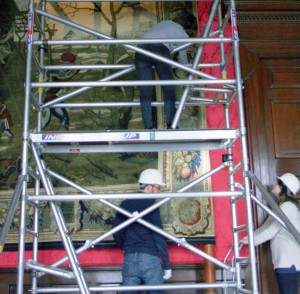 The image shows our conservators hanging the tapestry using a specialist, bespoke vertical rolling device; you might also be interested to see the tapestry being washed here