Putting Kew Palace to Bed
Kew Palace welcomes many visitors during spring and summer. It is inevitable that the palace also attracts a lot of dust as people come through the door during those seasons. In the cold dark winter, dust is our enemy! It can cause many problems if left on an object's surface.  It is not only unsightly, over time it can permanently bond to the surface becoming impossible to remove.
What can we do to help?
When Kew Palace shuts its doors for winter, the conservators move in. Every nook and cranny of the palace is cleaned. We certainly get a sense of how the servants of years gone by must have felt shutting the house up when the family was away. Preventive conservators are in charge of protecting every corner of the palace. They treat every object as meticulously as the next.  The apothecary chest gets a gentle clean with a soft pony hair brush and is carefully closed up and covered. Books are closed to give the spines and pages a rest. The curtains are released from their ties; able to relax hanging freely for the winter.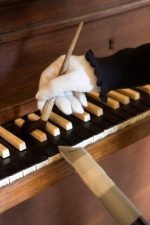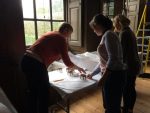 Textiles on objects such as Queen Charlotte's chair and bed, or George III's daughter's dolls' house get a thorough check for signs of deterioration by our textile conservators. We look for any pests or weakened and aged fibres that we monitor with condition notes and photographs. The textiles are then also cleaned using soft brushes and special low powered vacuum cleaners.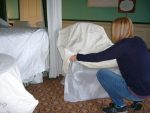 It takes the Conservation team one week to thoroughly check and carefully clean every object before tucking them up in tailor-made winter covers that protect against light, humidity and dust.
The house goes eerily silent once the last object is covered until the palace reopens for spring and summer.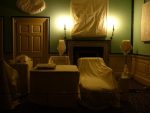 Kaori Moatung and Sam Higgs, conservators