Historic Royal Palaces' Collections Management team regularly holds an 'object of the month' competition to share the stories of some of the hidden gems within our collection. August's competition showcased a selection of objects commemorating the anniversary of the anti-slavery act.  This print proved the most popular both with staff and our followers on Twitter.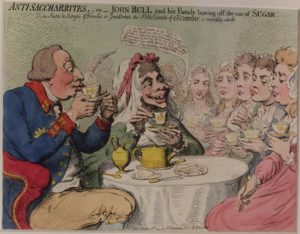 This print from our collection of over 100 satirical prints is entitled 'Anti-Saccharites or John Bull and his family leaving off the use of sugar' and was created by James Gillray in 1792. In the print Queen Charlotte tries to persuade the sceptical daughters of the pleasures of drinking unsweetened tea with the following argument: "You can't think how nice it is without Sugar: – and then consider how much Work you'll save the poor Blackeemoors by leaving off the use of it! – and above all, remember how much expence it will save your poor Papa!"
Queen Charlotte and George III modest family lifestyle led to them often being characterised as a miserly and mean. Even their rationing of West Indian sugar, showing support for the anti-slavery movement brought criticism as highlighted by this print. In 1791, thousands of pamphlets were printed which encouraged people to boycott sugar produced by slaves. Estimates suggest some 300,000 people abandoned sugar, with sales dropping by a third to a half. Some shops advertised goods which had been produced by 'freemen' and sales of sugar from India, where slavery was not used, increased tenfold over two years.
This print can currently be seen on display at Kensington Palace as part of the 'Enlightened Princesses' exhibition until 12 November 2017.
Do follow us on Twitter at @HRPConservation  to take part in our future competitions.
Rebecca Wallace, Registrar